Fundamentals of Photography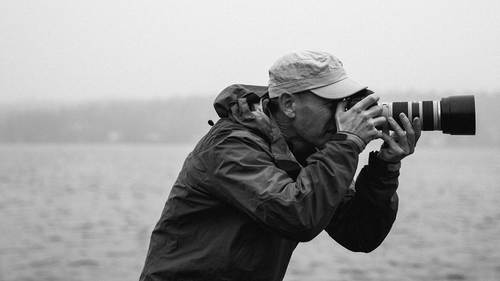 Fundamentals of Photography
Lesson Info
Auto Focus Calibration
The next little bit is exclusively for some special people, Nikon and Canon owners, Pentax, too. Anybody who uses a DSLR has a phase detection focusing system in their camera and I told you about the slight error that can happen and this is how you correct for that error. And, cameras are supposed to focus on a subject and be perfectly on. With mirrorless cameras, because they're grabbing the information from the sensor, it's actually accurate all the time. And so, it knows when it's got it. But, for an SLR, it's an estimation and sometimes it's a little wrong and it focuses consistently off because there's something off in the calibration. And, it could front focus, it could back focus, as well. And, I know that there are some people out there that would just say (stomp) it shouldn't to that. I spent a lot of money. And that's true, but we are dealing about physical stuff that needs to be manufactured and there are certain tolerances. If you want perfect focus, we could probably do it...
and it would be a $100,000 lens. And, it's just, you know, we would rather have a lens that focuses 99.9% of the time for $1,000. And, so, things are gonna get off when there's mechanical parts and moving parts and there's manufacturing tolerances. And, sometimes, what happens is a camera will hit plus or minus 1% and then, the lens will hit plus or minus 1% and then the two of them will probably be zero but, it could be plus two or it could be minus two and that's when things kind of get thrown off. And, so, in the past, we had to send all of our gear back to the manufacturer and then, they would do something with it and then we get our gear back and now, they allow it, us to fix it ourselves. And, so, if you wanna fix it yourself, you have to test it to see exactly what's wrong with it. And, it needs to be a consistent problem. If you're having a situation where it focuses in front, in back, everything's out of focus but, it's different every time, okay, that's something else. It's where, you know, I'm focusing on the eyes and the nose is in focus on a consistent basis with the same lens all the time. That's the type of problem we can solve here. What you need to do is you need to focus on a subject and you can use a focusing target, a book, or pretty much anything else you want. But, we need to measure if we're actually focusing front or behind it. So, it can't just be a flat object. You can buy a test chart that looks like this or you can make your own which is what I do with rulers and yardsticks. It's pretty easy to do. And, you just gotta line em up and set em up. And, so, I'm gonna focus on the vertical one and I'm gonna measure whether I'm in front or in back. And, so, when you get into the calibration of these cameras, you'll be able to adjust the focus forward or back by one increment. I don't know what one increment is but, it's a really small amount. And, so, this is what my photos would look like. So, I'm adjusting it by minus 20 and plus 20 on the extremes and the yellow arrows indicate where I thought the best focus was. And, so, my camera set at zero is front focusing ever so slightly. So, I would probably set my camera to plus three or maybe plus four, something in that range there. Now, this is something that is not gonna be a major problem for most people most of the time. It's for people who have longer telephoto lenses, people who have very fast lenses who shoot at shallow depth of field on a regular basis. And, so, you're gonna need everything that you would use to get really sharp photos. You're gonna wanna have your tripod, cable release, self timer, things like that set up. You're gonna need to set your camera up to shoot the highest quality images possible at the shallowest depth of field possible and there's a couple different ways that you can do that but, you wanna shoot as shallow depth of field as possible. And, then, what you're gonna do is I unfocus the lens, I let it auto focus, and then I have it take the picture. Now, kind of the one additional step that I'll do is I'll do a couple of photos at each setting. I'll unfocus, take a picture, unfocus, take a picture, and, then, if I really wanna be precise, I unfocus the other direction, so that it has to achieve focus from both directions. I want it to be able to find the right spot from both sides and I'm trying to look for things that are consistent. If it's out of focus every time, then I'm gonna make an adjustment and I'll go forward and back. Now, yeah, I'm kind of a picky guy, and I have some fast lenses so, I like to be right. So, I have to, I hate buying new cameras because I gotta go do the calibration on all my lenses, and I gotta lot of lenses, and I gotta get it all right. And, for the most part, I am adjusting almost all of my lenses a few point forward or back. And, so, if you have lenses that are faster than 2. those are the people that are really gonna need to do it. So, this is for, typically it's Nikon and Canon, anyone who has fast glass and I'm talking about apertures of 2.8 or faster. Talking about telephoto lenses, macro lenses, and portrait lenses, those are the people that are gonna get the most benefit and see some change in it. If it's something erratic, then, you're gonna need to send your camera back to the manufacturer because there's something else going wrong. It's consistent problems that we can fix here.
Class Description
As a photographer, you will need to master the technical basics of the camera and form an understanding of the kind of equipment you need. The Fundamentals of Digital Photography will also teach something even more important (and crucial for success) - how to bring your creative vision to fruition.

Taught by seasoned photographer John Greengo, the Fundamentals of Digital Photography places emphasis on quality visuals and experiential learning. In this course, you'll learn:
How to bring together the elements of manual mode to create an evocative image: shutter speed, aperture, and image composition.
How to choose the right gear, and develop efficient workflow.
How to recognize and take advantage of beautiful natural light.
John will teach you to step back from your images and think critically about your motivations, process, and ultimate goals for your photography project. You'll learn to analyze your vision and identify areas for growth. John will also explore the difference between the world seen by the human eye and the world seen by the camera sensor. By forming an awareness of the gap between the two, you will be able to use your equipment to its greatest potential.