Fundamentals of Photography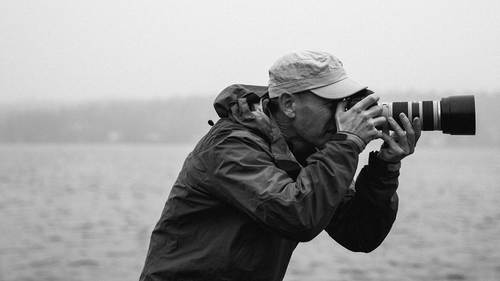 Fundamentals of Photography
Lesson Info
Drive Mode & Buffer
The drive mode is a pretty simple mode, it used to control the drive of our film through the cameras, we still keep the same name for the most part, some companies call it the sequence or the, what does Nikon call it? They have a slightly different name for it. The shutter release mode, the release mode is what they use. But it's how fast you can shoot images from one to the next. There are three basic options here. Single, sometimes they'll include a quiet option, which slows down the movements in the camera to make it a little bit quieter, and there's also options where you can get a remote to trigger the camera as well. There's gonna be a continuous shooting mode, and if you are shooting action, it's often good to put your camera into the continuous shooting mode, because you don't know when the best moment's gonna be, you're gonna capture a whole bunch of images during the peak period of time, and then you'll figure out later what was the best moment. And then finally there's gonna...
be some self-timer options. There's usually a 10-second and a 2-second self-timer, 10-seconds is for you getting around in the picture, 2-seconds is if the camera's on a tripod and you want to trigger the shutter release but you want the movements to settle out while you take your hand off the shutter. And so that's really good for working with a tripod. And then sometimes they'll have a delay and continuous shooting. And this is fantastic for doing group shots that you want to be a part of. Because I found that people always blink on the first shot, and so what you want to do is, I usually set it up to take at least four shots so that everybody's looking at the camera, and they're not blinking. And so give yourself four shots, two or three seconds between shots, just let everyone know, and one of those four will probably be good. Set it to as many as you need to, but that's a system that I use. The buffer in the camera is something that allows you to shoot lots of pictures very, very quickly. Faster than the memory card can record them. The original digital cameras recorded images on the sensor, sent them through the image processor and recorded them on the memory cards. And if anyone remembers the early digital cameras, they were very slow about recording data. And so what they did to speed the process up, is that they put on all the cameras on board RAM, or buffer. So that now when you shoot photos what happens is it goes to the image processor very quickly these days, but the images will be stored temporarily in the RAM memory of your camera. They will then be loaded onto your memory card and as soon, as quickly as they can. But it allows you to shoot through a burst of images right away, faster than your memory card can handle, as far as recording them in speed. And so Nikon and Canon will list this in the viewfinder on the right hand side. Don't ask me why the other manufacturers don't. But it is part of the specs and you can look it up, but all cameras will have a limit to how many images you can shoot. The newer most modern cameras will tend to have a higher buffer limit. Meaning you can shoot through 10 or 20 shots or maybe 100 shots before things fill up. Now what determines the buffer size is the megapixels of your camera, and how fast it can process the information. And so we're kind of in a unusual race, where we're getting more megapixels which makes things more difficult, but we're also having faster computers, so they're able to get through things a little bit more quickly now. And so things tend to be growing on the buffer side. I remember early on in digital, you could shoot three pictures continuously, and then you'd have to wait 10 seconds. And so you'd have to be very careful about when you shoot your photos. It's gotten quite good at this point, it's not a big deal, so for sports photographers, you want to be aware of how many you can shoot at one time. If somebody just hit a home run, don't shoot all your photos as they're rounding second base, because you might not have anything by the time they come home, and the whole team swamps home plate. You've gotta be careful about issuing those out in short bursts. And so the other thing that will affect it is the overall file size, whether you should be RAW or JPEG. Which is why those sports photographers were shooting JPEG, is that they could get more images in their buffer and they could shoot through more images more quickly. So it depends on what your needs are as to how to set up your camera.
Class Description
As a photographer, you will need to master the technical basics of the camera and form an understanding of the kind of equipment you need. The Fundamentals of Digital Photography will also teach something even more important (and crucial for success) - how to bring your creative vision to fruition.

Taught by seasoned photographer John Greengo, the Fundamentals of Digital Photography places emphasis on quality visuals and experiential learning. In this course, you'll learn:
How to bring together the elements of manual mode to create an evocative image: shutter speed, aperture, and image composition.
How to choose the right gear, and develop efficient workflow.
How to recognize and take advantage of beautiful natural light.
John will teach you to step back from your images and think critically about your motivations, process, and ultimate goals for your photography project. You'll learn to analyze your vision and identify areas for growth. John will also explore the difference between the world seen by the human eye and the world seen by the camera sensor. By forming an awareness of the gap between the two, you will be able to use your equipment to its greatest potential.