Quiz: Depth of Field
John Greengo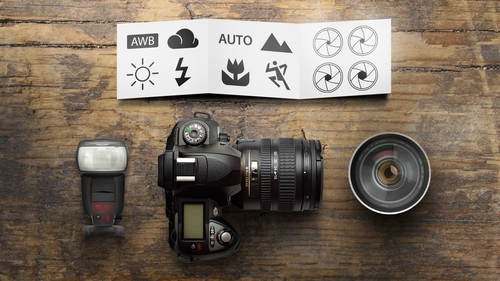 Quiz: Depth of Field
John Greengo
Lesson Info
47. Quiz: Depth of Field
Lesson Info
Quiz: Depth of Field
So, we've got another quiz and you're gonna have to take your entire process of learning here and combine it and balance it to figure out what sort of depth we're gonna get. Now, does anyone remember who we last ended up with on the last question in the last time? My feeling is is I've been going back to A a lot, it might be B's turn. I'm not sure I think we should start taking notes about that. I think we should, we should put a little mark on the board. I'm gonna go with B on this one. Oh, okay, we'll go to B, great. Because I think I last, I think we ended up with A on the last one there. Alright, so the way this quiz is gonna work is you are focused at three meters away, just 'cause we need to have a number here. What will give you more depth of field, a 24 millimeter lens at f/ or a 28 millimeter lens at f/11? And so we have a new captain so we're gonna let you confer for about 10 seconds and then we're gonna want an answer. So it's easy, it's one or the other and this is ...
gonna be a right or wrong answer. You guys, Team A, will get the next question. We think it's gonna be 24 millimeters at f/16. That is the correct answer and I gotta tell you, this is an easy one, okay? (audience laughing) Because a 24 millimeter lens is always going to give you more depth of field than a and f/16 will always give you more than f/11. So there's not conflict of interest here, everything's pointing in the right direction. That's very easy. The next ones are going to get a little bit more difficult. Okay, so the next one, same thing, you're focused at three meters away, you have a 50 millimeter lens at f/8 on a 1.5 crop frame body or we have a 50 millimeter f/8 on a full frame body. But I'm gonna give you a third option here that they have the exact same depth of field. So think about, this is a tricky one. So let's give your captain some feedback here, give them a few seconds to figure things out. And I like to throw a few tricks in, this one gets hard. But think about it over here for B. And so I haven't really, so we have an answer. The consensus is full frame 50 millimeter at five eight. Okay, 50 millimeter full frame at five eight? I am sorry, that is the incorrect answer. I put this is the same. Now, the size of the sensor makes no difference when it comes to depth of field. It is the actual lens that you have on the camera that is affecting the depth of field. This is the same lens, this is the same aperture, it's just that we recorded it on different size sensors. They're not ending up at the same angle of view, I never said it was. (audience laughing) It's the same lens at the same aperture so you don't even, disregard it and that's why we had that extra one in there. Alright, it was a tricky one. Okay, next one. You're focused at three meters away, what will give you shallower depth of field, and I am, okay, I'm not gonna say anything more but I will say, the $2,000 35 millimeter f/1. or the $100 50 millimeter f/1.8, which will give you a shallower depth of field? Hmm, why did he say that? And hopefully all of you at home are thinking about this as well and some of you are pulling up your depth of field calculators right now punching that in. We're gonna go with the 50 millimeter at 1.8. Going with the 50 millimeter at f/1.8 and that is correct. Just because you spend more money doesn't mean you're gonna get shallower depth of field. It has to do with the actual focal length and the aperture of the lens. And there's a lot of people who get the 35 1. 'cause they wanna shoot with a very shallow depth of field but they are also trying to shoot that at and so it's just different there. And so in this case, we move the aperture, this is, what is this? It's less than a stop so it's like 2/3 of a stop but we didn't double or cut this in half and so the focal length had a bigger impact than the minor change in this. And that's kinda what we wanted to look at is that the focal length had a bigger impact than the aperture change. Alright, the next one. Same thing, you are wanting shallower depth of field, are you gonna get that with the new Nikon 105 1. or the pedestrian 200 millimeter f/4 on here? And so here we have a greater distance in aperture change from f/1.4 to four and a greater change from 105 to 200. So, help your captain out, tell them what you think, and we're gonna get that answer very soon here. Squirming in your seats. Okay, we're gonna need an answer. Okay, 200 (laughs). They're gonna go with the 200 f/4. Give them a point for that, they got that correct. (audience laughing) So, one of the best pinnacle lenses for portrait photography if you wanna shoot shallow depth of field is the because it can shoot at very shallow depth of field at that 105 but because of that greater magnification, they just get very shallow depth of field, even though you're shooting at f/4. Now we do have a question in here if you have the microphone. Can you explain the math behind how we figure it out, the distance in the two questions. There is no math that you or I could do in our heads. I'm assuming you're not Einstein because there are formulas that you can do and people have created formulas online and with apps where you can calculate everything and it has to do with focal length, how far away you are, what aperture you are, and something called the circle of confusion. (audience laughing) Which is encircling this room right now, right? And that basically, real quickly, I'm not gonna get into the circle of confusion too much but it's basically, what does it mean to be in focus 'cause your definition of in focus and my definition might be slightly different 'cause we might have different standards. But it's based on that and so this is just kind of that gut feeling of like how much is one lens gonna have versus the other lens? Alright, the quiz is gonna change shape now, we have a new style of quiz in here, alright? And so in this case, if I even remember what I'm doing here, is I'm gonna give you a bunch of things and you're gonna tell me what this photo's gonna look like. So the first thing is, for Team A, I have my camera set to f/8, alright? The next thing is, I'm using a 50 millimeter lens. The next thing that you get to know is that 50 millimeter lens is focused, let's call it about eight feet away. Normal angle of view, eight feet away, f/8. The question for you is is the background gonna be in focus, slightly out of focus, or very out of focus? One of those three choices. So you have to run that through your depth of field calculator in your brain, alright? So get some feedback from your teammates here, what's this picture gonna look like? You got that standard 50 on. So I'm thinking like street photography with a standard 50, f/8 and B, their type philosophy. So these are all the factors you need to know as to how much depth of field you're gonna get. We're giving them just a few extra seconds on this first one to get the feel of it but we're gonna need an answer here. We're going with slightly. Slightly out of focus? And here's our picture, focused on the fruits and vegetables here and as you look to the background, yeah, that's not real in focus, I would call that slightly out of focus there. So let's give them a correct answer on that one, nice job. I have a question. We have a question, sure. So if they were sort of close to a wall and the wall was closer-- But we focused on eight feet, I told you that. Right, but if the subject's at eight feet and the wall is at eight and a half or nine, then because-- So you don't know how far the background is. So I have tried to choose backgrounds that are notably behind the subject, so it's not really, really close. And so yeah, that is a very good clarification on that. (audience laughing) Okay, so the next picture is gonna be taken at f/ with a 16 millimeter lens. Oh, you know, there's one other thing that you haven't asked me. I'm using a full frame camera. It might matter, it might matter, it might matter. Alright, so we're at f/22, 16 millimeter lens, and I'm focused, let's call that three or four feet away. Is the background in focus, slightly out of focus, or very out of focus? Yeah, this is a real mushy test here, I think. (laughing) We think it's all in focus. Okay, so you think it's in focus. Here's the actual photo. We're looking at the birds in the water back there, they look like they're pretty much in focus. I'm sure there's three people on the internet who are gonna argue with us but I think it's in focus and that's what matters so you guys get a point for that one. So nice job on that one. Okay, so what's happening on our next one? We're staying at f/22 but now we have a 100 millimeter lens and where are we focused? We're focused like two, two and a half feet away from the camera. So 100 millimeters, that's where a lot of macro lenses are and so two, two and a half feet away, pretty close. So Team A, give your captain some thoughts here. Being able to reverse engineer, I don't know, this is like future engineer, this is pre-visioning your depth of field. This is a challenging one, it takes a while to think about this one. Unfortunately, I have to make the game up, I don't get to play the game. I mean, I play the game all the time when I go out and shoot photos, which is the way you do it in the real world. Alright, let's come to a decision. Three, two, one. Oh, my gosh, we're in the circle of confusion. (laughing) So, I think originally, yeah, no? Okay, originally we were saying very out of focus. Is that your answer? Is that your final answer? Saying very out of focus. Here is your photo. There is your photo. So that background is not a long ways away but it is indeed very out of focus. And what's happening here is because you are focused up so close, that is what's really doing it. Now, this is a really hard thing to judge but in my opinion, of these three things, the one that has the greatest impact on whether it's gonna be in focus or out of focus, is how close you are to your subject. After that, it's the focal length, after that it's the aperture. Using that extra bit of information we now have f/16 with a 35 millimeter lens focused at around 25, 30 feet away. Is the background in focus, slightly out? We think it's gonna be in focus. In focus, here's our photo. Here's your nice kinda landscape focus, background is in focus there with that larger distance, that f/16, wide angle lens. Yep, you're gonna have everything in focus there so good job on that one. Alright, back to Team A. So, you're at the 50 millimeter lens, focused at 30 feet at f/11. So think about the factors that we just talked about and how important they are and kind of address those first. First one, it's likely to be this with that one thing and then the next one tweak a little bit, and then the third one tweak it a little bit more. The group says slightly out of focus. Slightly out of focus. And in this case, it is holding it in focus. And so, with being focused 30 feet away, that was kind of one of the big indicators. Anything 30 feet away with, especially, well 50 millimeter lens, a little tricky but yeah, we're gonna get it all in focus there. So you were one off, that's not bad. If I could give you a half point I would but I don't make up the rules. (audience laughing) Okay, so Team B, you have a 200 millimeter lens, you're at f/4, and you're focused at what is that, like three or four feet. And I'm saying three or four feet because I really don't remember but I look at the photograph and I'm like, "I think it's about that." We think it's gonna be very out of focus. Okay, very out of focus. Here is your picture and it is indeed very out of focus as we get behind that. So, another point for Team B here. Alright, how many more of these? We just got a couple more of these, I think. Okay, 70 millimeter lens and where are we at? That looks like that's around 15 feet at f/2.8. What type of background are we gonna get with that subject? And I would think portrait photography. You got a portrait in there, 70 millimeter lens, 15 feet away from you. Got a person standing right out there. Right about me to Kenna, just about. (audience chattering) We're going with very out of focus. Very out of focus. Let's take a look at the photo. Subject's in focus and the background is not very out of focus, it is slightly out of focus. Granted, you know, this is a little subjective call on my part but it's slightly out of focus here. And it's that greater distance. If we were shooting a portrait and we wanted it very out of focus, we would need to be in closer and a tighter headshot to get that very out of focus. Okay, over to Team B. We have our standard 50 millimeter lens but we're down to f/1.4 at, that looks like right at three feet away. What's our background gonna look like? We think it's gonna be very out of focus. You guys are answering quickly. I don't know, maybe you guys are getting easier questions somehow. (audience laughing) It's a random choice but the background is out of focus here, so very good. And so here are the key things to think about, it's really close to you, three feet away. You're shooting wide open, you're gonna get very, very out of focus backgrounds when you do that case and so good job on all your cases. You either got it spot on or you were one pretty close and there was some kind of close calls in there. So remember, as you are checking your focus and you're making sure that you're getting what you want, you're checking your aperture settings, your focal length, and your shooting distance. That all has an impact on what your depth of field is gonna be. It's not directly with your sensor size. Indirectly because that ends up being what type of lenses you have to choose from and so it's these three things that you're gonna keep rolling through your brain and running through your own depth of field calculator that you get to think about all the time.
Class Materials
Fundamentals of Photography Class Outline
Learning Projects Workbook
Photographic Vision Keynote PDF
Ratings and Reviews
Love love all John Greengo classes! Wish to have had him decades ago with this info, but no internet then!! John is the greatest photography teacher I have seen out there, and I watch a lot of Creative Live classes and folks on YouTube too. John is so detailed and there are a ton of ah ha moments for me and I know lots of others. I think I own 4 John Greengo classes so far and want to add this one and Travel Photography!! I just drop everything to watch John on Creative Live. I wish sometime soon he would teach a Lightroom class and his knowledge on photography post editing.!!! That would probably take a LOT OF TIME but I know John would explain it soooooo good, like he does all his Photography classes!! Thank you Creative Live for having such a wonderful instructor with John Greengo!! Make more classes John, for just love them and soak it up! There is soooo much to learn and sometimes just so overwhelming. Is there anyway you might do a Motivation class!!?? Like do this button for this day, and try this technique for a week, or post this subject for this week, etc. Motivation and inspiration, and playing around with what you teach, needed so much and would be so fun.!! Just saying??? Awaiting gadgets class now, while waiting for lunch break to be over. All the filters and gadgets, oh my. Thank you thank you for all you teach John, You are truly a wonderful wonderful instructor and I would highly recommend folks listening and buying your classes.
I don't think that adjectives like beautiful, fantastic or excellent can describe the course and classes with John Greengo well enough. I've just bought my first camera and I am a total amateur but I fell in love with photography while watching the classes with John. It is fun, clear, understandable, entertaining, informative and and and. He is not only a fabulous photographer but a great teacher as well. Easy to follow, clear explanations and fantastic visuals. The only disadvantage I can list here that he is sooooo good that keeps me from going out to shoot as I am just glued to the screen. :-) Don't miss it and well worth the money invested! Thank you John!
Dear John, thanks for this outstanding classes. You are not only a great photographer and instructor, but your classes are pleasant, they are not boring, with a good sense of humor, they go straight to the point and have a good time listening to you. Please, keep teaching what you like most, and I will continue to look for your classes. And thanks for using a plain English, that it's important for people who has another language as native language. Thanks again, Juan
Student Work