Sunny 16 Rule
John Greengo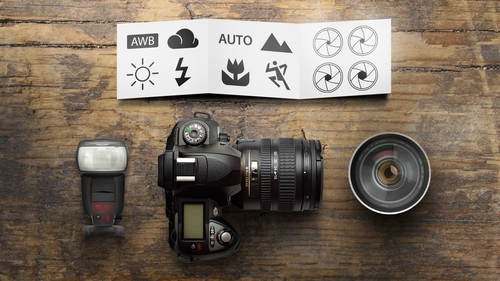 Sunny 16 Rule
John Greengo
Lesson Info
35. Sunny 16 Rule
Lesson Info
Sunny 16 Rule
Alright, so this whole section we've been talking about exposure, and there's a couple of kind of special exposure concepts I wanna talk about. First is one of the basic rules that I've learned, which was the Sunny 16 Rule. This is just, it's not really even necessary these days. It was kind of necessary back in the days when I had a manually battery-operated camera. And if the batteries ever died, what would my exposure be when my light meter doesn't work. And now, well, you're not gonna be able to take pictures if your camera doesn't have battery. But just the concept of it, I think, is still relevant and good to know. And so the Sunny 16 Rule states that if you are in full sun, the exposure is f/ and a shutter speed that is about equal to your ISO. So let's walk this through and see what this looks like in the real world. Alright! It is a sunny day, and we wanna get a photograph at f/16. We want lots of depth of field, so this is a perfect example of a Sunny 16 situation. So, the fi...
rst thing that we probably wanna do in a situation like this is set our ISO to the lowest native setting on our ISO, which would be 100. Now, it is the Sunny 16 Rule, so we set an aperture of f/16, and we set a shutter speed that is as close to the ISO number as we can get. So since we have 100 selected, we would select 125. And I know on some cameras you can actually select 100, and that would be fine, but we're just going with those whole numbers for examples in this class. And so do that and you're gonna get a perfect exposure in bright, sunny weather, assuming there's no clouds, and it's not smokey, or some other situation. Like "It's a sunny day, but I was inside. "Why did I get bad exposures?" Alright, so it's under bright, sunny light. Now, that all works well and good, but what if you don't want to shoot at f/16? Okay, what if you wanna shoot with shallow depth of field under bright, sunny light? Well, you're just gonna need to do some horse trading, trading some shutter speeds for some apertures. Alright, so let's just get our numbers set up here. We'll go ahead and set our ISO of 100. We'll do f/16 just to get our numbers set right, and of course a shutter speed of for proper exposure in bright sunlight. But we wanna shoot with shallow depth of field so the background is out of focus. And so in this case, there are some cameras out there, including cameras that I own, that do not have an ISO of 100. Alright, does anybody have a camera like that? There's some cameras out there that have a native ISO of 200, alright. And so in this case, we're wanting to get shallow depth of field with a camera that has an ISO of 200. So what we're gonna have to do is go up to a shutter speed of 250, cause that's the closest number we have to 200. We're keeping our aperture at f/16, but now we're gonna want to make some changes so that we can get to shallow depth of field. And so let's go all the way down to 1.4. And what you wanna do is here, you can count up how many stops of light did we move. And when we count from 16 down to 11, one, two, three, four, five, six, we moved the aperture seven stops of light. We're letting in seven more stops of light, which means we need to close somethin' else down, let in seven stops less light. And how are we gonna do that? Well, we have alotta room to move in the shutter speed. And so we can go faster on the shutter speed up to 8,000th of a second, but that is, unfortunately, only five stops. And so we can't really do it, because we're gonna be two stops overexposed. We need to close down to something that doesn't exist. But it does exist on some cameras that'll actually go up to 32,000th of a second. It's very rare that this happens, but there's a few cameras out there that'll go up to 32,000th of a second. And there's really nothing that I can point to that you need a 32,000th of a second for in motion-stopping capabilities. But for exposure control, which is what we're talking about here, it can be valuable for people who wanna shoot in bright sunlight with a shallow depth of field, sometimes slightly handicapped by that ISO 200. So that's why there's a few of these mirrorless cameras that can go up to 32,000th of a second.
Class Materials
Fundamentals of Photography Class Outline
Learning Projects Workbook
Photographic Vision Keynote PDF
Ratings and Reviews
Love love all John Greengo classes! Wish to have had him decades ago with this info, but no internet then!! John is the greatest photography teacher I have seen out there, and I watch a lot of Creative Live classes and folks on YouTube too. John is so detailed and there are a ton of ah ha moments for me and I know lots of others. I think I own 4 John Greengo classes so far and want to add this one and Travel Photography!! I just drop everything to watch John on Creative Live. I wish sometime soon he would teach a Lightroom class and his knowledge on photography post editing.!!! That would probably take a LOT OF TIME but I know John would explain it soooooo good, like he does all his Photography classes!! Thank you Creative Live for having such a wonderful instructor with John Greengo!! Make more classes John, for just love them and soak it up! There is soooo much to learn and sometimes just so overwhelming. Is there anyway you might do a Motivation class!!?? Like do this button for this day, and try this technique for a week, or post this subject for this week, etc. Motivation and inspiration, and playing around with what you teach, needed so much and would be so fun.!! Just saying??? Awaiting gadgets class now, while waiting for lunch break to be over. All the filters and gadgets, oh my. Thank you thank you for all you teach John, You are truly a wonderful wonderful instructor and I would highly recommend folks listening and buying your classes.
I don't think that adjectives like beautiful, fantastic or excellent can describe the course and classes with John Greengo well enough. I've just bought my first camera and I am a total amateur but I fell in love with photography while watching the classes with John. It is fun, clear, understandable, entertaining, informative and and and. He is not only a fabulous photographer but a great teacher as well. Easy to follow, clear explanations and fantastic visuals. The only disadvantage I can list here that he is sooooo good that keeps me from going out to shoot as I am just glued to the screen. :-) Don't miss it and well worth the money invested! Thank you John!
Dear John, thanks for this outstanding classes. You are not only a great photographer and instructor, but your classes are pleasant, they are not boring, with a good sense of humor, they go straight to the point and have a good time listening to you. Please, keep teaching what you like most, and I will continue to look for your classes. And thanks for using a plain English, that it's important for people who has another language as native language. Thanks again, Juan
Student Work