Fundamentals of Photography
John Greengo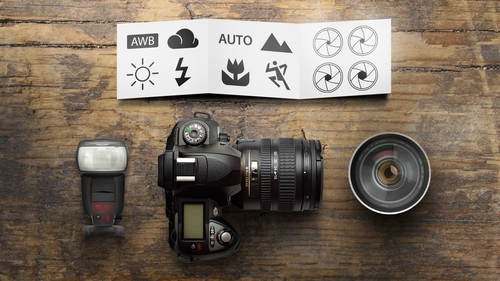 Fundamentals of Photography
John Greengo
Class Description
Short on time? This class is available HERE as a Fast Class, exclusively for CreativeLive subscribers.
As a photographer, you will need to master the technical basics of the camera and form an understanding of the kind of equipment you need. The Fundamentals of Digital Photography will also teach something even more important (and crucial for success) - how to bring your creative vision to fruition.

Taught by seasoned photographer John Greengo, the Fundamentals of Digital Photography places emphasis on quality visuals and experiential learning. In this course, you'll learn:
How to bring together the elements of manual mode to create an evocative image: shutter speed, aperture, and image composition.
How to choose the right gear, and develop efficient workflow.
How to recognize and take advantage of beautiful natural light.
John will teach you to step back from your images and think critically about your motivations, process, and ultimate goals for your photography project. You'll learn to analyze your vision and identify areas for growth. John will also explore the difference between the world seen by the human eye and the world seen by the camera sensor. By forming an awareness of the gap between the two, you will be able to use your equipment to its greatest potential.
Summary
(Generated from Transcript)
Theme: The theme of this class is the fundamentals of photography. The class covers various topics related to photography, including camera basics, sensor and ISO, lenses, exposure, focus, gadgets, light, editing, composition, and multi-shot techniques.
Learning topics: Students will learn about the different aspects of photography and how they contribute to capturing high-quality images. They will learn about the technical aspects, such as understanding camera settings and controls, as well as the artistic aspects, such as composition and visual storytelling. They will also learn about different techniques and tools to enhance their photography skills.
Benefit: Learning the topics in this class will provide students with a solid foundation in photography. They will gain the knowledge and skills necessary to take better photos, understand their camera and equipment, and express their creativity through visual storytelling. This knowledge can be applied to various photography genres, including landscapes, portraits, street photography, and more.
Class Materials
Fundamentals of Photography Class Outline
Learning Projects Workbook
Photographic Vision Keynote PDF
Ratings and Reviews
Love love all John Greengo classes! Wish to have had him decades ago with this info, but no internet then!! John is the greatest photography teacher I have seen out there, and I watch a lot of Creative Live classes and folks on YouTube too. John is so detailed and there are a ton of ah ha moments for me and I know lots of others. I think I own 4 John Greengo classes so far and want to add this one and Travel Photography!! I just drop everything to watch John on Creative Live. I wish sometime soon he would teach a Lightroom class and his knowledge on photography post editing.!!! That would probably take a LOT OF TIME but I know John would explain it soooooo good, like he does all his Photography classes!! Thank you Creative Live for having such a wonderful instructor with John Greengo!! Make more classes John, for just love them and soak it up! There is soooo much to learn and sometimes just so overwhelming. Is there anyway you might do a Motivation class!!?? Like do this button for this day, and try this technique for a week, or post this subject for this week, etc. Motivation and inspiration, and playing around with what you teach, needed so much and would be so fun.!! Just saying??? Awaiting gadgets class now, while waiting for lunch break to be over. All the filters and gadgets, oh my. Thank you thank you for all you teach John, You are truly a wonderful wonderful instructor and I would highly recommend folks listening and buying your classes.
I don't think that adjectives like beautiful, fantastic or excellent can describe the course and classes with John Greengo well enough. I've just bought my first camera and I am a total amateur but I fell in love with photography while watching the classes with John. It is fun, clear, understandable, entertaining, informative and and and. He is not only a fabulous photographer but a great teacher as well. Easy to follow, clear explanations and fantastic visuals. The only disadvantage I can list here that he is sooooo good that keeps me from going out to shoot as I am just glued to the screen. :-) Don't miss it and well worth the money invested! Thank you John!
Dear John, thanks for this outstanding classes. You are not only a great photographer and instructor, but your classes are pleasant, they are not boring, with a good sense of humor, they go straight to the point and have a good time listening to you. Please, keep teaching what you like most, and I will continue to look for your classes. And thanks for using a plain English, that it's important for people who has another language as native language. Thanks again, Juan
Student Work