Image Review: Pinkwing Song 1
Chris and Todd Owyoung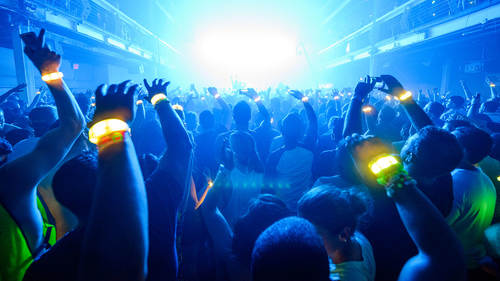 Image Review: Pinkwing Song 1
Chris and Todd Owyoung
Lesson Info
5. Image Review: Pinkwing Song 1
Lesson Info
Image Review: Pinkwing Song 1
is there any way to go to? So we're working backwards at the moment. So basically, what I'm going for in this set is a tighter shot of Rob. When you're shooting a band, you want to try to get not just the lead, especially for the group shoot everyone. And so even though Rob's not the one singing, I'm gonna get a tighter shot of him. Um, I'm trying to see if I can include the light in the corner to show a little bit of atmosphere, as opposed Teoh. Earlier shots were the lights not in there and again, I'm trying to possibly Yeah, there it is. I'm trying focusing right on the rim of his glasses as opposed to the mike or his mouth. And giving the camera like a high contrast thing to focus on is, like usually, like right around that I and if the cameras having trouble, maybe on the like hairline, that same thing from the front, just general again talking about having a sense for who you're photographing. I want to get both Robbie and Joanna in the frame and with some of the lighting show bo...
th Theo entire Group A something they can use for marketing a supposed to just like anyone person. So nothing too tight on also get that light in their shoot from an angle that's low enough to include it so that there is the sense of place Onda again. There's shooting in small bursts. Get your seeing these in reverse, which is good, because oftentimes, um, I have to shoot through uh, What? I want to figure out what I want so often times for me. Specifically, the last image I take is usually the best one, and you'll see that these previous ones rob salted away. Um, his nose is intersecting the mic, um, and so I'm looking to create images where there's good separation between the elements, like watch out for that mike stand Watch out for Let's say, if chosen angle where the head stock around basis over Joanna Space. That's not going to be something that they would like. I think so. Just looking out for a lot of the things, scanning really quickly in the viewfinder to make sure Yeah, here we go. Rob's looking pretty good there. He's singing like it's clearly a show head stock right over her face not awesome, Um, getting that front shot again like there's there's Mike's in the face, but sometimes you want that flat, that flat thing, especially if you're shooting a show and you need to show all of the people on stage a lot of what you don't get from these side angles, where these sightings are limited because you oftentimes can't show the entire ban. And sometimes the only way to show the entire band is a straight on shot like that. I think it's worth mentioning also for this sort of small stage set up. We're trying to approximate where you're in with the crowd. You might not be able to freely move. You're probably gonna have to make concessions in terms of your positioning, that you're gonna be one being your lead singer versus the bass player or whatever. So really taking these things, an account in kind of Max going with a plan of who your main target will be and what kind of shots you can get as a result of that positioning talk. Do you want to go through some of your images? I think Chris brought up a point basically shooting, because performers air in motion There they're singing the rocking back and forth and so forth. And so generally for live music, you have to shoot a little more. You have to shoot a lot more than you normally would, because you're looking to really the steal the performance down into a few shots. So Chris and I will really look at delivering maybe 5% of really what we take for a large arena show where we're having full access. It's very common for us to shoot 3300 images and during the edit that'll go down the 600 images that 300 images and will deliver out of that about 150 images. So, yeah, we will want to shoot. You want to press yourself to shoot, continues, they changing angles all the time, and you'll you'll see in these edits that likes certain photos like, I am not going to make the best images of Joanna from where I'm at because the like light on her hair is on the other side. And so the image that Todd has up on screen right now is a great shot of her, but he won't be able to make that same photo of Rob so moving around shooting a lot, you're gonna be able to figure this out, and you need to figure it out sometimes really fast when there's a three song limit. But when you're starting small again, going back to that smaller clubs with no restrictions, you configure this. You have all show to figure this stuff out and to the point of shooting a lot. You know, Joanna singing here. You know it's getting different expressions. We're here. It's a little in between this minor stars of selecting a little more natural, and it's getting a variety of images where it's here. Jonas singing Jerusalem or rocked out and here is much more calm and so shooting. You know, these are all but, you know, within a second of each other. So so be able to shoot and get a variety of angles toe work around the performers. Their motion is really is really critical. If you go back to that shot of Rob think is their emotional er on that, or is that just letting? There's a little bit of missed, focused, focused, a little money sure, that could be due to motion or is wrong? Uh, f one, but again, shoot a lot. And when we were talking about shutter speed, try to keep that unless you're going for motion Blur, which is totally like cool invalid here. But if you're not like, check periodically like, well, chimp a lot just to make sure that we're in range because throughout the course of a show, especially larger ones, the lighting will change and you might not notice. So you'll need to stop periodically and check. Always. My shutter speed high enough is my exposure where I wanted to bay. Even though we're shooting around, we try to nail as much as we possibly can in camera because of the the turnaround time is often like same night, so you want to do as much in cameras you can condition. Catching the performance on said, you know, just policy capture. Little details of you know the guitar and so forth could help flush out set. And I have the exact same photo or similar photo of the Fender head stock from Rob over here. So this is a shot at 19 millimeters. I switched from the mid range 24 to 72 14 24 Just given exaggerated, exaggerated perspective. And here you can see the Tar stock of Joanna's guitar just kind of projecting out into the frame. And this is something to be very common. For example, in a very small show, we're right into the front of the stage, and it's something you can play with in your photos on and using that the story perspective to create kind of an intimacy. And, um, you know, just experience of being in the front row like that. I'm just anyone have any questions after that one song as a business? What are some of the advantages and disadvantages of being a two man team? Obvious. You have all your profits. Yeah. I mean, that's a really good question. Um, let's see. There are definitely advantages. Practically speaking, when we get hired and we're building as a team, we can do a little bit more. Hopefully not double because things started. Like, why am I paying double like while you're there to of us? But the like practical side of that equation is that the client gets, um, a very consistent product out of us. We have very like we have an almost identical shooting style. We have identical here. And so you know, the client is getting something that is a uniform product, and they're also getting mawr than can be generated by one person. You'll see me glancing over at Todd to see where he is, what he's getting on. And I try not to do that because it's just like it's redundant. There's certain shots where I'm like, man, I was I wish I were over where he was tonight. And in fact I'm having a little bit of that right now, Uh, Joanna's side, but generally speaking like we can, we can build a little bit more the clank. It's more images, but we can also take more risks. Yes, when you're only working as an individual photographer, you know you have to get certain core shots. And so, working as a team, one of us can come straight on getting those very safe but necessary images, whereas other person can take the time when the risk to think outside the box maybe go up, for example, for shooting a stadium show one of his front of stage on stage, the other one of us whoever loses rock paper scissors has to run up to the nose bleeds to get that one epic wide shot that's gonna really, you know, make the coverage.
Ratings and Reviews
Where do I start? I had photographed a couple of small concerts in the past of a friends band, but normally have stayed within Wildlife and Sports photography. I had an interest in doing something bigger. So I watched this course, and was amazed with their instruction. A lot of great information that some may not think of, or use in practice. I have now (since watching their course) am not only a contributing photographer for a local paper, but have shot my first big concert with Styx. I am now going to be shooting the Reba concert tonight. Chris, Todd, thanks so much for clear and concise direction of how to approach, and the steps needed to get these opportunities. Can not thank you enough!
Excellent class! Holy moly, check out their websites! Lots of good advice, especially for the novice.
Student Work