Getting Started with Charcoal & Chalks
Demo: Add Chalk to Charcoal
Mary Jane Begin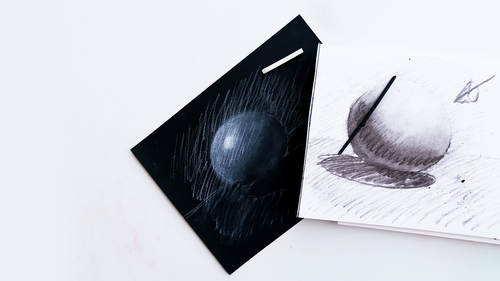 Getting Started with Charcoal & Chalks
Mary Jane Begin
Get access to this class +2000 more taught by the world's top experts
24/7 access via desktop, mobile, or TV

New classes added every month

Download lessons for offline viewing

Exclusive content for subscribers
Lesson Info
5. Demo: Add Chalk to Charcoal
Lesson Info
Demo: Add Chalk to Charcoal
I want to show you another tool that we haven't talked about yet, and that's the chalk. And how the chalk reacts to the surface. So if I do what I just did before, I'm also adding white value, white and dark. But I'm doing it with a chalk. So the color's sitting on top instead of being erased away, it's sitting on top. I don't know if you can tell. Can you see it? It's a little bit bluer. And so it's a coolness about the color. Now I'm gonna make a little gradient here. And that's sort of what I did over here. You also can use the texture of the mark. And you could see the tooth of the paper. If I blend it with my finger. It really looks kind of gray toned as opposed to white. But that can be really fun to create a sort of coolness about the color. (blowing) I'll show you with the stump too. I'll do it over here. Here's pure white. This is if you want to be really light. Let's make a little, (blowing) little shape here. And then, I'm gonna blend it into this gray which has not been spr...
ay fixed. And you'll see the difference. I'll compare what it looks like when you use spray fixative versus not. And they're the same exact type of paper. It's just a sketch paper. But you can really model something quite beautifully and creative a gradiation. And it's really lovely. It's just, it's not better or worse than this. It's a different feel. This feels more like cool and warm. It's got a kind of flavor about it that sits a little more on the surface so it's popping. This is a little more gentle. In terms of the transition of light and shadow. It's a little what I call warmer. The tone is literally, the white is a little bit warmer. Let me just show you on this surface, I cannot subtract color. 'Cause I said, it's spray fixed. So that's not an option. But I can use, is charcoal. I mean, a chalk, on top of the charcoal. So what I want to do, it's almost like, it's a chalkboard. It's really, because it's been spray fixed, look at the difference between how the charcoal reacts to the spray fixed charcoal. It's the same exact tool. I used the stick. It's darker because I spray fixed it. Than this. And it's also letting that white sit on top and pop. So if you want more contrast and more of the texture, I didn't push this into the paper. I just laid down the tone, spray fixed it. So that's why it looks all sort of like stone. But let's see what happens if we want to blend it with a stump or a finger. First we'll do finger. It's really, when you spray fix a surface, it's really quite lovely because it, the spray fixative is sealing that tone on the surface and it allows what's on top to move more fluidly. It's not blending as it is on this other surface that I just showed you. This one. The two tones, the white and the gray underneath are really blending, that's why they're turning gray. Whereas here, there's a grayness because I'm pushing it in. But it's mostly, if I just gently touch it, it sits right on the surface of the paper. So it's really quite nice. But oh, I was going to do that with a stump. So I'll do another one with the stump. Just so you can see the difference. (blowing) Again, I'll use a fresh stump. And I'm going to just show you this sort of gradiation. The stump actually is firmer than my finger. It's a stiff kind of paper. So it's pushing that pigment around with more force. And turning it back to gray. It's almost making, you can see that it's like a transparent tone of color. That didn't happen with my finger. My finger allowed it to sit more on the surface. So that's a really interesting thing to kind of see. Is that if you want what would be called a transparent or translucent layer of tone with chalk, you'd use the stump. And look, it's picking up some of that tone and I can still see what's underneath. I can still see the texture of that tone that's underneath. Now that's with the chalk. Straight on piece of chalk. Again, all these supplies came from Blick Art Materials. It's nice to try a variation so you can see what you would prefer. The pencil, it's just a small tool. That's the only difference between it and this chalk. This is a Prismacolor chalk. And this is a different brand, it's STABILO. But basically, the difference is that you get this really, fine mark because it's a pencil. You know, it really depends on the size of the image that you're drawing. You might want to use both tools depending on you know, what you're trying to make. And again, you can still use a stump to push that color around. Or you can use your finger to soften a mark if you goes from hard to soft. It almost looks ghostly. But it's really, you know, you would want to have that in your repertoire. The spray fixative is available also at Blick and it's a kind of a fumey aerosol. So you would never want to spray fix or seal any kind of powder pigment in a non-ventilated space. You would need to be in a spray booth or be outside. When I spray fix my drawings, I always take them outside. Hold my breath, spray fix them, wait for about 15 minutes, and then bring the picture back in to my studio. Because the fumes are not healthy for humans. But, it gives you this great opportunity for color that really pops off of the surface of that black charcoal as opposed to the softness of where it's still malleable and hasn't been sprayed.
Class Description
Are you interested in drawing with charcoal or chalks but not sure how to get started? In this course artist and illustrator, Mary Jane Begin will introduce you to charcoal and chalks. This class is perfect for beginners looking to learn the basics of the medium in order to begin a drawing practice. By the end of this course, you will be equipped with the know-how to start experimenting and drawing with charcoal and chalks!
In this class you'll learn:
All about the different types of charcoals and chalks and how they work
Which supplies and papers to use when working with charcoals and chalks
How to begin making simple marks and shapes to familiarize yourself with the medium
Thank you to our sponsor