Getting Started with Charcoal & Chalks
Surfaces for Charcoals & Chalks
Mary Jane Begin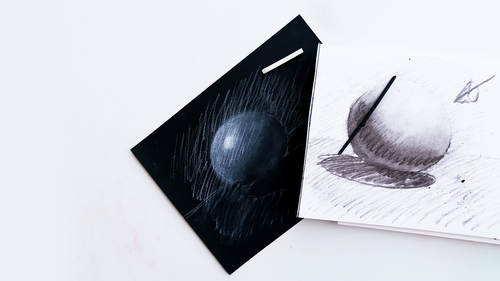 Getting Started with Charcoal & Chalks
Mary Jane Begin
Get access to this class +2000 more taught by the world's top experts
24/7 access via desktop, mobile, or TV

New classes added every month

Download lessons for offline viewing

Exclusive content for subscribers
Lesson Info
6. Surfaces for Charcoals & Chalks
Lesson Info
Surfaces for Charcoals & Chalks
Some of the papers, they react really differently. This one that I was working on is a sketch paper, it's very inexpensive, it's very thin. I probably would not do a really like fancy finished piece on something this thin or this delicate, 'cause it's just not designed for that. It's meant for quick studies and sketches. But it's perfectly fine for a charcoal pencil or chalks. And you can see, it's just a Strathmore sketch paper. Again, I got this from Blick. So it's fine for preliminary studies. I probably wouldn't use it as a super finished image. Let me just put it over here. Keep my hands clean. Now tracing paper, you certainly can use tracing paper to do chalk on, but if you look at how thin this paper is it's not going to take a beating. This would be great for gesture drawings in a classroom, because you're not trying to do anything that's meant to be lasting, it's just, you're quickly studying something, you're trying to capture the gesture, it's a throwaway thing. So you can u...
se charcoal and you can use chalks on the trace paper, but again, you can see, I'm putting white directly on black and they are blending a lot, because this is a very soft paper and almost like an absorbent paper. So it's meant for quick roughs, it's not meant for a really refined finish. And that's called trace paper. There's a different kind of tracing paper that I wanna show you, which I'm a huge fan of for a lot of pencil sketches. And it can be used for charcoal. It has more density, it's called vellum trace. There's more weight to it, it's more expensive. But what's great about it is that it has heft to it. You can do a lot more on it. Again, it's soft, it takes this material in a soft way. If I put Vine on here, look how light that is, because this paper literally, it's so smooth and it's such a soft material it's almost absorbing this color. So I would use this, but again, I would probably only use it for, I would say roughs, not really super finished things. Partly because it's still a delicate paper, even though it has a little more heft than the other trace paper. The thinness of this, it's just not meant to be used for anything more than prelims, preliminary drawings, for pencil or for charcoal. But it's good in the classroom when you're doing quick studies. So the other surface I wanna show you, this is called a vellum Bristol paper. And Bristol is a really common paper to use. It's got more heft to it. I believe the weight might be 100, it's 100 pound. It's also very smooth. Although this one is considered irregular and I have a super smooth and I have another Layout Bound that a little more textured. But let's just see how the mark looks on that kind of paper. Now it sits really beautifully, you can see it has a kind of a texture to it. Let's use the pencil. Let's see how it blends. Now this paper holds up really well, you could do a finish on this. It might not be big enough for your picture, but you could do a nice finish. You could do crosshatching. And this pencil feels pretty good on this surface. But let's just try seeing how it blends with the finger or the stump. For me that's kind of the test, because I always like to be able to do that. It's a pretty nice surface. I'm gonna try it with the dust that I've made over here. And you can see, this paper, which has heft to it, has a kind of weight to it, also has a little bit of a grain, so it's really quite beautiful for making a finished piece, because it's not gonna fall apart, it's not gonna tear. And it gives you this really nice opportunity for gradation or for a nice sharp mark. And it's true, let's put the charcoal chalk. The chalk sits really well on this. It blends, but it also can be pretty white. So this is a great paper for more resolved finish with charcoal. And this is just called a vellum Bristol. And Bristol's a standard drawing paper and 100 pound is like your average weight. You could get heavier papers, but it's not really necessary to get more the weight than 100 pound. It's your standard. Now this one's considered smooth, so let's just see the difference. Smooth meaning that the surface is really slick. And I can, you probably, I'm sure you can't see this, but I can feel it, it's like whoa, gliding across the surface. As apposed to grabbing onto the tooth of the paper. And when I rub it, let's use our little powder method, there's even less of a kind of tooth or texture. It's more, you can almost get a more consistent or even tonality. Let's do it with a stump. I'll create a gradation. Yeah, when I use the stump I can get a super smooth gray tonality, which is really quite lovely. So again, you wanna think about the papers that you're using as what am I using it for? Am I just making quick studies and drawings? Or I'm making a really elegant finish? If you're making an elegant finish then you probably wanna use a Bristol paper. And the difference between the smooth and less smooth or even textured is based on how you want it to feel and how you want that piece to look. But you can sort of, I don't know, Kenna, can you see like how this looks a little smoother than the other one? I can compare that. It's subtle, but you look at that texture or you look at that texture, or even this one. It's just really, what's happening is because the surface is so smooth and there's so little fiber it's picking up that charcoal in tinier quantities. It's almost like digital, it's like pixelated versus non-pixelated. So there's just more tooth, so more texture, less tooth, less texture. And there's no right or wrong to that, it's really just a matter of what is your preference for the finish. Okay, so I do wanna show, it's a type of paper, and actually, I'm gonna switch things here. This is Canson paper. I will put back what I had there, which is down below here. This is Canson paper and basically Canson paper is a colored, toned, pastel paper, but it can be used with charcoals and chalks. And what I did here, it's actually, this is Fabriano, but there are two types of pastel paper. Fabriano is one brand and Canson. They're both good, they're both equal. But what's nice about it and I used the less textured side, this is a pretty smooth side, is that when, like I showed you in the imagery initially, when you use a toned ground you instantly bring color to a black and white medium. So that's a really nice thing. And the pencil and the stick react pretty similarly, although the stick is a little lighter. I'm just gonna show you what I did over here. I went from sort of transparent color to adding some chalk white. Pure white. A little less white, little less, until I get to almost no white at all. So we'll start with the black. And basically what I'm doing is creating a kind of, to show the gradation with chalk and charcoal on a color tone paper. Thank you. So that's the charcoal stick. Here's the pencil. Now this is, this sound and the feeling of this is not delightful. And that's because it's a pencil on a kind of, not rough surface, but a textured surface, it's almost painful to do this. The reason why it's rough is because it's grating one against the other. So it's got a little bit of the fingers on the chalkboard action, so I'm only gonna go so far with that. But the pencil's not an ideal tool as much as the stick, because the pencil's really meant for line work. It's not designed to create these big patches. I think it's, especially on the Canson paper, it doesn't move as well. So a powdered dust or the stick moves beautifully on the Canson paper, the pencil, I would just save it for even line work, because that's really the best use. And the sound of it, trust me, and the feel is not ideal. So I like using colored tone papers, again, to bring color to the piece. If I were doing a moody piece, black and white, but I wanna bring one other color to it, this blue tone would be perfect. A night scene with the moon, I mean, this would be ideal for this material. But again, it's your choice. Do you wanna work on a colored tone paper? Or do you just wanna get all of your quote unquote color from black and white? And some people, that's what they would prefer. I wanna show you one more surface here that I'm actually using as a kind of a base and that is our newprint. This is also Blick. And it's the cheapest paper that you can get besides the trace paper, the inexpensive trace paper. And it's made from recycled material, so that's why it's gray. And it's typically used in the classroom, again, for quick gesture drawings, like the gates drawings that I showed you. You can get that edge for shadow or shift to line. So that's really why, when you're trying to move quickly you want to get the maximum amount of use out of that tool, so being about to just quickly throw something down, have a line, it's malleable, it's moveable, and it's on cheap paper that you can tear and do 20 drawings and nobody's worried about the cost of it. You would not do that with Bristol paper or Canson or Fabiano paper. This stuff's, I don't wanna say how much it is, but it's a lot more per sheet than newsprint. So save your good paper for your finished drawings and utilize the newsprint for your quick studies. But again, this tool is really beautiful, because you can create a quick gray tone, or you can create a line. Whereas the pencil is really more about linear work. If I were drawing something I would use this tool to draw it out, but if I were trying to get shading I would use this tool. It's quick, it's immediate, it's flexible. And of course, we always know, the two tools we like to use, the finger, or the stump. I'm not so sure how this is gonna work on newsprint. I've used it, but I'm trying to, yeah, it has a little bit of a giveback. It's not as bad as the Canson in terms of that fingers on the chalkboard, but it's a little nicer. And it moves pretty well. It's acceptable. As you can see, you can create these beautiful gray tones. People use stumps, but they oftentimes when they're working on quick study drawings, just a pure charcoal stick is great, okay.
Class Description
Are you interested in drawing with charcoal or chalks but not sure how to get started? In this course artist and illustrator, Mary Jane Begin will introduce you to charcoal and chalks. This class is perfect for beginners looking to learn the basics of the medium in order to begin a drawing practice. By the end of this course, you will be equipped with the know-how to start experimenting and drawing with charcoal and chalks!
In this class you'll learn:
All about the different types of charcoals and chalks and how they work
Which supplies and papers to use when working with charcoals and chalks
How to begin making simple marks and shapes to familiarize yourself with the medium
Thank you to our sponsor