Class Introduction
Mary Jane Begin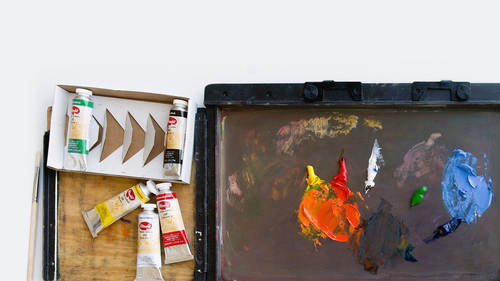 Class Introduction
Mary Jane Begin
Lesson Info
1. Class Introduction
Lesson Info
Class Introduction
Hi, I'm Mary Jane Begin, author, illustrator, and professor at Rhode Island School of Design. This course is designed to help introduce the properties of the materials used exploring oil paints. I'll review the colors, the painting tools, and various surfaces, as well as the additional tools needed to create oil paintings. I'll show some examples, demonstrate the properties of the materials I introduce, and answer questions about materials and methods that I show. So for several centuries, oil paintings have been used from say the 13th century when they're invented, and it's been the go-to medium for painters ever since. Oils provide a rich color palette that allows for thin transparent application, thick or impasto style painting, and glazing. Oils are relatively permanent, or what's called light-fast. Meaning that they don't fade easily in UV light. The versatility and permanence of oils, in combination with the luminosity and richness of the color make it a preferred medium, though ...
clean up and ventilation are issues. Oil paints are so named because they're made with a binder of oil, rather than gum arabic like watercolors, or plastics like acrylics. And are thus not water soluble typically, for this course however we will be using water soluble oil paints as a relatively new creation that allows for painting in non ventilated spaces like our studio here. Water solubility also provides for easier clean up without the use of solvents. So here I wanna show you a colleague from RISD and wonderful painter, Jason Brockert. His painting demonstrates that kind of richness of oil color and the depth and value, and vibrancy you can achieve with this material. It also captures the textures and the smoothness of the oil paint, so if you look through here, you can see there's a lot of textural color and that's because you can actually apply this paint in a really impasto fashion, which means thick. When you look through this zone, you see that there's a sort of transparency of color, or thinness, and that's also something that oils can achieve. Oils are beautiful for glazing. So this painting also captures the ability to play with texture of the brush, and the ability to paint to pick up texture to the canvas. So all the texture that you see through here is the paint reacting to the surface of the canvas. And that's something that oil does beautifully, it's a really sort of buttery medium, and it's very, very flexible. Now this is also Jason's work, and it has a really different feel, it's almost entirely void of textural mark making and relies more on the ability to create an illusion of realistic light and depth of field, or sense of space in the picture. So oils can be textural or they can be super smooth, and super even in application, and very rich in color. Now this is a very dear friend of mine, and amazing, and very well established oil painter, Steven Kenny. He uses oils in a more detailed method and relies on the consistency of the brush stroke to stylize the use of the material. So unlike Jason, Steven's really controlling his mark making to kinda make a stylized consistent mark across the surface. And that's part of a signature of his style. This is another work by Steven, and he really pushes the opacity of the paint to use value structure to create depth, while still maintaining his sort of idiosyncratic mark making. So the other thing about oils that's really beautiful is that you have this value range that you can achieve, unlike watercolor which is sort of more limited in its value range, oils can go to a really deep color tonality, all the way to the highest of lights. And the opacity that I'm talking about is happening primarily in the areas on light, so you can push opacity and transparency and create beautiful, volumetric forms. And for Steven, again, he's still carrying on this sort of consistent textural beautiful stylized mark making. Steven also takes advantage of the velvety nature of oils, here he's creating a series of smooth gradation of color on the surface of the paint. So if you look at how he's handling the skin tone or the background, unlike his previous painting there's all this really soft modulation, makes me thing of the painter Ang. It's really amazing, and oils can do this because they don't dry so quickly. You're able to model that color for quite a bit of time before it's going to dry. So he uses a sort of crispness and sparkle through this area of the painting, and that soft modulation through the form and through the background. Now this is a masterful work by N. C. Wyeth, the classic illustrator. He uses textures and impasto, or thick layers of paint to describe surfaces, so he's sort of using a combination. But it's not just about the surface that he's working on, he may be using palette knives or brushes to create the textures that you see throughout this painting. Now oils, like acrylics can be used very opaquely, so that you can see through the canvas underneath. This painting by N. C. Wyeth contrasts the textural mark making and has sort of layering in addition to that throughout the piece, you have sort of smooth areas of color, and then these sort of textural areas. And it creates a sense of space because you've moved from sort of a smooth tonality to all of this texture back here, so creating a depth of field or a sense of space is something you can achieve with oils. It's also amazing in terms of the luminosity of the color. It's probably my favorite thing about oils, is that the color, it radiates light. It's just glorious in terms of a medium, and that's why it's been used for centuries. So for social icons, if you wanna get connected to me, you can connect with me @mjbegin1@ on Instagram or at Facebook @Mary.JaneBegin.Art
Ratings and Reviews
I've been a silk painter for decades and am just starting out with oils. This course was extremely helpful, especially the demos. One thing--at the very end she says that with traditional oils you'll need to clean your hands with a solvent before washing with soap. Not a great idea if you want to be healthy. I remove pigment on my hands by rubbing a clean oil on them, then washing it all away with soap.
Student Work