Demo: Oil Painting Palette Knives
Mary Jane Begin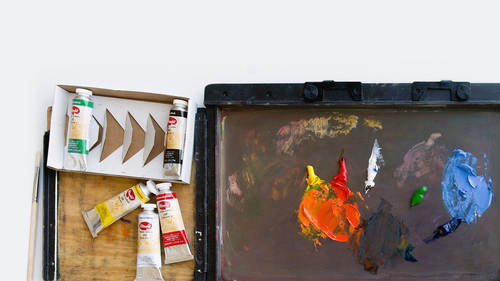 Demo: Oil Painting Palette Knives
Mary Jane Begin
Lesson Info
7. Demo: Oil Painting Palette Knives
Lesson Info
Demo: Oil Painting Palette Knives
So the last thing I wanna show you in terms of application is your palette knives, and we had, well I had, I shouldn't say we, I had such fun with the palette knives because again, it's not typically how I paint. I paint very small, this little painting right here, which is, it's based on a story I wrote called Ping and Pang Together, about two pandas who meet for the first time and neither has ever seen the likes of the other. Giant panda's never met a red panda, red panda's never met a giant panda, and all of a sudden they're like, you're not a panda, you're not a panda, so you can imagine the story. And the character Ping, the red panda, is based on, what is Heather's official title? She is the head of the art side at CreativeLive. So Heather Posten, head of the creative channel, a design channel is Ping, and she has such an expressive face, so she was a great character source. An aside, I always base my characters on real people, so watch out Kenna, you could be turned into a c...
haracter. So in creating this painting, I used techniques of glazing, I'll show you some demo, not on this one because it's a finished piece, but on another piece that I have. But this is not done with a palette knife, there's no way I could paint that picture with a palette knife, look at the size of this thing, super tiny. So I would use much the smallest brushes here to make that painting. A palette knife is used, generally speaking, for larger pictures, because it's harder to control. Look at the size of this tool, think of if you're using it to decorate a cake. It's pushing larger quantities of color. Now this is a pretty small surface, so we'll test what we can on here. But we need to choose another color. What would you like to choose Kenna? Let's see. What about one of those brown colors? You wanna try burnt sienna? That one. Okay, great color to have in a palette. The burnt sienna is a classic color because it's wonderful to work against in terms of a base tone, and I actually it's often, if you're taking oil painting class, you would see they generally start you on burnt sienna because it's warm, it reacts to colors beautifully, but it's somewhat neutralized. It looks like a red, but it's not classified as a primary color because it's still literally a brown, it's mixed from other colors. So we'll start with, and actually, I'm gonna pinch out more of this color, like a larger quantity of this color, because you need a fair amount of quantity to move this color around if you're using a palette knife. One trick I wanna show you is, if you squeeze out too much pigment, pinch the sides, let's see if I can do this. Pinch the sides, and generally, wait, push out, I've got too much color, pinch it in, it's not working now, usually it does. If you have too much color, you pinch the sides and it sort of sucks the color back into the tube. The thing that you generally don't wanna do is leave any kind of color, with any of your pigments, watercolor, acrylic, or oils, too much of the color sitting on the top because it dries, and then it's very hard to put the cap back on. So I would just be mindful of that. But let's try, we'll try first our beveled edge palette knife, I actually wanna use a little bit of white as well, where's my white? Oh, that's my orange. See, they've color coded the white with orange, so it's throwing me off. I do wanna mention, don't go by the colors of the actual tubes, they're often not accurate to the color that's inside, go by the names, and the names that I've mentioned are really the best way. And they're not consistent from brand to brand, but they're generally somewhat consistent thank god, but they're, you can get a batch of raw umber in one brand that looks a little different than another brand. Okay, so I'm gonna try with a palette knife, and you can start to get this beautiful sort of blending that allows for the streak or variation of the color. I'm gonna put a little orange in here too. You can get this thick weight, but what you're doing is you're not tryna brush it across, you're actually using the edge to make this a little clean little mark, and with the beveled edge, you can get a straighter sort of alignment of pigment. Here I'm gonna show it here, now here's a big patch. You're basically using that flat shape to press the color, or to drag the color across the surface in a fairly flat way. It's a little bit different than if we used, let me just grab a round tip, like this one. Now I need more pigment, as you can see here, let's get a little more burnt sienna, and maybe we'll mix it with a little of that purple, that'll be fun, and then a little bit of white. And this one is meant to make rounder shapes, I mean, it's pretty self evident. The shape of the tool pretty much tells you the mark that you're gonna try to make with it. So I'm gonna lift, and you scoop it, you basically scoop the paint off the surface, plant it down, let's scoop a little white, plant it down, scoop a little pink, plant it down. Now again, you could literally paint a painting that has that level of thickness. Now why would you do that? And you can see, it turns, like the round tip brush, I can swirl this in a way that I can't quite with the other tool, because it's a rounded tip. Look at the, and I'm also able to blend that color, this is really fun, I'm just sayin', like it feels really good. So I think the one reason I would consider painting a very large painting, not something obviously this size, with impasto paint is that it has this physicality to color. You have this big pile of color, and you're able to move it around with, it's like a trowel, a tiny trowel, and it does not feel the same as a brush feels. It feels really different. This becomes a personal preference. Again, if you test it, you might say, oh, I really love brushes, I really don't like palette knives. Oh look, you can swirl this, it's the round tip, I can turn, I can make a turning mark, I can swirl this color around this way. Now I'm not tryin' to make any particular color, this is becoming somewhat neutralized because I'm goofin' around here, but you can move that shape in a way because of the rounded tip. You can even, let me just grab another pile of burnt sienna. I'll put it right on the surface. You can make these swirling marks, and you can press that color down in a way that it tends to be, to my mind when you're using the palette knife, it tends to be something where you're trying to establish not just the texture of what you're trying to describe, but the textures you can make, like look at this. I don't know if this is visible, but the textures can get really, really intense and almost how should I say? You have smooth marks, or you have really densely textured bumps of marks of color. And so that's something that painters I think really love when they work with a palette knife. And again, it feels really, really good. So you have different types of palette knives, but the biggest difference is your square edge, bevel edge, and your round tip.
Ratings and Reviews
I've been a silk painter for decades and am just starting out with oils. This course was extremely helpful, especially the demos. One thing--at the very end she says that with traditional oils you'll need to clean your hands with a solvent before washing with soap. Not a great idea if you want to be healthy. I remove pigment on my hands by rubbing a clean oil on them, then washing it all away with soap.
Student Work