Oil Painting Brushes & Palette Knives
Mary Jane Begin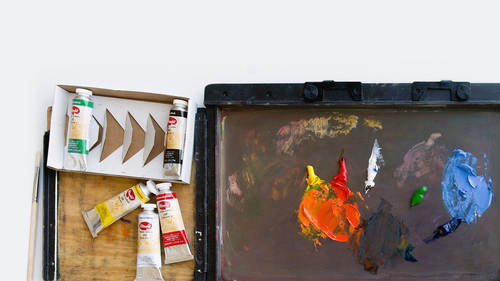 Oil Painting Brushes & Palette Knives
Mary Jane Begin
Lesson Info
5. Oil Painting Brushes & Palette Knives
Lesson Info
Oil Painting Brushes & Palette Knives
I'm gonna introduce to you the different types of brushes that you would use in oil painting. The one that I have right here is called a square tip, and that just basically means it has a square tip. It's flat and square, and this would be what I would call one of the larger size brushes, although if you paint very large you might want something that's twice this big. I paint small, so I would probably land in between a 10, 11, and 12, for my largest square tip. If you paint very large paintings or you wanna try that there are much larger brushes, 20, 25. So you get the size that's most appropriate for you, but I feel like with brushes, you should have a small, a medium, and a large of all the different types. So that would be what I would consider one of my larger brushes. This would be kind of a intermediary, which is sort of a, this is a number six, so you have a 10 and a six. This gives me marks that are similar to this, it's just gonna be a slightly different size. And then let me...
see if I can find my smallest square tip. This is a wonderful little guy, and these are all Blick brushes, they're very nice, they're called stiff bristle because they're quite literally, as I'm pushing this back and forth, they're stiff. They have pushback to them, they're not a soft bristle brush. You'll have another type soft bristle, but these are the stiff ones. They're gonna push that color around and give you a streak of the brush mark. You really see the fibers, the hairs of the brush. These are also synthetic brushes, they're not animal hair, so they're gonna really react, almost like a shovel. They kinda push the color along. So if you only get three brushes, I would get a small, medium, and large. And this is a 10, a six, and this little tiny one is, I believe, it's called a 10, but that's not accurate, it's not the same size of this one. It should be, it's either two, three or four in the standard brush kit, I don't know why this is a 10. But anyway, you've got three sizes of your square tip. The other brush that you might use would be, it's called a round because the tip of it can come to a point, but it is when it's dry basically a sort of round tip. This is a very large brush, this one's actually a and that's a nice size for a large painting. The next size down you might have for your round, would be again a six, and you can see the size variation. And again, this really depends on how large or small you wanna work in oils. With oil paints you can work very small, or you can work massively large, because you can get large quantities of oil paint in your tubes. And because traditionally people have worked really large for oils, it's not uncommon at all. So that will depend on how big a painting you wanna make. Now this is a really small round, and you can see, that it's just, it's size variation. This is where you'd want to get into a smaller zone in your picture, I would tend to use this brush a lot because I work in a small way. So the next kind of brush is called a filbert which is kind of a funny name, I think I mentioned yesterday, it makes me think of a character. And a filbert, it looks like a round, but it's actually, it's sort of scoop shaped. So it's round in a different way than this brush, this has more of a point. The round brush literally has more of a point, and the filbert is a flat sort of round soft edge. And I'll show you why you would wanna use these different style brushes, but this is a four so it's a smaller size, let's see if I can find. This is a really big filbert, makes a larger mark, and then our in between filbert might be an eight. Now let me get, actually I'm gonna get a clean surface, and do some of this testing, what do we have here to work on. I've got some small canvases that we'll test on. And these are just, this is a canvas surface. It's different than the surface I started with which is a Gesso hardwood board. Now yeah, look at how that's leaking. This is water, and that's actually instructive, that's water and this is solvent. It's so liquidy it moves a lot, so you'd be wary of that if you had your painting on an angle. The linseed oil does not move, it's holding and clinging to the surface giving beautiful transparency. That's why linseed oil is the perfect medium for creating transparency of color and creating glazes. Okay, so here we have again, our three different sizes. You know, your small, your medium, and your large, these are filberts and I'm gonna show you what kinda mark they make. But before I do that, I do wanna show you the other type of brush that you can use with oils. And it's a really different style of brush. It's a soft hair brush, and you can use animal hair, but again, you have to be really good about cleaning your brushes because if you're not, you'll ruin them. They're animal hair, they can be either kolinsky or sable, and sometimes you could have a blend of a synthetic, which is a man made fiber, and kolinsky or sable. But they're a soft brush that holds a lot of liquid. With oils it's a little less important that they hold as much liquid like the solvent, or with water soluble, water or linseed oil, because that's not really something you do as much with oils. You might thin your color out a lot, but you're gonna tend to work a little bit more thickly with the oil, so the soft bristle brushes don't have to be animal hair. Those are more expensive in terms of brushes so that's why I think you're more likely to get a synthetic. Now this is an angular, this is a square tip. Synthetic, this is actually animal hair. And again, just like with the other brushes, I like to have a variety of sizes because I think it's really helpful. You don't have to have as many brushes as I'm showing you here but the more brushes you add to your repertoire, I think the more variation you have. So even if you only have a large, medium, and small of your stiff bristle brushes, and a couple variations of square tip, filbert, and let me see if I can find a round, round. These are super small, this is a square tip and it's very tiny. This would be for a very small painting, and this is even tinier, this is a number six. This is a round tip, comes to a point when you paint. But we'll test all of these now, I feel like with this variation, you're gonna use your stiff bristle brushes much more with oils than you would your soft bristle brushes. So I don't have as many, or am gonna use as many for demonstration here, because I think the hard part here is it becomes very, very expensive if you have to have 10 brushes of each type. So the other thing I wanna show you, before I start demoing is, we're gonna work with palette knives. And palette knives basically are used to move the color round in a really different way than the brushes. And the palette knife comes in a variety of shapes and sizes. This has a beveled edge, so this beveled edge is gonna push the paint around and create little edge marks. This and this, you have a little round tip. So it's gonna push the color and make more circular marks. These tools move color round like cake, like pastry, what would you call it, like frosting. Like when you're moving the frosting around on a cake, that's what these tools do with the paint. And you can see the shape is defining the mark that's gonna be made, so this just came in a kit. I didn't, these are not expensive, this whole thing was just one package so you have a variety of these tools, I'll show you the marks that they make.
Ratings and Reviews
I've been a silk painter for decades and am just starting out with oils. This course was extremely helpful, especially the demos. One thing--at the very end she says that with traditional oils you'll need to clean your hands with a solvent before washing with soap. Not a great idea if you want to be healthy. I remove pigment on my hands by rubbing a clean oil on them, then washing it all away with soap.
Student Work