Getting Started with Pastels
Demo: Pastels on Premium Mounted Boards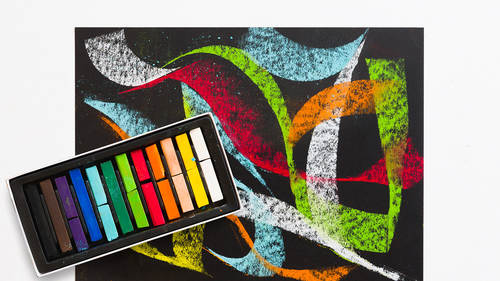 Getting Started with Pastels
Demo: Pastels on Premium Mounted Boards
Lesson Info
Demo: Pastels on Premium Mounted Boards
I wanna show you this very strange and fascinating surface and it is called UArt Premium Mounted Board. It's a fairly new product. I had not played with this before and when I was doing my tests, I was like, this is a very unusual surface. It's like an illustration board, but it's designed specifically for pastels and dry media. And I did a little test over here of a landscape, you can see, and that's all oil pastels. And it was super-fun to play with this because this surface, and I'll do the finger test. (rough scraping) It feels like sandpaper. I don't know if you can hear that. But it's weird and it's a little sticky. So it grabs onto the color much like the Canson paper but almost like, with more force. And so I will show you, I'll kind of replicate, let me just look at my picture, what did I do here? Oh yeah, a landscape. So what I'll do is we'll test with a little bit of the colors that I used there. Do a little gradient. You can see, if you don't mush it around, it's gonna be v...
ery, very textured, totally fine, but I think I'm gonna try pushing it in with my fingers and stumps, and I'm gonna do a gradient with my oil pastels. And then I'll show you the dry. So they blend, again, like but-tah! It's really amazing, like, it feels very velvety because that color is grabbing onto that surface in a really delightful way. And I'll rub it with my finger and then I'll show you show you with a stump. It functions almost like the way oil paint does if you're oil painting and it's interesting and I think it has to do, the surface is designed to make it feel more like how an oil painting would feel. So see the blendability of that? Look at that gradient. That's really quite nice. I always like colors that are interesting combinations so I'm gonna bring a little yellow into that. And then I'm gonna use my pinky to blend that color. Add some more white. And then I'll test with the other material. I'm gonna use a fresh stump. It works pretty well on this surface because so much of the material is sitting right on the surface. It's not sinking in, it's all resting right on top. So I can mush this around, I can swirl it. It's really quite lovely, particularly for the oil pastel. Now the other thing I'm going to use, I'm gonna do the same thing but I'm gonna use the dry. (rough scraping) You can hear that texture, right? Kenny, you can hear that, right? (imitates rough scraping) So I'm gonna try this and then I'll make sure that I grab my dry stick. And I'll blend it with my finger. Very much like the other tool, it blends beautifully. And this is called UArt Premium Mounted Board. It's quite wonderful, specifically for this. I tried it with some other tools but I think it's really best with the pastels, dry and oil-based. The tackiness of this board also is holding the color on. I could spray-fix this but it's on there. It's gonna come off a little bit but it's not just flyaway like a lot of these other surfaces. So I think this is a fun one to experiment with. I would experiment more with it. I really enjoyed it. The other thing I wanna mention is, I've got a couple of erasers out here. I'm just gonna clean my fingers. And you do wanna use an eraser if you wanna make a change, you wanna be able to pick up the color. There's several types but what I would show you is, we have a Pink Pearl, which is your standard kind of eraser, has a nice edge. And then this is a Staedtler Mars, which has a really firm edge and kinda picks things up with more intensity because it's really, really hard. The only problem is that on this surface, some of the rubber gets stuck to the surface, which is not really ideal. You can use pastel pencils as well as the chalks that you see here, the crayon and the chalk. And you would use this kind of a tool, just a standard sharpener, for your pastel pencils. The other thing I wanna show you is an exacto knife. This is a great tool to have in the studio because when I cut a board, I use a ruler and I'm trimming things out with an exacto knife as opposed to a matte knife. It's smaller, it's a little more delicate. But it's a great tool to have.
Class Description
Are you interested in drawing with pastels but not sure how to get started? In this course artist and illustrator, Mary Jane Begin will introduce you to pastels. This class is perfect for beginners looking to learn the basics of the medium in order to begin a drawing practice. By the end of this course, you will be equipped with the know-how to start experimenting and drawing with pastels!
In this class you'll learn:
All about the different types of pastels and how they work
Which supplies and papers to use when working with pastels
How to begin making simple marks and shapes to familiarize yourself with the medium
Thank you to our sponsor