Demo: Color Pen & Marker Tools
Mary Jane Begin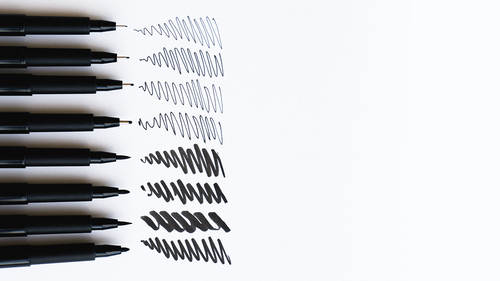 Demo: Color Pen & Marker Tools
Mary Jane Begin
Lesson Info
5. Demo: Color Pen & Marker Tools
Lesson Info
Demo: Color Pen & Marker Tools
So let's shift over to our other line-based media, and that's really what connects all of these tools, is they're line-based. You're using line, because the line is coming out at the end of either the point of the nib, or the tools, like the markers. So what I wanna show you here is I did some testing of the different types of brushes, again, on these different surfaces, but these are pens, the brush pen that I showed you before, but now we're gonna use color. These are called Copic markers, which are super fun because they're opaque, so they have a density to the color that's so rich, and then I have what's called Posca markers and that's, dadada, where are my, those are here. Those are also a kind of really densely opaque color, so we're gonna test the different colors first we'll start a PITT pen, and I just want you to see, I'll choose purple. This is that textured surface. Now, as I said, it has that sort of dryness to it, but when you're dealing with color it's kind of interestin...
g. I'm gonna cross the purple with the pink, and then I'm actually gonna make a little square of this, and there's something quite beautiful about that texture when you're integrating, let's say two colors. It creates a kind of toothiness, like the white specking through, and that's really quite beautiful, and it works the same way, this is the Faber-Castell pens. I'll try another color, we'll do the blue, and I'll do strokes. And again, this is not a standard paper you would expect to use for ink markers, but I kinda believe in testing different materials just for fun, because why not, and so I tested this and I really kinda like how the markers, and markers dry instantly, they land on the surface, boom, they're in there, they're dry, you don't have to wait for anything to dry with markers, but it's kind of a yummy surface to work on because it has all that texture. Let's try it with the Copic markers, and we'll try a couple different colors. Now, this has two different sizes, it has this beveled edge, which allows for a really fat mark, or a thin line, and it has, like the Faber-Castell brush pens, it can go fat to mark, or it can go really thin, so I can move here. Of course, you wanna put the cap back on the other side otherwise you're getting color on your hand, which I just proved to myself. And go fat, to thin, to fat, to thin. And so this has a lot of variation, but you can see this particular marker, and even this, they are sinking into the paper pretty instantly, and if you don't like that, you know, then you might not like the surface of the paper, but I really like this variation even with this marker, too, and I like that it has two sides, the Copic marker has the beveled edge for sort of big, chunky marks, and it has the point, which gives you the variation like the brush pen. But let's throw another color on top of that, we will do, I'll go yellow, and I'm going to just float this color right on top of it. And again, I'm not getting any of the color on this pen as I use it, because it's not picking anything up. That marker is on this paper, it's sort of absorbed into this paper. that's really quite beautiful, but let's try one that, (sighs) I think is just so delicious. And we haven't really tested these markers, but again, they're very, very fine. It's gonna be a whole different mark system. So I sorta wanna focus, even though these colors are beautiful for the Microns, and we also have these other sort of finer brush pens that function very much like the Faber-Castell, these are called Clean Color. They're beautiful, but they resist the surface a little bit too much, so I'm gonna shift to the Copic, 'cause I think these are, they're just, they're so much fun. You shake them. They make sounds. There's a little ball in there that's shaking up the paint, and when you first open this thing you have to do this for like a couple of minutes before that paint comes to the bottom of the tip. But, it is densely opaque, so as you drag it across that surface it's like solid as a rock. Now, if I put this on top of, let's see, I'll try it with here. It sits opaquely on top, let me test one that's really dry. It sits opaquely on top of the color that's already there, so because it's opaque it's really densely blocking out what's underneath it. So, these are super fun markers to use because of that reason, and you can blend them, you can mix them. On this surface if you press too hard you kinda pick up the tooth of the paper, but these are lovely to use in combination with your Copic markers and your Faber-Castell brush pens. Now, you can do, you know, big long marks like this, you can do line work, I've shown it all here, you can do a flat chunk of color. But it's densely, solidly opaque, and feels really, really good. Now, the other marker I just wanna show, and this is what Gates used for one of her drawings, is these gel pens, and, there's a little cap on the end of these. You know, these also have a kind of density to the color, and some of them are actually shimmery and sparkly, My Little Pony-ish. They have, like, that kind of quality to them, so these sit on the surface in a really interesting way, too. Once again, this is not the standard paper you would expect to use for marker, of any type, but I tested it because I was like, I betcha it's gonna be cool, and I really liked it. This is a 140 pound, rough watercolor Arches paper. Arches watercolor paper, as I've said in my other classes, it's just the best paper in the whole wide world. I love it, so it's quality and it's great, and I liked it for testing the markers.
Ratings and Reviews
A great overview class for those who know nothing of the variety of pens, markers and papers available. Mary Jane is an accomplished teacher, and I look forward to putting her teaching in action.
Student Work