Demo: Pen Tools
Mary Jane Begin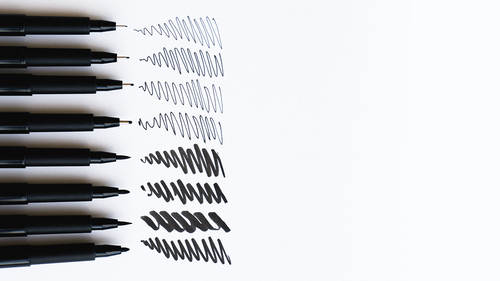 Demo: Pen Tools
Mary Jane Begin
Lesson Info
2. Demo: Pen Tools
Lesson Info
Demo: Pen Tools
So we have a fair amount to cover here 'cause there's a lot of different types of tools. Now, we don't really deal with tubes or paint because this is not a paint medium but we do deal with color because the markers come colored but I'm gonna start with black and white media just because I think starting with a line and moving into the colored line makes a lot of sense. I'll also show you some different surfaces for the mark making that I pretested before this particular class. Now, I want to start with some of the tools that I used and one of them is the pitt pen and this is a really beautiful set of pit pens by Faber-Castell. You can buy it at Blick Art Materials. I'm gonna pull out the black pitt pen. Then I'm going to work with the black, this is called technical pen, it's a different critter than the pitt pen, I'll show you the difference and then finally, we're gonna go old school and I'm gonna show you something that I've worked with and I actually have some examples right here ...
to the right of my pen and ink work, both some scratch board work where I scratched into the surface like with Ruth Sanderson with the witch and also with this crocodile on white scratch board. I also have some pen and ink samples that were done on bristol board so I wanted you to see that line work up close and personal because the line translated onto a screen as in this studio, it doesn't quite, it's not quite as a clear as if you see the original itself. It's very, very fine, the work is really small too. But I want to show you that work because I feel like it's a fun thing to talk about, the pen and ink scratch board in addition to the newfound media that we see here. All right so, I'm gonna pop this in, hold on a second, I'm trying to get this... So the crow quill pen actually has what are called nibs and there's a bunch of them here, a couple different sizes from the tiniest nib to what's called a bowl style which holds a lot of ink and this is just a pressure sensitive, you can press down and get a different kind of mark whether it's a thick mark or a thin mark but I'll show you this on this really inexpensive Strathmore paper. Now the marks are really different from one media to the next, this is the pitt pen, it's a brush pen and you can see, I've tested up at the top, all the different marks you can make. You can get a fat mark if you bevel it, you turn your marker on the side or you can get a really fine mark if you're going right from the top and pressing down so this is a really beautiful pen. It mimics what the crow quill pen does but it's all housed within this one tool so the brush pens, otherwise known from Faber-Castell as a pitt pen is a really lovely set of pens. Another set that, this is what Gates used to do her work is called, they're called Micron pens, they're also known as technical pens. Now this does not vary in weight. I can press down and lift up and I can't really vary the weight which means the thickness of that line. All that I can do is get a really super clean line. Micron pens or excuse me technical pens come in different sizes. I'm just gonna put something below this, hold on a second. I'm feeling the surface of the wood so I'm just gonna put a smooth surface underneath. So this pen is great, the only problem with the technical pens is that they are so consistent in their line weight, unlike the pitt. Pitt thick to thin so that weighting creates a kind of sense of space. Thick lines move forward in space like I showed you with the Gibson Girl piece. The heaviness of a line forward, the fine of a line the further back in space it appears. You're creating a sense of space in a two dimensional picture, it's an illusion. You can't do that with a Micron pen. What you can do is you can build up crosshatching tonalities, you can create a texture with a very organic building up of line. That's the way that you can create variation of line weight by building variation of tone with your Micron pens. Now finally, what I consider the most difficult but in many ways the most interesting is a crow quill. Now this is a holder here and this is what's called the nib. A few different sizes here but basically a small to medium to large and bowl, which quite literally look like bowl, a small bowl and a big bowl and this is a fine point over here. The difference being that this tends to make a very consistent thick mark. I'm gonna go with the one that's a little more flexible. I'm just gonna dip it into the ink to get some ink on this. I know what I need is my, I actually need some paper towels. I actually got a rag right here, I'm gonna grab this. So you do want to have a water for the nib just because you want to make sure you don't have too much ink on there but I'm gonna show you I can press down really hard or pull up to thin. This is like the brush pen, it acts the same way. The brush pen's based on what the crow quill can do. Now the beauty of the crow quill is this gorgeous variation of line but look, it's running out of ink so with the brush pen, you're good to go. With pen and ink, not so much. It also can blot and splat so it's a tool that requires control but there's so much that you can go with this tool or these nibs, it's really quite amazing and the work that I brought with me shows that kind of variation. It's just a gorgeous kind of line, it can go really, super, super fine. Look at that. And I've tested some marks up here for you to see as well. So this is a beautiful tool but it is not for the faint of heart, you know, it does have some challenges. This is the worst surface to do this kind of pen and ink work on because it has a tooth to it, this is a sketch paper, it's not intended for use with a crow quill pen so we're gonna shift to a different type of paper, just so you can see what that looks like.
Ratings and Reviews
A great overview class for those who know nothing of the variety of pens, markers and papers available. Mary Jane is an accomplished teacher, and I look forward to putting her teaching in action.
Student Work