Finding The Light
Mark Wallace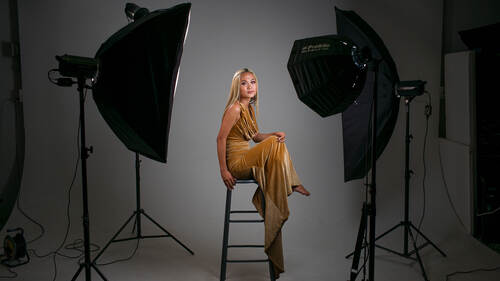 Finding The Light
Mark Wallace
Lesson Info
4. Finding The Light
Create unique portraits by moving your camera instead of the light. Set your key light at a single position, and then move your camera with your model to capture different angles, lighting styles, and moods.
Lesson Info
Finding The Light
All right, we are going to do an exercise I love to call finding the light. And the thing about this is it's a great way to look and understand the relationship between your camera and the light and the model and having a great communication and creating portraiture. And so the way this works, it's a really fun exercise, is I will set up a single source of light. So this is an Octabox, a small Octabox with a grid on it. It's about three feet from Shayla right here. And then I'm gonna meter this, and this is going to meter, I want it to meter at about F eight. So I'm gonna meter that to the light. And I got lucky, it meters exactly at F eight. Okay. When you do this at home, that's all you do as far as your lighting. It's just to the side, the light is not going to change. It's gonna stay in the same spot. What will change is my position with the camera in relation to the light. And so I am going to follow around Shayla. I'm gonna be looking at her, I'm gonna have her posing for me. So ...
her pose is going to change. Her movement is gonna change, our feedback. So I'm gonna have to tell her, "Look this way, look up, look down. Look around, do whatever. Turn this way, go back." Whatever. It's a exercise that's all about seeing, communicating and capturing beautiful images. We are gonna shoot these in black and white because I wanna see how the light is falling across your face and shoulders, and black and white is gonna show all that. I really love doing this. So I've tethered into my computer. I am shooting at F eight, 200th of a second, ISO 100. And so what we're gonna do, I have a really long tether pro cable here so I can move around if I need to. And so the first thing we're going to do is I'm just gonna have Shayla begin to move. So she's gonna move. I'm gonna shoot around her. Perfect. I love that. I love that. Look into the light just a little bit. Same thing, look right over to the light. Yes. And then I'm gonna move this way. Perfect. Okay. We're gonna start looking to see what we're getting here. So what you want to do is you wanna make sure that your model can also see what she is getting, because as the model is going to be, "Oh, look at that. That is so cool." The model wants to know what angles work for her, what light works for her. And so it showing the model what's working and what's not working is gonna help everybody. So that's really, really cool. So the other thing I'm gonna do is I'm gonna do a little exercise I like to do, which is walking in a 360 degree angle around the model. And so I'm gonna start over here, and I'm just gonna shoot this way. Beautiful, beautiful. And normally when I do this, I don't do it with any video lights on, I do it in complete darkness so I can see what I'm getting. But oh man, look at this shot that we just got. Holy smokes. Do you see yourself? Yes. That is so cool. I love being able to see this. That is so beautiful. And so what we're gonna do is we're going to try shooting this a little bit more. Perfect. Perfect. Okay, I'm gonna shoot into the light here. Into the light. Excellent. That is gorgeous. Hold that right there. Let's see what's happening. So what I'm seeing with my eyes is not what the camera is seeing. So I'm seeing this beautiful shot of her face, fully illuminated, but we're seeing this, this is short light. This is the short part of her face being illuminated. So that's called short light, if the other side of her face was broad light that's what we'd see. So let's see, can we turn off the video lights, Matt? Is that possible? I don't know if you guys can see anything when we do that, but what that does for me is now I see all kinds of things. So now I can do detail shots. So maybe I can do like the necklace. Seeing the light cross her collarbone, look at how cool that is. I don't know if you heard that, Shayla just went, "Oh, yeah." So do this again. So I want your hands down a little bit. I'm gonna see if I can focus just on your jewelry there, just like that. Perfect. And those nails. Bam! Look at this shot that we just got. What? We did not plan that, we didn't expect that. That was something that just happened by us looking at the... I love that. I love that. Okay, we're gonna keep going. Matt, you can turn the light up a little bit if you want. But the thing is just to work around the model, look over your shoulder at me. Beautiful, like that. So, because I can't see what's happening, I'm just getting a silhouette. That's okay. Look over your other shoulder at me. Ah, like that. Gorgeous, gorgeous, gorgeous. Okay. Now, we are getting something. The cool thing about that is I'm on the wrong, technically the wrong side of where I'm supposed to be shooting, but it's working. I can just shoot all day long and get some really awesome stuff. You can play with your composition. You can get closer, you can get farther away. You can use a wide lens. The other thing that we can do that's gonna be really helpful. So Seth is gonna come running out here, and he's gonna bring a stool onto our set, and we're gonna place this stool right here, same place. Thank you, Seth. We're gonna have you sit right there. Okay, great. Now I said we weren't gonna change the light, but we are. I'm gonna move the light down so that it is equal height. The other thing to notice is, I don't know if we can see this with the overview shot. Looks like that. It's not even there. There we go. This is slightly in front of Shayla. So it's slightly in front, so the light is wrapping around her, and so that's called feathering the light. So now that she's on this stool, what we're able to do is now she has a little bit more freedom of movement where she can play with the stool. She's got a prop, she's a little bit more grounded. This is a fantastic thing for the model because now she's got something else to play with instead of just sort of standing all by herself and trying to figure out what you want. So we're gonna do the same thing, but now I'm also, I can be elevated if I want. So look right at me. Beautiful, beautiful, beautiful. So I can do that. Now I've got this elevated shot. So cool. We can do some shots where I'm down low. Beautiful. I love that. Look, there you go. Excellent. I can come around. I'm just gonna keep playing, I'm gonna keep finding. I'm gonna keep discovering exactly what... Do that one more time, same exact pose. There we go. And now look at me. Beautiful. This is what you need to do with your model. You need to tell them what you're seeing. Tell them what you want them to do. Communicate. Tell them they look fantastic. If they do something that doesn't look fantastic, don't bring that up, just move on. You don't wanna be like, "Ah, that looks horrible." Never do that. But you can see on this side, I'm finding out that I get beautiful, nice, soft light. And over here, I'm getting beautiful, nice, soft silhouettes light coming across the body. We are getting really, really fun stuff. Okay. So now that we have that, you can bring the video lights up again if you'd like. The key things to remember for this is that when you're finding the light... Where's your (indistinct)? Yeah, over here. If I'm finding the light, the thing I want to do is leave the light in one position. And then the first thing I wanna do is start communicating with my model. Get a connection, let the model become relaxed, moving, moving to the camera, doing different things. Give your model the freedom to do anything they want and encourage them. When they're doing something, do the old improv trick, which is not no. Never say no. Say yes and, so when they move something and you like it, you're like, "Yes, and also do this. Yes, and maybe go this way. Yeah, that's awesome. And, also." so you're always encouraging and bringing more out, and you're not just finding the light, you're finding a connection with the model. You're finding that composition that works. You're finding the angles that work. I love, I don't know if you can tell, I love this exercise because I never fail to get great images. Once you get that connection, start moving around your model. Shoot from behind, shoot from above, shoot down low, shoot around. Have your model standing, have your model sitting do whatever it takes. Try different positions. Don't move the light, move everything else, and you're gonna get great results. Okay. Come over here for just a second. Let's take a peek at some of the stuff that we got. And we'll try to pick, it's gonna be tough, we're gonna try to pick something that's a winner. So these are converting to black and white in light room as we speak. So I think this stuff here when we started... So this was fun. We started by just sort of looking at this. I thought that was a pretty good shot. Then we got in close. And that was, that was the wow moment, where we went, "Wow. That is really amazing." I think the wide shot is good. One of the things that we wanna showcase is your fingernails. We got that. We got your cheekbones. We have your lashes. This is sort of a silhouette, doesn't look. Okay. Okay. Well now we have something that looks cool. This, I love that. As soon as we see this, I went like, "Wow, we have to figure this out." And then we got that shot. Yeah. So this shot led to that shot, and that shot is fantastic. And then we just kept going, "Ah, this is really, really pretty." Just pretty, pretty images. I love these. Oh, I love that. That is fantastic. You always want your model to say, "Oh, that is great. That is great." This is also, that was our last shot. Pretty good. So if we go back here and we take a look at the shots that were the winners, we're just gonna get these, we're gonna put those up on screen. And you can see that we have three shots or four shots that really, really are wonderful. I love that. So we're gonna have you sit back down over here, and then I'm gonna, I think this one is my favorite. I really love that. I really love that shot. And so now that we have everything set up and you've seen how this works, I think it's time now for us to take our last looks. (bright upbeat music)
Class Materials
Tether Tools Pro Starter Discount
Tether Tools Pro Kit Discount
Ratings and Reviews
The class is comprehensive without being too complex! An all around 'how-to' guide with examples in real time with real people doing it for real. Showing 'What If' structured classes and showing 'Here is Why' Does not drag along but quick and concise. AND brought the support staff for deserved bow at the end. Nice Guy & Nice class 4 Stars at least!
Student Work