Fresnel Beauty
Mark Wallace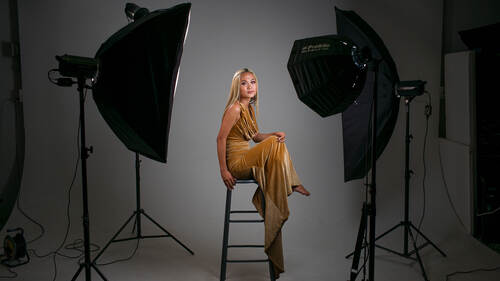 Fresnel Beauty
Mark Wallace
Lesson Info
10. Fresnel Beauty
Glamour lighting using a single Fresnel lens. This setup is all about the position of the light and the model's pose.
Lesson Info
Fresnel Beauty
We are now gonna do another glamor lighting set up and this one is using a fresnel lens. And so I am using a constant light. This is a Nanlite Forza 300. It's a pretty bright, constant light. And it has a Fresnel lens on the front. I can sort of swing this around and show you this guy right here. You can focus it in and out. But we have it out right now. So it's a pretty broad even light. And it's really bright. So I haven't turned it on right now because it will blind Shala who is back here. So one of the things that some photographers avoid are shadows. You don't need to avoid shadows. Sometimes shadows are beautiful. And so what this light is gonna do is it's gonna cause a big dark, very crisp shadow right here. And because it's just to the side of the camera it's gonna almost mimic Shala's body just right here. And I think that's gonna look really really cool. And so we've an intentionally added this really cool blue background with the black lingerie. The black lingerie is going t...
o be playing with black shadow. So we're hoping the blacks and the blacks all go together and look really groovy. So the key to this is well, it's simplicity. So let me turn on my Fresnel light. It's really bright. We're gonna turn off for video lights just so you can sort of see what's going on back here. And you can see how bright this is. So we have this light, I can move it back and forth but it's just nice even illumination. I don't have to meter this because I'm shooting constant light. So I have my camera set to manual mode and I'm using my built-in light meter. So what I did is I looked through my lens and I wanna shoot about F and to get about a hundredth of a second or faster, I need to be at a ISO value of about 400. So as bright as this is, we still need to increase our ISO value. And so now what we're going to do is, Shala look right at me. That is beautiful. And so I'm gonna go over here and we can see on the computer, how that shadow is playing. It's really wonderful. So I'm gonna try to crop this about right here. I dunno if you can see me. So that's another thing is this light is so bright. I'm gonna blind you right now, Lexi. So prepare yourself. I'm just gonna blind you. (The photographer fizzles) It is so bright that your model might not be able to see what the heck you're doing. So if that's the case, you might have to just walk out and say, "I'm doing this and this because she's blinded. She doesn't know. She can't see." So, I'm gonna come over and be more on axis with this light. And I love that. I'll take that shot. Look at how this light is just sculpting. We got highlights right here. We've got shadows on the leg. Look how we have this sort of a dark outline around... that's the blue bouncing back. This is just a really wonderful look. We've got wonderful definition under the chin. And we have really nice catch lights. It's one light. It's a Fresnel Turn it on, point it at your model and then you can shoot all day long. So we're just gonna take a few shots. Beautiful, I like that. Chin down just a bit, beautiful. I'm gonna move my position. Just a hair. There you go. And then hold that right there and then yeah. Hand up, perfect. Perfect, perfect. Okay. These, we can shoot all day long. In fact, I'm gonna do one more shot which is very close and then I'm gonna be more on axis. Beautiful, okay. Main cheek bones, just forever. This is so wonderful. So let me show you these shots side by side. You can see that just using one light, we've got that shadow that we can include or not. And we can get some really cool stuff. The other thing that we can do with this light this is a Fresnel lens is we can focus it. So, I can zoom it in and then I can move this up or down. I'm gonna try to put this right on your face. It's gonna be very bright. So the intensity of this just went up considerably. And then now what I'm gonna have to do is re-meter. So if you can't look toward the light, try not to tear up. I know it's very, very bright. So I'm gonna of go up about a stop and a half. There we go. Take that shot and then one more, beautiful. Okay. So now you can close your eyes or look away. You don't have to be blinded anymore. Look at what I just did with this shot. I was able to take that, make it more directional. So the first shot is that Fresnel lens zoomed out. The second shot is the Fresnel lens zoomed in just on her face. And so it's up to you to choose what you like. And so from all of these, I think I like the Fresnell zoomed out. I think I like this shot. I think that's the winning shot. It is wonderful. Okay. So I'm gonna zoom this back out so you're not so blinded. And then I think we are all set up and we can now look at our last looks. So let's do that right now. (light airy music playing)
Class Materials
Tether Tools Pro Starter Discount
Tether Tools Pro Kit Discount
Ratings and Reviews
The class is comprehensive without being too complex! An all around 'how-to' guide with examples in real time with real people doing it for real. Showing 'What If' structured classes and showing 'Here is Why' Does not drag along but quick and concise. AND brought the support staff for deserved bow at the end. Nice Guy & Nice class 4 Stars at least!
Student Work