Light From Below
Mark Wallace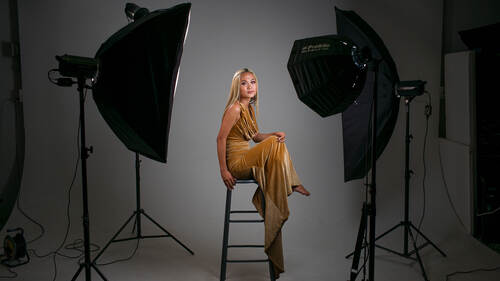 Light From Below
Mark Wallace
Lesson Info
9. Light From Below
Mark creates a glamour shot with vertical contrast using a key light placed below the model's face in this unusual setup.
Lesson Info
Light From Below
We are now gonna do a glamor lighting setup, and we're gonna do our lighting setup almost exactly the opposite of what you would normally do, because we're gonna be lighting this from below. So traditionally you're told over and over and over again, light from above, because if you light from below, it looks sort of like a campfire, but that's sort of what I want. So Shayla's back here in her glamor outfit, and so what we're going to do here is this is our key light. This shoot through umbrella. This is a translucent white umbrella, and it is a deep white umbrella. And so it's almost a globe of light. You would generally use something like this above, to light like a group of people, or to have something that is just really even light in a large, large space, 'cause this just scatters light everywhere. So we are gonna get some of the benefits of that, because the light's gonna bouncing off the floor. If you have a white ceiling, it's gonna bounce off that. This light is just gonna go e...
verywhere, it's really diffused light. Now, I'm gonna come on over here. We're gonna show you, so the angle of this light, because it's sort of deceptive, and let's turn the lights off and show this from our camera over here, Matt. So you can see that this light here is pointing up, and the reason for that, it's almost vertical, but there's a really distinct reason for that. So we're gonna turn back on the video of lights, and then I'm gonna show you why that is like that. So when we meter the light, if I meter off Shayla's belly right here, that is F13 and off of her nose here, also F13. So we have even illumination across Shayla. If this light is pointed down, what happens is her midsection is gonna be pretty bright and her face is gonna fall into darkness. If we have it straight on, her face would be completely dark and we're gonna have this hot spot down here. So what we wanna do is keep tilting this up, and so we are feathering the light and we're getting this nice feathered light coming from below, across the entire, across our model, and it it's looking really cool. So it is gonna look glowy dewy, like you're at a campfire or something, which, you know, everybody does in a bikini. They hang out at the campfire. So it will look really cool. The other thing we have going on for us here, we have two soft boxes with grids and I've stacked them. Because I want this really soft light to illuminate her entire body. And so that's what we have here. So all the way from below to the top. So it's gonna light her legs, all the way through her arms and her hair. So everything is softly illuminated. So let's meter this. So I've already metered this, I showed you it was F13. I am going to put that in memory. Then let's see what the difference is between our key light and our fill light. So this is generally just a nice soft pop of light. So that is negative one and a half stops. That's what that meters to. So our key light is F13 and then the delta EV value of this is negative one and a half stops. That's the ratio that I like to keep. And so you can adjust more of this glow or less of the glow. The other thing that we're going to be doing, is you can use a seamless role of black or dark gray or some black cloth. Or if you have a lot of room in your studio, put your model away from the wall to get a dark background. I'm just using a foam board panel, a black foam core panel and we've placed it directly behind Shayla. This is about two and a half feet or something, I'll measure that so it's on the lightning diagram. And I've centered it so that when I shoot out here and I'm straight on, I'm getting a dark, dark background. So, now that we've seen that, what I'm going to do is I'm going to grab my camera and we're going to shoot a couple of things. And so the first thing I'm going to do is I'm going to shoot a, a shot of everything. So our entire shot right above the knees, just like that. So one second, and this is gonna come in. So we have this photo, there we go. And so let's show you what each of these different lights are doing. So I'll go to group one, this is just the key light. We'll shoot that. And I'll go to group two, which is just the kickers. We'll shoot that. Then we'll go to all of the groups combined and we'll show that as well. Okay, so let's put those side by side by side. So we'll do each of these, and you can see that those kicker lights are just really, really, really subtle. But, when you look at this shot without the kickers you can see, we have no form, we have nothing going on. So we just need this subtle highlight. And then when we put that all together, it looks pretty good. The other thing I just noticed is I forgot to change my camera settings. So this is a little underexposed, and the reason for that is, I didn't change my camera settings. So let me adjust. So we metered at F13, let me adjust again. In fact, I'm gonna open it up just a little bit. So I'm gonna go all the way to F11 and we'll shoot that. Much better, much better. So now we're even getting a different look. I'm overexposing that just a hair. So let's do a series of shots with this setting. So I metered at F13, but I'm over overexposing that by about a third stop by shooting at F11, just to see what we get. So, I'm just gonna take some different shots here. Turn your shoulders toward me just a bit. There you go. A little bit more, excellent. Just like that. I'm gonna go in a little bit closer. Perfect. Perfect. And if I shoot a little bit lower, that's gonna look good. And then I'm even gonna get really close, do a headshot. And then let's look at these shots side by side by side, and you'll see, we've got some really beautiful photos. So for my money, I think I like this shot best, best. I think I like that shot best, and there's really not much to it. So let's review. The key thing is, we want our light from below. Make sure that you point this in a way that you have even illumination across your model. Add some soft kickers to the side, that's gonna work great. What you might want to do, two things, you might wanna add a special light that's just hitting the back of your model's head to add a little highlight there, or you might also wanna add just a soft pool of light on the background, because you can see when we go to our shot, that Shayla's head is sort of blending into that dark background. On my computer you can see it pretty clearly, but depending on your printer, you might have to do some adjustments. So if you wanna pop out a little bit more definition, just add in a second light. So what we're gonna do now, is we're gonna take our last looks. (bright upbeat music)
Class Materials
Tether Tools Pro Starter Discount
Tether Tools Pro Kit Discount
Ratings and Reviews
The class is comprehensive without being too complex! An all around 'how-to' guide with examples in real time with real people doing it for real. Showing 'What If' structured classes and showing 'Here is Why' Does not drag along but quick and concise. AND brought the support staff for deserved bow at the end. Nice Guy & Nice class 4 Stars at least!
Student Work