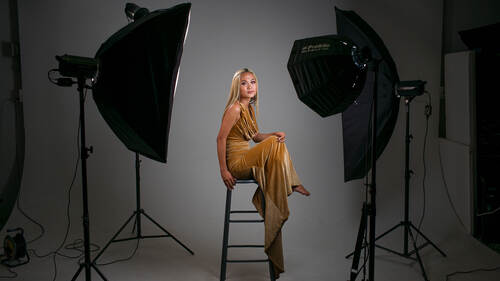 Lesson Info
24. Light Rays
Create stunning shots by adding light rays to your images. Mark drills holes in a foamboard panel, adds some smoke, and then the magic begins.
Lesson Info
Light Rays
It's time for us to have some creative fun. We are gonna create light rays in a superheroy look here in the studio. And so I have some extra help. Krista is back there. You'll understand what she's doing. She's gonna be controlling the smoke that we need. And then this is created using a very basic prop which is this. This is some foam core. And what I did is I just took a drill bit and I just drilled right through that a bunch of times, maybe 20 holes, something like that, and totally random pattern. And we're gonna use that to shoot light through. And so we're gonna have light coming through those holes into the smoke, and that will create rays of light. So what we want is rays of light that don't come straight out, we want them to come at crazy different angles. And so that means we need more than one source of light. So I have created this crazy setup which is this thing right here, and it has three speed lights. If you had four or five or six, even better, the more different angle...
s, the better. And so I just pointed them at random positions. And so what we'll do is I will put this behind that. So these are in radio trigger mode, they're all in remote mode on the same channel. So what I'm going to do is I'm going to roll this guy back behind our setup here, and then I'm just gonna place it at random. And hopefully we'll get some good patterns there. So there's really no set way that these are gonna be done, I've just positioned them at random. And so they're just blasting light in different ways. Now, one of the things that could happen is that light from these flashes, 'cause they don't have grids or anything on them, they could hit the background and it'll mess up our shot. So I just put this piece of foam core, the black foam board there as a flag. But it shouldn't matter too much because the way that we're shooting. So we're actually gonna shoot into this. And so that flag doesn't really do much. It's just, if I start moving around, I wanna make sure I control the light. So I'm gonna shoot into that. And then the light should be coming out of that. But you can't see light going through the environment unless you have some kind of material for it to travel through, which is like a cloud or smoke. So we're gonna use smoke. But before we do, what I wanna do is I just want to show you how I have this set up. So I'm gonna bring out my little tether table here. I'm gonna move my camera over. I'm gonna shoot vertical, and we're gonna do this without triggering anything. And so I will do this, there we go. So what I'm gonna do here is I have just my speed lights on. I'm gonna make sure this other light here which we haven't talked about, that's turned off, we just have the speed lights. So when I take this superhero reposed shot, yeah, look up at that, Theresa, just so we can get an idea of what's gonna happen. What you can see is we just have some random dots and a very dark Theresa. So we have light coming through that board, but we can't see the light traveling through the environment. And so that's what the smoke is going to do. So before we turn on the smoke machine, 'cause once we turn that on, it's gonna be difficult for you to see me. It's gonna be all hazy in here. What I need to do is I need to balance the light coming from behind with something in the front. So my key light is this guy right here. So this is an Ellen Chrome one. It's a wireless remote flash, I really like it. And then it has on it, a grid. So you can see this is a five degree grid. It really, really restricts the light. So I'm gonna pop that into this little reflector here. And so what that's going to do is illuminate Theresa's face. Now, one of the things that's really important to do with this is the light has to be positioned perfectly. So what we're gonna do is I'm gonna go in here, I'm going to turn on this modeling light. So let's make sure that is on. I guess I have to turn on the light before I turn on the modeling light. So now the light is turned on. And now I will turn on the modeling light. I guess my remote doesn't wanna help me out here. Hello. There we go. Now, the modeling light is on. So what we're going to do is I will position this correctly. So to see this, we're gonna make it very, very dark here in the studio. And then you can see that this is on Theresa's face. So if I had this just to the side of a little bit or on the other side, that's not okay. It needs to be right on her face. The thing with a grid, especially a five degree grid, it's really difficult to position it exactly perfect. So one of the tricks is you can have your model tell you if she can see straight into the light, she should be able to see straight through that grid. So can you see straight through that? Yes I can. Okay. So like this, can you see straight through it now? I cannot. Right, so that is the proper position. So you can see right through it now. Yes. Okay. So now I have that in the exact right position. Now what we need to do is meter everything. So we're gonna turn our lights back on so you can see what's going on. So what I'll do here is I have set my speed lights in manual mode at half power, and then I metered to see what they were metering. And so they metered at 6.3. And so I just did that by triggering those with my flash remote that's on my camera. Now the thing is, I'm using Canon speed lights, but I'm also using an Ellen Chrome one. So these are two different systems, they don't use the same radio triggers. So what I did is on the Ellen Chrome one, I turned on the remote sensor. In other words, this guy, once it sees another flash fire, it will also fire. So how this is working is when I take a photo, my camera uses a radio transmitter to tell the speed lights to fire. When those fire, this light sees the light from those flashes, and it also fires. And so I'm just using the little sensor on this to see when a light flashes and then bam, it'll flash. It's the simplest way to make two different systems work together. Okay, so what I'm gonna do here is I know I need to be at 6.3. So I'm gonna come over here, and I am going to meter this. So that is metering a little bit low. It's metering at 4.5 until I meter right here. And then it says 6.3. So the thing with a five degree grid is you need to take several meter readings because that light is so confined. If you're not exactly on center, you're not going to get a correct exposure value on your meter. So make sure you take multiple readings over the field of where the light's gonna fall, just to make sure that you're getting the exact right reading. And then you might even have to adjust a little bit looking at your histogram. Those really, really confined grids can be sticky. So what we're doing, the other thing I did, I should mention, is I'm shooting at ISO 200 instead of because my speed lights and my Ellen Chrome one are battery powered, and I don't want them to work so hard. And so by just going up one stop in my ISO, my camera is twice as sensitive to light, which means instead of shooting full power, I can have them shoot at half power which means the batteries last longer, and they recycle faster. So just a little trick. And the difference between 100 and 200 ISO is pretty much nothing. Okay, so Theresa, I'm gonna have you look up at that light there. Perfect. And we're just gonna take a shot to see what we're getting. And so when we look at the photo on the computer, you can see that that light is really restrictive. We have some dots around her, her face is illuminated. And so now what we need to do is make the magic happen. So when we start adding smoke, what will happen is not only will we get the lights showing up from behind, but some of the light from the key light will start illuminating the smoke down below. And we'll see more of Theresa. It's gonna add a reflector kind of a thing. So you need a lot of smoke for this. So smoke it up. We're just gonna start smoking as much as possible. Just keep smoking. The more smoke the better. So we're gonna start seeing what happens with this. Exactly, that is great. Perfect. And because these are speed lights, I can't really see what we're getting. So I'm gonna have to just look at this. That looks pretty cool. So Matt, can we shoot in the dark so I can see what's happening? So we're gonna take this down just a little bit more. There we go. Excellent. There we go. Now we're seeing what we're getting. And one more. I think this shot that we just did is the shot that I like. Ah, that's pretty cool. All right, let's show this one from the computer. There we go. We have some light rays, and I think I got Theresa in mid blink. Did I? I did. Okay, we're gonna have to shoot again before our smoke goes all the way. Is it ready to smoke a little bit more? It's out of smoke. So we're gonna try with the smoke that's there. There we go. Ah, ha ha. We have enough smoke to show some stuff. Okay, now we have our final photo. That looks pretty darn cool. Oh, I like that superheroy look where we get this coming through. It just happens to hit that perfectly. That's all there is to it. Now, we could play with this. I don't know if you can even see me anywhere. Can you see me? Okay, we could play with this all day long, and that's the fun of this is once you get, and if you have a much smaller environment, it's gonna be easier with the smoke. It's not all gonna drift away, but you can shoot and shoot and try all kinds of different things. Try many different lights coming from behind. Try different light modifiers as the key. We used that grid so we wouldn't just illuminate all of the smoke. It would just look like a bunch of smoke. So that's why we used that five degree grid. But it's something I love to do. We got some really cool looks, and I think now it's time for last looks. (upbeat music)
Class Materials
Tether Tools Pro Starter Discount
Tether Tools Pro Kit Discount
Ratings and Reviews
The class is comprehensive without being too complex! An all around 'how-to' guide with examples in real time with real people doing it for real. Showing 'What If' structured classes and showing 'Here is Why' Does not drag along but quick and concise. AND brought the support staff for deserved bow at the end. Nice Guy & Nice class 4 Stars at least!
Student Work