Simple Soft Light
Mark Wallace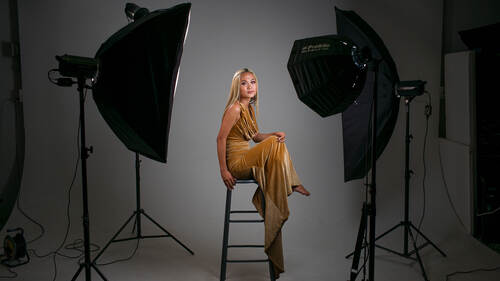 Simple Soft Light
Mark Wallace
Lesson Info
20. Simple Soft Light
Mark builds one of his favorite "no-fail" lighting setups. It works for subjects of all ages and genders. It's simple to set up and doesn't require a large budget or studio.
Lesson Info
Simple Soft Light
I'm gonna show you one of my favorite simple lighting setups. This is perfect for soft light, for a really close portraiture, headshots, things like that. And so I have a Rotalux in Octabox here. It's a small Octabox and I've placed it to the side and in front of Theresa. So you can see here that it's placed in front of her. That allows that light to wrap around her. So it's coming in from the front and wrapping around her face. It's just a really beautiful way to light somebody and it's extremely close. So it's about two feet. I do that because the inverse-square law. The light is gonna fall off really rapidly, and so we can create some form and shadow. And so for this, I want this to have some form but not have her opposite side of her face fall totally into shadow. And so I have this panel right here that's reflecting light into the other side of her face. Now the nice thing about this is I can move this reflector here. This is just some foam core board. White foam core board. I can...
move it closer and farther away to make the light either even on this side or move it away so she can have more shadows. And so it's just up to you to choose the look that you want. The other thing that I've added here is, if you go way back here, you can see from this side camera again, we have this strip light here. And, so you can't see it from the front camera be cause it's hidden behind this foam board, and I did that on purpose. So if we come around this way to the front camera, you can see that this is protecting my camera lens from the light coming from that strip light. So I don't want lens flare from the light coming in there. So I've sort of placed it behind there. And so that's all there is to this lighting setup. It's just light surrounding Theresa. So your subject's gonna be totally surrounded. You can make subtle changes by moving the foam board farther away or closer to change how many shadows that we see on this side. And you can turn on and off and adjust this strip light to give more or less highlights. And so the way that I've done this, I'm gonna meter this and show you really quickly. I've metered my key light. And I have that. I believe I metered it f13. Let me just check this really quickly. And so I'll make sure my memory is cleared out. It's all clear. So when I meter to my key light... So I'll meter that. it's f13. So 12.7 equals f13. So you can sort of see that there. So that's f13. So I've done that. Then what I'll do is I'll put that in memory, use my Delta EV then I'll come back here. I'll meter that. That's -2. So it says 2.2, but it's -2. So it's two stops lower. It's up to you to make that whatever you want to it to be. So I just wanna subtle highlight. I don't want a lot of extra fill from that strip light. But it's up to you to do whatever you want. Play with those ratios. Okay. Now that we know how things are set up, I'm going to dial in my camera f13 ISO 100. I'm at sync speed. And I'm going to start shooting. I wanna make this sort of a nice, simple, soft, tight headshot. Perfect. Give a little bit of smile there, Theresa. Yes. More than that. Okay, perfect. And then more of a serious look, and look toward the light just a little bit, to your whole chin over. Yes. Just like that. Perfect. Okay. So now we have three different shots. And so what I want to do here is show you these shots. And so I will show these side by side by side. I'm gonna kick out these panels here. And so we can see the front on look looks terrific. We have the smiley look. Looks fun. And then we have... Oops, I zoomed in accidentally. We have this shot here. It's a little bit more informal. And so it's up to you if you want to show more of a face showing the camera or away from the camera. But there's two options to go with. And then of course, based on this, we can bring up... maybe I want a little bit more of a highlight on her cheek right here. So you can see right here, we have a shadow that's from the kicker light hitting her hair. So we can maybe move her hair back. Put it in a ponytail. Do whatever you want to do. But this is just very very basic soft simple light. And so what I'll do is, I'm gonna go to this one, cuz I think I like this one best. In fact, I'm gonna do one more. Just one more to the very very end cuz I am not totally satisfied with what we have. So we're gonna shoot just one more Theresa. There you go. That is what I want. That is beautiful. Okay. Yes. Okay. I like this shot. I really like this shot. And so that's the shot I'm looking for. I think I would go in here to this one. I would do some color correction. Maybe make the vibrance a little bit lower. Maybe do.... Yeah, I think that's good. And then take our color temp down just a hair. I like how that looks. It's just a little more neutral. Add maybe a small vignette. Open up the shadows, just a hair, so we can see a little bit more of her hair. No pun intended. And then when we look at that, I think that's just a beautiful beautiful portrait. Okay. That is simple soft light. And so to show you exactly what we've done, we're gonna take time to take one last look with our last looks. (upbeat music)
Class Materials
Tether Tools Pro Starter Discount
Tether Tools Pro Kit Discount
Ratings and Reviews
The class is comprehensive without being too complex! An all around 'how-to' guide with examples in real time with real people doing it for real. Showing 'What If' structured classes and showing 'Here is Why' Does not drag along but quick and concise. AND brought the support staff for deserved bow at the end. Nice Guy & Nice class 4 Stars at least!
Student Work