Superhero Light
Mark Wallace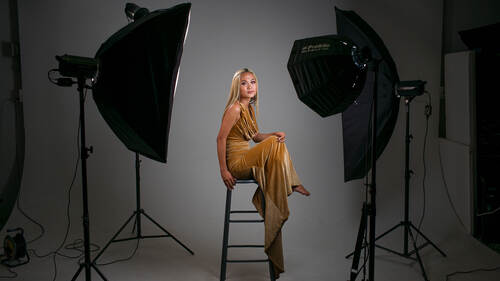 Superhero Light
Mark Wallace
Lesson Info
12. Superhero Light
Strong kickers and post-processing create a "superhero" looking photograph, a setup used for sports or fashion photography alike.
Lesson Info
Superhero Light
This is my superhero lighting setup. And so, we have superhero Sheila here, and this is a three light setup, it's very, very basic. And what it does is it creates a high contrast, sort of, well, superhero looking photo. So we have only three lights. We have our key light, I'm using an Octobox, you can use a medium soft box, small soft box, maybe even a beauty dish, something that gives directional softer light. And so, this is positioned in a very specific way. So, I have it up, just about almost six feet tall. And so, I have it there because I'm gonna be shooting right from where this camera position is. So, I'm gonna be shooting just like this. And so, I have this high enough that I can shoot underneath it without it being in the frame. I'll be back a distance, zoomed in, but I want it as low as possible without it getting into the frame. And because Sheila is tall, that's about where it should be. So, from the side here, it comes to about her nose. It's about how low it is compared ...
to Sheila. And so, it's lower than it might look on this camera. I have it tilted down just a bit, so it's just surrounding her with light. And because I have nice diffusion on the front of this light, it's spreading light all over the place, and some of that's bouncing off the floor. So, we're still getting plenty of light to illuminate Sheila to about right here, which is gonna be totally fine. So, this guy right here, I'm gonna show you a trick in a second, on how to make sure that your model stays in position when we're moving all around. So, we'll get to that in a second when we get to metering. Don't let me forget to teach that. Okay. So let's talk about our kicker lights and our flags. So, way back here we have two normal lights with just normal reflectors. I'll move this flag really quickly, so you can see that's just a normal light with a standard reflector on it. No grids, no modifier, nothing at all. And so, those, because they're coming in from the side to add highlights around the model. If we don't flag them then that light's gonna come right into the camera, it's gonna cause lens flare. And so, you can try grids, but in my experience, it's just much easier to use flags to prevent that lens flare. If you don't have flags you can use, maybe a foam core panel, piece of cardboard, have somebody stand there and hold anything, just something to block the light so it doesn't go into your lens. Okay. Let's meter all these lights. This light right here, I know I want it to meter at F11. We've metered this previously, and so, I wanna show you a trick to show you how to make sure that your model is stand in the right place. So, let me meter this and I'll show you how that works. So, I'm gonna meter right here. That meters... Oops. I gotta clear out my memory. I'll do that. Okay. So I'm metering this. (meter beeps) This is at 16. I want it to be at 11. So, what that means is, Sheila Step back a little bit, maybe about there, perfect. I'll meet her that again. (meter beeps) That meter's at 13. So, just a little bit back, just a hair. (meter beeps) There we go. Now that's 11. This is where she should be standing right here. So, this lighting set up, she's gonna be moving a lot. Some really cool poses, being a superwoman, doing all kinds of stuff, stepping forward and back. So, it can accidentally happen where you move a little bit. And so, what I do normally when I'm shooting something like this, where the model is moving around is I'll periodically go out and meter again. So, watch this. This is where Sheila needs to be. That's F11. If she moves just a little bit forward (meter beeps) right here, that's 13. So, the difference between here and here is a third stop. If she's this far forward, that's 13. A little bit higher. That's 14. (meter beeps) That's 13. (meter beeps) And this is 11. So, as she's moving, if I see that something is a little bit different I'll just pop back here and I'll take a meter and be like, ah, you've stepped forward a little bit, pop back, or you put a mark on the floor, whatever it takes, but this metering trick really works to make sure that you position your model in the exact right place as you're shooting. So, the other thing that we have have, we need to meter our kicker lights. So, I'm gonna meter to the left and then to the right. So I'll meter this. They should meter exactly the same value. (meter beeps) And they do. They both meter at F10. And so, we have F11 and then F10 for our kickers, so they're almost exactly the same. If I meter F11 put that in memory and use my delta EV value. I meter that. (meter beeps) It's negative half stop. So, that's what that would be, a negative half stop. So, I've played with this a lot, and depending on what I'm shooting, and the outfit and the post processing, I will either have those kicker lights at just a little bit under, like they are now, half a stop under, or equal, or maybe half a stop, or even a full stop over. It's up to you to adjust that to show more of the highlight or less of the highlight. It's a totally fun setup, 'cause you can really do a bunch of cool things. So, the other thing we're gonna do here is I wanna show you how each of these different lighting setups, each of these lighting groups work. So, I'm gonna grab my camera here, and I have these in groups. So, the key light is in group one. So, let's just take a shot of Sheila with the key light. (camera shutters) (meter beeps) And you can see that this makes her look just wonderful. Well, the light and a lot of working out, and staying healthy, but she looks wonderful. This is sort of this glistening glowing stuff. But notice her hair is totally falling into darkness, and so, we wanna fix that. So we can do that by going to group two, those kicker lights, and so we'll do that. (meter beeps) Bam. And so, you can see, this is just a subtle outline. It's a really subtle outline on her body, and that separate from that black background. So, that's the other thing I did not mention. Normally when I'm shooting this I will use a black seamless, 'cause I want that background to just be completely dark. So, let's put everything together. So, I'm gonna turn all of my groups on. (meter beeps) Yep. They're all on. And then I'm gonna take a couple of shots, and we will show you how this looks. And so, I'm coming back quite a way, so I can zoom in. I wanna make sure I don't get the floor or that background. (meter beeps) Beautiful. Just like that and look straight at me. Excellent. And give me a superhero. Yeah, there you go. Excellent. (camera shuttering) Chin down just a little bit. Just like that. Excellent. Excellent. Okay. Let's take a look at these shots, and I think you'll agree that we have nailed this superheroey look, it is so cool. It is so cool. So, we have just these poses that are working all day long. Now, the other thing that I will do with this lighting setup, these are so cool, is I'm gonna choose this one, I like this look. I'll go into my Develop module in Lightroom. The other thing I like to do a lot is just convert these to black and white. And what might do is increase the clarity just a bit. I'll make sure that these are nice and sharp. So they already are pretty darn sharp. And then, what you have is this really cool black and white version. And so, what we'll do is we will make a virtual copy of this, of just this one. Just this one. There we go. I'll make a virtual copy of that. If you're wondering what I'm doing and what all this stuff is, check out my Lightroom Classic class right here on Creative Live, and you can see exactly how this all works. Okay, so, we have this, we have this one, I'm gonna convert this one back into color. So, I'll make this back into color. There we go. And now we have those two shots side by side, and you can compare and see which one that you like best. I think they're both pretty amazing. Okay, now that we have our superhero look, have you stand in place and then that way we can go now to our last looks. (upbeat music)
Class Materials
Tether Tools Pro Starter Discount
Tether Tools Pro Kit Discount
Ratings and Reviews
The class is comprehensive without being too complex! An all around 'how-to' guide with examples in real time with real people doing it for real. Showing 'What If' structured classes and showing 'Here is Why' Does not drag along but quick and concise. AND brought the support staff for deserved bow at the end. Nice Guy & Nice class 4 Stars at least!
Student Work