Graphic Design for Everyone
Creating Your Own Patterns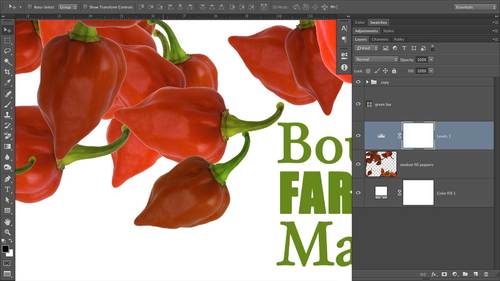 Graphic Design for Everyone
Creating Your Own Patterns
Lesson Info
Creating Your Own Patterns
So let's take a look at this image for just a moment. Talk about what we see in our layers panel way We've got a goofy bride, which is just a lot of this kind of image is going to make people laugh. They will hire you. If you can somehow figure out a way to put a funny image in your ad, they will hire you over the stuffy photo that the other photographer studio had in the same magazine. Even if they're right next to each other, they will. So that's why we're using this kind of goofing image, which is really cute and funny. And then, of course, it's made up Nelson weddings. Real life captures. So what we've got here is the photo of The Crazy Bride. We've also got a texture file. There's some flowers that we're seeing in the background. Okay, that's this Rose photo right here, and I'll turn up the opacity and change its blend mood back to normal. Sing. See what I started out with and then temporarily disabled layer Mass. So that's the texture file that I used again using images that all ...
support the message I want to send with this ad. You know, I've got a picture of a bride. That's romantic, right? So that's why we use the shot of the roses. Here it goes, Goes well with it. Change all that back. Here we go. The next thing we've got going on in our layers panel is a bar, a color bar, just like we made a moment ago Going across the image. This is giving us a safe place for text. Then we'll talk about why it's purple here a second. The next thing we've got going on, if I turn on these layers and is a little icon and I just made that using photo stop the shop shaped tools. That's a rounded rectangle tool. Listen, the vector tool set near the bottom of the tools panels. This guy right here and then I also used the Ellipse tool to make the little circle within the camera. Just have another piece of art in it, moving up in our layers panel. Then we've got our text and I put the other information down here at the bottom. So I kind of reversed what I did last time where we added the solid color bar to kind of anchor the piece. This is anchoring the peace, too, but a little bit higher up. So I'm building, in contrast, visual interest. And then we've got phone number and a an email address on this ad. Do I need Teoh? Put the address in there only if you want people showing up at your studio. If it's if you have a studio at your home, probably don't want put your address out there like advertising to thieves. Why don't we have the URL on there? Because it's in the email dress. It's very clear what that Uriel is. If I type in quote at nelson weddings dot com. I'm not really sure that I would want a client that didn't get that. That was the URL for the website. I mean, that's in my opinion. It's common sense. And then we've got some nice contrast in between the fonts that we've used. So we've got a serif for the headline paired with a sans serif for the tagline. And then we've switched back to the same serif for Nelson weddings that we used for the phone and the email address. And then we've also built, in contrast, between weddings and Nelson by using a bold ID or black version of that same fun. We've also got contrast in size of the text between the headline and the tagline also got contrast between the color bar and the light coloring of the text. Now why is this color Bar Purple? One might ask, Well, if I turn off all the layers except for the bride photo by using our option or Ault clicking the visibility eyeball technique and I temporarily turn off the layer mask that I added to kind of hide some of the detail of her dress down at the bottom. You can see that there's not a whole lot of color in this image is all fleshy tones. It's all yellows and peaches and cream. Okay, so in this particular image, there wasn't ah, high contrast color that I could snatch. What does one do in that situation? One might ask oneself one reaches for their $9 color will. That one, of course, is purchase from the great Amazon. So let's look at this image, and if you have to kind of get back away from it or kind of, you know, blur your eyes or whatever, so that you're seeing kind of big swaths of color into me. This image is predominantly in the yellow, which of my color wheel. So if I look in the yellow edge of my color wheel, I've got that kind of darkish yellow that I'm seeing here predominantly in the image. So that's why we chose purple. Why? Because if you draw a straight line down from if you position the inter party or color wheel appropriately, where you position the big dark arrow that's running through the middle of the thing here pointed to the color which of your base color, which is the one you're starting out with. Draw a straight line down and you'll see that were in the violet realm because purple is complementary to yellow because it's opposite it on the color wheel. So that's why our color bars yellow. So and then for the text, we just picked up one of the creamy, the lighter, creamy tones because we don't want to use your wife's too high contrast. So let's go ahead and build this ad. We're going close, these guys, too. So what's the first thing we're gonna dio pick up the telephone call the printer called the publication. Once you have your specifications, make a new document. This one. We're also gonna make 3.5 by. Well, let's just say five and mix it up. 300 rgb Bring in our images. We'll start with the the funky Bride. So file place navigates where it lives. You purchase. Of course, you're going to get all these files. So we're in the fourth folder inside the magazine folder magazine ads and we've got I tried to name them Is descriptively descriptively as I can. So we're in the fourth folder called Color Bar. Bring in that image. Resize it if you need to. I need to make this one a hair bigger press return. Now let's start creating our text. Or actually, we could go ahead and add in our texture so we'll choose file place. Does it really matter what order you do these things in? Sometimes I save the texture toe last because then I get a better idea of what kind of masking I need to do. If the texture is fighting with the text too much, I might mask off part of it. The weak and go ahead and bring this one in. So navigates where it lives. Got a little bit of roses here. Oh, so romantic. We're gonna make that one a hair bigger t. And now let's change its blend mode to something where I can see through to the layer below eso. We'll go down to the overlay category and see where that gets us. Maybe soft light would be good for this one, because it's a kind of a soft romantic theme, So a little bit of a softer texture works quite well, so we chose soft light for that. And let's drop the opacity of that a little bit. And now let's hide that texture from her face area because this is really getting weird. Which, hey, is fun. If you're doing this at 2 a.m. So we'll add a layer mask by clicking the circle within the square icon at the bottom of your layers panel seeming a little bit. That's even worse, isn't it? Were gonna press be to grab the brush tool. Why? Because we need to lay down some black paint in this layer mask to hide that layer content, which is our bed of roses. So press bead. Activate the brush tool. You could just as easily make a selection if you wanted to. If you're really skilled with the pen tool, you could make a selection of the area in which you want to hide that content. You could freehand draw a selection with any of the lasso tools, and then if you did that first, you could fill that area with paint. But for me, I have a little bit of a painting background, and the painting tools just make sense for me to use. I resonate with them, and I'm fast with them. So I go with the brush tool mainly. Use your bracket keys to adjust brush size. Make sure that black is your foreground color ship, and then we're just gonna paint over the area that we want to hide that texture from and the beauty about using a soft edge brushes. I can make the transition between where that textures visible, where it's hidden quite subtle because the bigger the brush, the softer that fluffy edge is. So I make it kind of big, and I was gonna hide the texture from kind of the busier parts of the photo down here. Maybe a little bit more there, so you can either click and drag and paint with it or just click either one. Now, let's add our color bar. How did I figure out the positioning for the color? Our will you can turn on your rulers by pressing command are Wasel fast command are or control are on a PC, and then we can drag some guides down in our document. What I don't want to do with that color bar is put it dead center, just like you don't want your horizon to be dead center in your landscape photography, right? It's a big old no no, because it's boring, boring, so we don't want that color bar to be in the center. So if I know where the center part is, then I can just position that color bar lower or higher. But in this case, lower in the design. So I've got snapping, turned on, in my view menu view snap and I'm in a click and drag from my horizontal ruler. And when I get down to around the center of that document is gonna start snapping into place. That's my CenterPoint, I do not want my color bar there. So what I might do is drag another guide down and kind of Markoff. I'm split that lower half of the photo into two, and then I might make my color bar straddle that guy because that would put it kind of in lower third of the of ad. So now let's add our color bars. Let's come over here to the rectangular marquee tool. Come over to our document. Let's just draw it, knowing full well that I can change the height of this color bar after I created. So I don't have to worry too much about how big it is's all overy visual and just playing. And then you confined to lay some stuff down and then fine tune it. So let's say that's good. Now let's add our solid color feel layer. Click the half black, half white circle the bottom of the layers panel chew solid color. Now we need something in the purple range, so what we're gonna do is click within the Purple range of colors in this vertical rainbow bar right here, and then use this area over to the left. Tell foot a shop. How light you want that color to be or how dark you want that color to be. You can think of it like you're setting the hue with this bar right here, the pure color. And then you're telling photo shot will tent it, mix it with white or create a shade out of it. Mix it with black. What you don't want to do is make it so bright and oversaturated that an intense that it becomes the sole focal point you want Focal point add to be the bride's funky face. You know you want the color to draw attention, but you want her toe carry the weight of the ad. Really? So I'm gonna go just a little bit lighter. I just want something in the violet room, and that's probably gonna be about good. We're gonna turn their change, the blend mode of that color bar so we can see through it. So we'll start with that click, OK, and also since we're doing this with a solid color feel layer. If we want to change that color later on, all you have to do is double click that layer thumb nailed open the color picker right back up. And then you can fine tune that color choice. So I'm finished with my guide, so I'm gonna hide them temporarily by pressing command a semi colon or control semi colon on a PC team in a little bit. Now it's this experiment with blend modes. So if I want something that's gonna darken that area the image I would choose darken from the blend my menu here, let's just kind of keep going down. Seeing which one of these is gonna work out. Color burn produces the the most contrast but linear burgers looking pretty good. So it darkens that area, which is gonna be nice when I set some light colored text on top of it. But it's still a little bit too strong. So we can this lower opacity writing that right up. See how those Hughes go together, yellows and purples. Now let's add our text. So it's press T to grab the text tool, draw a text box if you'd like during a text box in a situation like this, just keeps you from getting too close to the edges of the document and also just like when we were drawing that selection earlier. We can press the space bar and move it around while we're in the action of drawing it. And I always like to keep my text at least 1/4 inch away from the sides or the safe areas as well. Now we can type text nelson weddings and empty spaces in there cause I'm gonna use contrast to set these two words apart. Press return, Riel Life captures. I thought this was kind of clever, so feel free to steal it. If you send me 10 bucks on pay, Pal would be really great. So now let's start formatting or ticks. I know I want it all to be the same color. So let's go ahead and select all by pressing command or control a Let's come way up in point size and let's drop that leading. There we go. Now let's find the font that we're going to use for the headline. Okay, so that fought happens to be gay Ra Monde regular. It will come into the font family menu. Choose Adobe Gary Monde for Adobe Care among pro. See what I'm doing here. I started to go for the post script version of the fun, but I shows the open type version instead. Just in case in my experimentations here, I want to turn on some alternate characters. Remember, we looked at that a couple days ago. We can turn on characters with extra swishes flourishes and things like that. So let's choose that one. I want to come up in size even more, and I believe I made the slow room 35 points and I'm gonna bold weddings. So from the style menu, not the character panels, you know, Boulder T button. I'm gonna build this, so that gives it extra contrast. Let's go ahead and change the color. Click the little color swatch in the options bar. Now let's come over here and just sample a nice, creamy tone from the image itself. And just keep clicking until you get one. That looks good. I like that tone right there. Now let's form at the tagline we want contrast. So I'm gonna go for a really thin version of the fun and I'm gonna go to Futura, and I'm pretty sure that Futura and Garry Mahon was one of our magic font combinations that we saw on Day one of this class. So I gave you four four sets of two fonts that always work together. So if you don't even want to think about it, just memorize them. And I think future and Gary Mont was one of those magic font combos. So let's choose future from this menu, and I want a light version I don't want condensed. I want thin, which is what my light version is gonna give me. But I don't want condensed. I don't want tall skate letters. I want a nice fat fluff. Humans. So we're going to go down and choose light and watch that tagline how it changes that nice, soft and happy and round goes with romantic and soft and fluffy and all that. So think about the shapes of the fonts. Are they reinforcing the message that you're sending? You always want to be reinforcing that message. Now let's go down and font size with our keyboard shortcut, and that's looking good to me. Now let's come down to the bottom of the image. We've still got the text tool active, so let's force Photoshopped to create another type player by shift clipping inter document. If we don't add that shift key. You can click all day long, and photo shop is going to think that you're just still trying to edit the same type player. It's not gonna give you a new one, so the shift click gives you a new one. If you're already in another type player, let's go ahead and and are important contact information here again, I use that vertical bar so space shift to add that bar, and we'll add our email address. Quote at Nelson winnings dot com. So this is another great tip for you as I continue to format. This text here is, if you don't have a person's name to associate with this, I'm or even if you do have a person's name, your this is kind of a generic. Adds situation. So who in your studio are they gonna call? It makes you look very professional. If you have an email address, that info at your domain name or quote at the domain name as another level of professionalism. So now let's change the color of this font. The bottom. We're going to click the little color Swatch the top. Now we're just going to steal a purple that's being created from our color bar, and it's going to go fabulously darling with the rest of this, like, OK, I'm gonna change that to a bold version because it is a little too thin. So let's find a either a medium or a bold. Either one of those would work quite well. Let's go for medium medium won't be as bold is a bold go down in front size, just a little bit mouse away from the text. Cute, this guy over and let's take a step back and see what we've got here. So I'm going into full screen mood. They should have popped it right up in the centre, but it didn't. Here we go. I'm liking what I see here. Any questions on that particular technique? Wait, do you have W 2222 saying in the bright example, What's the best way to re select the purple color box and move and or resize it? Great me? Show you that thinking I'm pressing F to pop in and out of full screen mode. I'll go down and zoom levels. We can see the whole document if you want to reposition that purple text box. All you have to do is click to activate the layer where that lives, press V to grab the move tool, and then you can just move it around wherever you want to resize it. You need to summon free transform, and you can get to that either by going to the edit menu, free transform or by using its keyboard shortcut, which is command or control. T T is and transform. And then you can just change the re sizing handles however you want. Now, if you want to move the color bar and the text need to activate both of those layers, so shift click to activate the other layer. And then when you move it around, you're moving around as one big piece. We'll all some one more quick question from PW escape her. Is it OK to make the text taller or shorter? Using the adjustment in the character panel? Where is that A No no, like using faux gold. Thank you so much for asking that because I had here to Fore forgot to mention that don't every use vertical or horizontal scaling. It's bad, bad, bad. It makes your letter forms look like they've been squished and stress, and it's just it will make the viewer feel uncomfortable with. I don't necessarily know why they're feeling uncomfortable in the course, you know. Now they'll transfer that feeling to your company for your service. So, yeah, the scaling options were talking about live in the character panel. And it's these two right here. This is horizontal or vertical scaling rather this way. And this is horde, the horizontal scaling in its it just stretches and squishes, if you must use it if you If you If you just need to your text to be just a hair taller, you might be able to get away with 5% vertical scaling. But horizontal scaling never works. Great question. I'm gonna add one more quick onto that quick question on to that. That's about the same topic. I know. Personally, I use the scaling option. Is that to a no no. Where you can you select the item by clicking scale and then dragging your corners? Is that bad to do with text as well? No. You can scale text all day long because you're not. You're changing the overall size proportionately, but What gets you into trouble with vertical or horizontal? Scaling on text is it's not proportional. You're just stretching it. OK? Yeah. So the scaling option changing font size. What Kate's talking about is this right here? We decided we wanted all this text to be a little bit bigger. What would take forever for us to adjust the point size, and we probably wouldn't even know what point size we wanted. So a quicker solution is to activate the text layers should clicking someone free transform. Now, we've got a re sizing box all the way around our text so we can hold the shift key down to keep everything proportional. And then we can resize it all day long. There is nothing wrong with that. That is the correct way to do. And thanks for bringing that up, Kate. Fantastic, cause I do that all the time. It wasn't a no No, that could have been awkward, but good to know I'm doing that right now, so I think we're ready to continue on. We're going to do that, Add one more time. So let's start out with their new document. Change thes menus over here. So through by five by five by 300 RGB Start bringing in those images file Place in the color bar folder resized the images if you need to and go and bring in our texture file place Oh so lovely bed of roses And while I'm building this ad, let's tell you that even as as a photographer myself, I shoot stock. I'm If I need a file like this, I am not. How long is it gonna take me to go out and find a better roses to shoot? Yes, I could go shoot it if I wanted to you. But that's why sometimes he stopped photography companies like for Tolia are such a great resource to have in your bag of tricks because you may not be able to run right out and shoot it so you could purchase stock imagery to use in conjunction with your own and create unique pieces of art. You know you this. I'll show you a variation on this. This would be sellable. Okay, so let's grab our elliptical marquee marquee tool. Let's draw a really beautiful oval. On top of that, let's add a layer mask to that layer. It did the opposite of what I wanted. So let's double click the mask, click the invert button, and now let's feather that mask now. If it wasn't a goofy picture, In my opinion, that would be sellable. Art is a photographer so often times you can you stop photography in conjunction with your own to create a unique piece of art. Let's go ahead and delete that layer mask. Let's add another one or actually is changeable in mood first, so we can actually see the photo underneath. We're going to go down to the what I consider the contrast mood. So it starts with overlay. And since we're making a soft, soft, fluffy romantic message emanate from this ad, let's chew soft light. Now it's at a layer mask and with the brush tool set to paint with black. Then let's paint across the areas of the image that we want to hide that texture from. And using a big, soft, fluffy brush like this that makes everything blended really well together, that looks good to me. Now let's add our color bar, so let's trot up to the marquees. Grab the rectangular marquee tool first. Let's set a few guides so we can kind of Markoff where we want that color bar to be. I've already done that. Someone turn them back on. We started with a new documents. I don't have it anymore. That's good. So let's turn on our rulers by pressing commander Control are for rulers and then drag a guide to the middle of the document. If you've got the snap option turned on in the view menu, when you approach that center point, you're gonna feel that guides snap to it. We're gonna see it Snap to it. Rather. So now I can drive down another guide, and again it's gonna snap in the area down here, so I just kind of marking off the area. I don't want my color bar to be anywhere near this center line right here, So I'm gonna go ahead and click and drag to drama rectangular marquee out. And now is at a solid color feel layer. What color are we gonna use? But grab that color wheel. Our image is predominantly filled with tones in the yellow wedge. So once you have a spun your wheel around so that the big arrow is pointing to the yellow wedge or the wedge in which your base color lives. Then follow that arrow down to its complementary color, which is on the opposite side of the color will, and you'll find that that is in the purple wedges the to violet ridges. We've got a violet, which a blue violet, which in a red violet wedge Okay, but mainly predominantly purples is what we're talking about here. So over here in our color picker, let's click to tell Photoshopped, Hey, we want a color in the purple range of colors. Okay, and then let's use this box over here to tell photo shop if we want a tent or a shade of it so purple, plus white, purple plus black. So we're going to click something in this realm down here. Click OK and now will change its blend mode, toe linear burn. And how did we know to do that? Because we just experimented with the blood moods and then let's drop its opacity back so it's not quite so dark. And then we can turn off the guides and add our text. So zoom back in a little bits. You can see press T to grab the text tool. This time I'm gonna click and drag diagonally downward to draw a text box while I'm drawing that box. I can use the space bar to reposition it on top of my canvas type or text. Select all that. I can change the color of that and go experiment with font sizes here. Norman. I wanted to be pretty big so I can go ahead and come up in size. Now let's click the little color Swatch and come over here to the image and click to snatch a color that worked really well. See, it looks like quiet is you're looking at the text on top of the color bar. It's not that you can see. It's nowhere near why I will be with here. Click. OK, now let's change our fonts. So for this top line, I'm gonna triple click it and we're gonna go grab Gary Monde, come up in size even more, and then we're gonna add extra contrast within the company name by Bolding. And then we're gonna building contrast between these two lines of text by choosing a very thin fun. Also as small size because real life captures isn't as important as Nelson weddings. He's a light version in that beautiful. I mean, it doesn't really work until you change that tag line to a light version, because that gives you the contrast. Remember when we were talking about contrast the other day? You have to be brave because it needs to be kind of intense for the contrast to show up. So now, since we've still got the type tool active and we're still on that original type player, let's shift click to make Photoshopped make another type player in an R contact info. I'm not adding an address because I may have the studio at my house, and I don't want people No. One about all the equipment that may be in there. Scoot that over triple click to highlight it. Let's go down in font size and let's add contrast to make sure it holds up by choosing a medium fun. And then let's change its color and we're going to steal one of the purple tones from the color bar. Use our move tool to reposition. Everything is we need Teoh now, in this one I'd like to make, I need to either make this text larger or this text smaller Because I want this text line to be equal in width to my headline. Okay, so I can, uh, not do that. Come over here to that second type player, triple click it and continue to go down in font size till I get it about equal. And with to that headline, you could also set guides to make sure that you get it precisely. And I can also come back over here and increase my headline size if I needed to. Okay, so I do like it adds extra level of professionalism, since we've got a nice hard line here. So the end and Nelson is equal to that 1st 3 So they're the same with. And also we've got a nice hard line here, and the right aligning of this helps. I flew. Go straight down. Okay, so that's pretty thing. Of course she would save it Is a Photoshopped document that's your first coffee. And then to send it out to the printer or descend to a client is a proof. Then you would choose file save as in use those other file formats we talked about earlier. Either pdf for tiff, maybe descended the printer. Maybe save a J pig out of this. Save this out as a J peg to send to the client as a proof or what have you? But always keep that master file around. And that's the final you want to go back to when you're saving out those other copies. All right, let's build another ad. This time we're gonna use a photo path. We talked about photo pads earlier in the week when we had that ski boot ad photo has a really great to lead your viewers. I write to what you want them to see. So a picture of your product or your name in this case, vivid portrait. So we have used the photo path, so your eyes are gonna enter top lift. Move right, move down. You can see how good the I flew is in this fake ad. It just feels nice. Okay, so let's look in our layers panel, See what we've got here. We've got two different folders here just because I created the three up in the four up in the same or the different positioning of the photos and the same. And okay, so we've got our three photos I can see here that I brought them in a smart objects. How do I know they're smart objects? Because I've got this special little hoo ha on the bottom right corner of the layer. Thumbnail that you know, they're smart object. We've been talking a lot about the benefits of using smart objects today in so far as re sizing layer contents, Photoshopped kind of returns to the original instance of the J peg its original dimensions to resize it again even after you've already resized it. How many times if you bring in the vector? Photoshopped remembers that superpowers, which is infinite scalability. But another great thing about smart objects is that you can swap out their content on the fly. So my purpose for importing these images of smart objects is I did it once and I got one of them sized exactly like I wanted it. Then I simply do be duplicated that smart object as an unlinked smart object. Unlinked copy scooted it over and then I swap the content out. So that way I only had to resize the photo one time and I just swapped content out of the to duplicate layers. That's what we're gonna do next up in this ab. We've got a couple of lines of text again. We've got awesome contrast going on between Vivid and portrait's. That's why those too thin font weights work together. Then we've got a texture file. This is where the texture is coming in at the bottom. And as you can see, it's a full color image. But because I reduced its opacity to 10% it looks like it's not colored at all. See if I came up in capacity. You see that kind of matches that guy's shirt? All I did was drop the opacity on it. So I get the pattern without all the color. Then last not least we've got a color bar up here. That's this guy right here. Gives us a nice, safe, non busy spot for our text. It also serves to anger the ad and ties in the top portion of ad with the bottom portion of the ad. So that's what we're gonna make. So let's go ahead and create our new document, and this one's is gonna be five by four, I think at 300 cause we're going to print. Click. OK, now, at this point, I'm gonna go ahead and turn Robert Mueller's air on. But if your rulers air not on you could turn in my much using view rulers, or by pressing command or control R. And I'm gonna add a couple of guys, because in my sketches I decided that I wanted three photos to be at the top. Why three photos? Because three is more visually interesting. Odd numbers or more visually interesting than even numbers so and people can only remember 3 to 4 things at a given time. So that's why it's not five images or seven images. It's three images, so memorized that number because it comes in handy and so many different things when we're talking about creating visuals. But since I want those three images to bleed off the edges, I need to add some guide. So I kind of get an idea of how to size these things, and that way it just won't take me quite as much time. So let's go ahead and draw a vertical guide, but I want to do is mark off my centers so I don't put anything right on that center Okay, So now let's figure out how many of those photos were going to use three photos. But how big those photos need to be. Well, let's go ahead and bring in the 1st So final place navigates where they live. They live. Now we're in the photo path. Folders Number five and let's bring in the 1st 1 Let's bring in Kelly first. This is so funny. Kelly is the sweetest man in the world, and this face was so shocking to everybody. Kelly was one of the founders of istock photo dot com and good friend of mine. Everybody was like way. Didn't know you had that in you. Very funny. Okay, so let's just get him a little bit down inside. So we kind of know what we're dealing with here. And now let's think about how much space we've got across this ad. We've got three pictures and we've got five inches. Okay, so we could divide five by three and figured out that way. Okay, Another way. Well, that would be the way to do so. Let's go ahead and bring a calculator. Okay. Lets say five divided by three. Are pictures. Need to be about 1.666666666 And with okay, roughly. So that's a handy way to figure it out. Resort to math scientists in the room. Love that, don't you, Bob? Okay, so what I'm gonna do now is even just a hair, and this next thing I'm gonna show you is specific to see us five, I mean, six. Rather, it's a really neat thing. When you are re sizing anything in CS six. Photoshopped gives you a little rich cursor, a little tool tip while you're re sizing. See, it will come up a little overlay there gives me with and high that is gonna let me see, And I need to be holding the shift key down to keep him from getting sloppy job. That's gonna let me see how why that picture is so all I have to do is get near one point 66 So I've got 1.667 right here, and that's good. So press OK. Not needing to bring the rest of Kelly back over to the the document there. There we go. So now that I've got him sized appropriately, all I have to do is duplicate that smart object as an unlinked copy, and I'm emphasizing unlinked copy, because if you just press command J or controlled J to make a copy of this layer, then when you swap the content of one layer, they're all gonna swap, and you'll probably curse a little bit. So what we're gonna do here is create a copy of that smart object, but one that's not gonna change all the other smart objects that I copied it from at the same time. And you can only do that one way. We don't have a keyboard shortcut for it. You could make one yourself, but that's fodder for another had a customized photo shop class. So let's choose the layer menu, come down the smart objects and choose new smart object via copy. Why an Asgard That does not say create unlinked Smart object is anyone's guess. I guess I wouldn't have a job if it was self explanatory. So layer smart objects. New smart object via copy. Now we've got a duplicate. Okay, we're not seeing the duplicate. Why? Because it's directly underneath the other one. So grab the move. Tool press vihd activate the move tool. And while holding the shift key, drag your other picture over to the right. Now let's do the same thing again. We're gonna create another unlinked smart object. Copy such use layer. Smart objects. New smart object via copy. You can't see it cause it's rather on top of the other one in the same position shift. Drag it to the right Were shift dragging because that constrains my drag to the direction I started out in, which was horizontally. So that means I didn't move Kelly up or down. Only moved him left and right for this particular ad, I want Teoh incorporate a tiny bit of space between the photos. This is going to be another design element. I don't want them to touch each other, So I'm just going to use my arrow keys on my keyboard and I'm just gonna create a very thin line of space in between each of those images. Now we can come in and start swapping out the content. So let's go to the first copy that we made. You're going to control click or right click on a PC near the layer name, and I am emphasizing positioning because if you right click on the layer thumbnail, you're going to get a different menu. You need the menu that you get. If you click over toward the name area, so right, click or control, click and we want to choose replace content. So this is a special super power of smart objects navigates where the next photo lives and she comes in perfectly sized. The reason she comes in perfectly sized is not only because we used a smart object, unlike copy, but all three of the images that were using in this ad are exactly the same pixel dimensions at exactly the same resolution. So if you bring in pictures that are not the same pixel size and are not the same resolution than you, may have some re sizing yet to do in here, so you might want to check on that first. So now let's click the third layer that we've got here control or right click near the layer name. Choose replaced contents and navigate Where the other photo. Liz, I think it's this one right here. Yep, there we go. Wasn't that efficient using the unlinked smart objects Really amazing. We did a whole deep dive on smart objects, and I highly recommend that classes Well, we did that one in was that November that we did that. So look under my course page Lisa Snyder, and then find all the Photoshopped deep dives and you'll see that smart objects is one of them. We go way deep into smart objects. What? We're not gonna go today. That's fine. So now what do we need to do? Let's go ahead and bring in our texture. So in thinking about how I'm gonna add texture to this photo I started out by and I'll hide the guys for a moment. I started out by looking at the photos. See if there's anything I can steal because it's going to match not in color, but in shape. So I first started looking at the flowers and the Rhinestones on her jacket. I thought, Well, that would take me longer to find a texture similar in shape to that. Then it would Oh say if I typed in leopard print on any stock image service, which is what I did. So I typed in leopard background, and this one came from a Tolia, so Let's go ahead and bring that in. So file place. There's our for Tolia image Now. This is also of note in this one file that I purchased from for Tolia. I get nine different graphics, so that's very handy. Now do I have to worry about clipping at all those other graphics? Heck no. We're gonna hide 1st 1 we're going to make it so big that you're only going to see that leopard one in the very center of the top row. Otherwise, I could add a layer mask to this layer and hide the other patterns that I'm not going to use at this time. But since we brought it in as a smart object, I have infinite scalability not only because it's a vector, but also because photo shop is going to return to its original instance every time I try to resize it. So let's zoom out. Actual issues are fit on screen keyboard shortcut because we can't see the re sizing handles of this file, so we need toc them to grab them. So let's press command zero on a Mac or control zero on the PC, and now we'll use our shift option keyboard modifier keys shift Ault on the pc to make this really big. Well, I need to make it bigger still. And now I can't see the re sizing handles again. So command zero control zero and we'll make it big enough. We're only seeing the portion of that file that we want. Come back up and zoom level. Here we go. Now let's start dropping the opacity of this file, okay? It's gonna end up somewhere around 15%. But what we don't want is to have our subjects all spotted up like that. So we're gonna add a layer mask. So it's come up here to our rectangular marquee tool, and you can do this one of two ways. You can either draw a box around the area that you don't want the texture to be visible on top of, and then add the layer mask. Or you could draw the box around the area. You want it to be visible on either way, so let's go ahead and add that layer mask. It did the opposite of what I want. It's all you have to do is double click the mask icon and click Invert. Now let's create a safe spot for text hace. Let's add another little color bar down here hips while not scrolling. And now let's add our solid color feel layer. What color were gonna pick up? Dear grasshoppers. Well, we need to pick up a color that lives in the top half the image. Teoh relate the two pieces of the ad together. What's a great eye catching color that's in this image already? How about that red that's in our guys sweater over here, So that'll work really nicely done here. Now let's start adding or text so impressed. T to grab the text tool, we're gonna roll with all lower case. Let's go ahead and select all Change the font color to that lovely red we picked up from the jacket. I'm not sampling from the jacket now. Why? Because I wanted to match the color bar exactly. So I'm sampling from that. Rather than try to figure out where the heck did I? Clay, you know it's coming up in font size mouse away from the text me that over. I want portrait's to be really OK. And now let's see what thought we used for this. We used future. So let's go find future. OK, We've already got that active in our font family menu, but we used a light version for both of these words. Let me go ahead and choose light. Now, there's not enough contrast for this to work. So DoubleClick toe activate or highlight rather vivid. And we're going to go way down and font size and this is where things were going to get a little bit squirmy for you is gonna be uncomfortable going as far down as you need to in size to create that contrast. But you just gotta do it. So now I'm looking for a nest for the word vivid, okay, because I want to nest it somewhere up here near Portrait's really close to it. How about this little spot right here in between the dot of the eye and the ascender of the T? That's a perfect wellness for that. Well, to be able to change it, I'm gonna have to use spacing, and that's a drag because it's not precise. So what I'm gonna do is liberate vivid from that type player and put it on it's own type player so I can use the move tool. Yes, I could probably finagle it with spacing, and I'd have to change the alignment from right alignment. I don't want to go that far with all that is going to be faster if I just cut it from that line of type and use our shift click trick to put it on its own layer. Now I can grab the move tool, and I can position it wherever I want. Activate both players. If you want to move them together, use your arrow keys to nudge things around if you want to you and that looks pretty good to me. I could probably go down and point size on Vivid again, or go up in point size on Portrait's Let's Go ahead and at our other one text. So grab T to grab the type tool. Come down here to our color bar, and we're gonna add some information. So info at vivid portrait dot com phone number who had add the address on this one? Let's say it's ah studio in the downtown area. Yes, we're gonna select all skip this over so we can see it. Right now. It's the same. Colors are background, so Let's go and change that color. What color? We're gonna pick something that lives in the image. A very, very light color. Not quite that close. How about that? Right there? A little bit too high. Contrast. I probably come up here and pick a really light grey from her jacket. Never, ever use pure white text on top of a color. A really dark color because it will just be too bright. Too much contrast. And position it. I'm gonna make this right edge of the text align with the right edge of my logo because that's going to give your eye that hard edge to slide down and catch that last piece of text. So it's pop into full screen mode. See what I've got. Pretty sweet looking at, huh? Being questions on that one. And then we'll run through it again. Yeah. Um, Jupiter seven is asking again why you don't want the face size or the eye level to be the same across all of the photos. We talk about that a little bit. Why? I don't want the eye level to be the same across all the photos. We could easily make it the same if you wanted Teoh. Okay, but there's nothing design wise that will make will freak people out if it's all the same. Not that I know of. All right. And then other people CMBs in the chat rooms were talking about the three photos aligned, and they noted that you did take the photos all the way over to the edge and they wanted Teoh. See, Let's see, the two on the edge will be on the bleed. So do you adjust for that? Or was that what you intended to do? You want to take it all the way to bed? Yes, that was intended to. So I wanted a full bleed. But I did want a tiny little bit of space in between the photos. Okay, Otherwise the tones of the background start getting a little bit weird. So, for example, if I scoot thes tiu over, see how weird that looks. So even though these portrait's were shot on the exact same background, they're not positioned in the exact same spot on the back room. So now, as I look at this, I'm distracted by trying to figure out why the backgrounds are lining it properly or why? There's a slight color difference. So instead of looking at your ad, I'm gonna be sitting there staring at it, trying to figure out why don't those left? Oh, they're not exactly the same. Oh, that's kind of weird. And by that time, I've already moved on to something else. My attention is elsewhere, and I'm not read your ad. So putting that thin amount of space in between them keeps that from happening. Any other questions on that? So we have about a little less than 20 minutes before break. So do you want to keep going? Yeah. OK, okay. So let's run through this one again. This is another variation on the same ad. Okay. So again, with creating the unlinked smart copies, I could, you know, place them all the same size against the top row like we did and then come back in and make one of them a lot larger if I wanted that to stand out. So I think this ad design holds up as well as the other one. Okay, So close. That's will make our ad again. We've already got inches going on here. Five by 300 Sweet. Now Let's start bringing those babies in. So file place. Grab our 1st Kelly. It's so funny every time I see this picture just cracks me up. Okay, so we're resize him a little bit because we know we're gonna have to you anyway. Gonna stick him up here and then to figure out if you've got three images. We've only got five and five inches of space. Bring up your calculator, which is similar to your calendar, but not there It is. Okay, so we've got five inches divided by three objects. So each object, if we want to fill that space, needs to be roughly 1.66 in with. So now we can summon free transform. You could have done the calculation beforehand. That's fine to you. And in CS six, you're going to see that extra little information appear next to your cursor so you can easily see the size. Now, if you're running an earlier version, you could open the info panel by choosing window info and you'll see objects. Eyes in here. See how it showed up under the width right there. So you get is open the info panel and watch the width dimension there. But in CS six, we've got that actual rich cursor, which is very handy now. We need to create unlinked copies of the smart object so we'll choose layer smart objects. New smart object via copy shift drag over. Do the same thing again. Layer smart objects. New smart object via copy, shift drag. And again, we're Shift Dragon because we don't want to move the photo upper down, the only one to move it across. And arguably, I would create this a little bit more space than I did originally because you want that space toe hold up. When this ad is printed in with absorb a tive papers, you might bleed a little bit. So now let's start swapping out content So we'll click our first smart object layer that we want to swap content with right click or control. Click near the layer name. In other words, on the right portion of that layer, choose replaced contents navigate toward the new content. Lives do the same thing on the next layer. Now let's bring in their texture. File foul place. Now let's press command zero or control zero to fit on screen. Let's start making this baby really big. Release the modifier keys, click and drag within the bounding box. It could make it bigger still. Here we go, fit to screen again, all right. Using the fit to screen keyboard shortcut works just as well in this situation as well, because it's gonna make that images. Bigas. It can be within our window. So now let's drop the opacity to this texture layer to about 10 and use our rectangular marquee tool to add a layer mask so that we hide the texture from the faces. And now let's add a color bar at the bottom. Since we've already got the rectangular marquee tool activated, click the circle, the half black, half white circle, the bottom of the layers panel for our color bar snatcher. Rid from the guys jacket. And now we can start adding your text. Vivid portrait. It's You should see me sitting at home trying to come up with all these names of fake businesses, fake taglines and stuff. So let's go and change the color of our text again. We're gonna grab a red from the color bar, not from the sweater, because we want to make sure it's the same. You start coming way up in size on Portrait, it's. And then let's snipped the vivid out of the original type player shift click to add another one. I could have added it. I could have created those two words on separate layers to begin with, but nine times out of 10. I won't do that because it's not part of my experimentation process with funds. So I usually start out with the name of the business on the same type player, and I start experimenting to figure out what I'm gonna want to do. And then at that point, if I have to break them apart for easier positioning, then I'll do that. But I like having this few text layers as possible just because it makes my layers panel that easier to deal with. So then you can start positioning them as you'd like. Vivid is too small in this example, so let's bring it up in size. Just hair. Look for a natural nesting spot by shape. Okay, if it's very nicely in between the ascender of the tea in the dot of the I K. Now we can add a text to the bottom portion of this. So our Tex is gonna say info at Vivid Portrait, it's dot com. No need to add the u R L again. It's already in there. I want you 29th Street. Older. There we go. Now let's change the color. We'll snatch a super light grey from her jacket, click and drag the font down on top of the color bar. And then it's just a matter of adjusting font size toe. Make it work for you. Sweet stuff, huh? All right, I'm gonna go ahead and show you another technique, which is creating a pattern yourself. So let's say you're not going to go buy a texture file from a stock agency. You want to create one yourself. There's the easy way to do it in photo shop, and that's by creating a pattern from it. And then you can fill layers with that pattern. So let's go ahead and do that. I'll show you what we're gonna make first, and it iss this one right here. Remember this ad from Day one? If you look closely, I think you can see it on screen. I didn't see it better on the TV monitor on my screen. We've got a diamond shaped pattern in the background here. Why is it a diamond shape? Well, there's a diamond shape sewing going on in the cushion that these animals were photographed against. So if we look at my layers panel here for just a moment before we created what we have going on, we've got a solid color feel layer at the bottom of our layers panel. That's where our white backgrounds coming from. Then we've got a diamond shape here. That's the shape that I drew before I created a pattern out of it. So you have to draw the shape that you want to create the pattern out of first. Then you draw selection around it, and you tell Photoshopped, Hey, say this as a pattern. Once you've done that, then you can create either a empty image layer that you then use the edit fill command to create the pattern on, or you could also do a salad or not a solid color adjustment layer, but another Phil layer set to use a pattern. So either way, so that's the pattern feel layer that I've got right there, and then you see the color bar at the bottom again. It just helps anchor the ad. Give it some weight at the bottom because the picture is kind of top heavy right now. Except for the photo is, then we've got the photo. Looks like we've got a layer mask on the photos. The photo probably extends way down into here, but we hid that part with a layer mask and then looks like we've got a purple border around the whole ad itself, which is a nice trick if you're going to go to newsprint. If you're designing an ad that is gonna end up in newsprint, you want to add a border around that whole ad, you want to kind of finish it off? Make that border black, because that will just finish off the edges of your ad so you won't care what is next to it. People will be able to clearly see where your ad, you know, starts and stops. And then we've got a couple of lines of text here and again. This using this color bar at the bottom in an ad situation really works well. The highlight important pieces of information specially Orioles really really great. And it weights the bottom of the ad, balances it out, and then making that Uriel equal and with to your headline and right aligning everything else is just another magic combination that always works. And, yes, there infinite possibilities that you could dio a little bit different text treatment and all that. But this alignment really works well, so let's take a look at creating that. So go ahead and make a new document. And for this one, I'm not gonna bring in everything because we've already seen that quite a bit. So I'm gonna not do the new document. Thinks I want to make sure we get through everything that I planned for you today. So let's go ahead and start with the pattern, Okay? So I'll turn these guys off. So this is what we had. So let's say we have done everything to get to this point. It needs a little something, something. It needs that third graphical element. You know, our photos one are color bar at the bottom is too needs that third piece for death. What on earth can we create? Teoh? Add that death. Well, let's look at the photo Are there any shapes that become a parent in the photo? Yes, there's a diamond shape coming from that cloth to that fabric right there. So let's make a diamond shape. How on earth do you make a diamond shape? Photoshopped. Very simply. We come down to the tools panel and we're going to grab the rectangular tool. We're gonna trot up to the Options bar and make sure that that pop up menu is set to shape because setting any of photo shops drawing tools to shape mode is gonna make Photoshopped create that shape on a whole nother layer. And if you're running CS six, you get these wonderful new Phil and stroke options so we can experiment with the color of that shape a diamond in this case before we make a pattern out of it, because once you make a pattern out of it, it's difficult to change the color of it. So let's go ahead and we've got our shapes. Let's just draw it on the image don't really care what color it is. Someone changed colors of it anyway, so let's just go ahead and draw it. I'm gonna hold down the shift key so that I make a perfect square and you want to think about how large you want this repeating shape to be. I don't want it to be huge, but I can still change the size of it here in a minute before I make it into a pattern. So let's say that that size is about good, so we'll release our mouse key there. Button. Rather. So it's black. What? We don't want it to be black. What we want is to change the field color. Now let's talk a little bit about why I've got so much purple going on that you guys could guess that already. If I look at the colors in my image, first of all, there's no real high contrast color that I can steal from the image. So that leaves me Teoh. The handy dandy color will yet again. And if I look and find the color wedge that contains the predominant colors that are in my image, then all I have to do is position the arrow of the inner part of my color wheel to point to that color. Follow it straight down, and I see that I'm again in the purple range. So, purples, we're gonna look really great with this ad. Now what? Purples, Exactly. Well, look at the saturation value of the predominant yellows in the image. It's rather light. So that's why we're gonna go with light purples. That's gonna work real well, so we'll go ahead and change the field color to light purple. Now, this is specific to see a six. OK, if you're an illustrator, you've had these options forever. But CS six is one photo shop Got these options? So that's the Phil and stock options in the options bar when you've got a vector tool active and you have a shape layer. So let's click the little fill box and then click this little rainbow color square at the top, right? And that's gonna pop open our color picker, which is gonna let us mouse over and steal the purple that we already picked for our text. Now let's go ahead and rotate that shape so that we have a diamond. So we'll some and free transform by pressing Commander Control T. And I'm gonna hold my shift key down because that way I can ensure myself that I've got a perfect diamond came one that's not a little bit lopsided. If I want to make that diamond smaller, now is the time to do it. Hold down the shift key. Make it a little bit smaller once you get that diamond exactly the way you want it. That is when you're gonna create the pattern or I say, diamond. It could be any shape that you've drawn. But this is what we're gonna do. You create a pattern, I'm going to zoom in a little bit. We need to make a selection out of the thing we want the pattern to be. So let's grab whatever tool we want for a repeating pattern. The rectangular mark he's gonna work out, will. So let's a draw a box around it. Now you need to think about how far you want the repeating bits to be away from this one. So, in other words, how much space do you want in between these shapes? When we use the fill command and Photoshopped litters them all over the whole litter? Ha! With the cat picture right there. Thank you. No, I did not have wine for lunch. So you need to think about how much space you want in between the objects. Okay, If you want more space, then that selection used to be needs to encompass more space around it. If you don't want very much space in between that pattern, then you don't want your selection to have very much space around it is that kind of makes sense. Okay, so I'm gonna go ahead and press and hold the space bar so I can create a little bit more space in between those patterns. And I'm going to keep holding down my shift key so that I draw perfect square because that's what's gonna make the repeating pattern look good, because my selection is perfectly squares when you get it all set up to try to release all your modifier keys. Now you're ready to trot up to the edit menu and shoes. Defined pattern photo shops gonna ask you what you'd like to name it. We can cleverly call this one violet diamond click. OK, we're through with our selection. So we compress commander control de to de select. That's also in these selectman You de select. Now we can turn the layer visibility off on this original shape because we don't need it anymore. So now let's go create our other layer. Okay, so we could either create a new empty image layer and fill it. Or let's try using our fill layers like we've been doing. So we click that half black, half white, circle the bottom of the layers panel chief pattern this time, and because we just created that pattern First Office seems we want to use it. So bam, we've got our diamond background here. Click OK, now, what I wanted to you is drag it underneath the photo and underneath the color bar at the bottom, because I don't want it to appear on top of the cat or on top of our color bar at the bottom. Now it's just a matter of dropping the opacity. Tow whatever looks good to you, and then let's use the move tool to reposition it. Now what happens if you want the pattern to be smaller? All you have to do is use a free transform. I think this organ, she says, that she realizes she's not yet tried. It cannot transform because the initial bounding rectangle is empty. Yeah, that's not gonna Yeah, that won't let us do it. Had we fill that on an empty image layer, we can just do that. Now I'll turn off that pattern layer. Let's fill it on an empty image layer, and then we would be able to transform the image layer. Okay, so sometimes you will have to do things the old way in Photoshopped. So we've got our new layers now will choose Edit Phil and from the use pop up menu, Let's choose pattern and then from the custom pattern preset picker, give it a click and then just scroll down. And so you find the pattern that you dismayed and when you make a pattern is gonna end up at the very bottom of this list. So give it a click. Normal 100% opacity. Click. OK, now is zoom in this little bit, drop the opacity way back. And now if we decided we wanted Teoh change the size of those diamonds, we could free transform the whole layer so we could go down in size That way
Class Description
Graphic design is everywhere you look; some of it good, some of it bad, and some of it just plain ugly. In this 3-day online graphic design course, you learn the four secrets to great graphic design that will ensure your promotional materials always looks their very best. Each design secret will be revealed, defined and then put into practice on several projects including business cards, ads, and more. You also learn a lot about typography and color theory, both of which are essential for your design success. No matter which software you use--Photoshop, InDesign, Pages, or even Word--these design techniques will serve you well!
Reviews
… exactly what I needed for current and upcoming projects! Actually, it was much MORE than I thought I needed. Once it all sank in, I realized just how much I didn't know, but needed to know. The training is top-notch and very effective, and just to top that off with a cherry, Lesa Snider is the most engaging instructor with whom I've had the privilege to learn. I can't recommend this course, Graphic Design for Everyone enough. … talk about "clicking" with an instructor… A self-professed Southern geek/nerd with a sense of humor is a darned near perfect click between that instructor and this student. I love to learn anyway, but Lesa Snider's classes are a wonderful blend of fun that runs throughout the entire course of technically advanced concepts and application. Where do you find a course where you laugh as much as you learn (both massively)? … a Lesa Snider course. I've already put the course material to good use and look forward to using the class info and skills even more in future projects.
I've been a fan of CreativeLive for along time. I've attended many classes, but this is one of my most favorite sessions. I think Lesa is a great trainer and find I am learning a great deal. I liked it so much I actually purchased this course. I would watch any course she was part of. Great graphics design course and wonderful tips.
I enjoyed it very much. However, I hated that I could not pause or rewind,,,so I had no choice, had to purchase. :)Lesa is a terrific Instructor. She takes the hardship out of the learning process with her wonderful ever so friendly personality. She instead turns it into a joy and I enjoy very much her courses! Thank You Lesa!