Graphic Design for Everyone
Layering and Simplifying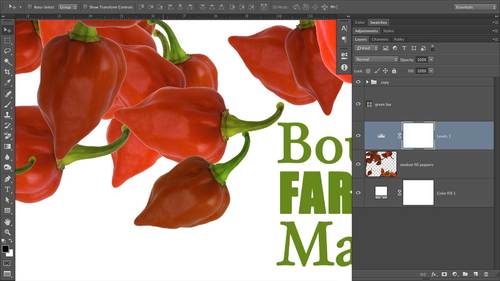 Graphic Design for Everyone
Layering and Simplifying
Lesson Info
Layering and Simplifying
this will really make your designs, pop. If you can digest this tip right here and you photographers out there, you've already got it down. Pat. Layering creates depth in your designs, right. So just like your photos have a foreground middle ground in the background. Thus, your designs also look better if they have depth built into them as well. And we're gonna look at how to do that. And that's actually a really fun thing to learn how to do to add to your designs in it. We'll just take them to the next level. And they were very professional. Very trendy, very hot, very timely. So you can do that by making sure that you always include three graphical elements. Here we go again with the power of three. Right? So we've got three graphical elements in the examples that I'm about to show you. And if you look at this slide that I've made, we've got three graphical elements in it. Plus text or not, counting text is a graphical element. Okay, so if you're looking at the slide, we've got the G...
rady in Bagram. So the slide background color that goes from black Teoh, a light gray at the bottom. That's graphical element number one. The second graphical element are is the ornamentation that is in light grey around the left side, and the right side is that's graphical element number T. The third element is the number seven screened back or the Habits Low had its opacity lower. So that's graphical element number three, and it gives this slide a lot of debt. And then you put the text on top of that, and you've really got a visually interesting piece that can capture that I and communicates well, So we're gonna take a look at that. Here we are, back in our fictitious vivid portrait studio, and if you compare, I hope you guys can see it on screen. It's a little subtle, but if you compare the left, add with the right ad. They both look good, but the right ad looks better. And why is that? Because we've got more depth in that ad because of the pattern that we've placed in the white portion, the white bar towards the bottom. There we've picked up the pattern that's in the guy's shirt now all I did for this one and we're gonna build this ad together tomorrow. What I did was I looked at his shirt, were actually looked at all three of the photos that I wanted to use. And I thought, Well, who's got the most interesting stuff pattern that I can pull out and repeat in my design? And I started thinking that I would go to a stock image company and search for some kind of vector flowery embellishment to match the ladies shirt. But then when I really focused in on the leopard shirt, I thought, Well, that's the one to repeat right there because it's a little bit more engaging a little bit more active so you can subliminally influence people with this kind of thing. You can activate them. So what I did was I went into a stock side and I talked in leopard background and I got tons of different options. I found the one I wanted, so I just floated it in the background of my document, lowered the opacity way, way back, its full color image. It's actually a leopard print, but by lowering the opacity to something crazy, low like 10 or 15% it looks like it's not even in color, which was perfect because my text is still readable on top of it. But we've added depth to this ad just by adding that pattern in the background. It's funded E. It's a fun challenge for yourself. It really is. So once you do the ad, you what kind of cool thing can I fit in the background? Here's another example. The ad on the left works perfectly fine, but the ad on the right is a lot more engaging. Why is that? Because we've got at least three graphical elements in there s so let's figure out what they are. One graphical element is the solid orangish background. OK, so that's one the second. Actually, this one has four if you want to count that background color, the second graphical element is the photo of the singing ladies, which is also humorous Right there. There's a 1,000,000 pictures of singing ladies that you could use for this. But use the funny one crack people at when you can. Another graphical element is the frame. That's a stock illustration. Okay, so I shoved the photo through it and then the last graphical element is the lights. OK, So that's just a blurry shot, a stock image of lights, Okay, and they're a little bit out of focus, which makes them a great background element like this. So I just popped him in change. The blend mode lured the opacity, and we've gotta add with a lot more energy and a lot more depth, they almost look like Disc Allied's. It's another great tip for making more money. Shooting stock photography is shoot things that designers can use for texture and layering like this. But if you always stick with three graphical elements, your designs will improve tenfold. Here's another example. Not a thing wrong with that. On the left, the add on the right is more engaging Starburst and these rays of light are all the rage right now. They're very popular. So one of the things that's an easy thing that you can do to really make your designs look current and trendy for the moment, these rays won't always be as fashionable as they are right now, but you know, Gwen, capitalize on it if you want to you. So we add those rays in the background, lower their opacity, change the blend mode so you can still see the other imagery. And if you don't know about photo shops, blend. Mose and I have a fabulous resource for you. It's called Photoshopped Deep Dive Blend modes. It was taught here creativelive a few months back, so I hope you'll take advantage of that. And it teaches you how to do all these kinds of things. And here's one more example. Okay, so that ad on the left is perfectly fine. But the ad on the right is even better because it's more visually interesting, and it makes the viewer go deeper into the ad, just like when you have a foreground milligram of background in your photos, your viewer goes deeper into your photo, and with those elements you can actually control exactly where the I enters the peace and where exits the peace or where it moves to after Inter's. So for this one, all we did was we added a a photo of a cement floor. Really, it could just as easily been a photo of fabric. So we have these wonderful, multi toned, neutral gray couches in the studio. Here it would could just as easily be a shot of the couch that was dropped in to this ad. I did add a layer mask to hide the texture from the guy's face and for most of his body. But it just adds a little bit more depth and visual interest to your piece. So three graphical elements we could consider the the cellist player is one graphical element. The red bar at the bottom is another, and then the texture as our third. Here's another example. We saw this ad in its original form earlier in the day. We were talking about alignment in picture paths. Picture paths are a great way to lead your viewers. I across the piece to what you want to sell them, in this case, the ski boots. So what I've done here is I've found a stock image of snow, just a shot of pure white snow. And by placing it in the background and tweaking its blend motor capacity, you can give that add a completely different feel and add more visual interested, which also just keeps people engaged and to catch their eye on their attention. There's one question that came in. It's not really about threes, but I'll ask it anyway. This is from Selena, who is from Alexandria, Louisiana. What are your thoughts on using vector images that I draw myself should create logos and business cards for businesses. That's perfectly fine. And that's a great thing if you can wield the pin tool. And that's what are our ladies asking about? The Vector illustration. Tools both in photo shop and an adobe illustrator in programs like Free Him if you can. Well, that thing, by all means draw shapes and all kinds of different pieces of our and use those in your Legos. If you draw it yourself. That's actually one of the only ways that you can legally trademark or register your logo. It has to be something that's unique. It can't be stock. It can't be. You can use those things in your logo, but you can't register a trademark it now. Is that really important again? I would ask you, what level of what level are you operating it on the playing field here? Are you Nike size, apple size, Coca Cola size and heck yeah, You want to register that stuff to keep people from being fooled by knock knock off products? You know, the real thing versus not the real thing, but in so far as smaller clients promoting your own business and things like that. Then I wouldn't worry about trademarking it or copyrighting it really on the logo specifically. But it's a great a great resource. If you've got the skill set to draw that stuff yourself, that's fantastic, cause then you can draw all kinds of things. So, for example, if you wanted to add texture in an ad like this, you could just draw whatever you wanted. Okay, you could, you know, pick up any of the shapes that are in the photos or in the product. And this capitalized that. You know, I see a great shape on the bottom right of that boot. It's kind of the Nordic A, you know, logo. What have you thinking will depend? Tool. Then you could draw all kinds of of arrows and things in that background. That's kind of reinforced that product. So just maybe one more question that sort of relates POWs, Caper says. Do all of the rules for design also apply to a website design or doesn't have does have its own set of rules? That's a great question the four principles we've gone over, plus the additional ones that three so far that we've had they apply to anything. Doesn't matter what you're designing, be the business card, be it a website or a yard sale fire. To be quite honest, it's just things that help your constant communicate with people people to be able to digest it in the way that you mean in the spirit of which that you mean it. So they get the right message. Now, when it comes to Web design, the power of three is really important in so faras. How many choices are you offering? And I got a couple of examples that will look at a little bit later in this class that are more Web based. But what design has additional principles that you have to worry about, but the ones that we discussed thus far absolutely important. Okay, so now let's talk about tip number eight great Segway, because that's what we were just talking about, reduced the amount of choices that you give people. It's so easy for people to get overwhelmed, and they really can only remember 3 to 4 things at one time. They cannot handle more choices in that. However, if you ask them, they will absolutely tell you they want Brasilia's the choices. But we can't process them mentally. We just can't. You think you can? You think, Oh, well, that doesn't apply to me. You know, I'm really good. I can multi task to, You know, you can't make it, so limit. The choice is it will make your whatever it is that you're presenting feel more accessible and less overwhelming. And we talked about this morning less difficult. If your content is presented in a, uh chaotic way, then it's going to feel like it would be chaotic or impossible to try to learn the thing or by the thing or go to the store. What have you. So let's look at that. Here are two great examples. Now, I do need to tell you that we're not affiliated with these sites in anyway. I'm simply using them to be illustrative for design concepts. Okay, so the side on the on the left is apple dot com. Very popular site. How many choices do we have here, folks? Okay, we've got one big one in the middle. How many do we have underneath four. Hey, now I'm not talking about navigation bars, okay? It would be really hard to limit your navigation bar choices and Web design to four on. It would be great if you could, but oftentimes there will be a need for more buttons in that you can see on Apple Side that there several of their there's and a search field nine. So that makes odd numbers. I always more visually pleasing. And the way Apple gets away with using four at the bottom is if you count the middle image to becomes five. So that's odd number still more visually pleasing than using solid even numbers. But they have limited the choices the way they've divided up, so you may have a whole lot more information toe offer up Teoh potential client or if your photographer, you may have that you may shoot landscapes. You may shoot Portrait's and you may shoot weddings. You may also be a specialist in macro photography, and you might also do, um, animal photography on the side. You don't want to present five galleries. You want to figure out some way to divide the information. So it's in digestible chunks of three or four pieces. Max. So what we could do here? Let's say one of these was it for Target for site. I could go into the landscape gallery, and within that I might find another gallery. That's for the macro shots of the landscapes, so he could do it that way. But do limit your choices. The site on there, right? This is the double treat for you guys. Not Is it a great example of limiting choices? Okay, so we've got three items down there at the bottom. Now that I'm pointing this stuff out to you on websites, you're going to see it and play everywhere, and now you're gonna know why they're doing that. Why are they always using three or four? Because that's all we can process. So with ings is this website with things dot com and a little little anecdotal story here for you. So one of my best friends went to CS and he came back and gave a report to our Mac user group that my husband I run in Colorado. It's coma dot com Colorado Macintosh user group, and he we got to learn all about the coolest gadgets and products that were at CS, which the consumer electronic show, its huge huge show, takes over the entire Las Vegas Convention Center. In many of the conference centers in the surrounding hotels, it's, Ah, honking big show. I mean, like 100,000 people. It's crazy overwhelming. So he brought back a few of the coolest gadgets, and one of the neat gadgets was this with ings effort, effortless weight tracking system. But what it is is it's a flexible scale, and so you can kind of see that the bottom left of that site, you can roll it out and you stand on it and it's all electronic. And so you get all this tracking data about, you know, the numbers that you're seeing on the scales. That was only the neatly things to see. ISS. You learned it here on creativelive, but a great example of, um, minimalistic Web design and splitting up of information. You can always make him dive deeper, but you really don't want to give more than 34 choices on the initially back to our pet students fictitious site. How many galleries do we have? Well, three. So challenge yourself to narrow down the choices to three or four and you won't overwhelm people. Now, the next part of the day, we're gonna focus on text and we're going to go over all kinds of wonderful things. We're gonna look at good typography. We're gonna look at bad typography. We're gonna kind of deconstruct a font so we can get some of those terms defined that you really need to know to be able to move forth in the world of fonts. And, um, like we discussed earlier communicate with your higher and designers if you're hiring them and we're gonna look at several examples and we're gonna go over some of the main typographic offenses that people make, so none of y'all will be making those fences anymore. But before we dive into that, are there any more questions on the design principles that we've talked about so far? With regards to this from Net ingenuity, who's from Austin and Net is asking we please talk about how you organize your graphic assets. That's a great question, and I think we're going to go over that a little bit more tomorrow. You'll actually see it in play, but it's a great question. So what I do is I have a folder for the project, so it could be a client name. Or it could be, you know, a project name inside of a client named Folder. And then I put all of the images in a folder cleverly named Images. And then I have all of the body copy that comes in. I'll have a folder for that called Copy. Okay, so that could be text. That's email to me or text that the client has provided as an attachment or what have you. And then I have my layouts and another folder called Layout are sensing a theme here. Inside of that folder, I keep every single version of a piece. So let's say I'm doing something in Cork Express, right? So maybe it's an ad, Let's say, for a photography studio, so I'll have the name of that ad in the size. I put the size and the final name. They're listens to use the restaurant that I do a lot of design for in Boulder. Treasury on Pearl. You guys, if you've seen my classes, you've seen some of the promotional pieces in there. I did all the menus in the science and the branding in the business cards and all that good stuff. So I have several different layouts for that company. So inside the layouts folder, I'll have Treasury on Pearl, so T o p. And then what size that ad is. Okay, that's in the final name. So at a glance, I can see Okay, well, I need 1/4 page ad A was got quarter in the final name, or I need the half page at all. It's about half in the final name, so I know which one to grab. So that's how I do that. So I split up the images into a folder, split up the layouts and split up the other assets that I get from the client, the text and that kind of stuff. And then I'll have another folder of pdf, so that would be the finals. So inside the layout folder is gonna be on the master file. So that's my cork express filer. My in design file that I have used to make that ad and then inside the PDS folder are the finals that I've actually sent out Teoh, that newspaper, that magazine, etcetera, etcetera. So that's how I do it. But it's important to see that, because when you're surging, you need to be able to, you know, get to that kind of stuff quickly because you don't want to spend a lot of time being disorganized. So a little bit of work out front on file organization is a really great thing. Eso Let's see. I think you kind of talked about this and this question was asked earlier on, but maybe worth revisiting. So Sam Cox, from Loveland, Colorado, says, I wonder about the size of the three things in a design. So if you've got, you know, three repeating pictures, for example, should they all be the roughly the same size? Like, How does it read? If one in the middle is really big and then two on the sides, a really small or if they're all the same size across, that's a great depression. Yeah, we'll talk about a little bit more tomorrow. But if I just back up here, too, our portrait studio ad. What you could do is, if you're thinking about threes, you can split the layout up into thirds. That's how I built this one. Hey, so I brought in. I created my document of the size that ad needed to be, and I turned on guides. Okay, You've got guys in in design and photo shopping. Cork Express. I turned on guys and what I did was I just really quickly visually split the document in the third's. Okay, I did it horizontally and vertically. So that's how this layout came to be. And that's a good rule of thumb to use, because if you think about the rule of thirds and photography, right, you picture a tick tack toe grid over whatever the scene is that you're composing. If you place the focal point on one of the intersecting lines will create a more visually pleasing image, but works the same way in graphic design on layouts. So to split the available space into thirds, let your photos be the largest element, so place them larger. So that's why the photos here they're taller than the area where the text iss Okay, so the images, you know, first of foremost text, you can almost think about a secondary. It's important, but you've got to grab attention. And unless you've got really great typography, it's hard to get attention with only text easier with images. So that's kind of how I did the So I split it into thirds vertically and horizontally and the layout just fell together, and it's just a good formula that works. Thanks for asking that question.
Class Description
Graphic design is everywhere you look; some of it good, some of it bad, and some of it just plain ugly. In this 3-day online graphic design course, you learn the four secrets to great graphic design that will ensure your promotional materials always looks their very best. Each design secret will be revealed, defined and then put into practice on several projects including business cards, ads, and more. You also learn a lot about typography and color theory, both of which are essential for your design success. No matter which software you use--Photoshop, InDesign, Pages, or even Word--these design techniques will serve you well!
Reviews
… exactly what I needed for current and upcoming projects! Actually, it was much MORE than I thought I needed. Once it all sank in, I realized just how much I didn't know, but needed to know. The training is top-notch and very effective, and just to top that off with a cherry, Lesa Snider is the most engaging instructor with whom I've had the privilege to learn. I can't recommend this course, Graphic Design for Everyone enough. … talk about "clicking" with an instructor… A self-professed Southern geek/nerd with a sense of humor is a darned near perfect click between that instructor and this student. I love to learn anyway, but Lesa Snider's classes are a wonderful blend of fun that runs throughout the entire course of technically advanced concepts and application. Where do you find a course where you laugh as much as you learn (both massively)? … a Lesa Snider course. I've already put the course material to good use and look forward to using the class info and skills even more in future projects.
I've been a fan of CreativeLive for along time. I've attended many classes, but this is one of my most favorite sessions. I think Lesa is a great trainer and find I am learning a great deal. I liked it so much I actually purchased this course. I would watch any course she was part of. Great graphics design course and wonderful tips.
I enjoyed it very much. However, I hated that I could not pause or rewind,,,so I had no choice, had to purchase. :)Lesa is a terrific Instructor. She takes the hardship out of the learning process with her wonderful ever so friendly personality. She instead turns it into a joy and I enjoy very much her courses! Thank You Lesa!