Design Fundamentals: Getting Started
Class Introduction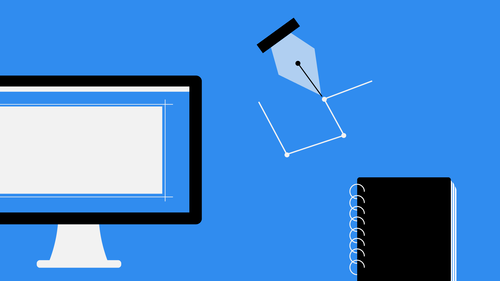 Design Fundamentals: Getting Started
Class Introduction
Lesson Info
Class Introduction
Hey, I'm Justin Seeley. Today we're gonna be talking about how to get started in graphic design. So if you're starting to think about a career in graphic design, these are just some basic ideas of what you need to know and things you might want to get involved with or tools you might need to pick up. When you're starting your journey, Let's go and get started. So the basic skills that you need as a graphic designer include things like creative thinking, time management, customer service and also technical skills. Now, as far as creative thinking goes, this is what we mean by trying to solve problems with a design first mindset. So thinking about things creatively like If somebody is asking you to do a logo design, how do we solve that in a meaningful way that conveys the message of the client but also has a little bit of artistic flair, that kind of thing. We're talking about time management. This, of course, is how you manage your time. Do you use project management software? Do you t...
rack your hours using an application? How do you manage multiple clients at the same time? How do you deal with multiple projects at different stages. At the same time, these are all things that you need to consider and things you need to practice on before you start your career in this field, you also need to have good customer service skills. And customer service can be anything from meeting a client face to face for the first time, giving them your initial pitch for an idea or dealing with a difficult client that comes back with, ah, lot of revisions, which probably happens more than you think. This also includes things like social media, crisis management and all that kind of stuff. So you really want to make sure that you're a people person that has the ability to interact and stay calm, no matter what happens. Next up Technical skills. This is where you're going to need to know a lot about software in computers and different technologies that are always emerging. So the technical aspect of graphic design is learning software like Photoshopped, illustrator, affinity photo, and you might even need to know how to use things like a drawing tablet, a pin or an IPad. That kind of stuff
Class Description
You don't need to be a trained pro to make great designs. In this class, Justin Seeley will explain the basic concepts behind graphic design and help you get started. You'll learn about:
The Skills Essential for Graphic Design
Which Tools Designers Use
How to Manage the Creative Process and Workflow
Career Focus and Getting Paid for your Work
Design Vocabulary
Justin will also take you through all the resources necessary to getting you up and running as a Graphic Designer. Whether you want to design a poster, flyer, or logo – Graphic Design Fundamentals will give you the insights you need to design with confidence.