Design Fundamentals: Getting Started
Tools of the Trade and Career Areas of Focus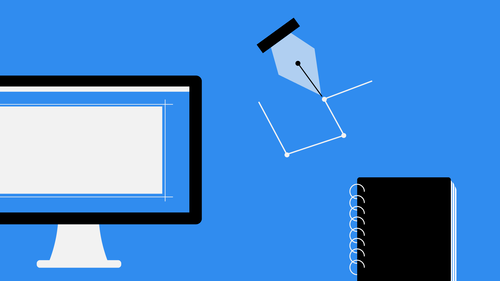 Design Fundamentals: Getting Started
Tools of the Trade and Career Areas of Focus
Lesson Info
Tools of the Trade and Career Areas of Focus
all right now, as far as tools go, there are lots of things that you can use as a graphic designer that one might classify as a quote unquote tool. But when we think about tools, mostly we think about software. And so the different software packages that are available to you include things like adobes creative Cloud Platform, which includes things like photo Shop and Illustrator. You've also got some newcomers to the scene, like the affinity product line. You've got affinity photo, which is kind of the answer to photo shop. And you've also got affinity designer, which is a great vector drawing program. And pretty soon you're gonna have affinity publisher as well. I keep my eye on that one because this is quickly becoming one of the great alternatives to the adobe Sweet. You may also run into applications like sketch, which is what a lot of Web design and you I designers used to create mock ups for applications and websites. And then finally, there is another category called open source...
thes open source applications include things like gimp and escape. This is a great way to get started in graphic design for little to no money at all, so I highly recommend checking those out. If you're just getting started, that'll give you a good feel for the types of tools and skills you'll need. And then you can graduate to other applications down the road. Winning if you have the budget to do so, as far as career focus areas goes there a ton of career focus areas in the graphic design world. I mean, you've got things from just a regular graphic designer, somebody that draws print collateral and does things like billboards and business cards and flyers. You've also got things like logo design, which means you're gonna be creating the brand marks and illustrations that represent a company. You've got Web design where you're gonna be mocking up websites doing front and development, creating APS You I design, which is sort of going in tandem with Web design. But you're more focused on things like buttons and form fields and that kind of stuff. You can also become a content marketer through a career in design. You might be wondering exactly what that means. Well, that basically means that you're creating content, highly designed creative content that marketing people can use to target specific people in a marketing campaign. Some examples of that might be an infographic or a short video clip, an animated GIF or a Mim. All of those things are whether you know it or not. Part of the design career that you could have if you choose to focus on that creative director is probably one of the things that a lot of creatives aspire to be. This is a management position. Usually this person is the one who shepherds creative projects all the way through the process. So they basically come up with the ideas for things. They work with their design team. They work with it all the way through, idea through production, and then they oversee the final delivery to the client. These people generally have a long time in the business, so you're not gonna start off as a creative director. But you can work your way there from junior to senior level designer, maybe then a production manager and so forth. So that's something you can aspire to later on in your career. Now, here's something that I always tell people, because this is something that I believe with all my heart. Really, I think it's better to become a master of one trade as opposed to a jack of all trades, and I have here on the slide. If you're a jack of all trades, become a master of one. And I say that because most of the time I've found that people are more successful in the creative field. If they have a single focus or a focus that's not as wide as covering the entire gamut. What I mean by that is people who specialize in let's say, logo design, for instance, is long as they stick to that. They have the ability to hone their craft to really focus in on that one area and become the master of that domain. If you take a look at some of the famous designers that are out there today, most of them have a single focus area. They don't necessarily do things like business cards, info, graphics, flyers, billboards. They don't do all of it at once. They have one specific area that they focus on, and that makes them unique because when people come to that person, they know exactly why they're coming to them, what they're going to get and the quality of the work that they're going to receive now. That's not to say that you can't have multiple facets of design that you practice in. For instance, I consider myself a hybrid designer, which means that I have a couple of different focus areas, but it's very distinct and what I dio mainly I focus on logos and brand identity for the projects that I work on in the design world. I also translate those skills into a little bit of Web design, though, because I understand that along with the logo design, people also need an identity on the Web. It's very important today, so I've learned how to do some basic Web design things so that I could easily create pages, landing pages, all that kind of stuff for my clients. Then I also fall a little bit into the content marketing side because that incorporates both of those other facets. So everything I do is sort of tied together. I don't step outside of those boundaries because I know that that's my strength. I'm good at logos. I'm good at Web pages. I'm good at marketing, so my recommendation for you would be to go out and see what skills you like, what skills you're good at and then try to incorporate those into your overall scope of what you cover when you're doing a design job. So, for instance, I wouldn't go to a client and just say, Oh, yeah, whatever you want, I can do, You know, I could do 1000 things, you know. You don't have to do that. All you have to do is say, you know what? You need a logo. That's what I do. I'm gonna deliver you a top notch logo and you can charge for that premium because that's what you do.
Class Description
You don't need to be a trained pro to make great designs. In this class, Justin Seeley will explain the basic concepts behind graphic design and help you get started. You'll learn about:
The Skills Essential for Graphic Design
Which Tools Designers Use
How to Manage the Creative Process and Workflow
Career Focus and Getting Paid for your Work
Design Vocabulary
Justin will also take you through all the resources necessary to getting you up and running as a Graphic Designer. Whether you want to design a poster, flyer, or logo – Graphic Design Fundamentals will give you the insights you need to design with confidence.