Intro to Canva: The Guy Kawasaki Interview
Matt Stevenson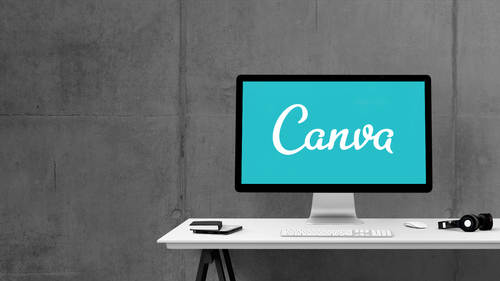 Intro to Canva: The Guy Kawasaki Interview
Matt Stevenson
Lesson Info
1. Intro to Canva: The Guy Kawasaki Interview
Lesson Info
Intro to Canva: The Guy Kawasaki Interview
Hello. Welcome to Creative Live. We're gonna be getting started with graphic design made easy with Can va. Our instructor today is Matt Stevenson. He is the creative director from Fathom Creative. And he has worked with such great clients such as World Bank, Showtime and National Geographic. We're gonna get started this morning with an interview with Guy Kawasaki talking about Canada in general. And then Matt is going to dig in with can va basics Campbell workflow, And then we'll have 1/3 segment specifically for graphic designers. All right, let's get started. How are you? Good. We're gonna have a little chat. Alright, Right. So I have to ask my very first question, What is an evangelist and why would you evangelize for Can't. Okay, so the word evangelism comes from Greek roots, and it means bringing the good news. So an evangelist brings good news in the Christian sense of eternal life. When I worked for Macintosh are for the Apple, the Apple's Division, McIntosh, I was bringing the ...
good news about this new computer that would increase people's creativity and productivity. And so now I'm working for Canada, and I bring the news of the democratization of design. So I would say it, sir. Prior to camera, you had to buy or rent an expensive piece of software or multiple pieces of software and probably even mawr. Difficult was the learning curve to come up to speed. And so I think what Canada does because it's it's fast, It's free. It's ubiquitous. Is that now people who could have never designed graphics can do it because it's free and because it's easy. And so this is the good news of Canada that everybody can design great graphics. That's great. Have you used Canada yourself? Yeah, it sort of improved your design workflow. Yes. What happened was I am a woman, a pick. Fitzpatrick, who was helping with Social Media, were using it, and Canvas saw that I was using Canada and they reached out to me and the rest is history. A few weeks later, I was working for them. You spoke a little bit about who can va is for, um, who is using can. But now any organizations that we've heard over that we know of well, there's a little bit of confidentiality here. But for example, TechCrunch Huffington Post, they use it because they need to create graphics all the time, right for social media, for their post things, you'll see that it is used by designers. It is used by people who can't afford designers. It's used by people who may work for large organizations. But you know how when you work for a large organization and you need a graphic and you need it now doesn't exactly work like that, right? And so this is This is kind of empowering people to not have to get in the queue for the design department. And at the same time, it also empowers the design department to whip out graphics faster. So it's just all in all, it's a very easy evangelism job. Yeah, there's a concept that I call guys Golden touch and guys Golden Touch is not. Whatever I touched her is the gold. Our wish that was true. Guys golden touches. Whatever is gold Guy touches eso. I'll tell you know, lots of people ask me what's the key to evangelism in the key to evangelism is you evangelize good stuff because it is very easy to evangelize. Good stuff. It's very hard to evangelize crap. So touch what's gold, right, right. Part of being gold, I imagine, is solving problems that everyday people have not just designers but non designers as well. What kinds of problems specifically can canvass all we know? It's a design tool, but what can you know? That the use case you want to make a beautiful graphic to accompany a social Media post? My experience of social media is if you have a graphic as opposed to playing text post, you'll double or triple engagement. So the simple act of making a graphic, which takes under five minutes doubles your your engagement. That's huge, right? I mean, there people who consider themselves like these Black Magic s CEO people and getting 10 or 15%. And you're gonna jump through all these hoops and perform all these contortions Really simple. Make a graphic attitude. You double. Wow, Life is good. So there's that news case. Let's say that you need to make an I A B medium format at by 2 50 Well, I'll tell you something. You know, if you told more small businesses. All right. You need a 300 by 2 50 ad. Have at it. I don't even know where to begin. I mean, yeah. So you you know, you boot photo shop. The first thing it does is it says, Oh, uh, you're not connected to the internet. And the second thing, now that you're connected, this is Ah, enter your adobe password for your account, and then we're gonna update Photoshopped and finally get Photoshopped booted. And it is this big black window, and there's, like, 5000 tools around it, and all you want to do is make it 300 by 2 Right? That's sort of the the use case. Yeah, that makes sense. So I have a couple stats about where camp is right now. Um, 6.4 million users, 54 million designs created. The company itself has over 70 employees. It's growing like crazy. The launch date was on Lee back in August 2012 has come a long way in a couple years. Guys. Golden Ugo there. Uh, where's it going? What's can we're going to do next or where do you see the product living in the in the world of the future? So listen, I'm the chief evangelist. I'm with CEO, okay? I'm not sure what she would say to answer this question. But in my mind, we wanted every graphic on the Internet made in gamma. That girl No. Delusional like Steve Jobs. You wanted every computer to be a Macintosh, right? Yeah. You know, very cool. Anything else that you can offer or talk to us about candle, maybe something that you want People toe know about it that we haven't discussed. So I think you have. The key to understanding Canberra is that it is an environment where experimentation where creativity is fostered, it is encouraged, the ability to change things. It's whiz e wig. It's fast, it's free. That's what we're going to do. I mean, it's not this kind of big, heavy thing where Oh, my God. You know, if you like, move one little piece of taxing, the whole thing might be crumbling down. It's It's I don't know if this is a good analogy, because it could be taken negative. It's kind of like Legos, right? You know, when you use Legos, can't really break the things. You you don't have to follow the diagram, and you could build whatever you want. It's kind of like that nice. It's a nice it's meant to empower people. It's not meant to be this high end tool that you know you have to like, you know, I don't know if this is true. You would think I wouldn't know because I'm Japanese. But there's this story that in Japan, when you become a sushi chef, it takes like seven years, right. In the 1st 2 years, all you're doing is sharpening knives, and the third year you get to wash the vegetables. And the fourth year you get the place to which of all the cutting board and the fifth year you cut the vegetable in the 60 you could finally touch the rights of the seventh years. When you're serving people right, that's the antithesis of camp, which dive in right now. I like that a lot. Um, in addition to being for non designers, you also mentioned that designers can use this well. Can you tell me a little bit about where Canada fits in to the rest of the design tools? Is it is it for creating illustrations or sketches, or is it for is it more like layout based? Where does it fit in with all the My big camera is a very flexible tool, so you could do all of those. It sort of depends. Would you use Canada to make a client's logo? Unlikely? Right. But once that digital asset is created, would you use Can va to share that asset with the rest of the team to enforce everybody using the same digital asset, the same logo, the same font, the same color palette, all that stuff? Absolutely. So once those kinds of digital assets are created hallelujah for deployment, I think in the professional sense, it is all about if you have let's say you have ah group of five social media people and they're all they all need to make Pinterest's. They all need to make instagram. They all need to make, um 10 24 by 5 12 Twitter graphic. They need to make a square one for Instagram. This is a way where? Okay, guys. You know, we all agree this is the red we're gonna use. This is the green organ eases the black we're going to use. This is the digital asset we're gonna use. This is the fun we're gonna use. We can upload our own fonts to canvas so we can specify all that. Think of a situation where let's say you're running something like a nation, right? Nationwide real estate for And so you have these thousands of brokers and their they're going and they're creating listings. And you want your local on this flyer in the same place you want the same local, right? Right. And you, like all the flyers to basically look the same headline in one place. There's the agents, picture bottom, right corner and all that. So you design that you tell all your agents okay? This is how I list. This is the template. Drop your pictures in there. Click on print. Hallelujah. Nice. That's really great. Um, I think that's all the questions that I have for you. Thank you so much for coming out. That's a really great I'm excited to dive in without you need anymore. We're making a quick We're gonna die right in. Just like Canada. Let you sort of dive right in. You tired of hearing me? Yeah. Awesome. Right. Thank you. Thank you guys very much.
Ratings and Reviews
Pretty good course generally...especially part 2 & 3. Frankly, Canva's early adopters, like Sue Zimmerman (who I heard about it from) & the like...& therefore probably MOST of us entrepreneurs are probably NOT graphic designers by trade. That was the whole point of Canva being created in the first place!!!! That fact was hammered home in the way Matt presented how to use Canva by pro designers in part 4. Unfortunately, Part 4 was very hard to follow at times. When was he in the pro version of Canva & what could be done in the version we all know, love & work with everyday was NOT always clear. Part 4 was waaaaay too fast & very terminology heavy for most of even the in-studio audience. (It was funny.) I wanted to hug the gal that kept trying to reel it in & get on the same page with her questions. Thank goodness. Bought the course right away because I've been using Canva for over a year and need to go to the next level. I hoped to learn tricks for all that I waste so much time figuring out on my own. There were some. Alas, one main Canva glitch with regard to applying a logo over a background (uh...kind of crucial for business owners & a real time waster to work around literally every single time you use the program) that was raised as a question & re-asked by 2 other people AND several times remained completely untouched. Although the question was on topic & appropriate at many times during parts 2, 3 & 4 and a seemingly very popular question, the moderator chose to ignore it. Almost NO questions were taken from the online audience, in fact, despite there being surprisingly few questions online!! Incredibly, incredibly frustrating & disappointing but I don't blame Matt for that. Too bad there seems to be no course materials to go along with this...like the awesome tips Matt went thru one by one. What a perfect workbook or guide that would have been to go with this, in some form. Really too bad. And really surprising. So all in all, a good course with an EXCELLENT instructor (hope he does Prezi too) but some some big disappointments for this non-professional-in-graphic-design-or-tech, which, it seems is a SIGNIFICANT chunk of your audience...right?
This was an absolutely great course for a beginner like me. Matt explained everything very clearly and in a pleasant way. I hope he, or someone, does a class on the new Adobe Spark soon. Thanks again; Lonney
I like this course, becuase it is very simple to the users, and canva is the future for quick design I hope everyone can you it.
Student Work