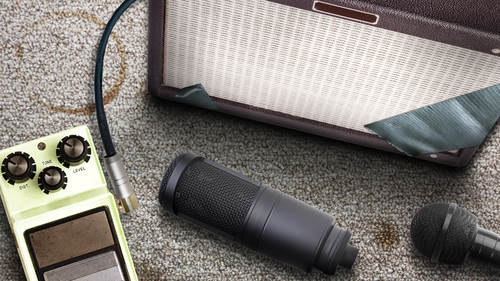 Lesson Info
Segment 19: Guitar Overdubs and Doubling
Find out exactly what you need to get a great recording on a super tight budget in Guerrilla Recording with Beau Burchell.
Beau is a vocalist, guitarist, producer, and founding member of Saosin – his discography includes credits on songs from The Bronx, From First to Last, and The Bled. In Guerrilla Recording, Beau will show you how to walk into any recording situation and make the most of it.
Whether you are making do with with 1 mic, 3 mics, or a fully staffed studio – Beau will help you focus in on the details that will really make a difference on your track. You'll learn best practices for recording vocals, guitars, drums, and bass on the cheap. Beau will also talk about workflow and how to listen to your track to make sure you captured the best sound.
You don't need a big budget and high dollar equipment to get a quality recording. Learn the gear and techniques you need to get the sound you want.
Featuring a live studio tracking session with Beau and Seattle band Lo, There Do I See My Brother
Reviews
A lot of great info here! Awesome getting to see Beau's workflow and hear his thoughts on the methods he uses. Would love to see him do a class on micing guitars, bass and show his methods in more detail/time. He gets some of the best raw tones in the game. Feel like this was more of a great overview and would like more time for details seeing as he is a very knowledgeable dude. Thanks Beau for the great class and for sharing this info with us.
Love Beaus production so I thought I would like this, but this was pretty disappointing. A few good tricks but overall it was almost trying to cater for too large an audience with most the information on the more rudimental side of things, of which there is already so much information out there on these kind of things, for free.
The guy who wrote the last review was pretty unfair. I thought the video had great info. Beau has always been really cool about answering questions and communicating with his fans since back when the Saosin forums started. No one forced that reviewer to pay for anything (it was streaming for free), and no one forced him to watch it. Lastly, calling Beau a "has been" is pretty uncalled for, especially coming from a never was. Thanks for the a great class Beau!