Harnessing the Powerful New Tools in Lightroom
New Features of Lightroom Classic
Jared Platt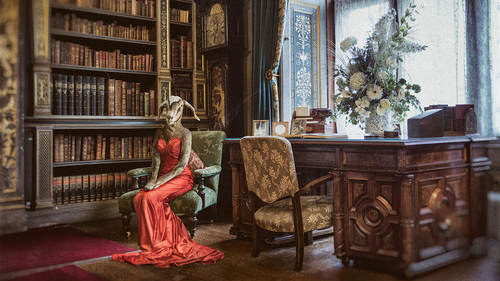 Harnessing the Powerful New Tools in Lightroom
Jared Platt
Lesson Info
3. New Features of Lightroom Classic
Lesson Info
New Features of Lightroom Classic
One of my favorite things is probably the easiest way to do this is through this. I know it's not a really interesting photograph, but it's a really great way to explain it. I have blue, I have light blue, I have red, I have white. I want to work on an image, and so we have, hold on, I've gotta turn my tablet on. There we go. So I wanna work on this image, but I wanna change let's say the blue doors. I wanna dark them up a little bit. Typically, then, what I would have to do, obviously I can come in and say, "Okay, "well I'm gonna go down to my HSL's, "and I'm gonna go and grab on to this little target. "And I'm gonna grab it, and I'm gonna say "I want the luminance." And I'm gonna drag the blue down. See how I'm just working with that door, right? But that's every blue, see how the top blues are also going down? So I have control over all blue, but I don't have control over one door of blue. So let's say that I just wanted one door to be a different shade or something. Well, now, I wa...
nt to be able to do that, so I'm gonna create this radial filter. I'm gonna take a radial filter, and if I double click the affect area, I'm just gonna make the radial filter with nothing on it. So I'm just gonna make a radial filter, and by the way, you have to make sure that it's inverted so that what's inside the circle becomes. And you're thinking, "Well the door is square," right? And you don't realize that the door is square? Okay, so Jared's real smart. I'm gonna take the feather down to zero, so now it's just a big circle. I'm just gonna grab it and make a circle around that door. And if I click on show the mask overlay, see the circle? Okay, I want to affect the doors, so what are we gonna do to the door? Well, let's just make it a little bit more blue. So I'm gonna make the door a little bit more blue, a little bit more magenta. See that? So we really changed that door. Which I think is gonna make this photo a little more interesting, don't you? Yeah, I think so. I'm gonna make it a little more, and I'm gonna darken it up. So it's like this dark blue door. That's the one you wanna go into. Or don't wanna go into. I've changed that door, but the problem is is that the rest, it looks dumb. So now, I'm gonna go down to the bottom of this area here, so at the very bottom of your targeted adjustment area is a range mask. This range mask allows you to choose either a luminance or a color, so I'm gonna click on the color and then I'm gonna grab a little color dropper and I'm gonna say, "I only want you to affect anything that's blue like this." Do you see what just happened? So now, the mask that was all around here is now only on things that are blue. Now, it spills a little bit. Notice that the mask is still spilling up to here, because shadows are a bit blue. So there's some blue in it, and so what I need to do is take this amount slider here, and the amount slider is important. See that? It's at 50 percent. That means that it's not following my instructions to the letter. It's 50 percent to the letter, right? So it's failing. Yeah. Is this just a Sensei thing that you're doing right now? No, this is just. This is not Sensei, this is just tools inside of Lightroom. Cool. And right now, it's available in Lightroom Classic. Okay. That's it. Cool. Okay, alright. I love this tool, and a lot of the times if I'm in Lightroom Mobile and I know what I wanna do with something and so I'll sketch it out by making a burn knowing that it's going over the top of something but knowing when I get home, I just turn on the range mask and psh, takes it out. This little amount slider does all the magic. Watch this. As I go up, it spills out more. As I go down, it says, "Oh, he only wants that door." So now can you see how the red is on the door and on this tip? That's the only place it's on. So now, what I can do is I don't have to go and shape the door. I don't have to go and erase out here. You remember earlier in our Wacom tablet class I said that I don't erase a lot? It's 'cause I don't have to. I don't have to go in and erase stuff out because the range mask is doing it for me. I'm gonna just go in, the only thing I have to do is click on the top of this. I have to erase out that little top area. So I just have to go up to that very top area right up here, and I have to get rid of that. So what I'm gonna do is I'm gonna set that color dropper down and then I'm gonna go up here and I'm going to hit the brush, not the actual brush. But the brush setting inside of the radial filter, and I'm gonna go down and hit erase. And I'm just gonna go up and erase out this section right here. And by the way, you have to push kinda hard, because it's pressure sensitive. So I just have to, there. So I erased it, that's all I had to do. I didn't have to erase around the door. All I had to do was erase that one tip that I didn't want to be there, and then voila, I have a door and that door is perfectly masked. And I can do whatever I want. I can make it bright, I can make it dark. I can make it black, I can, there we go. I like that. So that's really changed the photo. Okay, so now, where do we use this in a real live situation? I'm gonna go into, oh here. So we were working on this one in an earlier class. In this situation, I want to work on that sky, but I don't want it to have anything to do with this turret. But I want the sky to be a little bit darker. All I need to do is take a gradient and I'm going to double click it so that it's normal. And then I'm going to, by the way, I already have one in there, so I'm gonna delete that one. So I'm gonna take that and bring the exposure down quite a bit, not too, well, like that. And then I'm gonna make the sky bluer. And then I'm gonna take my gradient and bring it down. See how I'm making that sky nice and blue? But I don't want the top of that to be blue up here. So I don't want it to hit all of these, so what I'm gonna do is I'm gonna go in and just say I only want to deal with the color blue and I'm gonna work right here in these blue areas. And then I'm gonna mask it down. See how it extends down into the other blues? And the more I do that, look at this. This is important right here. Do you see that halo? The more I go to the left, the more the halo exists. Because it's trying to not hit something that's not exactly blue. The more I go to the right, the more it spills and erases that halo, so now the halo's not there. So that's kind of what you wanna be looking for is that happy medium between the two. Now no one's gonna zoom into your photo this close. They're not gonna see it, so you don't wanna go all the way to here 'cause then you're gonna have too much spill. But you don't wanna go back here. So like 60, 70 percent, something like that will do the job, and you won't see, all you're gonna see is a crest of light here which comes from that sun over there. Now I have a mask that's up here in the sky, but it's skipping around the turret here. And then if I want to, I can go in and further hone that and get rid of if there's some blue down here. It might be hitting this blue area here, especially if I go and grab the entire thing. So if I grab the entire thing and drag it further down, see how it's affecting some of the blue hills back there? Which may actually be quite nice, but if you wanna get rid of that so it's only affecting the sky, then you simply do the same thing that we did on the other one. Go into the brush and make sure that it's on erase, and then just go like this. See how we're just erasing out that area that we don't want. But we don't have to be exact about it, because the range mask is doing the exact part. Now, not only do you have the range mask in color but you also have the range mask that allows for a certain tone. Alright, so I went to an air show, and I was just fascinated by the contrails and the smokes and the whatever. They're just making all sorts of smoke up in the sky and drawing things, and I was having a great time with it. But I've got this image here and I wanna do a little bit of work so that the smoke up in the sky has kind of a, it's brighter, I want real contrast to it, right? But I want certain pieces to be brighter than other pieces, so I just want this line here to be much brighter and this one to be normal. So I can't just simply go in and say, "Okay, I'm gonna take all of the highlights up like that, "and I'm gonna take all the shadows down like this." Because now all of them are equal. So I just want one thing to be done. So what I can do is I can say, "Alright, I want "to create a brush and that brush is going to take "the highlights up and the shadows down a little bit." And I'm just gonna paint it right along here. And I'm gonna show you the overlay so that you can see where I'm painting. Now, normally you'd be like, "Oh, I gotta "do that really really super exact." But I don't have to be all that exact. The only time I have to be exact is right here. I have to be a little bit better about it, so I'm just gonna kind of paint out right there. I'm gonna paint out right here, and then I'm gonna paint out right there, okay? I just painted a line, and now what I'm gonna do is I'm gonna say, "I want to brighten "that line up quite a bit." But I don't have to be exact about it, because now I can come down here to the range mask and turn on luminance. Now, it's only going going to, you see this luminance area right here. If I go right in there, I've got pure white, pure black and then smoothness, which is the same thing as that amount slider that we had before. And it's just a matter of what do and don't I want to affect? I want it to affect everything from white down to what? See how it's disappearing? I'm getting rid of all the middle gray, and so now it's only going to affect white. Perfect. So now I can do whatever I want with that and it only affects that little area instead of the entire sky. And it's fantastic to be able to do that with a sky. You can burn down a sky even if it's a black and white sky. You can burn down the sky and say, "I don't want you to affect any clouds. "Just the dark sky." Your clouds will stay white, but your sky will get dark. Now, where I really find this to shine is in a situation where you are photographing a person. For instance, in this scenario here, if I want to work on her face, all I have to do is click on the radial filter and I'm going to bring her exposure up a little bit and then I'm gonna bring the clarity down. So I wanna soften her skin. Well, most people soften skin by painting in the skin. But you don't necessarily have to do that. You can just create a little circle around her face, and then as soon as you're done with that, and of course you'll want to choose how much feathering and stuff like that, so let's zoom into that. Not that much. Let's zoom out to there. And then let's feather it just a bit. There you go, just like that. So I've got her face covered, and now all I need to do is do a range mask for the color of her skin. So I'm just gonna go right across her forehead there. And see how it got rid of the black there. It got off of her coat, and it's still in her hair a little bit so we just need to bring the amount down just some so that it kinda gets away from her hair. And now her hair is close to her face, so it's gonna spill a little bit, but not too much. But notice this is, see how it's away from her eyes now? So it's not looking at her eyes. It's just cut through that. And the more you bring it down, the less it'll be on her eyes and then, see that? So I'm pretty near what I need to be and then I just zoom back out and work on the rest of her face. The brilliance of this is that then if I have 12 shots of her, I can synchronize all 12 shots, and the face, the mask changes with every shot. Because the mask is intelligent. It's not a frozen mask like you painted in. It's an intelligent mask. So if I copy this mask and I put it on somebody else, right? So I'm just gonna hit done. So you can see that it brightened up. Let's just take that mask and put it on this girl here. I'm just gonna hit previous. So every, obviously, the coloring's wrong, but let me just, okay, so now I'm just gonna go into my, see that? That's the same mask right there. And it's not showing it just yet, but hopefully it will. But it's the same mask. Come on, show me the mask. Show it to me. It's working hard. But that same mask is in there, and it's just intelligently wrapping itself around her and not in her eyes. Unfortunately, the mask is not showing right now. Maybe if I go away from the photo and come back to it it'll give it to me. Anyway, you get the point. Unfortunately, it's frozen on that. I'm not sure why. Okay, so that range mask is an incredibly powerful tool that allows you to synchronize your masks and each mask will be unique and different to the photo that they're in. So if I were to, in fact, let's see. We're gonna go to this image in the library. See how I've got three or four images of her? So if I just highlight all of those and go to the develop module and synchronize everything. So I'm just gonna say, "Check all and synchronize." So I synchronize everything including that, and then when I go there, so all of them are going to have that same brush attached to them. And see how it changed for this one? And I can move it around and see as I move it around, it's going to be perfectly spaced. And see how her eyes, the cutout for her eyes, shifted. I moved the mask up to fit her face better and the cutouts shifted, so I can then say soften up someone's skin 30 times at once. Because the mask is shifting intelligently based on where they are. Got it? It's not really a question about the masking, but I was just wondering about your blue and red dots coloring on Ah, yes. the image. The blue and red dots. That's the J key, so if you hit the J key, you will either get rid of them or bring them up. And you also see the blue and red dots right up here. See that right there and right there? That's the highlight and shadow warnings. So my highlight and shadow warnings tell me this has no data in it, so this right here is blowing out. If you print this, nothing will print on the paper. And the shadow is the same. It's too dark here, nothing will print. It's okay that that little spot back there on the ice has nothing in it, because it's slowly going to pure white, it's fine. It wouldn't be okay if it looked like that, right? 'Cause the important data would be missing. It's telling me very important information about what will and won't print. What will and won't show data when you're looking at it. I don't mind a shadow like this in the folds of a black jacket, but I don't want that to be on her face anywhere. You just, it just gives you more information than your histogram, 'cause it shows you the exact places where you're clipping. And the same thing's true, your camera will give you that same information. There's little blinky highlights, and a Nikon actually has shadow warnings as well. And I think Sony has them, too. Canon just has the blinky highlights, 'cause that's the thing you have to most protect. But if you turn on the blinky highlights, they're called highlight warnings, then it'll blink at you when you're gonna see those. And then your histogram will show you that things are either clipping on either side. But if you have a camera that will show you both your shadow and highlight, turn it on so that you can see, oh, shadows are here, highlights are there, I wanna keep it as close within all that as I can. Then when you come here, it's even more detailed information. In a camera, those blink highlights are actually warning you before it clips, because it's looking at the JPEG, which is already clipping. And the RAW has a couple more stops of information. And then when you get here, you'll notice, oh, I still have more detail, so if you pay attention to your camera's blinking highlight warnings, you'll never overstep your bounds because there's still latitude beyond that if you're shooting RAW. If you look at your panel, your Lightroom CC panel, and you see that there's an update, update.
Class Description
,The latest Adobe® Lightroom® release is chock-full of awesome new features that will help you make your images even more gorgeous, even more quickly. Join Jared Platt for this insider's look at the best, newest, most fabulous Lightroom tools. You'll learn about Range Masking so you can adjust your images faster, Profiles so you can style your images with more power and control, and Sensei so you can find your images in a snap. And that's just the beginning! Jared will show you how these major advancements in Lightroom will transform the way you edit your photos.
SOFTWARE USED:
Adobe Lightroom CC 2018, Adobe Lightroom Classic CC
Ratings and Reviews
Student Work
Related Classes