Creating a Video From Start to Finish
Add a Title in Adobe Premiere Pro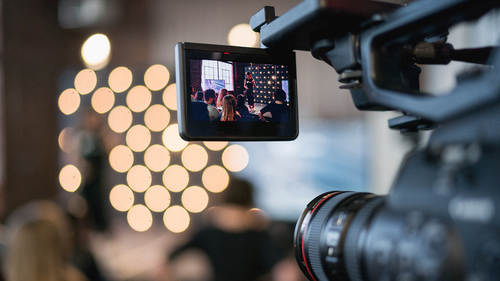 Creating a Video From Start to Finish
Add a Title in Adobe Premiere Pro
Lesson Info
Add a Title in Adobe Premiere Pro
And we're gonna talk about adding a title. You couldn't add titles in After Effects. After Effects is another Adobe piece of software that you can actually do much more in the way of creating titles, and that kind of stuff. But I think I've thrown a lot at you. I'm gonna show you a simple way of adding a title inside of Premiere. It's really, really easy. I'm gonna find that part where he introduces himself. So we are gonna recreate this title here. To make it easy for me I'm just gonna copy... the font, real quick, so I'm gonna find that font again. So I'm gonna delete that. So I'm gonna move my play head to the beginning of where I want that title to show up. So I'm gonna come up to title on Premiere Pro. I'm gonna add a title. Now default's still roll or crawl. Still, it's just gonna stay there, go up, show down. Roll, it's gonna come bottom to top, Crawl, then go left to right. Or it's gonna go across your screen. I like still, it's just simple. I'm gonna go okay, and I'm gonna cal...
l this Ivan. Alright, so now I get this frame. So if I wanted to, it's really neat, it's really cool, I just grab text. Just make a text box and then paste my text in there. And then I can resize this. Move this down. I can do what I want with it. And then I just kick out of it. And I've got that title right here. It's in my bin. I've gotta take it and drag it across into my timeline. So now I can go ahead and fit it into that space. So if I play it... It's there. What we're gonna do though is, I want it to fade in and fade out. So in order for me to do that, I'm just gonna come into effects. So go to my effects window. I'm gonna find a video transition. I'm gonna go to dissolve and I'm just gonna toss a cross-dissolve at the beginning of it and at the end of it. So here I'll do this. And then I'll just toss a cross-dissolve there, and just pull it down. That way now when I play it, He comes up, comes down. Simple titling. Doesn't require a lot of time, a lot of effort. At this point we want to get out. We're so close to the finish line. We just want to get out. Let's not worry about how pretty the titles look. Let's get them in and get them out. Now it's off to the races, because now I'm gonna go in and lay in a graphic. Let's shrink this down a little bit. We tossed in his logo, we tossed in some information about the place, and then we give our credit to the company that gave us the music. So each one of these things was a still that I dragged in. When it came to Ivan's logo, here's the logo, so let's get rid of that, actually I'll just move these... Out of the way real quick. So again I drag this in. Oh hey, it's too big. It's okay. Just click it. You can do...the same way we did the other one, just drag it down. Scale it down. How are we doing? We good? Yeah, what's up? Can you go into how you got that image file into Premiere? Oh, yeah. Did you just import that in? Or where you got that from? Yeah I just imported it. I'm gonna go into my project. If I just click at import, I'm gonna go to where it is in my project folder and just click import and it puts it right in. Is it an AI? Yeah it's an AI. This AI is black so I ended up having to pull it into Photoshop and flipping it, making it inverse. So here's this one, here's the ping. Just like that. So in the case of... Just so that I show you everything, the Photoshop lo- the logos in AI I decided I can open up in Photoshop, So let's see here... Let's just go ahead and dump this into Photoshop. It's gonna open it up. And then here, just command I. When you save it out, save it as a ping. Because if you save it as a PNG, it will take less space, and it's uncompressed, and it's transparent, so it will show up in the video really nicely. So there is a ping format right here, PNG. Save it. I don't want a compression. Click okay. And then it's popping out right there.
Class Description
AFTER THIS CLASS YOU'LL BE ABLE TO:
Confidently make a movie from start to finish
Expand your photography skills to motion pictures
Tackle pre-production and post-production essentials
Capture video and audio expertly
Edit in Adobe Premiere Pro and Audition
ABOUT VICTOR'S CLASS:
Photography and videography have several things in common -- but what about factors like audio and telling a story using video editing? In this filmmaking class designed for photographers, learn how to use the DSLR or mirrorless camera that you already have to capture high-end videos. In this start-to-finish course, you'll master everything from planning to post-production. The goal of the class is to teach anyone how to create a video from start to finish.
Dive into video production from the planning and pre-production phase, where you'll learn how to choose an idea, scope out locations, research the client, and more. Jump into video gear -- and what's really necessary on a low-budget -- and learn the essential filmmaking tips for recording. Discover how to capture excellent audio and tackle those B-Roll shots.
But this filmmaking course doesn't just teach you how to use editing software -- you'll learn the editing process, start to finish, from storyboarding to exporting. Work in Adobe Premiere Pro to perfect your footage and Adobe Audition to fine-tune that audio. Tweak color in DaVinci Resolve. Add soundtracks, titles, and keyframes. Then, finalize and export your project.
WHO THIS CLASS IS FOR:
Photographers eager to add motion pictures to their repertoire
Beginner filmmakers
Self-taught filmmakers ready for additional insight
SOFTWARE USED: Adobe Audition, Adobe Premiere Pro, DaVinci Resolve
ABOUT YOUR INSTRUCTOR:
Previously a photographer, Victor Ha is now a filmmaker. His experience working with both stills and motion pictures helps him guide other photographers through the same process, from photo to video. He's known for his straightforward, practical teaching style that's easy to follow along with.
Reviews
You're awesome, I learnt a lot from you, this is like a must-have first course for anyone who wants to step into video or filmmaking world. Highly recommended and thank you a million Victor Ha.
Fantastic course, Victor is one of the finest instructors I have encountered. Great stuff, I would highly recommend this for anyone who wants to work in video