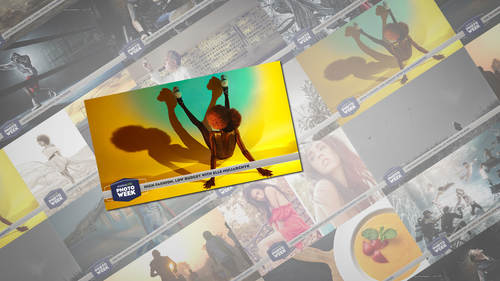 Lesson Info
High Fashion, Low Budget
We are going to bring out l'm really are chick she is a former model turned photographer who is going to teach us all about it fashion and most importantly fashion on a budget she is known for her do it herself work she she works with low budgets and is able to translate that to you so that you can make amazing looking images without spending a lot of money so I'm going to bring her out right now to teach high fashion low budget l'm millions come on absolutely so excited to have you here how are you doing great is my first time in seattle and I'm wearing my fairy dressed so I can teach my magic about high fashion I love it I love it I'm gonna let you go ahead and do that taking away okay thank you so just in here so hello everybody so actually I wanted to quickly tell you why it's important to be able to take pictures high fashion looking images the same magazines like w and interview all this age of high fashion editorials on the low budget because I actually was very lucky that I ent...
ered the high fashion photography and magazines scene because I was I did a very successful for a project when I was still a model and the new york times picked it up and they did the huge into article and exhibition so I was exposed to the fashion world and all this really cool magazines just come to me and say l you're such a great photographer while at that time I was actually not a very profession photographer at all and they said here we have we have kate upton we have salah journals would have beyonce we want you to should photograph them for our magazines but the secret is that many people unless you actually spend many years working in new york and paris and london as a photographer the secret is that those magazines don't have money they don't have budgets to produce those photo shoot so as a photographer it's up to you it's your responsibility to pay for the equipment to rent everything is studio location transportations the whole team to feed everybody s o the benefit you get working for this magazine is that you can express very specific style photographically and to create the style it's later on then that's how you can become famous and successful because you have a very unique visual style so you cannot decline this opportunity when you finally you you networked you went to all the right parties you're good on all the write a list parties and finally this maze is come to you and say l police here's kate upton we want you to put a photograph you we want you to photograph her s o how do you pull it off? Because even when you when everyone contributes their time even kate upton and the makeup artists and said designers, they all come in and they don't require fees but still there's so much money that goes into production let's say equipment. So I would say that in the past five years I let's say if I should from make is in light of that wants a moth or two times a month, I need to invest about three to five thousand dollars just out of my own pocket. So just just to produce the low kind of low budget shoot, so imagine is really actually accumulates so it's kind of this case twenty to you you need money to produce pictures for this high fashion magazines in order to become successful to make more money. So that's why? Because usually too any of the pictures that I'm going to, I'm going to show you that pictures from magazines normally it would cost about thirty thousand dollars to produce at least when you work with the regular equipment let's say pro photo strobe lives and we have breezy lights, so instead of paying thirty thousand dollars to buy one was those life scenarios you can have the life that I use the most expensive ones are about one hundred fifty dollars each you can have two fantastic lights for three hundred dollars or even lower budget the cost about twenty dollars each so but you can produce pictures that look like w magazine vogue interview magazine so here there was, um or and also because when I was a model I worked with all the top fashion photographers, so actually I was not just opposing their off course I was speaking how they did their work and they all have very different stars. For example, there's a very strong son that makes you feel like you're somewhere in the visa then you have color jails that are very typical for w magazine and interview magazine, so they create this kind of a very story over in practical pictures it's not something that you see that scene medical air because that's where the girls were very natural and happy and the harris flying but very high, very edgy fashion magazines which if you work, appears in those magazines, then you can shoot campaigns that gucci prada, louis vuitton they have their story, a very fantastical look and that's the field off high fashion it's fantasy it's not really so it's just, you know, american mary claire is very close to our reality and they sell clothing that is from top shop and strawberries and maybe kate spade but they're very high a very high fashion mazes they sail louis vuitton and chanel so I would teach you how to create a serie of fantasy so let's start with the most diverse light it's very dramatic is delight is so strong they kind of it's resonant with old film war and actually the old thirties films it's just very contrast is very punchy and also what's fun about it that it's so strong and costs very strong shadows that every each way that the model turns it creates a completely different picture sometimes when she's in a profile she she just looks like a rock n roll star and when she's just straight on she looks like a beautiful thirties glowing character so for that kate is my wonderful assistant gate and model ashland coming this is actually a president from a designer when I was a model of the dress and I am professor going so so on so like it changes its ok kate can you please come here so the two lives actually I usually start this is my first secret life issues can you can have this one right here already show some pictures off that that I'm kind of child I'm going to try to replicate so this in my pictures from from a studio so this is actually very simple set up the black background and this is actually just shooting in my in my living room so here you can see that the very strong light that this creates very hitchcock shadows and I like using it from different directions so it's not you know, the uh many photographers know that there's a magic rembrandt trying go the river strangle the other cheek but you can really play with it you can go from below from from behind that's what school inflexible that about this light so this is all this very strong light coming from above and you can do cotler so also what it does very strong shadows when you should against the wild background or live background here you can also weigh have a problem have you can use your house blend to create a very dramatic shower shadows on a background as if you're somewhere in the jungle or you could actually take it outside and you can shoot it next to a door of a barn and this is the same light but you can actually put a jail over then creates this kind of horror movie hell ok, so let's go and let's shoot some of these pictures and I'll show you how easy it is cool so kate came plans so this light is dp lower light and actually discovered it when still a model and sometimes they will bring this light into the changing room or a dressing room make a place and because it's so cheap and they just no one really pays attention that it actually could work as a very cool light and people just but you know you know in the very expensive sets they just have hundreds over those just standing around, but I started taking pictures using this light while the model changing or we're having her makeup done and then what I would I would edit the pictures afterwards and I was and those but just looked cooler than they're actually later was that I used on the set with a much more expensive light so actually it's going this process of reduction so kate can you can you please turn off that light? Lester with one one of the tricks usually when you work with the slight there they're very hot so that's my chick instead of just wearing gloves and putting them on and off all the time, I just have the clothing, so first I'm going to start shooting black and white, and when I use the scammer of five years, you helped him get back tio screen um I like to work with the setting that, um, that I should j peg and roll at the same time and then I worked with a setting that says picture style, so any picture studies morning calm, so when it shoots two pictures of the same time, roll keeps it original in color, but when you need to run around and you know, because when you work when you should black and white it's actually it's old by the composition and the drama so you kind of have to see being taken of liking what you need to cede appearing on the screen in black and white so the colors and shadows don't distract you so that's why I like to shoot jay pick and roll because then the jae pak shows up on the screen or on the back screen of your camera on me in black and white so it just very, very quick test kit just on this already come on, move it forward well some very lucky because when I was a model and kind of as a girl when I worked with models kind of intimate attach their hair and that you know type of their phase I can move the chains now many photographers can do it so let's start just super super simple who actually with that river strangle can be also ready to turn this light on and shine it kind of to the back of her head also when you work with save the blond model train shoulders with this that's when you work with a blond model this strong light really captures the light of her hair you know her hair captures the light and also the eyes become like this wolf eyes so what's said and then they were checked and of course you take a lots and lots of pictures usually just hold you almost like yeah that's great you look great look straight ahead this is very, very dramatic it kind of has this the reversion rembrandt try and go she live with her and look straight ahead in front of you catching a little higher okay so this's just a very simple scenario and you can see what a dramatic he would create just this one live were you gonna make it even more that's beautiful eyes to you so also when you work with it very strong line like this than in photo shop you can really pump up the contrast and the contrast is makes the skin very look very flattering also because he just washes out old imperfections yes it's good yeah that's beautiful with her and I'd say yes that's great like smart a bit turn your shoulders a bit this way thank you sisi look she write she looks like a movie star here cool. Okay, so this is a very simple fight here then we can bring in the reflecting with just a house mirror from the closet is about is about twenty dollars you know in home depot keeps a comrade here is here and capture this light and make the reflection right here you had this way close your eyes look over here you guys here that's great right here. You can actually will indicate if you want a bit higher and I stay we left the axing felix process on adding that mirror what were you not seeing that you wanted to see you as well? Sometimes. So I work just right now I'm a dean get the effect that I was you can you can kind of see this the glistening effect, but first I started with just one light, and I see it more mysterious is also they say that in the way one light is actually more gunning for the human eye. So we related better. So then create this drama drew big, big drama, very film noir. And then let's say, when I move it over here and I feel like I just need to open up this side, then I can throw in the mirror so and and I worked with all the tools very, very flexible because there are easily available they cheap we can just throw it in and see what happens. See, but let's, I want you really kind of show the effect without a mirror and with a mirror senate chamber her yeah that's, great shoulder, great relaxer lips and this one to her and actually trying to shoulders a little of this and more to the crowd. Yeah that's great to hire which way should turns just becomes a different person in some pictures she's very bridget bordeaux, har har har har today, right here in eyes higher okay, so also the mirror it's kind of my first step before I turn on the second light we just creates even more drama. So samir it's kind of this very, very subtle let's say if you don't have the extra hundred fifty dollars you know if your whole budget is two hundred dollars, then the mirror will be a second second light if you have four hundred dollars, then you can use the second light so let's turn the second light and see what donald can create with that. Can I have a friend also smooth small friend right here just smooth so this stuff for example it's very you can save if we're kind of copying famous photographers this there's this photographer element over this's very her style this blown hair just glowing coming with more than just take a step this way yes, great kate can you move the light more behind her suit punches right here officials say they're going to pull out hold hold your hands in front of you people out of their shoulders chamber I just haven't understand by don't don't you get your eyes open came the turn the fan on and just move the hair around just a moment just like this? Yes keep doing that that's good, so also I love sometimes models and very stiff, especially you're great but very young models they just their faces a frozen or they many eastern european girls they or brazilian girls they start policy their lips very much or they open their eyes to wide and you cannot really say to the model don't particulates or don't open your eyes to why do you look like an owl? So you are you gonna have to complement the girl all the time? Yes it's beautiful but but it's true you do the beautiful I'm not I'm not thinking it, but you kind of need to find a way on how to make her relax your face the one of my one of my waist is actually make her kind of shaker just events like this and then she's more kind of she's thinking of her movement rather about her face and she looks at her face let's, come back home in the mirror and I'm like no, no, no so I love to start with and just that the light is on the hair and the faces in the shadow but then you confronted with mirror so this is for example, the mirror trick I stain also what's so cool about this light as opposed to strobe is that you can actually see what's happening and that's right now I'm just noticing is beautiful shadows that come through the hair this shadows on her face so I wouldn't I would never have noticed that if I just it was using with strong and held these lights are they just one one power setting or the variable power? You have just won one power setting and you can either you can modify them by moving closer further or just by barn doors that can be just a tiny you can create tiny little slips of light if you want them much, much weaker but otherwise they're very strong. I think we have a history so this this kind of glow that you don't you never get it with the regular light with this texture on the skin that is a little bit sweaty. It's very high fashion it looks like you you're always exercising like like grandfather. Mmm that's critical kill her. Ok, so let's let's have some fun with that with a fan actually here let's, let your hands drop the movement is it's so much about the movement and actually what's what's cool, bad one of the things that everything about high fashion photography is hard but one of things that it's easy is that you don't always have to capture the model perfectly look into the camera or three quarters you can actually captured just the movement and emotion and so sometimes when the hair is just covering her face but it's, it has this perfect dynamic with the movement of the dress that's a great fashion image. So you don't have to see the girl's face so let's. Just wait, wait, wait. When you when you blow, trying not to lift the hair so with fennel exactly. I stream. They have this gorgeous rosenberg door like a wolf. Like nothing. Ok, so let's, stay with the movement. So kind of picked up your dress. Let's. Have a bigger family. Okay, so that's perfect. So let's there's. A very famous picture by richard avedon with girl. Looks like she's submerged in the water and it's almost like she's falling down and her hair kind of standing up like this so let's kind of work with that emotion. This is why this picture, you know, it looks like the hair just standing there. But in fact, she just went up in the pen was holding her hair up also. Kate, can you employ the mirror? So we captured this light. The mirror with a mirror here. We're gonna go back to the to the screen. That's. Cool. Confession booth. Yeah. That's. Great. And relax. Arms for just this. Keep your attention to the camera and really relaxed. You're in the forest would win them to hire too high a little lower ok so close with the bad guys could have them uh with the cord looking for this oh yes you see I was just asking for an extension cord way defend offices actually here sometimes you can just use one life coming from from there to hire wait don't throw your hair forward like this and this year's the friend way so start with hair forward and then with nothing about this started with a head down all the way like this let's see what happens here okay yeah go with common clothe okay take a step back property that yeah that's cool okay yeah that's great. Do that and keep your shoulders back when you do that's great and also hope you play with your dress you know nothing is happening the camera is slow so where we just were trying to catch this moment kind of this iconic fifties you know marilyn monroe over there I I wasn't even watching each other gods you can take a simple and I love moments like this this is actually again in high fashion they they want their one moments that have never seen before off course in vogue as actually when they should covers for vote for example the cornyn asked magazines they're special way of how you let's say when you place your hands on the waste you know fingers I have to be specific alignment, you cannot do this, they kind of I don't remember the exact words, but you cannot have little two fingers together because it resembles a gun or, like, they're all this rules, but in pictures for independent kind of high again high fashion magazines was it was a gee, you can really kept your pictures that just an emotion. That's, quick, you just you just look so it is so setting your you like you don't give it you don't care and you just turned around. You take the picture so they want to see pictures that have never seen before that hair flipping and moving. Where you focusing? How are you? How are you physically getting those shots? S o I'm definitely looking for the moment for when kind of the harris in that position is kind of in the air like this. Um, I'm focusing on the face, so is I'm on the order on the order for focus right now, and I just hold my bottom down halfway down, and then when I see through the through the window that the hair is in that position, hopefully the camera will be fast enough to capture, but also what's cool about this life, they're very, very strong, so write down, working on, um on speed one hundred over second so it's pretty fast but also it's not like two hundred fifty of a second which would be flex force photography and ability to chris will be like like the sports section of time amazing which is not really doesn't have the emotion has this great immediately but it's more like documentary here we want something that is it has this imperfection so let's let's just have one more a half living just see what kind of things we can discover through that so and the dress we looked up the dress and just let's even more more more more of this and show me can you just completely twist around just capture and kate can you? He has do and do it fast and kids you more fan and really kind of moving up and down just just a big one so hold your hold address and just ok ok so hold the dress out and spin and catch the air from the fan with your with your face okay, so hold the dress spin around three hundred sixty degrees and keep doing it and even if you feel dizzy that's the moment relative for we're looking for this very spontaneous moment and capture the wind with your face so this way that there were will go underneath and we'll lift up your hair do you guys hear that commonly we're closer to the friend and actually look at the man with eyes and really keep your shoulders. Really was that at some point when you, when you stop moving, just stepping from the friend of one of your turns and through the hair up like this? Okay, so now so let's let's switch to the white background because that's, what school? You you could get a tw home or in the studio, you can switch to the different backgrounds very quickly. And then what I love about the black one that's. Why I chose the black dress because it is about her skin and her shoulders and her hair, but but also the same thing will work in the white background. But if you just be a much more graphic and it will be more relating to took a traditional japanese photographers from the fifties iraqi that the maruyama, when the head is very great, grainy, it has this documentary photography few, but because we're doing it in the studio, it combines this tension off documentary, but it's to you but it's fashion so that's also something that is very popular in in high fashion photography, for example, it is magazine there's, the king ofthe editorials in europe, and it's, a french fashion magazine called purple, so they're really life in the brioche iraqi and iraqi was this photographer he still lives his very prolific, his japanese, and he he's in the west is very famous for bandages, but it's not what he should be famous for. Of course, thing is, the internet likes fetish so that's where the future of the internet but in fact his pictures are just beautiful documentaries. And so they actually translated the documentary. He was actually the one who invented self portraits he's his credit to that he invented some of this court I photography. So taking pictures, the photographer becomes presence, for example off course. William eggleston later did shadow there's a famous picture of the woman walking down fifth avenue or somewhere and there's a shot over the photographer on the back of those rumors head so the photographer can entered the scene but the bush iraqi was the one who really popularized it. So it's, very popular took and to bring this documentary but in the studio, in the fashion context and again, it creates this edgy kind of conflict and feeling in the pictures. So let's, just see what this arrangement looks on. The white background also what's going on the white but wild background that you can be really like. Yeah, this is cool, but when she was just standing still, of course he gets so much for is and unless you're goingto re tighter than it can be annoying, so when you work with the white background it's a blond girl, then you don't get this outlines with hair and then you can you can do some more things so let's see committed further do have a hair brush just just more the hell of it. I think this particular set up well, it's, you know it's again creating kind of beautiful graphic images they look timeless but also some that you've never seen before and I love you know just cup is popular politician it's my my passion, my hobby and I love capturing like all this moments from from the images in the past, just but emotion that say she looks like bridget bird or so away we'll create a hair that has a little bit of volume here and then and she has this kind of I'm cool, but I'm beautiful, but I don't try too hard feeling presence like bridget bordeaux and so that's why I'm making her move because then she's not she's not doing this because bridget bordeaux unless, ironically, she would not proposing in all the pictures like this or like this that's a very kind of boring freshen pictures, so I'm capturing this sprint in unity clinton a tio and and why so let's say now with the white background you can't just to just to show you the people you can imagine a different hair you can imagine different clothing but just with this simple last dinner you can create the images that just look from different time paris but also also contemporary because then you feature that's saying a fashion person would know all this is that I am a foster berg so let's try just one life turned this funnel please so I just see what happens here with the wild background gold closer to the wall also what I love here is that one of my favorite photographer good I notice now with white background you're going to have a lot more shadows yeah exactly that's that's what I love a lot of the shadows you can play again it's almost there two of her you can shoot from the side and you can play the silhouette of her face so that's actually start with that one the start with charlotte so come closer to the background that's great actually with your hand to just put the hair and hold in the middle yes just actually played kid playing with it it's almost like you're you're on the beach and you came out of this over the water and you just put in your hair together together on down and get just get do and don't pose just gather your hair with both of your hands and put them on the side very slowly you really put your hand trying to have a cold okay so here also with this lights again you don't have to move them that much because you have the barn door and if if I do this then I kind of softened the shadow but I went over there that shot I wanted to be hard so I just pushed the barn door here they keep the strong contrast just continue playing with your hair so imagine you're just in this visa by the war this adobe war I'm talking about all the different college conscious together half a step away from the wall and trying to face me more this way gather your hair together and twisted almost looking a braid and hold them down here that's great your face is more to also what's happening now for example it just looks like she's standing by the by the a white wall and let's let's add some some mystery let's create this atmosphere close the barn doors would create some self shadows and you know sometimes you're on the street and it's sunset and you and you see the slight floating through the buildings and used to the spot of light on the walls and that's what we want to create so somewhere in spain she just went she went shopping in the beautiful saw this town in southern spain so really think thank you it sounds said and you just strolling through city very, very slow and hol you have parallel is beautiful because hold a little and I was little so you were adjusting those barn doors primarily for their effect on the background and also making sure that she's all because I'm constantly watching the background and her face also depending depending how far we have pulled back so here this light gives me just a sliver of light on her face her sorry study art history in the relationship with the religion also with theology so also how the images right now are created depending on what was appropriate in a you know in connection took catholicism's for example it is very interesting shoulders back and he had just started three cylinders take your dress and right now the world's most successful fashion photographers is a murder and marcus begat mar godless and marcus be good and they actually should they have the studio in pisa so they should everything using the natural light and all the clive's the whole team of about fifty people they have to fly treat visa and kate moss comes there and before they love shouldn't hurt the most but we want to to kind of fake the visa and all the flight tickets and staying in the top hotels we want to create in your you know we're living room okay so take the dread and really start spinning three hundred sixty degrees like you're you're looking the son in your spinning okay stop also with a white background you can kind of create this field off gray looking background which is very urban pen because great background was the most fashionable than kind this congress step before christ face more over there scared some more actually let's listen to the friend let's see how the hair throwing look like big friend so here you can feel this the sun leaking through from somewhere okay let's get you in spain you're strolling you're only beauty this wind is breather comes from the ocean and this is the setting sun ok really relax your shoulders and just starts feeling and can you move the fair that they're finally with more in and then let's do the more extreme hair thiss and loathe joe here in the in the contempt of congress with friend and through the hair don't don't don't get here let's play with this let's close the barn doors at the bottom and give someone like at the tops of her hair glows and she herself a little bit darker okay let's try you d'oh situation where you have to capture motion warm, sharper yes yes then but then it has to be more with strolled definitely but I actually like it when yeah, things like this when the hair is actually good goes blurry folks online what lens are you currently using right now I have twenty four to one or five but actually like to shoot with even more telephoto because just more cinematic we should actually throw on the mortal telephoto on the two hundred and see what it looks like because I think it will actually have this cinematic field. Kate can have their little ones. I got a feel for the ocean what's the sound said over there push, push your hair together and find the light. Yes, just wait. So somehow it just this light is so simple and it just makes everything kind of flawless and just imagine it's a hundred or two hundred dollars. Ok, so let's do it. Oh, yes! Thank you, it's. Now I'm switching to two seven to two, two hundred. Ok, let's, do the friend coming closer. Okay, let's bend over. Okay, let's, go and look at the fan. Actually, can you move the vehicle, sir? So you do it for the fans just feeling that you are really, really hot because strong son and you just enjoying the breeze and hold a dress like that higher and a little bit out like that. Put it out more than this movie like this. Yeah that's great, come just half a step towards defend yes, that's great for the dress, just like that, your right arm will be back so we left, left one further back, and there I do want to move forward, okay, all this infection and not do that and look at me. Yeah, that's, great. But it is an emotion perfect, beautiful state, and just so also telephoto lens. I can bring the shadow in more, waiting for the picture. You can actually towards her social status in this position but then with the hair has movement so keep your face here but move the dress that this exactly the other crew showed us loose and face with her came from below and let's do them so as I'm shooting I'm continue in the light and I see this interesting racial off darkness versus brightness background and her so now you just have this interesting ways kind of light you and then but right now I'm doing this just to show you how versatile this lights can be but a force when you let's say you want the background the kind of great like this ben, you just stay there he choose would you like to hear? So when you when you go up, keep your legs outstretched yes and facing and face more to me really great live with less kind of halfway to the shoulders down, shoulders back down and back or that there was there was a great movement and chilly but lower and now when you come up off also dropped address and actually with your hair like this is almost like you're helping helping it to come out with your hands so here what I love what's happening is this scissor light it's actually to show when you look at it and you think of medical air, then of course it's the neck has the veins intention but again it's a matter eclair it's very kind of feeling but when you think of me off photographers like bruce weber for example they love the attention or even now you know when they should my god for the famous actions with big lips julian julie she's obviously is not the sixteen year old perfect creamy baby fat girl so they actually love when you can see the tension in the body that's just let's say calvin klein odds are very much like this today you see they feel the physic physicality so of course when you should this we should we continue directing the model so she her face is more relaxed and where we're waiting for the perfect kind of relaxing expression on her face but we like it with the high fashion the love them the tension the tent kind of attendance this also kind of athletic and and she kind of looks like circular and also you know what a little bit older so again you you capture this extra value ok so do have ah you would have someone I should go into his pictures or just so you know yes you do you see a from the from the great wants that I shot that you like guys from the great okay so I just want to make sure ok cool so now when I actually the flexibility in there playing with this more with composition and the feeling and the energy now we can go more into into jails and really create more surreal I feel so this is actually sort of images that you can you look at old life magazine for example any super bridge obrador's sophia loren and they were hanging out and looking so fabulous so that kind of feel is that again in fashion photography it's very kind of being rich and fabulous and very natural not not overly retouched that's very, very valuable and that's what everyone tries to capture in their pictures another sword is not relating to the to your audience in this natural way in this also like you know the whole culture history way but more really take them out of their body and create something that, um their fantasy can just fly somewhere else so let's just let's go in a completely extreme environment and play with gels so I guess so for example with this one what we're working with right now exactly what it is the one of us lives is illuminating her here gives her this magic rembrandt circle then there's another light ah which actually instead of standing on that side it can stand next to that light is actually eliminating the background and it's the light is below her so so here's kind of dark and this contrast in her face is broad is emphasized while here the background is much much brighter and that's why it shines from her skirt so if it if the background was even then there will be no a light coming through the dress is actually here it looks like it's a little brighter than the top but in fact it was much much brighter because the dress obviously blocks a lot of light but this is actually barest in which what we're doing here and here again is this crisscross lied also very popular here for example I was using a mirror so the light comes from the top and the mirror is element gives the definition on the clothing I wouldn't do the plants but we can do later but it's also because you saw how would contrast the shadow it creates if you put a houseplant like that you can actually see right now in the shadow in the door you can actually create this atmosphere within this seems so right now she is she is this french girl in a in french riviera but you throw a palm in there and it's you really believe it again the movement in the dress when she was so she's like flying okay colors so here here I used to the yellowish and pinkish jail um here of green and yellow so here I used the bigger light for the general yellow atmosphere but then in the middle of the yellow jell kid can I have one of them so I had the big one in terms of life but then I made a hole in the center and I put a green guilder so what's good about this I'm obsessed he's like girls love a shopping for shoes along shopping for the jails because when you look and a carload of the colors and they have this beautiful descriptions like egg yolk and their wheat in let's say provence for example this beautiful names and uh you could just play with it and created something you cannot really achieved with photo shop and because in for a ship of course you can go into saturation hugh and just kind of makes the picture look what you wanted to look like that's very easy but with jails and a combination of college together they create additional colors that you would never have been able to invent because you don't even know what you're going to get so again yellow pink and we're going to do this yellow big and here the next few images is actually kind of purple and blue and then one of the lights had a purple half of it was purple and half was yellow and so all this scenario was just a girl standing by the wall and then I just remove the lights around and move the jails around and it created all this crazy colors so this is the first one and each of them is just the next image that you know the first image was um mostly blue and I just I just moved the second light more in and combined with they're red combined with this kind of ocean blue and created a stinker shield so it's all similar huge els it's again it's I was in front of white wall with just throwing some jails on and off kate upton you can do just actually in the environment and when usc movies you don't actually realize that everything is jealous when you're walking down the street and you and you see the person walking down the street you know the heroin is walking down the street at night and there's a cafe and its look so welcoming and it's orange and red inside anything over all of this obviously is natural and then you have a phone booth and glows green but all in one in a in a in the movie looks natural end you think that's how it was but in fact everything was jailed so when you're shooting when you're creating an environment that's a in an apartment then you put a jail underneath the lamp shade to make their delight look glow more yellow and orange again looking at upton so here again just using two lights with jill's sorry he was for interview magazine ok, so let's play with it with some gels let's kind of shoot something like like this on the on the right. Thank you. So this I used this but it's something that you can actually build out of clothing hangers and just spend it over the light and you don't have to be precise. You can just throw it on a state work can have. Yes, this one. You can also work with clothing, prints, that's the this is that a secret? If you have this kind of frame pretty professional, then you can actually visit with this life there's a space you can attach it and then stays on its own. But if you don't, then you can have you can have an extra stand and then you can kind of put it in front of life on I think that's what we're going to do for the next one for the second light can I have some more of this little bit? Thank you. And when I should love to with since you need a simone, for example of billie holiday just to get everyone in the in the mood now, are you ever concerned about your gels melting? There are a lot of folks in the chat room who have had that happen, or is are these lights in particular? Hot? They are very hot, and actually I have lots of just this kind of melted in a way but you just need to be careful that's when I was just starting but I save all my jail so yes there I'm moving a little closer to the light but if you if you have some space it's if you have you almost like a foot then it's fine it's not going to burn the jails also can you said my camera back the picture style landscape coming we'll do this in front of the white background but with then we you can't kind of have can you clip this on the frame exactly maybe maybe I'll let you know if yes thank you push push your head behind you for all your hair with both your hands yes that's great that's going take a big breath just relax your looks some now for j pegs going to landscape apparent landscape just even emphasized the coliseum or more how ready I would all right already you can actually you could have imported like that's can you bring this light much much force for here it's more to a slide here let's try I want to try because it's a very, very yellow I want to try white balance to tungsten so it actually it will shook the whole um exactly switching to dallas thank you nice to meet you guys out here and move a little bit and play with the hair that's great with both hands her costume so here I don't like how it's actually the yellow and the income mixing so I'm going to put the yellow in the wall let's see what happens here can you follow can you move the light to follow her right well that's I can't thank you should hire a smarter more more more more what's more here more take a half step back it's hard to see their combination of colors and on the screen they become comes true this's face here okay so let's see because I've seen too much here let's just go on a black background and then you only see the colors and what they're doing her hair in her face jumping on the phone please I guess this might take a support just play with your hair it looks like is your white balance intentionally on auto there or wait I'm trying I'm trying to switch to the um just kind of figure out hard to switch you know how to do boy bands from boca haram let's try this bring this letter but more round perhaps to court bring this rundown it but that's great and bring that arm down hold yourself with this thanks mum here that's how this looks okay so that's more like it more to light the slide back a bit more just just for protection stretch out so this actually yellow light somehow comes out very hitchcock with you I like it face more to this life are higher tire pressure at school just follow followed a side of her hair with she had her bring this around a bit. Bring the light or with booth. Pull yourself out of that great very guys. But you work in order to see what the next light is doing. And this one is so interview and w magazine just this is a kind of very fashionable pollitt polyp for them more on that score play with this hair and eyes and yes, that's beautiful is the tether income is that the pictures come through ok. That's, great play with and then here close to the light. Yes, I look over there, okay? And I see you. Yes, that's. Great for the stretch out there, let's, drop that hand. Would you put your hands together? Yes, that's. Great. You're shaking, you're shaking way like the hands in. Just think. Thiss all right, let's get one last awesome shot. I really, really wanna keep moving any shoulders while it also, okay.
Class Description
Model-turned-fashion photographer Elle Muliarchyk is known for her DIY fashion aesthetic. In this 90-minute workshop, Elle will reveal her crafty tips and tricks for creating high fashion editorial images. You will learn how to create drama and magic with three unique styles of portraiture — using everyday household items and a budget of less than $300. Elle will give you a DIY handbook for dreaming up creative, edgy concepts and bringing them to vivid life.