High Key Lighting Part 2
Lindsay Adler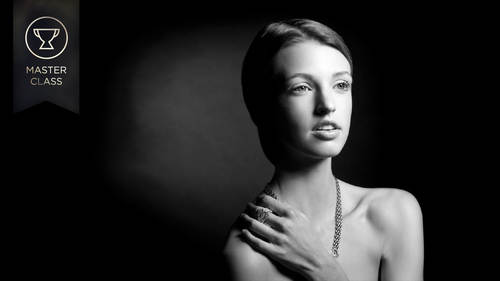 High Key Lighting Part 2
Lindsay Adler
Lesson Info
8. High Key Lighting Part 2
Lesson Info
High Key Lighting Part 2
So there's been situations where maybe I don't have a white background I can't take seamless with me or um I want something just totally glowing a serial high key wrapping around my subject so this instance in this photo we blasted that background as much as possible I had no light on the face and I do start to get some light wrapping around right like like just a little bit on the chin and on the clavicles here, but that was a lot of effort, okay for a no fuss lighting class that should lead let's see how we can do that easier more easily so I have that right behind her. So what I found out a few years ago, if you can actually use and if you want to raise it up gonna unhook her. I got what I discovered is that if I want that light to wrap around the jaw line, the best way to do it is not blasting the background. Uh, not only is that a lot of like, like, loose everywhere that you can't really control uh but it's not you don't have the ability to shape it and make decisions it's just th...
ere's a ton of light I hope it wraps around okay for this I'm gonna be back right up into that light you're gonna feel it right on your back if you put it soft box directly behind her, you look right at me. I want to take a quick shot so you guys can see this. Oh, wait, just ignore my exposure. Hold on, let me go back to where it was supposed to be. Just don't be touching that. Ok? That's fair that's. Ok, that's what? I wanted to be all right. So this I just want to shoot the shape of what that light is doing. This is not the final photo by any means, but if you're looking, you don't get this wrapped around the clavicles and around the jaw line from just blasting the background or having a white lipped background. Furthermore, this is not the the same effect that you get from just lighting with, like strip lights or barn doors from behind because it doesn't pour over and light here. It doesn't give you that nice kind of even light to the tip of the chin like that just gives you highlights on the jobs. It's not like it's, not the same feel. So what I will do and this is what I use this for. I use this for, um female portrait's, usually something very high key also for so ads, uh, like something do with foundation. Anything that's, that's bright that's glowing if you have a larger one, uh, say the one that jeff use the four by six foot. For example, this is beautiful for fine art nudes in maternity. So I teach workshops out of my studio in new york and that's, one of the set ups. I did a fine art nude workshop earlier this year. We have the four by six from behind. You have the girl posing, and that light just wraps around and shows every curve. So think of it, that kind thing. Whatever you want. Nice, beautiful wrapping, rim light, but still high key. This would be a go to. So that gives you an idea of kind of what the light looks like. You could do what we just did and take the foam core and put it up close to her technically can have. Ah, reflector oh, no refusing the reflector, the that reflector. And then I'm going to ground for the last shot if you consider that beauty dish for me and bring it back this way, so over, okay. Yep. Silver's great. So, technically, um, what I could do is I can actually hold this or have someone hold this directly above her head and the light can you can you see this like it'll actually catch the light from the soft box and this could become my main light like you could do that if you wanted to um I mean I could take a quick shot it's not gonna help me I could be perfect but we're gonna add a beauty edition oh thank you. Okay get nice and low and see but right there maybe and a little bit higher we get a big laugh like that they said even worked hold on for one more on you even more and a little higher done sorry apparently my friend perfect well that's not it so there are ways to rig this that was not the way to do it. I would do the smaller reflector on either side let me show you what I actually do what I would actually dio is use a bt dish thank you and I would use the back room lights to light her face and I would use the beauty dish I mean to light her jaw line and then I would use the beauty dish to set the mood and light her face so I can like her jaw line and give her that nice glowing light check from there all right and I probably have to change my settings its tiny bit look all right and can I have a small silver reflector below somebody's go really, really high key? Lighten this up a tiny bit. There we go. This is closer to what I want and I'm just going to soften up. It's. The whole point of this is high key. The light wraps around its glowing. I don't want those dark shadows under her chin. So let's use cleans the white really close, great, great there and let me just english down a little good and a little over, I'm a little shorter. Good. So this this is exactly what I would do for this next shot for a cosmetic campaign, right? But you can imagine it for soap or for lipstick or something like that, and so I use that backlight to give me the wrap that I want. I used my main light to shape her face that's, what gives her these cheekbones and her jaw line, but then I didn't like the shadow underneath. We need to soften it a little bit with a white reflector and so that's one way it would build a shot.
Ratings and Reviews
I got so much out of this workshop! so many wow moments. the set up with the light behind the model, was just wow wow wow, and the fun bit at the end just sealed it, thankyou so much!!!
Really fantastic. The thing which i liked most, is how Lindsay gave options on how to do each set up with speed lights, and shoots in smaller home studios. John is also amazing as is his purple bandanna. Hope he gets his own creative live course at some point. I would be interested in what he would teach, and how? He would have to wear the purple bandanna though!!! But not just the purple bandanna? Maybe that would work too.. Maybe we should start a crowd funder "John to teach a creative live course wearing nothing but a purple bandanna" .. It could be the future :)
This is about the 5th class I've watched of Lindsey. As a teacher myself, I am impressed with how great an instructor she is….she has a way of explaining a concept in a manner that the less techie person can understand. I love how she uses water as an analogy to light. I'm a retired Spanish teacher and one of my favorite stories is Isabel Allende's "La Luz es com el ague" (Light is like water). Bravo, Lindsey! Looking forward to watching even more of your videos.
Student Work