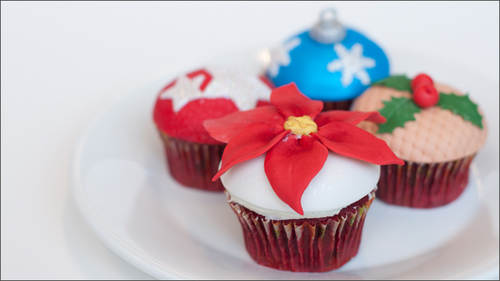 Lesson Info
Part 2
So one of the things that I want to talk about was lace impressions and lace molds. I have some green rolled out for my holly. This is a place mat. You guys recognize that, right? You can use this for making lace impressions on your fondant. Any anything will work to make impressions on your fondant. The light fixtures on your fluorescent lights make great things. You can buy those at places out of the garbage can. They usually throw him away when they're broken, and all you need is a small piece. But the one I'm gonna use right now is, um, by elegant lease. And they're very cool because there's all kinds of patterns and designs and different things going on, and it molds everything. Fondant, gum paste, butter, cookie dough. The only thing I cannot get to mold in my lace impressions is ganache. I cannot get the ganache come out. Chocolate will come out, butter will come out. Cookie dough will come out. But I can't get the ganache to get firm enough to come out. I don't know why, but th...
at's the way it works. So what I've done is I've just rolled my Fonda and fairly thin, pressing it in with E he'll or palm of my hand. Then I'm going to flip it over, peel it off. You can see how nicely it comes off a little stretch their don't care. And you said it right there. This is where I want to get one of my brushes, and I'm going to use a little bit of gold color, and it's really gold ladies. So it's expensive, but it's beautiful, and I want to just kind of brush it over that so that I have a little little look to it. I get more involved, but I'm gonna move along. Then I'm gonna take my holly cutter, and I'm just going to go ahead and find the right spot that I want. Cut it out. Do you play any shortening or anything like that to prevent the fund it from sticking to the mold? Okay, if your fund it's a little sticky, you might want to try a little cornstarch or a little powdered sugar. But the's molds that is the beauty of them. They are so easy to work with, and elegant lace molds is one of them. We're one of the more affordable ones. There's lots of other companies out there that do, um, lots and lots of varieties. Um, elegant lace I know about because I developed with my girlfriend in a hotel room. Because what else do you do in a hotel room while you're traveling? Okay, so let's very quickly look, for I have no holly cookies. Yeah, I have. If I could have, like, four of them, that be awesome. In the meantime, I'm going to start on my tree now. When I did the tree with the little snow on it, I just love that. I thought it came out so cute. And here it was so hard. It was like working with, um, kindergarten stuff. So I took a little ball of my fondest thank you cookies everywhere in this place, and I managed to have none. None of the holy. That's good. So I'm just gonna make a snake number snakes from kindergarten, and I purposely made it with some little lumps. I don't want it perfectly smooth. I wanted a little lumpy. And then what I want to do is I want to take one of my brushes, and I'm going to use just a really cheap little arte brush. And there it is. In this container I have in its mixed with glitter, Not on purpose. That was accident, but it's just a little vodka. I use vodka because it evaporates very quickly. It does not melt my sugar. So that's that. Moisture Can Can you guys see? Um, I in the right spot for you to see. I'm just gonna take that little bit of snake that I made will get around If it's too long, I'm going to take my spatula. Trim it off. Let's roll this out a little bit more. Now I know that you put butter queen butter cream on top of cookie under the funding. Yes. Is there any worry about that making cookie soft? No. It's actually gonna keep moisture in your mechanic. It delicious. Yummy. That's a good thing we do. Ah, we do a cookie exchange every year with our local cake club when we dio minimum 10 dozen cookies and we usually do about 13 or 14 dozen cookies so that we can ship a few dozen off to a charity of our choice. The last couple of years, we've been shipping him to the young man in Iraq. We have ah, unit that we have a grandchild in Not my grandchild, but one of our members. And, um So we ship off dozens and dozens and dozens of cookies to those men and women. And, um, it was funny because one of the members of our group, she brought something for refreshments and her son said, You can't take that to Kate Club And she said, Well, I'm taking it to Kate Club and he goes, Well, you can share it with the lady that made the mitten cookies and nobody else. So when a kid starts remembering which cookies the good one that ought to tell you some Listen, clear some of this stuff off. So this I'm one of those people in the more space I have, the more if spread out, listen to one of our regulars. Leslie Lee. Photo would like to know if you ever use a heat gun for any use or a blowtorch. Pastry Chefs love follow Tourky. We think they're awesome. We use blow torches for things like our crime Berlet, of course, number one, and, um Then I was talking earlier about the Irish cream, not the Irish cream. Excuse me. The French buttercream in the Italian buttercream and the Swiss Buttercream. What happens when you refrigerate those? They're very hard to bring back to life and make them smooth and lovely again. And so one of the tricks that we used to do that and see what I did there, I'm going to interrupt my thought process. I just made a little point for the top called a Good. You could add a little brown in there. I'm not going to at this moment. Um, if you put your French Italian, French, French is a little tricky cause it's egg yolks and not the egg whites, but your Swiss and Italian into your mixing bowl. It's got to be a middle bowl and then use your blowtorch on the side Is your mixing that will bring those things back to life? Okay, so what I have here is I have what's called disco desk. This is an edible glitter. Yes, Ladies and gentlemen, it's edible, and I'm just very gently type, tapping it on to that portion of the cookie. I like to kind of do those things last because then I usually end up with glitter everywhere, including my face and on my nose. I did the one here in all white and then put the little snowflakes on it to do the snowflakes. I have molds and I have cutters, and we'll just very quickly roll out something here so you can see how it's done. They came out with these cutters about, 02 or three years ago. I just love them. They're beautiful. So this is a cutter comes out, Does he embossing? You should not wash thes and water. They don't. They don't wash well in water and then very carefully pull that off my fund. It's a little stretchy and sticky. I put that right on top of the glitter. I was hoping I could suck up some of the sparkle you notice when I cut it. I give it a little swirl so that it has a nice cut, no pieces on the edge. And then I pop that out and hopefully it comes off Nice. So how do you clean them If you can't use water, you just use a little washcloth and kind of wash him gently. You don't want it like a damp wash. Yeah. Okay. You don't want You don't want to dunk him into water. It has. It doesn't work smooth. They should be nice and smooth like this. See how that works? Look how big that is. Awesome. Love it. Okay, so on my other trees, you can put some colored things on him again. All I want to do, IHS, let's to rid this time I did blue think and that be awesome looking. It was kind of uneventful for me. I just want to roll balls and the trick before you put them on giving a little press so that they're not sticking up all weird. And again, I'm just going to do a little dampness. Doesn't have to be a big deal. Just a little bit. I hear laughter. Should I be afraid? Okay. You could also use colored Candies on these. I didn't put a store on there, but we could put a star on. Okay, here's what I want to show you about the holy, though, because the holly was kind of fun, and you do it as you go. So I've got my holly cookies. Let's get our buttercream here and I'm just going to put a little piping of buttercream of the center going to take my cut out. Holly fondant. I need one more. Then I'm taking the end of my paintbrush or whatever fancy tool you want to use. I'm going to play it down here. Bring it right up the center. That's it. Pull it down on the edge. Make sure it stays. Were supposed to be right down the center. Let's had another vein or two in there. That was really deaf. Well, I work so hard. I should put some flour on my face while I'm doing this right. I can't do this and read a book, though, right? Yeah, that doesn't work. I don't do too much feigning on the ones with the lace because there's a lot going on there. You don't really need to do much else with it. It's kind of an old fashioned look, I think kind of fun. How many people expect of C lace on their food? Not too many, and I like to took those edges in so I don't have icing slopping around. And then, of course, we have to add some Berries to that. I'm gonna go with the red because I'm so creative, you could try to for color, mixed things up. Mess with people a little bit. Yeah, And normally I would I find that if I do the little sausage shape and then cut it as I go, my Berries air more likely to be about the same size if you are very concerned with having balls or Berries or something that are all identical. And I say that because you know, if your decorating something with balls, you know, little round shapes, um and you want them all to be the same size. You roll your fondant out on a pasta machine to the same thickness, and then you use a drinking straw and cut them out and then roll them and they will all be exactly the same size, especially for that wedding cake that's covered with 3000 of them. Kiss the bride saw in a magazine. Shorty Biscuit would like to know I'm giver have any issues with the the cookie dough, uh, shrinking or expanding when baked. And then when you go to mold your fondant, it's sort of a different size. Generally speaking, you use a cookie dough that doesn't have a lot of baking powder or baking soda in it. That's what's gonna do it. Too much sugar in your formula will also cause your cookies to spread. That's why the cookie formula I, I included, is a really good one. It's a very good, and you can see on some of these they're a little bit larger, but not much. They're pretty pretty close to where we're at. Any time I'm sticking, fund it to fund it. It needs to be wet, and I'm using my vodka or my. You can also use gum glue. You can use water. You can use vanilla extract. Not too much the vodka because it evaporates so quickly. You do not have to worry about, um, melting your sugar. I could take the end of my my a paint brush again. This is probably one of your better tools that your little paintbrush and I can push a little center hole for my berry. That does a couple of things when it makes it look like Barry and two, it makes it stay where you put it. I use vodka in my pie dough. Yes works really well It works really well. Yeah, it evaporates very quickly. And there's no after taste. Yeah, okay. On my gold, Holly, I want to add a touch of gold. Did I lose my brush for the gold? You're not supposed to cross contaminate things. You know that, right? I mean, you have to get a clean brushed. I want to just come in here ago. Little buttercream on that. And just give those Berries just a touch of gold. That pretty. Oh, Preeti, that's good. Good response. Wake up the audience here. You noticed I had a little butter cream using out. You saw how carefully handled that got rid of it. Let's see, we got to start putting cookies someplace. We've got cookies coming out of our ears. You hate when that happens. Cookies out of your Well, this Let's put a little gold on these on these. Oh, yeah, that makes a difference. That needs a little gold star on top now. Okay, I have these cupcakes and a cover covered earlier for my flowers. And what I want to do is for the big sunflower type of thing. I want brown, which is over here and truthfully. Um, if you start adding brown centers onto your flowers and your making bright colors the oranges, the yellows, even burgundy. If you put in a brown center, you're making it a full or summer or spring yet, and your son flowers have a very large center. One of the things that you can do for your centers to give it texture is you can either used like a the zester portion on your cheese grater that makes a great little center texture works great for making oranges to, but I don't have a cheese grater. If you can believe that I have a sister that's very sharp, it won't work for that. So what I've done has just made a role, and then I'm going to press it onto my light cover member told you. Look at those. These are great for blankets and all kinds of fun shapes. I don't just make it nice and round on there and then that. Give me my center one of those expensive items you know that's it. And if you go to, you know, home supply store something, they usually have them in the garbage can, because when they break, they put him in the garbage. They don't think they can sell him. But so what I want to do is I've got that center, and I don't want to put that on first. But I do want to know how much space is gonna take up. So let's give myself some direction here. I put a little hole in. So my fund, it doesn't have to do all the work, just some of it. And I want, but just a little dab of icing on the back of each of those pedals that'll help it stick. I think you could also use the the moisture on the back, but I kind of prefer the fondant when not the phone Did I prefer the buttercream when it comes to these. And let's get the big Let me get my big pedals to put down on the base. Can I ask you a quick question about the funding recipes? Yep, that we have some years who can't use gelatin. And I know some vegetarians who prefer not to use gelatin. Are there any alternatives available to using gelatin there? So So a vegetarian gelatin. Oh, okay. And that works. Okay, Um because I Yeah, that students who are vegan. Um, is there any other any alternatives besides gelatin in general? Uh, not that I'm aware of, but there are vegetable vegetative. Okay, Gelatin. It's a Japanese. Okay, They're looking for all right. It's not. And it's like, I want to say couscous, if not couscous. It's like someone saying, What about agar? Okay. All right. Yeah. There we go. Thank you. I couldn't remember. It's, uh all right. So, yes, you you can work around those vegetarian requirements very easily with it. Okay, Now I have some pedals I'm gonna put on top, so it gives it dimension. I don't have to have hundreds. Just a couple needs to stick, though, so I still need a little dab of buttercream, and and then I'm gonna add that center. I'm just gonna add a little dab, a buttercream, and then I'm just going to put it right on top. I can also take, um okay, I have a little orange powdered color here, not liking that brush and a change. Just put on a little dab of orange into the center, so it has more of a autumn appearance to it. Paula. Okay, lets go now with our poinsettia. Same thing with the orange pedals I just wouldn't make. The center is large. And since I'm doing this, let's also do that. Let's do the cookie at the same time and I'm gonna put the cookie onto a white round. And I have to tell you before you touch that cause I had the other colors on my hands on a white my hands off. Otherwise I'll end up with colored white. They were getting a handful of questions. Not not a typical How much would you charge for one of those cookies? And how about how much would you 25 bucks on? How about your cupcakes? Like, if you were to say to people out there, could you give him a ballpark place to start like one cookie one cupcake, you're you're looking at for this phantom caliber of decorating you're looking at starting at about $3 a cookie and a cupcake. And you could, you know, depending on what your market will bear. If you could go up higher than that, um, it really does depend on the market you're in. It really does. But that's a good ballpark. Starting Yeah, they're very labor intensive. There was a group of ladies that recently took a class with me locally, and they were saying while they were, they were selling their cookies, which were very ornate for a dollar apiece, and they couldn't get him on the table fast enough. And I said, no kidding. Yeah, they should have been priced at five or $6 each. So you really need to be fair to yourself, you know? And people have come to really expect quite a bit from us is decorators because they're starting to see so much of the wonderful things we can do on TV. And they don't get that People on TV here creating, you know, cakes that are 10 $20,000 cakes. So be prepared to pay. Yeah, and if they don't want to pay its OK, they can go somewhere else. Okay, so for my round cookie again, I'm not putting the icing all the way to the edge. I'm just gonna put it to the centre. I'm in, turn it upside down on this one to center it and push it down so that it's a little flatter surface. I did stick my finger in it when I picked it up, that was nice. Lovely. Smooth it out with the palm. So it looks all pretty and again, I'm gonna come in with my glitter. I still have some on that brush. I don't even have to add any more. There's plenty. And what's? I almost threw pedals on the floor. Did you see that? So for my cupcake and my cookie, I wanna have big pedal on the outside and on the bottom layer, so to speak. And again, I'm going to use the end of my brush to help me keep centered. Let's go ahead and add some moisture in the form of buttercream onto the back of those, and you can see in the amount of time how those pedals have set up. They're kind of holding their own piping with my right hand, trying to attach with my left hand having technical difficulties. I like to have things that sit up a little more multi dimensional or three D, as opposed to being flat on the surface. But you can go flat, go clean. You can have your style. Sure, Cookie, do whatever you want. You know how often does somebody say? Do you hate your cookie? Do what you want. Question for me. What do you use for inspiration for new designs? Um, what do I use for inspiration? You know things. It's funny. You start looking at things and thinking. Oh, that make a great cake. I mean, Disneyland is a fun place to go. You can get great ideas. Walking down Main Street is to their wrought ironwork. Um, fabric is another fun place to look for. Inspiration, ideas, plates, china, Um, a soap dish. Sometimes you're like, Yeah, that be a great cake. Um, yeah, I just kind of wherever it shows up in some weird places sometimes. But for the center of my point set of what I'm going to do is I'm going to take a little bit of yellow and a little bit of that lime green that I made so a little bit, okay? And I'm just going to smush it together. Kinda sorta, not so great. And then I'm going because I have two of them going to divide it in half, going to roll it in a ball, give me a cone, and then I'm literally going to take my paintbrush and start poking holes into it and pulling it in because I want it to look like a little bunch of bud buds or flowers in there. So it has this kind of free falling Look to it. I gotta pull that point off on that one. And I'm gonna need just a little touch of buttercream. I'm gonna set that right there in the center, moving some of my pedals. I want that to sit there for just a moment. Gonna do the same thing. Um, so when you're making the cupcakes and cookies like this, how long do they need to sit for a little while before they could be consumed? Or can you just go for it? This is good with butter on it. Um, they don't have to wait any time at all. Once you have together to consuming the biggest time. You have to wait for us if you have done some pedals that need to kind of set up so that you can attaching. Okay, we have a fun question from one of our chat room regulars. Que both AEA, who's also known as John. He lives in the UK and he's asking, What's the most unusual request for a cake that you've ever had? Most unusual requests I've ever had was for a trophy that had the man's head as a trophy. And when I got done, it looked like a man's head on a trophy. It was pretty repulsive. And the man was bald. He didn't even have hair. Yeah, he was a bald man that I got to do that. Yeah, you get, you get some customers are the ones that will give you the most fun orders. Um, I used to have a group I decorated for in here in the Seattle area that they had a Mary and a Marianne, and their birthdays were both on Halloween. And so every year, I had to come up with a new Halloween idea that included two ghosts to which two skeletons to dancing M and M's, too. Okay, so what I've done now is now I have some rid. This is actually kind of a burgundy, brushing it just into the center of those pedals again. I mean it. Just add some dimension to it. You don't have to, and these air powdered food colors, powdered food colors can be used for candy making. Also, and you could mix them to color, but they're kind of pricey to be doing that, so I kind of stay away from that. Okay, so there we go. We've got our point Citius. And if I want, I can add a holly leaf in there to that kind of will add to the overall winter theme. Okay, what else have we got here? Oh, we got to do some Santas and elves. The reindeer? Yeah. Okay, let's start with our reindeer. Brown or chocolate. You can color. You can flavor your phoned in chocolate with cocoa powder shows a good coach, right? One of our audience members is curious how you got started in this. Did you, Empress anywhere? Uh, and I started very young, and I came from a fairly good sized family, and we liked cake. We used to use it a lot as dessert. Lunch is that sort of thing. And I just always wanted to do something arty with it. That was me. I used my kick decorating to go to college and become a graphic artist because and I got into graphic art because I wanted to learn how to write on my cakes without making it look like a three year old had done it. Um, so I put myself through college with my cake decorating, thinking, OK, I'm going to be done with cake decorating as soon as I get my college degree. You know, I'm not gonna do that anymore. And I worked in the field for several years as a graphic designer and graphic artist. Pretty soon I thought to myself, You know, all I ever say that my kids is Come on, hurry up. Mommy's got a meeting. Come on, hurry up. Mommy's got a meeting at that. I don't have to do this. I can go home and decorate cakes and make much money. So that's what I did for a lot of years. So OK, I have the heart shape cookie. I have the heart shaped cookie cutter and cut out the brown. I am looking for my decorating bag. I keep having these senior moments. I might need to have somebody help me keep on track. I didn't get that out very clean. Put that on top. Make sure it's on there. Nice. I always used to like to tell I like to tell people I used to be a perfectionist. Not anymore for the center face. I'm just making a little ball, and I'm gonna kind of triangle shape it. Not a big deal. Okay? Just and I want to flatten it out a little bit. I don't want to stick it up too much. And this is where I have another one of those very cool tools. So I took my red drinking straw and a trimmed off one end so that I have, like, a little smiley face, so I'm gonna take that. And this is another thing. I mean, this is a good size draw for babies. You use a real thin little straw and these makes eyes and little smiley mouths. So this is an eye and a mouth maker, and I'm gonna take this and tuck it into that thin in wana pull it up just a little bit, pull it down. So he has, like, a little mouth take my other great tool, which I'm using my paintbrush. But truthfully, I gave everybody also a skewer these air great little tools to So I'm just gonna pull up a little mark there in the center with animals bears that sort of thing. You want to put little center mark to buy it? Go back to my paintbrush so I can put some moisture onto my fondant attach that centered up. You don't wanna walk crooked. Okay, Then we need I'm not gonna water up my brown just yet, cause I need to have years. And here's how you do Ears and eyes and things that are the same. Okay, Because you want them to be the same. I roll one ball, I take my spatula or my palette knife for my sharp knife, and I cut that in half. Now, I have two years and to make two years, I've been rollerball again. Everything starts with ball. Have you noticed in this great rule ball, Then I'm gonna make it into a cone. Then I'm going to take my paintbrush or my fancy tool bringing out towards that end. So I have a near roll it out to a cone, take my fancy tool, pull it out towards that end Two years. I'm just gonna let those sit there for a moment. Okay? Then we're going to go ahead and do an I And then I am gonna use a little tiny ball of white. Cut it in half with the clean, not a dirty. Cutting it in half assed, sometimes the hardest part. Roll it into two balls. Now, here's a trick. If I take my bowl tool now, have a white end and I have a small end and I put in my eyes where I want them to go. Always do your left eye first. If you're right handed and do your look right, I first. If you're left handed, why do you do it that way? Nobody even said why we were all thinking it. So what do you do it That way? It is easier as a right hander to match up the left side than it is to match up the left side to the right side of your right hander. And just the same if you're a left hander, so always do the opposite of whatever you are handed makes it easier. I'm gonna smush that in. I'm gonna try to bring it up a little bit. Okay, Now we need the black. Just a little tiny ball, a black. Not a big one that talked to anyone. Roll a ball. Do you guys see a pattern happening here? Okay, cut it in half little dot of moisture. If they're not perfectly cannon, we can move them. It is possible. I used my ball tool to smush it. Get it in place. It's kind of looking like a monkey now, isn't it? Kiss. What? It could be a monkey. Pretzels. Everybody has pretzels. Awesome. Uh, now what you want to do for your horn? Says she just wants the little part, which gets to be quite a challenge. I may I break a lot of pretzels before I get a good horn. We might call that a good horn. It's not my favorite horn, but we're going with it, okay? Because I've got other things to do today besides, break pretzels and look for break pretzels. That almost sounds like I'm doing something. Now that it's not gonna work, I gotta make I gotta break another pretzel. Yeah, here we go. Might have to get really creative on your pretzels. Let's turn it this way. Tuck it underneath that fondant. Now I want to add a little bit of moisture here. Whips wrong brush. You have to be careful with what you're drinking while you're working on this stuff, too, because it's not uncommon to dip your brush into whatever it is you're drinking. And then there you are on if dipped in a lemonade into your brush off broken pretzel. Oh, I forgot the nose. I need to have a nose. And we're making him Rudolph. He could also have a little black knows you could have just a few Rudolph's in the group and not have a bunch of him. You could just have one or two. So it's a little ball damn from the spot on the front and attach his nose today in the cute. So did you the pretzels. Did they go under? They go underneath the funding. Okay. Yep. Thank you. And then all your broken ones are lunch. Yes, we're getting hungry. Of course. Now Santa, he's the same. They're pretty much the same thing. Santa and the Elf are pretty much the same thing, except we start with a flesh tone. There it is. All these the elf I did with the elf we did with a little green. Let's these just going to spend a moment tidy so you can see what it is I'm actually doing is supposed to all the stuff. Okay, So for the Santa and the elf, I did this. I did the elf in the green and then the Santa. We did him with the red. And here's something else to that you can do with this little tool that I made. If you could make little eyelashes by cutting into the fondant. Here we go. So are our dear has little doe eyes. All women try to have doe eyes, big eyelashes, guys. Okay, so take our flesh toned flesh. Tone is essentially terra cotta. So if you have terra cotta, if you don't have terra cotta, you want a little orange, a little yellow and a touch of brown and you want it to be very light terror. Khat is a cool color at Christmas time. You can do things in terra cotta and then brush gold on him. And I'm thinking three wise men, I have this vision of three wise men done in terra cotta with gold brushed on that would make an awesome cookie. You could also do that with the manger scene to that kind of cool if you're really artsy. Okay, so we've got our flesh tone. You want to cut out? I'm not going to do both the sand and the elf. I think that if you see one, you got it. I'll do Santa cause he's a little trickier than the elf. It's quiet. Are you guys OK? We're doing great. Everybody's engrossed in watching what you're doing. Everything is great. You may want to lean back just to touch. There we go. Thank you. Okay, I've done it this way. You're seeing it this way, right? Guess what we have to think upside down there, Santa. There's feel. Here's our red. I spend so much time doing this because if you're funding isn't needed, it doesn't work. And so, you know, flatten that out, roll it. And then all I want to do is make my little Santa hat. Now one trick I will tell you about doing the faces is that our faces air divided into thirds. So our mouth, it's at the bottom third line and our eyes are at the top third line. So if you look at this as a face, here's your mouth and here's your eyes and I found that if I put a little crease right here, it helped me put it all together. That's where your eyes were going to go. And then your ears go right in between your eyes and your mouth. And truthfully, your ears go to the top of your eye and the bottom goes to the bottom of your lip. And if you look at people, everybody is shaped like that Anatomy 101 You didn't know that was coming today, did you? Okay, I'm gonna trim this hat down. Just a touch. Going to use this wheel. Brush on some moisture onto their put my hat on. Want some white for for? And a beard again. I'm gonna roll that snake. You didn't know that everything you were learning in kindergarten meant so much. Did you trim up that edge? Anything that doesn't trim up nice. You can tuck it under smooth it out. That is the beautiful thing about fondant. It is really quite workable. It will forgive you and bend if you're putting it on a cake. It's very unforgivable. Every wrinkle unfold will show okay for the beard. I want I didn't roll it out. I left kind of just kind of pressed it. And then I used the bottom portion of the heart cutter and I want it to go like here. But I don't want quite that much beard showing it's all just kind of trim it up. Let's get wet again. Now I did add little pink marks for the cheeks and for the mouth, and I discovered that if you add the mouth after you had the beard, it works better. If you put the mouth on beforehand, then you're trying to work around the mouth and, you know, just kind of gets to be a hassle for our mouth. And our beard were using just nothing for paste. I got a little ball. I'm gonna roll out one into appointment rule at the other end to a point that's even too big. Try it again. Attach the little mouth with a smile. Let's turn this into a mustache Now the mustache on your elf and your Santa when you put it on. If you, um, little moisture there so it'll stick doesn't take much just a little. If you haven't come down flat like this, they look kind of grumpy. If you curl it up, it almost makes him look like they're smiling. So curl up the little mustache a little bit. Okay? My flesh tone. Menad, my nose. Little, tiny ball. Unless you want Santa to have a big schnoz. So do you ever ship these customers? You ship them to the ship? Actually, Pretty Will. Do you have any recommendations for power? I wouldn't ship it today. I want to let me sit for a day, at least set up a little bit and then the tighter you can pack him, the better they ship. Okay, Um, so even as I always say popcorn and when I say popcorn, I'm thinking packing popcorn and they have that edible packing popcorn. Did you know that you can. Edible. Edible. I know There were some that you could like put water on. It'll dissolve. Yeah, and that's edible. So you can use that for packing food. Or you can use popcorn, popcorn? Um, but if you you know, packet with that kind stuff. Now, if I'm pet, if you're packing it with popcorn, popcorn, real popcorn, I would put them into little bags so that the it would start oil's don't start. You would absorb those flavors. Yeah, The trick is you don't want them to shake, rattle and roll. You want them to be very firm and where they're going, So Okay, I can't pack them tight. All right. Thank you. And I have one friend that she does big cookies, that she ships to her grandchildren, and she decorates with royal icing. And when you decorate with that royal icing, it's like a brick. You're shipping little bricks. They'll hold up so well. Okay, little cheek. A little rosy cheeks. I'm sorry. What? Move back. I was trying to line him up, Make sure had him right. And the eyes again. We're going with the white in the ball, cut in half. You guys start to see the pattern here. Yeah. Now, one of the thoughts that I had is after doing all these cupcakes and cookies. If you wanted to set him out on display at the Holiday Times, if you put him onto a tray or someone set him up like a wreath with a bow and that be fun. Have to make sure you have enough for every child. Because if you're short a cupcake for a child, that would be traumatic. They would always remember that at Lucinda. Didn't have a when I was gin for the eyes. I'm gonna mark where I want them using my little ball tool. Get it moist and truthfully, you can texture the beard. You context with hair. I can add years. Um, I had a just regular ears on Santa little elf ears on the elf. Let me show you how to do the elf ears. Then you'll know how to do the sand. Tears. They're easy. Not that big, because ears are not that big. Even l fears. Do a tiny ball, divide it in half, roll it into a ball, then roll it into a cone. So we have a little point, do the same thing on the other ear. And then when we go to attach to the head, it goes between the mouth and the eyes. I'm gonna put black on those eyes to don't freak. And I'm in a said that you're very carefully up and then set this one up. And then when you go to attach them to the head, take one of your paintbrushes or your tiny ball tool, and then just punch it in and you have an ear. Isn't it amazing how giving an ear something makes it look natural? Riel eyes, little tiny ball too much. The older I'm getting my vision is getting not so good. And it's harder for me to do these little balls perfectly in half. I don't I kind of don't like this growing old stuff. In some respects, it's nice. And others it's not so fun. Left I first because I'm right handed, then the right eye. And I'm going to use my ball tool to put him into place. Spread him out. I'm going to use my handy little smile maker to make ad wrinkles around his eyes, not eyelashes. Sprinkles. Okay, I'm gonna call Santa. Good. Okay, we got a few more minutes. What else can we cover here quickly that we haven't done? Oh, do you think maybe you could give us a tour of the ones that we haven't seen? Sure. And bring those up and talk about some some of the techniques that you might use for the for the other ones that you're not gonna get a chance to get. Okay, so the 1st I was gonna talk about real quickly is the ornament, and all I have done has created the little topper portion at a fund and do it up ahead of time. So it sets up a little bit. I just used a little flat disc, poked in some markings on the side, added the little loop at the top. And then, for the actual cupcake itself, I made sure I used a cupcake that had a nice mound on it. Put a nice layer buttercream on top. Cut an extra large circle because it will really take up a lot of your fund int and then smoothed it on. And then the thing that makes us the piece, that low restaurant or whatever, like it speak French. I'd be in trouble is I used blue pearl dust, and you can also use just the super white pearl dust. You could also use a pink pearl dust. There's lavenders. There's all kinds of colors that you can use, but the blue with the snowflakes is rather cool. I use the blue, found it on the base, okay, and then I just use my snowflakes with a little bit of the pearl dust on top in that fund and not hard. So the ornaments, I mean, I used to snowflakes, but you could use stripes or dots or whatever your little heart desires. This one. I used another type of texture ring from a light fixture and then just put on the stars with the glitter. Uh, the, uh, Rudolph cupcake is very similar to the cookie, except instead of shaping the faces a heart, I just faced it as shaped. It is a cone, and then I used a different color fondant on top for the muzzle. And again, if you get your if you get your pretzels right there. Awesome looking. Um, could you talk about the candle cookie? There's one person who is very, very interested in it. The candle cookie. Oh, I can't see it. So this is just a ball of white fondant put onto the background. It's purple and blue, mixed together with white to make it look like swirls of winter. And then the the um, the nose is just orange rolled into a carrot shaped and use your spatula. When you're rolling the carrot, just use your spatula and put a few little markings on it, so it looks like carrot. Make it a little longer than what you think you need, because then it will stick into the into it. And then for the scarf again, I just use some fonder and kind of wrapped it around to look like a scarf puts the markings on it. The hat. The hardest part of this little thing is the hat, because when you make a hat, you have to think about the brim and you're only you make more like a U shape as opposed to a whole hat. You make just two U shape. If you don't get the top right, add a band around it, and that will make it look good. Fun and glitter because it's got a sparkle, right? The little candy cookie again. What I did with this one covered the cookie on white, and I took it all the way to the edge or, you know, good as I could get. Then I cut out another circle in the red and use my sharp knife for my wheel and just cut those little circular shapes. And the trick when you put it together is to make sure everything meets in the center, so it looks like it's a twist that was a little more difficult than I thought it would be. A. That would be real simple, you know, and I think I might have to do math on this. Um, some of these cookies I used the lace like we did on the other ones and the holy the gold colors. A lot of it has to do with your color. What's you know, kind of fun and unusual. I did that for the stars. There's one hope. The turkey. Oops, I have a couple of turkey's here have several turkeys, I have a cooked turkey and I have a rock turkey. So this one all I did was the colors cut into the heart cutter and then molded a teardrop shape for the body and a teardrop shaped for the head and put a little point for beak on it for this cooked turkey. This is actually really fun to do also in Carmel. So if you molded on in Carmel and put it on because then it has that glistening baked look. I just shaped the body as a non pointed cone, all right then I did to non pointed cones also, and then stuff the pretzel onto either end. And then the stuffing is just broken pretzel, and you can see as many pretzel says you're breaking. You'll have plenty of stuffing. I added a couple of carrots to it just to kind of give it some fitting in and color there and what else? We've got this, this cookie here we I just had fun with it. The, um the a the the fall leaves. I basically did them in a yellow fondant, and then I brushed the green color on it and then brush the rid. But I used a vein ing tool, and banning tools are very cool. This is a vein in tool eso you literally it's Ah, tell me the name of it. Silicone. Thank you. It's a it's mushi. Yeah, it's a silicon silicon mold. They're very they're very pricey. If you're buying pre made, they're very durable. They're worth it. If this is something you want to dio Okay, if this is something you're not gonna do forever, you can also wash a leaf out of your yard and carefully do that another thing that makes a good vein. Er is corn husk. And if you know Husker ear of corn and then tape the husk together with, like, masking tape, when it dries, it will stay flat and you can keep using it. So there's I mean, you could buy some very high end tools. You can keep it very affordable. Um, one of the things I wanted to show you is that you can have really basic easy type of cookies and then just a few of the decorated ones on top, and it makes it look fabulous. The other thing, like I said earlier, is this putting them into a little bag with a bow and making it be a special gift. You could do that for Halloween if you wanted to. For the people who know you, you couldn't do it for strangers. They block you up for that. Um oh, the other thing. More cupcake things here for the pumpkins and the apples. I just shaped a pear shape or around shape. Use your the handle from your not so much that plastic one, but a nice smooth handle from your paintbrush or your ball tool, and you just it's very simple to do. It's so simple. In fact, let me show you. So I just take my ball, my dirty ball and I take my brush Start in the center Roll it down Now what I did with my pumpkin Once I had it done, I cut it in half. So I had one for one cupcake of one for another. Did the same thing with my apples. And I just took my green rolled that a little snake, twirled it around, put it on, took my brown, rolled out a little snake cut off one in the end it out. So I had the What is that called the stem. And the other thing that works kind of cool with Jesus if you I don't have the color If you brush a little orange color in there I mean, if you want to get detailed, if you're if it's not that big a deal, it's OK. You don't have to. So very simple, very easy tonight on the cookies that look like angels and candlesticks to those have any funding on them? Or is it just like a cookie cutter and the oh, these candlesticks? So basically all I did was I took my fondest, rolled it through my pasta machine. I took my cookie cutter and I rolled out my fund very thin. I don't like having the the Fonda too thick. Number one. Most people don't like to have that much sugar kind of just tracks, and it's also just more work and money for me. So I roll it out thin, cut it out, gave a little press to make sure I had all the invents, flop it out. And then I paint it literally with my food, color and vodka, and I use I use my palate, my artist palette, And when you mix it with the vodka and then paint, it dries quick enough that it doesn't melt your sugar, and it has to be vodka or some sort of alcohol. You cannot use rubbing alcohol. Rubbing alcohol is incredibly toxic. You will kill people if you use rubbing alcohol. All right, so think in terms of peppermint Schnapps or rum or something, but is good because it really has no flavor. Doesn't leave anything behind its evaporates. Great. Any other questions keep moving? Well, we've got a few things Teoh talk about And when we wanted to mention your DVD Beautiful borders. And if you wanted to talk about this for a moment, I know it's available through your website. It icis available from my website. Um, that DVD is great. I basically tell you how to prepare your cake, get it ready? Toe ice. How to decker how to ice. And, um not so much decorate as much as I talk about Borders. My borders I started doing and I become well known for when I broke my ankle and I was still having my bakery and still having to produce cakes. And I discovered that while I had this broken ankle, if I was working on a border and sitting on a stool, I could sit. I wasn't standing, so I started playing a little game with myself as to, um, how many tips I could use to create a border. The other thing was right about that same time as we start coming out with all the lace mold. So we were putting all this beautiful, elegant lace things onto our cakes, and we were creating shell borders, which are pretty dull. Um, Shell book and that's the other thing I do in the DVD is I talk about how to do your basic shell border, your zigzag border, your star border. So I do real basic stuff, and then it goes clear up to pretty advanced stuff and the awesome thing about it. Of course, you can stop and pause and take a closer look at it. Um, again, it's kind of jumping or starting point for you. It's not the end. All be all, I always think. Think outside of the box, think outside of the box. That's kind of what I was trying to do today to right now. That's a start here. Think. Outside of the box on Ben. I know you've got a bunch of workshops you do in the Seattle area, and then you travel for them as well I do. I travel a lot. My next class is scheduled for the 28th. That will be the point, said a. A class will be doing gum paste. Point City is, and that's here locally in baffle Washington. The next class I'm doing after that is in Orlando, Florida. You're gonna be a little bit warmer for the winter, asleep for a little while. Usually it rains, but that is very cool. I get to teach Disney chefs while I'm down there. Anybody who would like to go to Florida is welcome to participate in those classes. They have all kinds of artists that come from all over the U. S. To teach there. Um, I'm trying to think what the name of the connection is. I'm not remembering right now. That's horrible. You'll have to check my website. Okay, but the details for those upcoming workshops are your website. Okay, great. Yeah. And then I'm also scheduled to be teaching locally again at Green River Community College. So lots of things. And if you want me to come teach, I'd be happy to. I know how toe. Well, I know our audiences enjoyed this, so I think they're ready to have you back. I'd love to see if our students in the studio could hold up one of their pieces because the internet's like, how did they do? How they dio We're gonna have our cameraman just pan through. So grab grab one of your pieces that you like, and, uh, show it up. Uh oh. Look at her kid in Santa That's adorable. Very nice. Good wrenches. Still Christmas. This is supposed to be good job, guys. Nobody was snacking. It's amazing that way. I've been here for three hours and not snacked on anything yet.
Ratings and Reviews
Great course!!! I had alot of fun and learned alot too, thanks I hope that there are many more of these courses in the near future :)
Bonjour! thank you for the course, it's awesome!!! there is a way to have the fondant and other recipes? thaks a lot for sharing!!!
Student Work