How to Make a "Brazelton"
Genevieve Brazelton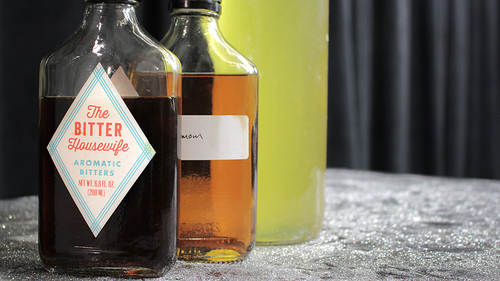 How to Make a "Brazelton"
Genevieve Brazelton
Lesson Info
6. How to Make a "Brazelton"
Lesson Info
How to Make a "Brazelton"
in September and October, you'll often see, uh, green walnuts in the farmer's markets around here. And I make ah, booze called No Chino, which is made out of green walnuts. You can also I have some, um it looks very unimpressive cause it's just really dark black. Uh, but it is vodka based with the green walnuts, little bit of lemon rinds and, uh, some cinnamon and allspice. I I like it a little spicier, but I also don't go overboard with cloves and nutmeg in all of that to have seen varied recipes. But, um, it's a really nice, um, simple infusion to ah, you do at a little bit of sugar because it is more of a look your But it's a great, totally unexpected gift to come. And do you drink it on its own or over ice? Uh, actually, that's another cocktail we can make. Um, you can drink it on its own. Uh, I a little chill, but I wouldn't actually serve it over ice. I would just chill it down a little bit. Um, because you also don't want it to cold. This is one. When it is warm, you're going to...
get more of the flavors out of it. Eso just a hint of a chill or, um, my husband decided when we first started dating that he wanted, um, he learned a cocktail named after him. He wanted a Brazelton. So, um, I spent about a year trying to come up with a cocktail for him, actually, something I should I should. I meant to add to the block, and I never did. I wrote a spoken word piece about it, actually, because it was a had a great opportunity to dio let quake up in Seattle. Um, and read it. And, um but he said he wanted something, um, old fashioned, uh, something that reminded you of smoke in leather. Um, and he gave me nothing else to go on other than that and that, and I know that he really likes bourbon. So I figured I would start their, um and we came up with, I think I ended up with three or four different versions. That was, you know, had him taste. And I had this coffee bidders that I had made, and we're trying to use it, and it just wasn't working with the bourbon, so I went to rum and was playing around with bad, And it was better, but still not quite right. Then I decided to make a drink out of bourbon and really strong black tea. Um, a little bit of a molasses syrup. I made it pretty much like I made a simple syrup, molasses and water just toe thin it out a little on. And, of course, my homemade bidders. Um, and that was pretty good. He was liking that, but he still wasn't quite sold. And I hadn't made a batch of Mendocino, and it was ready. And we had some friends over for dinner and And a dinner. We're all sitting around. And, um, he was like, Let's have a dessert cocktail, You know, of course. Looks at me like I don't What do we have in the house? And I'm like, Oh, no chinos done. Okay. Uh, so I did equal parts, um, bourbon and no Chino gonna go a little smaller on this. So do you announce this would be a great, um, a great batch cocktail. Also, because you can just You can, you know, you can make up a bunch of it much like the old fashioned army. Sorry. Much like the Manhattan, there's no muddling or individual glass things, so this would work well And no, Chaigneau, you can buy it most higher and liquor stores Cask in the city is awesome. Dnm liquor Also up on Fillmore has you probably be able to find, uh, some either of those places. Unfortunately, booze is not something you could buy online. Otherwise, I would tell you just to go directly to websites. But, um, locally, there are two producers to search for. Sharpay makes a really great no, Chino. It's a little less sweet, a little more bitter than the other one that I really like is Della Christina. Both of them are made out of Napa. You know, they're they're using local walnuts so you can find this. Ah, you can probably also find it in many bars. If you just wanna try it, ask him if they have any new Chino. But, um, so friends air over and we needed a desert drink. So did ah, equal parts. No. Chino and bourbon. And then, of course, had to add a little bit of my bidders. And I actually, um, I sent the ice back. But I actually shook this one up so that you would get you would actually get those ice Christmas, and it would froth it up a little bit because otherwise it's not all that pretty in the glass. Um, but I would serve this up, um, in a martini glass or those lovely coops up there generally what Dan gets it in at home. And, of course, because he absolutely loves the brandy Cherries that I make. We have Teoh drop of brandy, cheering it. But I made this and I sat down for at the table and he took one sip and he was like, That's a Brazelton year on and it became that simple. But that is his. His signature drink there now exists a Brazelton in the world, and he's very happy about it. So, um, but there's a lot of you have a question. How do you prepare the wanted? So I grew up in Kansas City, and my parents have three green walnut trees, really backyard and the pain of our existence because such a pain to clean up, but I want to make yeah, you know. So you want them when they're still green and soft. They need to be a soft enough I so that you can actually cut through them. OK, eso the walnuts air really weird and that they have an outer husk that grows actually around the shell that you generally see in the store. So while that shell is forming, it's actually soft enough to just cut through with a knife, and I just quarter them. I would highly recommend using gloves when you do it. Otherwise, you are going to end up with black fingertips for about a week. I did that. Um, it it is, Yeah, this this is vodka and green moments and it is black, black, black. So you want to get from farmers markets? Have you found other sources? Maybe online? I have not got anything online, but I think you know, if you're lucky enough to live somewhere near where they grow walnuts, call up one of the orchards and ask him because they that's actually what I ended up doing, cause I this is another one of those. We made five leaders. I got £10 of green wolf. It's so you probably have even more to work with. So on day you'll find varying recipes. But I just I called up a guy that I actually was getting my wellness for my bidders from and said, Hey, it's that time of year Any chance you've got some green moments you'd be willing to give me and was like, Yeah, sure how much you want So he showed up with a box for me, but I have seen them in farmers markets. I've never seen them in grocery stores, so it's It is definitely a specialty product, But if you can get your hands on some or you know somebody who's got a walnut tree, tell them you want the green models. They will happily give them to you because everybody that I talked to who has a lot of trees like these things are horrible there because they start to rot in their black and the squirrels take them and they're just a mess. So you can grow anything. Yeah, because they're really, really tannic, really tannic eso there just yet, but it's just the just quarter. Throw him in with a little bit of spices. You confined off your no in the whole thing just quarter, but just Quarterman throw the whole thing in a big tub, pour the vodka on and add the spices and you'll find many recipes online. I definitely go for the ones that are again less of the sugar, a little bit more spicy. Um, the one that I did also had a little lemon peel, and I let that sit for about a month and 1/2 and then added the sugar and let it sit for another month and 1/2. Ah, and again that second month and 1/2 was really just actually pulled all of the world that's out and then just out of the sugar. And that is really just letting all of the flavors milled. It's mellowing it out. Um, but it's Ah, it is an awesome thing we gave we Dan was willing to part with some of it and gives him to my father last year for Christmas that he loved it. So this year we have much more. He was very reluctant to let me bring this, but I brought it and you guys can all taste it. So walnut, lowly says east of the Mississippi. Are we talking about black walnuts because they have the green hus, but the blacks shells inside. They are not the same. Although I have heard of people using black oneness for four. I don't know if they're still calling Pacino or something different. But there is a black woman that look here, the green, well knit, the know Chino that I make is kind of, ah, stem from the Italian tradition. And so it's what you see a lot in California. Um, I would do a little poking around, but I bet you could come up with something pretty similar because I have heard of people using black walnuts for a liqueur that comes out pretty, pretty much the same flavor. I think it's a little a little sharper. You might want to add a little more sugar to it, cause the black woman seemed to be more tannic. But, uh, yeah, different locations. I've I've definitely heard of the black walnut trees, and I want to try it so well. Michelle says she has both trees, and the black walnuts are really messy. But then she's laughing and says that now she's gonna have to fight the squirrels over the wall tree, and they are sorry. Squirrels it's worth it because you yes, you will. Suddenly, now you have a new use for them. You won't hate that Trias much, and all of your friends are going to love to come over and taste Your know Chino so And it's always, you know, it's that it's in the beginning of fall that they're they're green but not quite ready. And then the booze is ready. Read about the holiday time, so it's perfect timing. Have you experimented with any other types of nuts? Have you tried Armand or or even become? That's very similar to a war, not of flavor. I haven't four for Infused Liquors, but I was I did do pecans when I first started doing my bidders, Um, and I ended up going with walnuts for two reasons. One cost when scaling up to try to actually, you know, sell to the public Pecans become prohibitive very quickly, Um, but I also the walnuts are a little more bitter. They're not a sweet is the pecans, and I liked that bitterness for the sake of bidders. But I've heard of people doing like pecan bourbons on, and I I bet you it would work I would almost do more of ah, toast the pecans a little and try them in a bourbon or maybe even a rum. Um, something that is already a little sweet, uh, and probably try for a couple weeks, But I bet you'll get a really subtle but a nice, um, just different flavor profile than you would otherwise. So, yeah, there's some all sorts of fun things you can do with with infusions. I'm sure I could continue to talk about, boost for forever and show you more cocktails and all of that. But I wanted to make sure I got all of your questions about your Mason jars in front of you as well as you know, the general audience. If there's, there's anything else about playing with infusions at home or how to use them or even some great gift ideas, too. So, yeah, I had a bourbon drink that had Earl Grey tea, and I'm wondering if you've ever if you do tea infusions or how do you make a drink like that? Do you make the tea separately? I think there's two ways you could do it. Um, I have done it by infusing the tea leaves into bourbon before. Actually, I didn't like that as much because it's really hard. Teoh not get the tannic out of the believes. So what I've done is actually just made a really strong black tea. I didn't necessarily let it sit for a really long time. I just put a lot of English breakfast in the hot water and made, you know, like four times the amount that you normally would and used, Um, you know, announce or less And it it's subtle. But it that was one of the versions of the The Brazelton that we did did have the strong black T. I think I actually ended up making the molasses syrup with the black tea like it was made the strong tea and then use that thin out the molasses. And that was the sweetener. Some somewhere there's like notebooks of notes of all of the different cocktails that I came up with and exits through the ones that he was like, No way so more from you guys have a quick question. How do you keep track of your notes when you're tweaking things? Do you have a system we would love to know I have a really archaic, horrible system. I love writing things down, just pen and paper. I've got tons of notebooks, and most of my notebooks actually have sticky notes in them. Teoh, Um, because I'll write down an original recipe and then I'll try a variation of it, which I'll put on sticky notes and put that next to it. And if I don't like it, then I I just move it away on. And then, you know, my notes have notes on top of them. I'm not very scientific when it comes down to it, but I do make sure to always right down the recipes. It's one of the things because you're always gonna want to go back or just adjust something slightly. And it's hard for me cause I'm a I'm a cook. That a little of this, a little of that, and I almost never measure anything, even just making my cocktails. I very rarely use one of these drives my husband crazy because he wants to make something, and I can't tell him how to make it. I have to do it because he thinks it's It's my ulterior motive to just you know, Have everybody be like, you know, only Genevieve can make it this way. You know, it's just God, but I do try to be really good about, especially with the bidders. You know, every time I make an adjustment, I you know, I write a version and a date and and write down everything that I've done, especially even if it is just a slight change of, you know, I added a little bit more of this or a little less of that because there were to get to the bitter housewife. There was at least five or six versions. So I had to, you know, and some of it was just the difference between I took out orange peel and I changed it toe walnuts instead of pecans. So, yeah, I have a question. Come in from Snappy Gourmet has been with this stuff has been asking some really is really great. And they really a gay. So thank you for all your comments and questions. They're asking when you're using fresh fruit, do you have to let it sit for a few weeks? Perhaps they've heard that fruit will go bad after a few days. Course container to perhaps explode from gases If you have a top on the Buffel, I don't know what happened in that was happening. More in fermenting, I think. Yeah, in the if you're putting the fruit in, uh, in a liquor that's at least 80 proof. I wouldn't worry about that happening. Um, I'm trying to think I've never had anything explode. Um, that I wasn't expecting. I did make ginger beer once, and I did have that explode, but I was purposely fermenting that and it went a little overboard. But I think the fruit being covered by the alcohol is probably the thing you have to worry about the most if for some. Sometimes when you start doing infusions like you can see, um, pointed to the other side. You can see that the lemon peels air floating to the top. They tend to do that in the beginning, but as they get more drenched with the alcohol, they will start toe sink down to the bottom. So I would think, if you know, if you're using fresh fruit, just be aware that if it's been a few days and they're not sinking toe, just, you know, do a little stir to make sure they're getting coated with the alcohol. Um, otherwise, I mean 80 proof vodka is enoughto kill pretty much anything, so long as you're keeping an eye on it. But yeah, definitely good to be aware of fresh fruit, not making yourself or anybody else sick. And then just some recommendations on using sage as an infusion. How would you I Would you? Yeah, I haven't played with sage so much with alcohol, Definitely in food, you know, doing sage butters and even sage vinegars. Uh, so I don't think it would be much different. It's Ah, it's a more subtle flavor. I think, um, I would wonder about how it how it would actually pull out of the how the liquor would actually pull the flavor out. And if it's something that would stay just as an aside, I have done basil tinctures took ever clear water down to about proof and put fresh basil in. And I got this gorgeous after about two days, got this gorgeous bright green liquid smelled great, worked really well for about a day or two. And then after about the third day, the color had changed to a much more brown and the flavor was gone. It had just dissipated. Um, I don't know enough about clients to explain why that happened, but I could see Sage being a similar thing. So I think that's something ah, great flavor to play with. But be aware that it might be very temporary. Ah, you might just need to do it for the drink that your that you have in mind for the stage. So? So, if you're doing like a rosemary bod Carson for the first time, what size would you start with you? Would you start with, like, a mason jar the size or something more long line to the bitters? Just like How much do you need to have like flavor, right? Yeah, I when I'm playing with something that I really want to make cocktails out of as a base spirit, I start with a cup or two, which what you got in front of years, two cups. So that's you know, that's what this is. It's a it's enough that you can really play around with it and not feel like it's too precious. But if I'm I also do make sometimes just the small little tinctures just to see what something tastes like. Ah, like I did with all of the bettering agents, I made little tinctures, and I actually tasted them all. Um, it was a somewhat painful experience, but I know a lot more. Um, I've done it with black pepper and just wanted to see the difference between, like, cinnamon and Cossio chips, which are in the same family. But they're different. And in those cases, if I'm just trying to figure out flavors, I use, like, 1/4 of a cup, just enough so that you can, you know, have something to work with. But I end up throwing, like, 2/3 of it away to, or you never know. You might end up with something awesome and, you know, then you make make one drink and make more of it. But, um, yeah, I think when you're just playing around, give yourself a cup or two. Um, so you do have enough to play with, But don't don't start with the leaders until you know it's what you want
Class Materials
Aromatic Bitters Recipe.pdf
Ratings and Reviews
Many home producers don't keep track of recipes and then try to go semi-commercial. We deal with these folks all the time when they need to know the proof of final product or sugar content/calorie values. They need to register with the Tax and Trade bureau and test regularly. Limoncello and Apple Pie the most common products. Seek advice if going commercial or even selling small batches to friends. A no-no unless you are registered.
Student Work