How to Make Limoncello
Genevieve Brazelton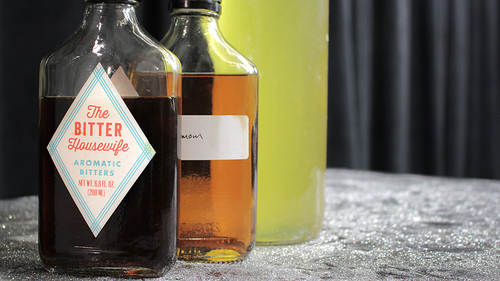 How to Make Limoncello
Genevieve Brazelton
Lesson Info
4. How to Make Limoncello
Lesson Info
How to Make Limoncello
onto liquor infusion switch again, make awesome gifts for the holidays, and I'm gonna teach you how to make limoncello, which is a really simple, extremely tasty and can also be modified in a bunch of different ways to. And then we'll talk some more about just other ideas for liquor infusions that make great gifts. But first, just limoncello in general, if you're not familiar with it, is basically it is just a lemon infused vodka, a little bit sweet, but really nice and refreshing. The first time I had it was traveling in Italy in a little town called Rima Jury, but it's part of the *** with terror on the Mediterranean hit sound. It's as lovely as it sounds. And I was fresh out of college, and we're backpacking her way through Europe and found this town and then found this bar and made friends with the bartender and turns out his mother made limoncello who lived right across the street. And she made it all for the bar and pretty much everybody. I had some limoncello every evening after...
dinner. That was, you know, you saw it on all of the tables, So, um, it's a It's a great drink just on its own. But it also really works well to make some nice lighter. Um, festive drinks too. But, uh, so we'll start with that, and then I'll kind of talk about how you can turn it into other things, too. This is gonna go really quick because it's really simple. We do have just one modification for you guys at home. If you are able, Teoh, do this in the kitchen. Uh, definitely want to do this on the stove, and I'll talk about why, but since we don't have stoves in front of us, we're gonna do a little bit more of the makeshift version of it. So, uh, you guys, we're gonna take you have everything all prepped in front of you. So I'm gonna do some of this while I talk. But, um, you want to start with two lemons and you want to take Just take that rind off without the pith, try to leave as much of the white behind as you can. A little bit is not a bad thing, but what happens is the white part. Not only bidders, the limoncello, but it also adds for more just sediment to filter out later. But I use the potato peelers mostly because it's quicker, Um, and it really doesn't change. But you will see some, uh, recipes where they say two Great it. It's a little easier to stay away from the pitch that way. But then you have all of these little teeny pieces of Rhines that are much harder to filter out, so you don't get as clear oven end product. So either way, if you have a lemon zester and you want to use that, go right ahead. But this is my shortcut. When my husband decided that we needed toe, have lots of limoncello in the house, and I was making five leaders at a time, Um, I was not going to zest all of them, so you can have him to thank for the quick and easy method. That's that a lot of the holiday booze projects that I dio come in five litre batches, so I've learned to do a lot of things quickly, and if you're watching at home, I'm actually taking a bit more of the pith off than I want to. But this peeler is extremely sharp. It's making me realize the one that I have at home is really dull, so it's cutting little deeper. But, uh, be just it's certainly nothing you need to worry about. But, um, if you continue to to do it, um, and you find it's a little too bitter, you can always just add a little more sugar. Teoh Balance that out. Now. Does Limoncello worked with any of the other Citrus? And you make oranges, cello or Mandarin cello or any of the you certainly could. I know a lot of people actually make limoncello with Meyer lemons, and it's, uh, I've done it and it's really a matter of you know what you like best hand. I would also caution that it's definitely depends on the lemons that you get. I've had Meyer Lemon limoncello That was really great. And then I made some myself, and it was really floral, really perfuming almost. I didn't like it at all, Um, and it was even, you know, hard for my husband to during two. That was a little bottle that sat around the house, the longest. But I have heard of people doing orange or doing a mixture even just more of, ah, Citrus cello, A little bit of great fruit, a little bit of lime, um, it all same kind of idea. And then I'm gonna talk about another variation of the limoncello to a non orange brandy, so just make sure you stay tuned for that. But so, between my lemon taste in a regular lemons, Meyer lemons are actually a cross between an orange and a lemon, so they are not quite as sour. They're definitely sweeter. Have a darker color to the flesh of the limit also, and they can have that really floral flavor to them. But a lot of people like them because they're not a sour, their little milder, so they're much easier to use, and you can use more of them to. But Andi, I like them for a lot of things. But for me, the limoncello didn't work so well. But I also I don't like that perfume e flavor, and that's actually something that often comes through and wine that people either really love or don't like it all. So that is definitely a personal preference, and also the sweetness of the Lemonis well, right that would affect the sweetness of Yeah. Of the end result. Yeah, definitely. If you're using Meyer lemons, you may want to back off on the sugar, even even a bit more, because you'll you are going to get a lot more sweetness out of the juice or even how ripe it is, right? Yeah, Yeah. I mean, if you're going, you know, ears, standard grocery store lemons that maybe even have just a little bit of green on. Um, er, you're not getting as much juice. You may wanna do the sugar a little bit more and limoncello while it should age, which I'll talk more about. It's ready as soon as you're done with it, so you can taste. And if it's not quite right, you can adjust the sugar. So, um, and for the folks at home, what you should be doing, which I forgot to say. Not that I don't know how many of you are in your kitchens with your computers, but put the lemon peels in a small saucepan. You want to be putting all of the ingredients, and I'm putting into a jar into a small saucepan. So we're going to start with the lemon peel and, uh, one cup of sugar, which I know seems like a lot. But trust me, um, when I make my big batches at home, I'm using, like, five and six cups of sugar, and it's kind of crazy, um, and then still into your saucepan at home. But here, we're doing our our jars. You're gonna add two cups, double the amount of sugar of, um, of just amusing, a really cheap Russian vodka. I've had a lot of people ask about the quality of the vodka for making limoncello, and I can honestly say I don't think it matters. So use whatever fits into your budget. Use whatever you're comfortable with, and I would really steer you away from using expensive stuff because you're covering up so much of the flavor it doesn't. Does it make a difference if you're using hyper vodka or just a regular proof vodka? I guess I've done research, had done research and had recommendations for hyper well. And there's a there's a lot of debate. There's probably as many versions recipes for limoncello out there. As you know, there are people who make it so some people make it with ever clear, make it really high proof and then water it down because they're they're not only adding lemon juice to water down, but they're also adding a simple syrup. They're adding sugar and water. What I do is add the, um, sugar directly to the vodka. I never add any water, so I use an proof vodka, give or take and not the proof that it stays so you can still sip it. It's not going to burn your your throat when you drink it. Um, it's quite pleasurable. I've had some limoncello is that are pretty strong and you, actually you can just barely sit them or you even do want to add a little soda water or something. And that again, I think, is really a matter of taste. But I want something that's really nice and easy to sip on. So I go with an 80 proof, but I dont water it down so it still has a kick to it. So at home, what you're gonna want to dio all of this is in your saucepan, and what you guys might want to do when you go home is take everything that's in your jar and just heated up lately. I just want to put it over a medium heat. You don't want to bring it to a boil. Um, you definitely don't want to get it over 120 degrees because that's when the alcohol starts to burn off. But trust me, it takes a while to get to that point. So you don't if you have a thermometer, great. Test it. But you don't have to be hypervigilant. All you want to do is just dissolve the sugar. But what you also can dio in this case, we're gonna kind of do the bm Uh, you know, cheat way is if you were just to leave this, it will eventually dissolve as you shake it, What it's gonna take some time. You guys were gonna walk out of here today, and it's still not gonna be dissolved, so I would recommend going home and just heating it up a little bit just to finish dissolving it. Um, just cause then you're gonna end up with a better product at the end flavour. If you heat it and then just leaving it. Think you do hear the main difference? That's gonna happen. That what we do and what I would recommend doing at home is I would recommend at home you heat it up. Um, as is notice you haven't put your lemon juice and yet you heat it up, just the sugar and the lemon peel and the vodka and dissolve the sugar. And then I let it cool a little, but not all the way. And then I add the lemon juice so I'm not heating the lemon juice. And also, I'm not losing any of that brightness. If you do it this way, you guys are gonna heat the lemon juice a little so you might lose a little of the brightness, but it's it's gonna be minor. So I think, you know, for the purposes of today, you're still going to get up a pretty awesome in products. I wouldn't worry about it too much, but at home, the idea is that you will simmer this actually not even summer heat. This try not to bring it to a boil just until all the sugar dissolves. As soon as the sugar is dissolved, take it off of the heat, let it cool for maybe five minutes, and then the lemons that you had taken the peels off of. Then you're gonna add the juice into the the mixture. You guys already have your juice, so go ahead and throw it in there, and that will also help the acid in the lemons also help dissolve the sugar for you guys to. So my husband and I found one and their spot variations on it, but it really makes a difference. Tohave it. It does. They're fast. They keep all the seeds out of whatever you're doing most of the time. Occasionally you find that really teeny seed that can slide through those holes. But, uh, yeah, they're fast and they get most of the juice out. So much easier now, is there a specific reason why the juices out? It's so much later than the other ingredients. I think it's mostly so that you are keeping as much of the freshness of the juices you possibly can eso that you're not cooking the lemon juice because Citrus, if you've ever cooked with Citrus when you heat it up, you probably noticed that you lose some of that brightness of the acidity when you heat it up. So this is just to keep this nice and fresh and bright. Can you put a mason jar the mason jar in the microwave? That another way to heat it up? I don't know. I'm one of those strange people that does not have a microwave. Well, the job would certainly go. That wouldn't be a problem. But whether it then would be to rapid in terms of I worry that it would Yeah, boil it and that you don't want to do because then you're gonna lose the, um you're gonna lose a lot of the alcohol, cause it'll a soon as you get to 120 degrees. That's when the alcohol actually starts to evaporate before the water evaporates. So I wouldn't you know, it takes when I do my batches of, say, five leaders, the sugars resolved in 15 minutes. It doesn't take long. So So that's obtuse grapefruit. So the note is, uh, get out your pans and blow the dust off. Yes. No microwaves here. Come on. We're doing this all old school. So, um, so if you were at home, uh, once it's cool just a little bit and you add your juice. Uh, put a lid on whatever kind of container you're using. Mason jars are awesome. But anything that you can put a lid on just so that there's no, uh, you know, no fruit flies end up in it. No doll stones up in it because you are gonna let it sit for a couple of weeks, but this is pretty much it for the limoncello. You let it sit again in a relatively cool place, ideally, not right in the sun. But I have, you know, a small kind of pantry down stairs just in the main floor of the house that I put it all in and, you know, it's still heated the same, and everything turns out just fine. And at this point, you can taste it if you're unsure about how much sugar. Or maybe you don't like very sweet things. So you backed off the sugar and you want to make sure it's still gonna be sweet enough. I'll tell you that. Um, the original limoncello recipe that I used to make this is half the amount of sugar that I used to make. So I've already backed it off a fair amount, cause I don't like it really sweet. and syrupy. But again, the sugar is totally up to you for what your taste is. So you may want to add a little bit more. People have also asked about or I've seen people dio adding some fresh herbs at this point to a little bit of rosemary, Um would be really nice if you want something that's a little more savory. But that's also, you know, probably limits the way that you use it a little bit more. But if you you know, you've got some and goal, a little fresh basil would be really great. Two hour you could even add buries some fresh raspberries or something for just a little hint of a different flavor. I should just come in here, General, just say something really important. If you are going to put your job in the microwave, you cannot put a lid on it. No, no, no. Because no matter what explodes, but it sparks all over the place. They stay away from the Michael I wake up in a jar itself is actually microwave safe. But if you have the john it no, you're going to not only set off the microbial also gonna cause an explosion when you try to take it off and then you'll have to use your pants for everything. Oh, no. So then let it sit for about two weeks. But really, all that it's doing is the flavors or just melding. It's not going to change drastically. What it's going to do is kind of mellow out. So, um, and I say at least two weeks, but it can go longer on the flavor. Dozen changed drastically if you let it even go for two months. Say, um, but I would recommend at least the two weeks, because if you were to taste it right now, it's tasty. Uh, but it's gonna feel it's going to seem a little harsh. Um, and it's just gonna balance things out. So when you're two weeks are up, just take this and you're gonna use your handy dandy cheesecloth again. Um, I'm not gonna go ahead and strain it, but what you're gonna end up with is something that looks ah lot like this. Um, no orange peels in it or Sorry, no lemon peels in it. Most of the, um, the pith and whatnot is out, but it still does get a little bit of cloudy nous because the vodka does break down just some of the fruit peel. So, um, don't be concerned if it's not perfectly clear. Plus, you just you know, you put lemon juice in there, too, and that's got some some fruit bits in it and what not? But there's enough alcohol in here that you do not need. Teoh. Refrigerate it. It will keep in a shelf just like your vodka would, Um, but it's definitely most tasty when it's chilled or throw it in the freezer. It is vodka, so it won't freeze. But you'll get a nice, chilled, cordial, um, going back to kind of the the holiday gifts. Um, another thing is the, um, you know, technically, you should be drinking the limoncello and in about an ounce to two ounce serving size, my husband has a tendency to fill a wine glass. It So, um, lovely little cordial glasses also make a nice gift to go along with the limoncello
Class Materials
Aromatic Bitters Recipe.pdf
Ratings and Reviews
Many home producers don't keep track of recipes and then try to go semi-commercial. We deal with these folks all the time when they need to know the proof of final product or sugar content/calorie values. They need to register with the Tax and Trade bureau and test regularly. Limoncello and Apple Pie the most common products. Seek advice if going commercial or even selling small batches to friends. A no-no unless you are registered.
Student Work