Limoncello Discussion & Other Cocktails
Genevieve Brazelton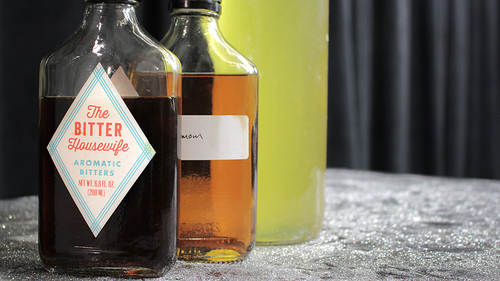 Limoncello Discussion & Other Cocktails
Genevieve Brazelton
Lesson Info
5. Limoncello Discussion & Other Cocktails
Lesson Info
Limoncello Discussion & Other Cocktails
but I want to go before I get too far in tow. How you use it, just some other ideas of ways to use that same kind of concept and infusions. In general, liquor infusions are really just putting something in a base spirit and letting it sit. Eso that your infusing a new flavor into it. And I have made the limoncello the same recipe. But I used brandy instead of the vodka, and I used oranges instead of the lemons, and I made an orange brandy that turned out wonderfully. Same idea, actually backed off on the sugar a little bit more on this one. I'm just cause brandy has a natural sweetness that the vodka doesn't and the oranges also what the same idea. And that turned out great. That was a gift for my aunt's one year for Christmas. Um, I also make a spiced rum. Uh, this I don't add any sugar, too, but take a nice aged rum that's got that dark brown you know, caramel flavor to it and add some cloves and nutmeg and cinnamon and let that sit for I'd say, start with three or four days. Um, and...
think of measurements along the lines of a teaspoon or two of each of the things. If you're using, say, a 7 50 or one leader sized bottle, Um, and after three or four days, taste it. And if it's not a strong as you want it, let it sit a little longer, but start slow that way. You know, you don't end up with something that's just so infused that you can't drink it. Um, I've definitely done that by accident. I made a cardamom vodka. How I learned how strong cardamom actually is. I put about two tablespoons of cardamom. Doesn't seem like a lot in ah whole leader of vodka. And I let it sit for actually three days, Um, which also doesn't seem like a very long time. It was almost undrinkable. It was so strong with the cardamom, just the spice was overwhelming and almost numbed your tongue. Eso I ended up doing it again, but backed off not only the amount but ended up like three or four hours. Ah, and that was the perfect timing. But in the case of a spiced rum, you know, if you're using, uh, cinnamon and nutmeg ginger, uh, those air. Pretty subtle spice is they don't infuse quite so much, especially if you're only using a teaspoon or so are, you know, one or two cinnamon sticks. Ah, throw a another vanilla bean in there. That's also great. Um, and you can do stuff like the single infusions, like the cardamom vodka. Or I did, um ah, brandy with vanilla and black peppercorns. So you got a sweet Anna Spice, and it was just really nice to sip on its own. And I didn't add sugar to any of these, so they were meant much more just to either have as a cordial or to use and cocktails. They weren't quite as a syrupy inn and suites as as a look. You're so Genevieve. You're talking about infusions, and I know that there's always room for a great garnish. But what do you think about, or how would it work for things like lavender, basil, rosemary? We had this fantastic fruit salad at lunch that had meant in it. Yes. So what about stuff like that? And that's that. So what I was talking about maybe adding the Bassler, the rosemary to the limoncello. Another way to go about it is to do something else and, you know, go that direction of you. Just make the limoncello as it is, because it's fabulous. But you mix it with a little soda water and, um, and then put a nice a sprig of rosemary. And if you take the rosemary and even just squeeze it a little over the glass, you're gonna get some of the oils that just will drop on the top, and it's just enough to give you a hint of that. But it won't overwhelm the drink, and we also can smell actually much more than we can taste, So to be able to smell it almost is as good as tasting it. It'll seem like you're tasting it. So, um, everybody sense of smell is much stronger than there. Their taste. But again, with I mentioned the raspberries, too. That's another you know, a champagne glass with a little bit of the limoncello and soda water or sparkling wine and drop a couple raspberries. They'll actually with the bubbles, float to the top. Looks lovely. Pomegranate seeds are a great one for holiday. Garnish is, too for the same reason. Um, you I love him because not only do they look pretty, but you don't get the flavor unless you bite into them. So if somebody doesn't like it, it's more of just a pretty thing. But you throw him in in any kind of sparkling wine, and they float to the top and they kind of bubble around. It just looks really pretty in the glasses. Um, pressure. You know, all sorts of fresh herbs make really nice garnishes. I tend to be a simple, you know, Um, go for a cherry, go for just a sprig of mint. But there are a lot of fun. Things you can do with garnish is how do you know when, Perhaps when you when you taste the limoncello, whether perhaps has gone bad, whether hasn't worked out or does that? Is that really impossible? Or is that something? And if it has gone bad in any way, is there a way to rescue it? Or if you really just have to dump it and start again? Well, I can honestly say I've never had a batch go bad, so I think it's probably harder, uh, to make happen. Then you think. But it's, uh, it's There's enough booze that it's not gonna go bad in the sense of going turning off to the point of making you sick or anything. But I could definitely see that you could add too much sugar. Um, and it's just it's too hard to drink as is, Um, and you could always then I think at a little bit more vodka and adds more lemon juice. Um, you know, maybe you went too far on the sugar. So you look at the volume that you have, and maybe you add half that much more vodka to it and add two more lemons. Um, and you can come up with something later and brighter. But I could also see it going. The other way to is your lemons just work way more sour than you thought they were. Or you were playing around with a, um, a Citrus cello. And you put too much lime and it wasn't quite right. And throw some orange juice in there and some orange peel and let it sit a little bit longer. None of this is science. And, uh, you know, the first limoncello I had was made, Um, by, um, you know somebody's mom in his kitchen. She was also buying grain alcohol made from somebody up the street on the lemons that were grown up the hill. And it was I'm sure it was, you know, same thing she had been doing for 50 years and there was no precision to it. It was a little of this, a little of that, and probably every batch was a little bit different to as her mind. I mean lemons every time you buy the lemons there different summer sweeter, summer juicier. Um, so you always It's always gonna be a little bit different, but, um, you work with work with what you have and make a few adjustments if you need to. But, um, it's like this one actually is, um, particularly dark in color, and I couldn't tell you why. I think it's probably because I bought the, um lemons, you know, really nice organic lemons at the farmer's market. And they were really right. So the skins were a little bit more of this, you know, really dark yellow. And I let it sit a little longer than I normally do, so it just pulled more color out. But it tastes just the same. But you put it next to a bottle of a batch that I had made before. And it's, you know, two shades darker, and I have no idea why. But you taste them side by side, and they're pretty similar. Pretty good things about you. Make it a time. Yeah, I think so far it's been about five leaders. Seems to be in my, uh, my top batch. We tend to buy booze in the 1. liter bottles, especially when I'm doing projects on about three of those ends up five and 1/4 leaders. So I'm always got the big saw spots going. A flavor profile if you make a really large batch, or is it better to make smaller batches with something like the lemon cello? I haven't noticed a difference. The bigger the batch that I've made when doing the bidders. Uh, when you do get much bigger batches, you do have to start to adjust the bettering agents a little bit cause you want to go down. Actually, because I have found like, you know, now that I'm starting to think about mass production, I've gone from, um, making two cups, like half a leader to leader at a time to now making 20 leaders at a time, and it ends up more bitter, so you're probably never going to scale quite to that level. But, um, if you dio and it's it's something like, uh, something that you're using that's really strong. I would always err on the side of going, Ah, little bit later handed. But, um, from from doing, you know, a batch like you guys have its two cups Teoh five leaders, the only thing I've done it all is back off on the sugar a little bit. Mostly because I was horrified by the amount of sugar that I was putting in. I couldn't quite adjust to the fact that I was putting like cups of sugar. And so, uh, but it, you know, it's, uh, otherwise. I didn't notice a difference when I scaled up, so let's just quickly also students. Have you actually made any of these infusions before? We have made limits. Other before isn't even a new drink for you that you haven't experienced before? They're working very guilty. I limit total before, but it was a very different recipe So I did the one where it was a higher proof alcohol and you're adding simple syrup. So they had the added water in it, and also it called for a lot more lemons. It was like a dozen lemon. So it was a lot of peeling and a lot of scraping off the pitch. So yeah, and I mean, I've seen recipes where you actually don't add any juice at all. You just add the peel and you're supposed to let it sit for two months. Um, and it is different. It's not quite as concentrated as this is, um, you get a much later, uh, lemon flavor. But you know, it's it's not quite so much of, ah, cordial or an a pair, Atif, that it is more of a lemon flavored vodka. So you know there's there's all variations in there, too, depending on what you like. But I This is a recipe that my aunt started making years and years ago, and I loved it. It was the closest thing I had tasted to what I had had in Italy, and I looked up a bunch of other recipes online when I decided I wanted to make it and tried a few of them just to see Ah, and still for my taste. This is what I like the bust, because to me it is really, really lemony, really bright, not too sweet. Um, and because you're not using the higher proof, it is easy just to drink as it is where I think some of the limoncello, those that have the high proof they do have more of that jet fuel flavor to them. So but, um, I was just looking at my notes to some of the other ideas with infusions at the wrong time of year. But using fresh fruits in in booze also is a great thing to Dio. I made a peach bourbon one summer that was just great to it doesn't drastically change the flavor of the bourbon, but it does on just of sweetness and a little bit, especially for using the white peaches. That kind of floral flavor to it on git works really well in in an old fashioned, actually just for a different kind of flavor. And ah, also for mint julep to with the mint, peach and minutes go really well together in the bourbon So it's really fun just to play play around with flavors that already go together and just it takes, you know, just makes the drinks that much more special. My aunt's always makes ah, cranberry cordial to for the holidays. That is, I forget exactly the recipe, but it is. She takes the whole cranberries and just crushes them a little. So they open up, but she doesn't cocom and throws them in the vodka with a little bit of sugar. And let's that sit. I bet you could do something very similar to this limoncello and start to play with that. You might want to up the sugar a little bit because of the tartness of the cranberries. But it ends up with, you know, it is a much more tart drink and balances out the sweetness of this and that again, with a little bit of sparkling wine or even just soda water, fresh fruit. Pretty Yeah. I mean, I think it would be very similar to the, um the idea of the bidders where I use the dried fruit for more intense. I've heard of people using like dried apples, actually, for, um, I know that there seems to be a trend right now, Off like apple pie in a you know, in a drink, it's Ah, I've seen people putting sugar and apples and even some of the the spices in a vodka or a bourbon and letting that infuse and you just drink it as is over ice. Um, and I bet you the dried apples would work. I would be careful with them just because you do get a different flavor. Eso depending on you know what you're going for at the end. But, um, the like dried Berries tend tohave a much different flavor. But still, you know you can't get him. You know you can't always get strawberries when you want them or raspberries when you want them on. You can definitely bring out something more. I think to do that. So how can you actually, you had, um, a cello in cooking. If you like limoncello cake or like, is it? Maybe is ah, topping and icing on the cake. I could see like there's I know there's a lot of cakes that have soaked with booze as like, kind of the finishing a yellow cake or something like that. I could see this working really well with a lemon cake. Just have a little, um, eso cook toe. Um, come up into the cake itself. Or, you know, if you're not so much looking for the booze aspect of it, but looking for the flavor, um, cooking it, you'll thicken it up a little bit if you let some of the alcohol evaporate and you can come up probably with a pretty nice syrup to throw over some fruit or ice cream or even again over the top of ah, cake or tart or something. I mean, I could see like a You know, we're blessed here in California, where you can pretty much get any for you want any time of year. But you know, if you want to dio raspberry tart or something with a little limoncello glaze over the top, probably pretty awesome way aren't shorter crew in California where that really quick. But we're also not short of creative ideas. I posed a question Teoh Arch chatters. If they had any infusion garnish drink ideas, they loved a share. They're definitely on the same page with you. Snappy Gourmet says it's great for baking desserts, sauces on ground below, Lee says they're on with, you know, adapting it to your flavor profile below. Lee has party ideas. You know, all of these things, like hot peppers and fuse and rum to make awesome mojitos. Yeah, yeah, yeah. See that? I definitely know there's a lot of people doing for Bloody Marys. Pepper infused vodkas, even, um, you know, black pepper, actually, black pepper corns infuse really well into, uh, any kind of booze, and they will give you a nice heat that just lingers. But it's not quite as sharp up front as a chili pepper. That's something I actually really like. Uh, but yeah, I mean, they're pretty much endless ideas as faras infusions, and it really just comes down to the flavors that you like, And I really recommend people playing around, but a similar note to of thinking of the gift ideas, you know, as you start to play with stuff you can also make the syrups to. That will go along with these drinks. If you were more partial to a lemon cello, that was less sweet. Um, and you But you wanted to play more with cocktails with it making ah basil or rosemary. Simple syrup just simply by or even a mint. Simply by cooking the herb in the sugar and water, you'll get ah, lot of the flavor out. And not also is it a nice gift to go along. But I could see just using the limoncello with actually a little bit more vodka. So you lighten it up and then adding a little bit more sugar of the basil or mint syrup and have a nice, really nice, refreshing, uh, cocktail back. I will admit that was nothing to do with this whatsoever. I do make a really wicked Guinness cake. I find that when you bake out the whole, it actually really intensifies the alcohol content something. If you did use limoncello in a cake, you might find it matchy. Tell him to knock out drops. Now there's There's two ways that alcohol can go when you heat it, depending on how your heating and I've heard baking actually kind of concentrates, and I wonder if it's not because of you know, the temperatures in the way. But if you're if you're on a stovetop, you're gonna lose a lot of the alcohol. If you heat it up. So that's cooking with wine and sauces and that kind of stuff. Most of the time, none of the alcohol is left, but you get that concentrated flavor of the wine, which is awesome. That's what you want. But I have heard that baking actually can, if you don't get it too hot, will intensify the alcohol a bit. So not that you're necessarily going to get drunk off of the cake, but you might get a little buzz, you know, so always be where students want to show. At this point, this has given you any inspiration for ideas of how you'd like to infuse your limoncello, maybe any flavors of coming to mind that you might want to try. When you get are you actually gonna go home and actually finish the finished product? You know, maybe here's, uh, make bigger batches that you can share it. I love the idea of it as a gift. You and I love all the gift suggestion ideas you gave us because I would never have thought of that. And it's so nice there Thought of getting vintage glasses and pairing that with small portions of alcohol for drinks is such a great idea. Thank you. Where do you find, like, the bottle that you have right there? The Where do you get that? That kind of stuff from, um, a lot of kind of container type stores. The container store. Uh, Kia works great, pure one world market. Those are all great resource is. But this particular bottle Andi, I have another one back down here, too. And actually, I think this one you can see Yeah, this is the two different batches. You can kind of see the different color a little bit. This is a little later. Um, these are, uh, the French lemonades that you can get in most of, you know, in the soda department. Um, I like those during the summer, and then he hold on to the bottles and you've got nice gift bottles to. And these Ah, these stoppers are great because they really do help toe keep leaks down. And, uh, you don't get sticky, gooey stuff. Oh, all over the place. And it's nice to just be ableto reuse the bottles. Um, I've seen and there's a lot of, um, you know, like Belgian beers and stuff. Come in these great bottles, you often get the brown so they don't maybe are quite as pretty. You don't get to see the lovely yellow color, but they're they're still nice looking bottles. But, you know, then it's like, um, make labels. I've seen a lot of people do some really fun stuff with just, you know, printing out mailing labels, but doing some great illustrations and playing with the text and getting some really great gifts that are simple for you guys to do. You can make a bunch of them and they're totally unique and not anything anybody's expecting. Um, that's what it was. I was telling J K O that there was something that came to mind in the middle of the bidders section that I wanted to remember to tell you guys about and the whole reason all of this started with the Limoncello. And I also make a lot of jams and marmalade, Ian's and chutneys. And that's pretty much what we give for gifts around the holidays. When I met my husband and we spent our first Christmas together, uh, we had partially, you know, polities make me a little anxious because I want everybody to have what they want. And I'm definitely a giver. And, um, hiking I was like, How are we gonna do this? We've got to families now, and he's got a much bigger family than Ideo. And I just had no idea how this was all gonna work. And, um, he's like in our family what we dio we buy the kids gifts. There happens to only be three of them. Uh, and everybody else we make things. We Onley give handmade gifts, and it's it's really great to see what everybody comes up with because everybody skills or different. I've had, um, really awesome hand. It's washcloths, but, you know, lasted for two years, Um, stuff that you just couldn't get other places, the kids all do, you know, art projects. And it's just so fun to see how excited they get for to give you something that they've made themselves. And we're in the kitchen all the time. So that's what we dio is. You know, we make the jams and the marmalade is, and I've made Candies. Peanut butter cups are a hit. If you do a search for their really easy to make, people love them uh, but the booze kind of came to me because that was part of just my lifestyle, my personality, things that I like. And it is something that a lot of people don't dio. Um, I've never made it, but I know, um, a couple of friends who have done Kalua and Bailey's actually Bailey's Irish cream made it, Um, and it's turned out really great. And there's some really easy recipes you confined online. So there's all sorts of stuff like that. That's just, you know, totally unexpected, and it seems generally 10 times harder than it really is. So keep your secret. And just in a give awesome gifts that everybody keeps asking for more of, that's what we find is we get a lot of requests after the fact. So any chance we can get some more of that onion marmalade or, uh, I definitely this year need another bottle of limoncello, maybe a slightly bigger one. So it's ah, it's a lot of fun. And the, you know, the packaging to was I mean, you really could dio, you know, put a label on this or not even just tie a bow around it and the Mason jar works, Um, and it's a totally useful container. We use weck canning jars for a lot of things. I'm not sure if you're familiar with those, but they're these gorgeous German canning jars that have, ah, a rubber seal in a glass lid. And so they just They look really nice and elegant, and they're really great toe to reuse. It's like the container is almost as much of a gift is what's inside of it. So, uh, and that's kind of what I think of to with doing the vintage glassware is that, um, it's it's fun. I love vintage shopping, and it gives me an excuse to buy stuff that I don't have room at four at home. Um, but it's, you know, stuff. People are never gonna find otherwise, too. So these Ah, fun, little cordial glasses. My my aunt was cleaning out my grandmother's collection. Um, just tryingto whittle down, and she started sending me text messages of photos of cordial glasses. So I think I ended up with a set of eight, um, all pairs of of two separate ones. So I've got four different kinds of cordial glasses, all in pairs, that you know, that kind of fun stuff. And it's always which ones were we going to do this time? Yeah. So I never thought I'd be the person with crystal glasses in the in the cabinet, but they were there a lot of fun when she get to them. So, um, the limoncello, as I mentioned before, um, on its own just chilled makes a really awesome drink. But it also thinking more back Teoh doing bash cocktails or doing really simple, entertaining cocktails, one that I wanted to just not that I need to do much demonstration. But, you know, it's much better than listening to me talk the entire time. You can see me do things a little bit of limoncello with, um, some persico, uh, which is a nice person. Goes just a little bit sweeter than, um, a champagne. Uh, Kabo also works really nice, Which is Ah, Spanish champagne made the same way. They're not allowed to call it champagne. Um, but it's ah, cop. It tends to be a little bit drier. Percent goes a little bit sweeter. Um, but adding, um, just like 1/2 a shot, you know, less than an ounce of the limoncello to a glass of persico or sparkling wine is just a really nice way. Teoh, start off a holiday meal, Um, or, you know, easy holidays air here. Um, really easy, Teoh. Hand to somebody as they walk in the door. And actually, I'm gonna do this the other way because this is thicker than that. So the force of pouring the the Persico in well, actually, even stir it up for you. You don't have to worry about breaking the glasses, but something as simple as that. Throw a few pomegranate scenes in their drop a raspberry on the top. I know Jean Marie was asking about the all of the the, um, garnishes. That's the word. Springer. Rosemary will, uh, mint leaf also would be just a really nice way if somebody comes to your house. A politician like here, that is the way to holiday holiday. If I things is with the garnish, right? Yeah, yeah, we're just fancy come up. You know, I'm not a fan of although I must say, you know, you go to the Tiki Bar and it's great to have the the umbrellas, but I tend to really get annoyed at the drinks that, you know poke you in the eye as you You try to drink them. But edible garnishes are great things, especially very aromatic, edible garnishes because they dio, um, they do just bring things up. And mint is one. I think that doesn't get used very often. But based on everybody's reaction to the fruit salad this morning, um, more people like me. And then I realized everybody was very thrilled by all of that. But you know, the classic way after dinner, uh, Segway into, um, desert. It can be as simple as this. There you go. Limoncello to sit on. You know, all we really want to know is if creativelive and all of us especially the ones in Seattle too, if we're invited to your holiday, no invitation needed. Yes. No show. Just start knocking on the door. You know, something will probably be happening for sure. Um, I think they're questions about infusions, flavors that you guys are thinking about. That's definitely one thing that I know until you really start to play around in the kitchen a lot. Putting flavors together isn't second nature, but I I'm good at it. I like doing it. I really like playing with flavors that you wouldn't normally think of to. I'm a big fan of the sweet and savory together. So, um, personal tastes that you guys have your like, I really wish, you know, I want to use this, but I don't know what to do with it. And, you know, I've been to bars where there's just a wall of different flavors of vodka that they've made their eso. Is that fairly easy to do? And is it OK to leave the fruit in the vodka for a long time? Or do you want to take it out? Do you want to take it out eventually? Um, for two reasons. One is the Bach actually starts to break down the fruit. So you will. It'll just get more cloudy and and there is more of a chance of it going bad. But it also continues to pull out flavor. And depending on what you're using, you get all fruit kind of has a point of you're going to get good flavors, and then you might actually start getting bad flavors. You might start getting those really bitter or tannic flavours like see through a bunch of apples in there, and you left the skin on, which is a good thing, because the tannins and the apple skin are gonna add a little bit of structure to whatever it is you're infusing it in. But after two long, that's gonna get too strong. Uh, and it's just it's gonna hit you in the back of your mouth and you're not gonna like that. But, um, fruits in vodka is a really simple one. And, you know, depending on what you're looking for, is the end results. Um, you don't necessarily need the sugar, but the sugar is also preservative, too. So it does help Teoh make sure that things were not going bad. But, um, you know, raspberries, strawberries, peaches, all sorts of besides the. But then you go the other direction to of spices to cinnamon just, you know, throwing a couple cinnamon sticks in some vodka and you get a little bit of that red hot thing. And that could be a lot of fun. Teoh
Class Materials
Aromatic Bitters Recipe.pdf
Ratings and Reviews
Many home producers don't keep track of recipes and then try to go semi-commercial. We deal with these folks all the time when they need to know the proof of final product or sugar content/calorie values. They need to register with the Tax and Trade bureau and test regularly. Limoncello and Apple Pie the most common products. Seek advice if going commercial or even selling small batches to friends. A no-no unless you are registered.
Student Work