Making a Manhattan With Your Bitters
Genevieve Brazelton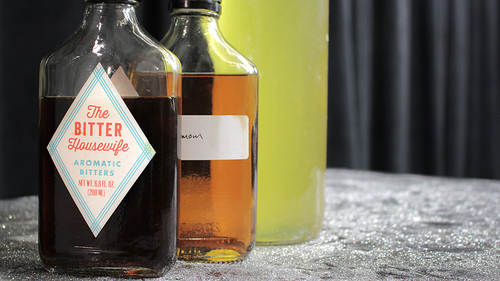 Making a Manhattan With Your Bitters
Genevieve Brazelton
Lesson Info
2. Making a Manhattan With Your Bitters
Lesson Info
Making a Manhattan With Your Bitters
then there's always the question of So what do you do with the bidders? And this is the most fun part of the cocktails. So since we're definitely focusing on the holiday season and entertaining and all that kind of stuff, I thought I would show you, Um, how did you, uh, a Manhattan? Because it's really easy to do in a batch, so you can make, you know, 5 15 of them all at once. Ah, have it sitting on the bar and not worry about being stuck behind the bar making drinks for all of your friends. So I walk everybody through how to make a Manhattan one of the simplest drinks out there, Um, but also very classy. And I'm not going to use a shaker because if you're doing a batch, there's really no need. Um, you really want to most of your classic shakers, like the Boston Shaker that you also use with just a pint glass to shake it up. You can easily make you know 3 to 4 Manhattans in here, So but there's that whole shaken, not stirred, you know which way is better? Um, just a little bit of ah c...
ocktail education these days, you'll see a lot of bartenders are actually stirring their drinks as opposed to shaking them. And the reason they do that is when you shake your breaking up the ice so it actually melts quicker and gives you more water in your drink. It does chill it quicker, so if you're in a hurry, that's a great way to do it. But you are gonna end up watering down your drink more if you stir it. It takes a little longer to chill, but you are. You're not gonna water down as much. So that's also just a personal preference. Um, shaking is fun, but often times it's a pain in the butt, and it also, uh, just makes for more of a mess. You got more things with liquor and whatnot dripping all over. So I'm, uh, I'll be honest and say I'm really horrible about measuring my booze, so I'm gonna roughly tell you what I dio And for each Manhattan, start with your bourbon, Whatever. Bourbon of choice, Uh, you like, um, and that's all about taste, where you want something that's a little sweeter and more floral or something. That's a little less spicy whatever. Honestly, my two favorites bullet is, uh, a great go too easy to find. Evan Williams is also about half the price and just as good. It looks like Jack Daniels, but it's not Jack Daniels. So for your classic Manhattan, for one, I would start with about announcing 1/2 a booze, which I have this jigger here is announce and 1/2 on one side and announce on the other you can get them in various sizes, just depending on what? You know what you're making most of. And, um, and how stiff you like your drinks. But I chose this one mostly cause that's kind of my standard. I use an announcing 1/2 shot. Some people will do a two hour shot. Some people do one out shot. So I'm gonna, um, just pour in because this is the the easiest way to do this. Let's say we'll make, uh, enough for the group here. So we're doing three on. I'll do another and drinks also. Same thing. They do not need to be scientific. Um, it is all to taste, so that should get me about seven drinks. Taste is that something that you develop over time. Yeah. I mean, I think it's great to start with a recipe because then then you at least have a baseline. But then decide. Like so. The next ingredient is a red sweet remove. I don't like a lot of removed in mind because it does sweeten the drink. Other people do like more Andi. That's just whether you want a slightly sweet or drink. Whether you know your some people are actually trying to cover up the flavor of the bourbon just a little bit. So that's again. Just, you know, it's all to taste. Um, you can walk into any bar in the city in order Manhattan, and you're going to get something slightly different from each bar, and then you're gonna get slightly something slightly different from each bartender behind the bar of that bar. Most of the time, there's a few a few restaurants that make sure everybody makes her drinks exactly the same. But, uh, that is rare. So in the case of the removed, since I like it not too sweet, I'm actually gonna use half ounce per per drink and maybe even a little less than that This is one of those that I generally don't measure. I just kind of do it by I. So, um, let me Yeah, I'd say about 1/2 ounce to maybe even just 1/ ounce, and I'm doubling the substance and making a batch. So, like I said, this is just a sweet red vermouth. Very easy to find many, many brands out there. All of them are good. Um, if you want to get extra fancy for the holidays, you will sometimes see the one in the in a big round tin called Carpino. It is a really high end. Really nice for Muth. That's when you actually would consider just drinking on the rocks with a little twist of orange. But this one martini Rossi, easy to find. Does the job just fine. And then, of course, the bidders. So the little plug there, housewife, This is the thing that I'm slowly working on, a little cooperation from the government and state, and eventually we'll get there and you will be able to find these, um, in ah, in stores and online. But for now, you just have to be patients and the bidders that you've made is pretty similar to this. There's a few more ingredients in here, but not much. Um, this you will also find is much, um, much less concentrated than saying Angus store bidders. So you will actually use a little bit more. You'll see a lot of cocktails that call for bidders, and they'll say, a dash or two dashes of bitters. I do not have sprinkler caps on mine, although that is something that may change. But I highly encourage people to use about 1/2 a teaspoon per drink, which is in this case, a very generous like that. Not a dash, but a nice, you know, generous poor. And the other thing I would say, Um, cause trust me, I've tried the spitters is actually pretty hard to go overboard on, um I mean, as long as you are are gently pouring. If you you know, you lean a little too much and get more in, you're not going to suddenly go. Oh, my God. This is undrinkable, Angus Store that it can definitely happen. Um, just just so you see, that's what the little tag we used generously. So feel free. Don't, uh, don't keep it to yourself way. Chatted about this before is that you can actually make sort of a quasi alcoholic drink out of it and mix it with, like, ginger rail. You had something for Seco, I think. Human, huh? Yeah. There's a lot of things that you can mix fitters with. Yeah, there's so Manhattans and old fashioned are pretty classic drinks, but, uh, the holidays we all know, um, lead to a lot of overeating, Uh, and often some slightly uncomfortable upset stomachs. Uh, a little bidders in soda or bidders in ginger ale is awesome to settle your stomach. Bidders originally was actually a tanaka medicine that was prescribed for people with indigestion. It helps. It really just kind of helps get the bidder. Actually, it's the actual bitterness of it that helps your stomach digest food. So definitely if you also don't want Teoh have a cocktail cause you're the one driving just, you know, booze doesn't quite agree with you. You can still have a bitters and soda. And it's a nice drink. That's not soda pop. And, um, that also, you know, it feels a bit more sophisticated. Um, if you're, you know, completely booze free the end product is about 60 proof. So you are going to get some booze in there, so definitely, if you have any non alcoholic friends that, you know, let them know. So for the Manhattan, in this case, I am just gonna stir it to chill it down and what you can dio, um, in the case of, like, a party situation, uh, you might actually even want to make, uh, you know, have to pictures or make this in in some, you know, unsightly kitchen bowl or whatnot. Chill it down a little bit and then strain it into something that you can then just kind of walk around and fill people's martini glasses with. But it's, you know, you saw how much I stopped and talks in, you know, five minutes and you can make seven or eight drinks as opposed to being stuck behind the bar. You know, making individual cocktails for everybody. Um, old fashioned. Definitely my favorite. But you're you know, you're not gonna You're gonna be standing there making him, and that's that's usually what happens to me because those were the cocktails that I love the most. But I'll line up, you know, five or six glasses and make them all at once. But then I'm still 10 minutes later. Somebody's like, I need another. So, you know, it's all where you're most comfortable. I know you're gonna make a very bad super spy, Jennifer, because all super spice shake that I know I won't. I'm never gonna be a super spy because I I believe this is the better way to do it. Not me, Genevieve. That's all right. I don't need to be too many bonds. I'm good. So I was kind of thinking what other cocktails Teoh show you guys? But I also want to talk about packaging a little bit, too. So I might take a step back and do talk a little bit about packaging, But we have to at least see what we've made. And oh, here's a little rumor that's just read up on the Internet. Who never this true. They've heard that shaking your cocktail takes away from the alcohol content. Well, that's yes. That's actually what I was talking about with the You're If you're shaking your breaking down the ice, more eso it melts quicker. So you're actually adding more water to the cocktail. Oh, so it's watering it. It's watering it down. So actually taking the alcohol out, but it is watering it down. So, yes, that is very true. So this picture is probably not gonna quite filter, but so I'm just gonna do this to make sure a little bit of, ah, homemade filtering here. And then, of course, the most important part of the Manhattan is your cherry and, uh, my favorite. Uh, if you're gonna go by them, which this time of year you are are stuck with buying your brandy Cherries, uh, is luck Sarto maraschino Cherries. But they are nothing like those bright red things that you generally used to get in Shirley temples. Ah, these are dark and syrupy, and they're actually made with real maraschino liquor. Um, they look like olives, almost, but they taste fabulous. So there you have a Manhattan. Um, I, of course, uh, being who I am, I have to make my own brandy cheery. Um, brandy Cherries are really nice, cause then you get even just a little bit more richness of the booze in there, but, um, I didn't want toe tempt you all with something that you can't make until next June. So we have a used up pitches in cooking. A toll? Yeah. Yeah, actually, that's so many cocktails. You can do it if I have time. I may do an old fashioned for everybody to see how that goes, but, um, bidders works really well in salad dressings. Uh, meat, marinades, especially the more citrusy ones, even on a little bit of fish. Uh, I also use my aromatic bitters in pumpkin pie. Think of it not unlike vanilla. It's a very similar idea. Even that it's, you know, infused in a liquor base. So it's it can be a flavoring on, and it just adds a really nice dimension. Teoh the pumpkin pie. I've also had a friend who made an awesome, uh, apple crumble with a little bit of bidders. She tossed with the sugar and the apples and then put a crumb topping on. It was amazing. So play around with it. There are so many uses, and, you know, this is where the Internet is our best friend. Start Google and stuff and you'll find it. So, um, are actually Michelle B is following following along and has made pear Schnapps but is really excited that the bidders is a shorter wait than Schnapps. Yea, quick drinks shorter. Yeah. So Yeah. So, um, we're getting close to the end here. So what I did want to talk about two was just some ideas for gifts for all of this. Besides just making the bidders. I mean, I think most people would be blown away if you hand them a bottle of homemade bidders. So by all means, you know, just go with that and you're gonna impress friends and family. But most people don't know what to do with it. So what I have done in the past was get something like, Ah, this, like, a gift box like this. And I got some small bottles. You know, something like this would work or even smaller, your pure one. Your container store key even has a bunch of bottles various sizes. And I put together a cocktail kit, and I gave um, I put in a small bottle of, you know, about a big bottle of booze and put in just enough for two drinks. Justin, enough bourbon for two drinks. Ah, little bit of bidders. Probably more than they needed but thinking that they would continue to use it. Um, a little some of the really nice Cherries just in a small little container that again you can get at the store. Um, I even made the rich syrup for them and put that in a little bottle on. And then all they need to dio is add an orange and, uh, a little bit of soda water, and they have the makings for a no fashion. And what I did so they knew was made a recipe card and put that on top. And it was this cocktail can't for two, it was too old Fashions in a box, ready to go. Another thing. I'm a huge fan of vintage glassware. So, um, these are are my favorite shaped glasses. I really actually hate martini glasses. They feel very awkward to me in my hand. But these air called coops, uh, and are often used exactly the same way for drinks that you would serve in a martini glass. While you often have seen champagne in the old in old school movies and these, they're horrible for champagne because all the bubbles go out right away, but they're still really fun to drink out of. But, uh, you know, goto a couple of vintage stores or online at etc. You can find tons of vintage glassware and a nice set of coops or even, you know, some cut glass tumblers, Um, and a nice bottle of booze and a bottle of bidders. And you've got a great gift set. Um, and you don't have to do much and it's a great introduction. Not only are you giving, you know somebody who loves cocktails, a bit of an education, something new there also, you know, it's something they're going to use again and again. And it's never anything they would think to ask for, and nobody can have. You know? Well, you probably could have too many glasses, but, you know, in my world, there's never too many vintage glasses in the house cause they always break Teoh, that is, that's best. What was an empty Yes, I hate, you know, play around with it and have fun and just, you know, think of those. What does it go with? How do they use it and kind of make it really easy for people, um, to to know what to do with the bidders because the bidders on their own like what I've found often when I gave people just a bottle of bidders is then I would go and visit them two or three months later, and the bottle's still there unopened because not only do they not know what to do with it, it seems really precious, and they're afraid to use it, so encourage them. I have even just been brazen enough to let them open the gift. And then I went into the kitchen and made cocktails for everybody with it. And then, you know, you're still not using the whole thing. I leave him with this much behind and but then they know like it. There's nothing precious about it. Go ahead and and use it. So here's another idea. Yeah, gift the bidders, some beautiful glassware and then this course, and they will know everything to do with course. Then they can even try to make their own. Or they learn more about making cocktails. One more, which is my favorite. Genevieve is impossible to make non alcoholic bitters. I think you said it. Waas on. Dwight is asking, what would you use this the base. It is possible, and I have never played with it myself, So I don't know how well it goes at home. But you will. There is a very popular brand, well, relatively popular brands. First, bidders go called Fi brothers and all but one or two of their bidders, and they have probably 15 different flavors are all non alcoholic. They're made with a glycerin base. It's unfortunately not something I can tell you much about, but I know it is very possible. So again, you know, use the Google and find out. I know it's something that is pretty easy to get a hold of. It's not, you know, ah, hard product. Glisson is used in many other things, and it works the same way in that It's you, you know, You you have, ah, glycerin liquid that will extract all of the flavors, but you're not getting the alcohol. So yes, for those of you who want to stay away from it all together, it is possible. Actually, Bellow. He's got another comment on the whole shaking, not stirred argument. He's saying that if you shape you introduce air into the alcohol and that actually makes the drink much more harsh. Jim Carrey. June especially gets very hot, which is why James Bond drinks. I can see that. Definitely, Um because, yeah, it's ah, it's that it's air does good and bad things for booze. Um, thought I know there's this, um, like, you know, wine is something that you want to air because it opens things up. And in the case of bourbon, Scotch, whisky, all of that, um, a little bit of air is actually good because it does bring out the flavors. But water is actually what does the same thing. That's why you'll actually see a lot of people drinking scotch with just a little a few drops of water completely changes the flavor, opens it up and brings things out. But you can get to the point where you almost open it up too much, and the stronger, harsher flavors air all that you can taste, so I can definitely see that being part of it.
Class Materials
Aromatic Bitters Recipe.pdf
Ratings and Reviews
Many home producers don't keep track of recipes and then try to go semi-commercial. We deal with these folks all the time when they need to know the proof of final product or sugar content/calorie values. They need to register with the Tax and Trade bureau and test regularly. Limoncello and Apple Pie the most common products. Seek advice if going commercial or even selling small batches to friends. A no-no unless you are registered.
Student Work