Making an Old Fashioned With Your Bitters
Genevieve Brazelton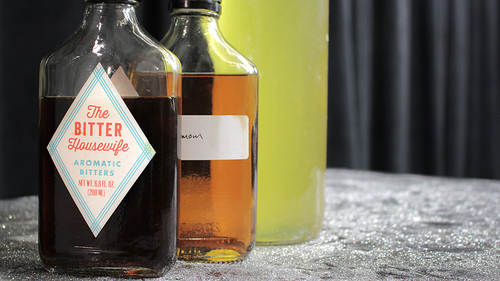 Making an Old Fashioned With Your Bitters
Genevieve Brazelton
Lesson Info
3. Making an Old Fashioned With Your Bitters
Lesson Info
Making an Old Fashioned With Your Bitters
we are going. Teoh is going to show you I am missing one ingredient, but I can show you most of it. Um, an old fashioned, which is what this was all crafted for. To begin with, uh, is my favorite drink and very easy to make. Um, you just take slice of orange cherry and what I'm missing is a little bit. This is where I would use the rich syrup for in the cocktails. But you can also just use a teaspoon of sugar to we do have it the magic of TV. I love you. Just ask for things and they appear so just again, like about it in a glass this size. Well, I shouldn't say Glasses size. Um, in one drink, which is just a shot. 1.5 ounces of booze. You want to use about 1/4 teas for about half a teaspoon. Sorry of simple syrup. And again, about 1/2 a teaspoon of the bidders. If you like your drink a little sweeter, by all means. Odd more of the sugar, though I don't like them too sweet, but you will see the difference of no sugar. It's definitely not the same drink, but again, it's all tastes. So th...
en my favorite part is the muddling, Uh, another gift idea to is, um, to give people a bottle of the bidders. And then, um, just some really nice cocktail gear. Give them a Boston shaker. A muddle. Er, uh, nice long bar spoon is always a tool that most people don't have that comes surprisingly handy. Um, if you're gonna give them a shaker, then ah, strainer is always a good thing, Teoh. This will keep all the ice in the glass. Um, but for the old fashioned, make sure you guys can see what I'm doing here. Um, you got your orange or cherry? Your bidders and your simple syrup. The mud lor It is basically just a wooden bat. All right, you will see plastic ones. I prefer the wooden ones. Uh, this one has a flat bottom. You will see some that have spikes on the bottom. I don't really think they're necessary, but they're not a bad thing. Um, and all you're doing is crushing. Basically, you're getting some of the flavor out of the orange. You're getting the juice out of the flesh part but then you want to crush the the rind, too, because that's gonna bring some of the oils out, which just is a nice addition to the drink. Uh, gonna crush the cherry. It's mixing the bidders up with the sugar. Um, you used to originally do this because you would probably be throwing just regular sugar in their granulated sugar, and this helps to dissolve the sugar. I just I don't worry about that. I use the simple syrup. Then you never get that scum of sugar on the bottom, where the last sip is like just overpowering because I don't like that, um, just makes my life easier. People are home quite often. Have a mortar and pestle without to the same job without really too harsh. It's kind of the same idea, but generally the mortar there, The pestle part. You don't want to do it in in the bowl because that's probably evil. So ground, you know, peppercorns and all sorts of other things, and often they're a lot heavier, and they're hard to get in a glass in a pinch. I've also used the back of a spoon if I didn't have a meddler, but that's why I say you know what makes a great gift? Because most people don't have one. I haven't have about three around the house, but because I like them, they're also really fabulous for mojitos. Teoh getting all the the mint out mint juleps So they come and use not just for old fashions. Then you want to dio you're ounce and 1/2 shot of booze in this case, the Evan Williams bourbon again. Um and then I a little bit of ice and I generally actually use a little bit of soda water. But I forgot to ask my lovely support crew for that Somebody's a little water again for the same thing. I was just talking about that. It, uh it brings the flavor out just a little bit. So you just want just a splash. But so what is nice? Because you don't even really notice the Effervescence of it. But it does, I think, change the drink. A little fashions do. And I've never had them with soda water, but I know of or is that a comment? I've feed it both ways. Um, and that's actually the thing. So cheers, my favorite drink. I'll make sure you guys don't get one. I promise. There's a lot of debate also with old fashions to of whether you put the fruit in or not. And because you'll see some old fashions. It's just the orange peel and nothing else. Some people will just put a cherry in. Um, you know, And there's a lot of diehards that are like an old fashioned should not have, Ah, fruit in it. And the first old fashioned was not made with fruit. The first old fashioned was bidders and booze and ice. That was it. It was a very in a little sugar. Sorry, it was a very, uh, just classic drink Actually meant a little bit more toe. Get the bidders down easier and sound stomach. And it was really, like an enjoyable cocktail. But then it turned into, ah, something that, you know, because you wanted to sip and enjoy a little bit more. So, um, I like the fruit in it. I think it lightens it up, but it's still not a fruity, girly drink. So, um, you know, play around the same thing. If you don't like the orange, don't worry about it. Go for the just the cherry or or whatever, but I think that's more or less for the bidders portion of the day. But we're gonna take a little break and wrap up all of this stuff, and then we're gonna move on to liquor infusions, uh, in most specifically Limoncello and we have some sort of water. So people in in the, um in the studio may actually get some awesome old fashions, but we'll see where we're doing in the break. But, uh, limoncello is next to dio and then just kind of liquor. Future infusions in general and some mixing on that. So any last questions questions from the audience Let's hear from our students may be falling all they sort of mix their drinks seller on innocents and they'd be rapt with attention making your your own coach tells us this holiday season, Are you gonna feel comfortable making some cocktails? Use your own bidders? Definitely. I feel like this is totally doable, and I'm excited about it. And like I'm already thinking of who I'm going to give it. Teoh, where do you find the, um, bettering agents like those things that I haven't seen in the grocery store. All right. I didn't even talk about where to find. So most most your spices. Not a problem to find them in, You know, whole foods any, uh, any place that has a bulk spy section definitely rate it locally. Rainbow is a great source for much of them. You probably won't find everything, but there is Ah, great shop on Valencia called Scarlet Sage. Herb, I think something in that one of those three words in some combination. I always forget the name of it, but right it about 23rd and Valencia. Um, they have everything. It is Ah, more of a holistic medicine shop herb shop and they've got everything. And if you have trouble finding stuff, they'll point you to the right direction. But you can also order pretty much everything online through mountain rose Herbs is an awesome, uh, reference for all of that. And I know there's a couple other ones. Most of them are meant for people who are doing more Chinese medicine, holistic medicines. So you do have to kind of sort through for all of the little stuff, but it's all there so you can find it, and you don't have to buy ridiculous amounts either. Um, and they're not very expensive. You know, you might have to get a couple ounces, which will last you, you know, a year. But, you know, you're you're looking at 5 bucks for, you know, these smaller batches of them. So, um yeah. Any other questions? Anything from the audience? Great champion. We really appreciate everybody coming up with their ideas. I'm actually had a little sidetracked going on here because I didn't tell the charity that years and years ago I made homemade wine. It was virtually undrinkable. But why is something you do have Teoh really persevere? And you have to leave it for a long time. But way went off into a whole side discussion about where I can actually get better. Great. But I really don't think I'm going back to home made wine. Thanks for all the suggestions, but I'm very encouraged by some of these ideas as well. And Genevieve and I were really fortunate We met a few weeks ago. We made the promo that you met. You may have seen online. We're actually doing a movie. Next. She brought in some of the women limoncello there and I got to taste that. I haven't actually tried it before. It's a really, really, really refreshing drink. It was very nice. I have tried bitters before. I do like that flavor. I think it's very good. I mean, I think they use it in the UK for pink gin. Yes, there. Yes, exactly. There is that drink. I'm not a gin fan. So you will actually find a lot of gin cocktails with an aromatic bitters, Which, to me, seems like an odd combination. But there are a lot of really old classic drinks. So, you know, if you're ever stumped for what to do with it again, you know, find a classic cocktail Booker or the power of the Internet and you'll find tons of recipes. So I saw that promo and he says he tasted the limoncello. It looked more like I don't know. I dive in. I'm The sad thing was, I had to do 34 takes poor, but this is far. Do you homemade drinks? Okay, boy. A little, little, little, uh, DEETs on John Murray. I used to bartender when I was in college at a fine dining restaurant that had, for lack of a better word, a seasoned crowd of drinkers on. And so I was making fashions and mojitos and juleps. So this is really exciting me and bringing back the memories of that. And I think I might bring some of these recipes back into existence in my house. Did you wear your very glamorous holiday cocktail jacket? Hi. No, I don't think I would be able to do. Are you talking about while bartending? No. This is just for sitting and typing and smiling. Yeah, but But I was excited also to bring the velvet out because some When Jay Ko told me that he had a blue velvet suit, I said, Oh, my goodness. And then I pulled my jacket. I'm the only person that living has got a blue velvet suit gonna show you. I can also tell you that we've both gained a lot of weight since we last. One reason we're sitting in total agony, things we do for creative life for you. Well,
Class Materials
Aromatic Bitters Recipe.pdf
Ratings and Reviews
Many home producers don't keep track of recipes and then try to go semi-commercial. We deal with these folks all the time when they need to know the proof of final product or sugar content/calorie values. They need to register with the Tax and Trade bureau and test regularly. Limoncello and Apple Pie the most common products. Seek advice if going commercial or even selling small batches to friends. A no-no unless you are registered.
Student Work