Script Files in Photoshop
Bryan ONeil Hughes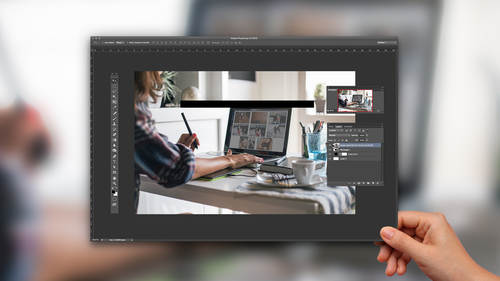 Script Files in Photoshop
Bryan ONeil Hughes
Lesson Info
9. Script Files in Photoshop
Lesson Info
Script Files in Photoshop
I'm using this bridge workflow that people who don't use bridge are probably a little resistant to let me show you how to do it from Photoshopped. I'm gonna take you to a scary menu that most people don't ever go to, which is scripts, right? What are you doing there? Why would you do that? Nobody goes there. Um, scripts load files into stack. A great example of two teams not talking to each other as well. They should means the exact same thing is the other one load files in the stack. Okay, browse. Let's go to where we were here and group shot. Select my files. OK, now, what's cool about this one is I can check attempt to automatically alliance force images. Aiken, streamline the process a little bit and click. OK, it's gonna open those into a stack. Same thing layers, and it's going to align them for me. Does all the work for me now I have to do is click that one, choose my mask and come over there and do that. It's actually a little bit faster. All right. Okay. So let's, um this one'...
s fun. This is a couple of want to make sure we absolutely get Teoh got a bunch more. But this is one of those ones. I started using photo shop just before version three came out and really long time ago. And I remember thinking, Oh, this is gonna be awesome. I'm gonna be able to take still pictures of cars and make a move, because at the time, that's what I was doing for a living as I was shooting cars on the racetrack and, uh, no, I didn't Didn't work at all. If you had a perfect profile of a car and you put, you know, elliptical marquees and you blurred them, you could kind of fake it, but you didn't have any motion. And as soon as there is any perspective, forget about it. So let me show you how it works. Here's this car and what I've done is I've isolated Ah, this layer of it. We're going to a couple of different things with this one. Let's go ahead and ah, my order here. We're gonna come into Blur Gallery and it's been blur and what we can dio and this isn't limited to cars. You could do this to anything that should turn facing a watch. You know, pulley. And what you do is you just move this into the rough size that you want. This is sort of the gas pedal. Is this wheel here? You can change the shape of that and you just sort of finesse it into shape and your spinning and speeding things up. Uh, within perspective. Really, really handy when you're ready. You had another one. People who are real car nerds might say, OK, well, you should make back wheel spin faster than the rear wheel bits spitting out. You could do whatever you want here again. It takes a little bit of practice to get this just right. But you're coming in here and you're moving this around. Want to put the center at the center of the wheel and you can either move it around with the control on the pen or the blur angle over there gives you the idea. There I click. OK, it applies it to that. Now, what I want to do with the other part is I want to introduce a motion to the background. So I'm gonna take that background layer. We're gonna protect that foreground. we're gonna leave that protected. We're gonna come in here to path Blur. Now, prior to this feature being in here, people used, I went and visited Porsche and BMW and saw how they did all this stuff for their websites. And I was fascinated to learn that there are no real cars on those websites. Those were all three D models, and it's all done in software. They look very convincing, but those were all three d Ah, and all the all the blurring is all done in software as well. The motion blurring to make a three d object look like it's on a racetrack. They use real photos for the backgrounds and what not? But it's all done in software. And at the time they weren't using finish up because Photoshopped couldn't do the workflow that I'm showing you. They were having the same frustration that I had had all those years ago. Well, now we have this awesome thing called path Blur, where I just put the path wherever I want and I've got a speed slider there and we can introduce any sort of motion or Taper. We can even choose where it starts and stops, and we could have all sorts of crazy shapes to this really, really fun. You could have it zoom down the road. You could use text, you could take anything and blur it on a path. It's one of those features that's been in there for a couple versions now, but there are a lot of people who haven't taken full advantage of this a lot that can be done with it as before. You can save the mask back as channels, so you could be creating blur there. And when you're done, you can come up with, you know, something like that really quickly and easily. Yeah, it's it's fun. And you could do the sort of stuff that I I hoped I could do in photo shop way back when but turns out wasn't possible.
Ratings and Reviews
I think this class was well worth it. I like that you are sharing this info, like the "secrets" so I can try them and have acquaintances ask, "how did you do that". It was great. Thanks!
Lots of good tips. Gets to some deeper aspects of the programs.
Student Work