Digitizing Hand-Drawn Art
Examples of James's Work Using These Methods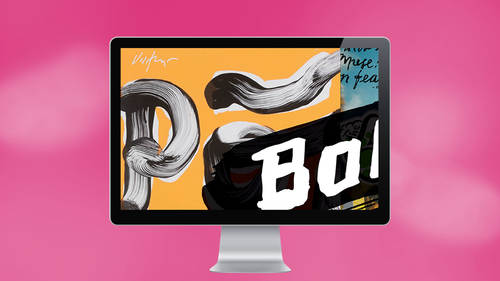 Digitizing Hand-Drawn Art
Examples of James's Work Using These Methods
Lesson Info
Examples of James's Work Using These Methods
eso? Yes, and that was gonna go through, um, some pieces that I've done historically and show you. So this is actually a set of post. There was two of them. Those that just say no and Disney go home. And these is This is actually the rial tape type. The typography that I made. Um, I don't remember why Tape made sense. I think I just wanted a blocky font. I I think I'm probably, um this was a poster that was responding to something that was going on in New York city of the time when they were cleaning up Times Square to make it a tourist spot. So these things probably happened extremely fast, so I didn't have time. Send anything out? Um, um it was It's literally, like I said, just half inch thick black tape. And now I look at it and I wished, and I wish there was, like, more hairs in it and mawr character to it. You know, nothing is ever finished for me. I would go back and redesigned. Redesigned everything? No, the the that just came from. I wanted I wanted that kind of character. But ...
I didn't wanna draw it, and I think I probably found a newspaper photograph and blew it up and used the dots. From there on. These were silkscreen posters, so they were black in this fluorescent green and you can even see here. There's a highlight around that black area where, because of the way still screen works is they'll do the fluorescent green first, and then they do the black over it and they do a large trap, meaning, meaning you don't want a white line between. So they do kind of some one of a large trap, which actually changes the color around it. So you see, there's this halo of black er black around it, and that's in the It's in the actual poster and thats I probably this poster did, probably didn't see that this never saw the computer. There was no scanning enough because I wasn't using The peak Computer is heavily at the time was and, um, I was probably using my my Xerox machine because it was a silk screen and he was down the street so I would create a physical mechanical, probably 1/2 size so he would just have to blow it up. So this this thing didn't see the computer. Thistle is, Ah, project. We differ Yogi Yamamoto A couple of years ago for one of this season's In the men's line, it looks pixelated, but actually the entire thing was like a really big dot pattern. I like that kind of clumsy look, and I never tried painting on a hat and there was a top Those Those bowlers are expensive, so I didn't want to ruin a bunch of expensive hats. So eventually what I did is I had a bowler hat and I think we I painted that. And I think I wrapped it around the brim of the painted it white on black, wrapped it around a broom of a hat and taped it. And then we photographed it, and then in photo shop, we kind of messed with the values and made that made the paint. Looks like it's actually on the hat. But that's the thing is like painting on a supermodel, which I've done before. You only get one try. You don't want to mess up too much, you know, and painting on expensive product, you know? Was there a question? Yeah, I want to know which paper used to print your things like, I don't know. Just like do you prefer like coded? Oh, yeah, definitely uncoated. Yeah, No gloss, no shine. I definitely uncoated. I don't have a There's not a brand. There's not a thing that I like is just kind of uncoated, And a lot of, ah lot of posters are unlike, you know, now, you know, if you order posters, even if you order our posters, I'm not 100% happy with the paper because it really is kind of heavy are cut its explain this important that they're heavy because they're 100% archive, like the colors on these things will last hundreds of years, you know? And that's again the tradeoff because, um, I actually like him to be a little bit more like I actually really like printing on newsprint big, huge sheets of newsprint because I like that kind of a crinkle. And there's a lack, a lack of preciousness that I respond to here. We I actually just drew on the bone painted spray painted the bone black drew with white version of a paint pen to two different weights. Obviously that's how to stay hard is in one of them. And even with James Victoria and then I wasn't capable of taking this high end art photo. And if you see the original, it's exquisite. So I have a friend, Tom Cheryl. It's a photographer, a fashion photographer who, who? I'll go to his studio and I'll bring the bone. And then, you know he'll take the photo and I take him out to a very expensive lunch. So you know, when we know we can't do and what we can dio and anything if you like. If you looking through my book and you see anything that's been photographed is it's the same guy because I just he has a level of, um, perfection that I boggles my mind. Um, and he's he's get er done, you know, Then we can have a nice lunch, and I Here's a drawing that was actually vector rised so the teacher company could make it, you know, put it on different things, and it's just like to different to different pens. A big, thick pen and the thinner pen and the thinner pen is probably just like a pen tell or just one of anything that you guys were using except ballpoint pens. I don't use because the lion is really I like inconsistent lines, but ballpoint, like a big pan or something. It just it doesn't do it for me. Exhibition poster. And this one was in the Netherlands. And also this show also went to Switzerland. This is this was a situation where we had crazy huge scans because the original, um, it was just this size and its finger painting. And this was just a test. This wasn't the originals, was finger painting. And, um, I painted the back underneath so I could see it on different colors so I could try it on different colors and eventually, just like that, so that you can see this kind of clumsy under painting around it in white and again because it sells the end result. Here is silk screen. You can see the difference in the blacks between you know, this black and that black and I like that most. A lot of designers won't they'll they'll want the traps to be tight and not want to see that I like it. I I'm I think, uh I think it's important for, you know, the audience. You know, real human beings, not designers to see what we dio. You know what? To understand it. I think it makes it. It makes it closer to them or intimate somehow. Another way that we do things is just with photography again, just photographing product, photographing something that we've drawn on. Um, and, um, this was just a low rez, like an instagram thing that I did for fun. And then at the end, product decided to use. I think we just used are are six d are kind of big, are bigger camera for it. And then we probably probably messed a lot because because it is a book, you know, the gutter of a book. I think when we photographed, it was kind of like, you know, is there too much shade on the sign doesn't get dark here, And then when we and then when you send it out, you know, we send it out to our distributor and he sends us back tests, full size tests, and then so then we'll look at this, and this would be, like, so completely gray because it's just impossible to calibrate our screen to his screen and blah blah. It's just you just can't so we just do a lot of tests or we'll just we'll have him send just this piece so we don't waste a lot of paper, you know, just to see the background color. That's kind of really important. Excuse me. Here you see us using real typography. Don't ask me with the font is I'm not 100% sure, but using typography, you know, my hand. It was just like for me. Logically, my handwriting didn't work for this. And actually, the funny thing is, I've talked to this publishing company since then, And they were They were a completely expecting hand uncovers. They were like they asked me me because of that handgun thing. So what they did get is the handgun images. And here's that. Here's another little design, every kind of thing. This is something. This is a new idea that I like when we when we designed these Siri's look where basically all the couple, the typography on the covers all the same size. It just depends on the title. If it's a shorter title, all the title, all the type gets really big. It's a longer title. All the type gets really smaller. Author's name, everything right? And we wanted to just fill the cover. So then what does that do for your image? What spaces that leave for your image? None whatsoever. So we just running right over it. We don't care. I like this idea. I want I want to design a book. I want some client to give me a big picture book. A big, beautiful book, and I'm gonna What I'm gonna do is I'm gonna design, um, the images. I would say it's going to be this many pages this size and I'll design the images and then I'll give the text to another designer and say this many pages this size and then we never know what we're doing, what each other was doing until it gets to the printer and then they put together. I think it's a beautiful idea, and I and and And I'm curious, you know, there's a barrel element of risk involved, but I think it's interesting. And, ah, um, this was that poster I said The beach family posters was a subway poster for the School of Visual Arts. tons of stuff. You know, all kinds of typography. This is the kind of Hell's angels type. This is to pox thug life, right? Um uh, my son made a drawing. It's He and I am urinating in the street. The graffiti. This is really important. I didn't do it. I didn't do that graffiti, because I can't I would be a fake. I'm not a graffiti guy. I've got friends who are amazing, talented graffiti guys and the my friend Matt McGuinness isn't working in England right now. Brilliant guy. He made it. Ah, little Stabat Helvetica curse of all kinds of stuff. He James, Can I say something quick about this? I just wanted to say that this looks really complicated and it kind of I mean it is, but it's basically just the steps that we just went through with it. It's just over and over in a little over a lot of different layers. Yeah, there's a white layer under the under this black type. There's some green color that's been put in on. There is all kinds of stuff, and it's all sitting on a on a stock photographer's photograph. And now here. Here's a funny thing. There was an assignment earlier with there was the word New York City in it. And a lot of you and a lot of the online audience paid attention to that detail. Right. So here I get a job from the School of Visual Arts, it's gonna be in the subways. Um, I was even sure what season it ran. I don't remember. Um, but look at the image. I chose to use a beach that is not New York City. You know, it was just like this, just the generic beach family that I found in a stock photo book. And I thought, That's kind of funny, you know, again, not making these logical choices is kind of interesting to me. And I had a brilliant client at the time who was 82 years old, and I brought this in. I prepared him. I prepared I had sent a book, I made a little book with pieces of the imagery and said, You know, his name is Silas Rhodes was he was an amazing guy and I made a book for him that presented pieces. He didn't see the whole thing he just saw, and I got an idea of what I was gonna dio. I mailed it to him. So he saw that before I showed up. And then I go to his office and I showed it to him, and he was just like, here, these amazing arthritic hands. You just shove a cigar in there, right? He was like, it was like, Yeah, yeah, yeah, yeah, That's great. Yeah, let's do that. And what was amazing is hmm didn't know what I was doing, right? This is about clients. He's like, you know, you can imagine 80 year old guy saying, All right, let's go. Right. Crazy. He trusted that. I knew, right? Trust as inspiration. You can pay me a lot of money, but if you don't trust me, you're not gonna get good work, right? Medicines go. The French, The French. Yeah, Why? You chose that French, The Rambo bit of the Rambo. And there's also Spanish to this. This this tattoo on his chest. Um, because I was wildly in love at the time when I made this poster, I made this poster when we met. I was making this poster when Laura and I met his mustache. Actually says if you read it, it says sublime, because I was. That was the band I was listening to with the French poet. It says, Um, I go out under the under the stars and I find you, uh, you know And you know, I find my muse basically. And Laura was my muse. And this this this this tattoo says, Um, you can't be in You can't be in love and smart at the same time. And there's a rabbit again. Girls bunnies In America, there's themes that I like natural history and being one, there's a rabbit. There's a bone. There's things, though. There's a lot of there's a lot of stuff in here. Oh, yeah, because you see there's a size. They give you a size because that's the size in the poster and in the subway. And then I was like, playing with this photograph that I'm like, I don't want to stretch it to make it to make it fit. So there was this white area down here, and I'm like, Well, this is through. Is actually is. Actually it's actually a photo flopped. This is the center and see that building there. It's over there It's actually flopped because whatever is a sketch and we would do another sketch in a tighter sketch and eventually we'd have these letters that we would scan in and they would probably be like this. They would probably a little bit like this where you know I'd want to fix something is literally just kind of taped together. There were a lot of sketches on this job, and then at the end, you can even see here. I worked very hard to keeping up like the pencil drawing in the in in the piece. Now this is not. This idea has been done. Type in a shape, right? My mentor, I mentioned earlier. Paul Bacon, book jacket designer for Joseph Heller Heller. Or I think it's Joseph Heller. Or is Kurt Vonnegut? I forget it's called. The book is called We Bombed New Haven. Joseph Heller. We bombed New Haven, and it's the type is in a bomb shape. Not the most, right? So the client asked for I tried different things and they said, We want the bomb. So people have said, you know Well, Mr Return, you don't like I try Guy, Listen, I really did so we have a newsletter that we put out every Tuesday. Did you get it today, Jeffrey? Today's see the video today. It's pretty good. It's Ah, it's called burning questions. And every if you subscribe at James victoria dot com, Subscribe or die. Um, if you subscribe every Tuesday afternoon, New York time, you get our our newsletter, which has, you know, just basically link to the video, some other information, and this kind of we call it a boner information, you know, mawr stuff. And just a little description off And these images we have to make and they basically basically works like this. And, like, um, Laura will say, Hey, we got a newsletter that has to go out this afternoon like you OK, you know, like we need an image is like, uh oh, yeah, you an image. Um, you know, it's like that. I don't know. Could you be brilliant right now? Do you make something great right now? And sometimes it's good, and sometimes it's not. You know, everyone poops, right? Um, that one, I think, is very good. And I didn't want that. I have a book. I have an antique book of bird vote photography and I didn't want I don't want to tear it up, you know? So I basically had a piece of white paper and you can heart you can almost see There's, like, a piece of tape here and a piece of paper. I just did a little muscle drawing, and then I just moved it over and taped it to the burden. Was like, uh, iphone big. Yeah. Done. Was just gonna say, though, that just like those last two, the bird and the you're fired or just photos of of those of, you know, of James drawings or kalash, Um, and they could be really pretty lower as low resolution because they're just for the web, right? And then this 1st 1 I have an idea. Had a little Photoshopped going on there. But you can still say that as low rest, um, interesting one to watch. It's about firing clients. Um, questions about any of this stuff way loaded you up with so much stuff. It's been really awesome. Um jim natori dot com That's where you find us. Laura. Victory. James Natori Soon to be three. Victoria's Baby Victoria. The guy's been awesome. Now stay. Thank you so much way. Love you
Class Description
Just because the software is complex doesn't mean digitizing your artwork is complicated. Work done by hand can easily be used in digital projects with the help of a basic scanner, the right software, and a few easy steps. Laura and James Victore will show you how it's done in How to Digitize Hand-Drawn Art.
Laura and James both have distinguished careers as artists and educators and in this class they'll break down the process and practice of digitizing your work into easy-to-follow steps. You'll learn techniques for:
Turning the analog into digital using Photoshop and Illustrator
Adding handmade elements to graphic design projects
Pairing fonts with hand-drawn typography
Retouching your handmade work so it keeps its character
Laura and James will demonstrate the complete process for uploading to Photoshop and Illustrator and offer troubleshooting tips that will make the entire process less daunting and more fun.
Don't avoid the computer! Learn how to turn the work you make by hand into a digital asset in How to Digitize Hand-Drawn Art.
Reviews
It is a mixed report. There should be a thumb neither up or down rating. James Victore is a talented, with a big, as in New York metropolitan area big, bold, self-promoting personality who presents a persona that defies conventions and hates rules. That is all fine although I have never worked with or met a designer who has his attitude towards fonts before. Let me warn others studying design that you might not like that attitude. But everything in his world sounds passionate, impulsive and experimental. I think it is a good thing to be introduced to someone who seeks out working outside the box and embracing the counter intuitive. In short he is an artist who relies on the exciting and chaotic flux of inspiration to happens to design for a living. His left, hand-drawn letters are an expression of that, making words into art. He says he primarily wants emotional responses and people to react like they would to poetry. If you are a little more familiar with New Yorkers and the business you will also recognize all of this as his pitch. It is entertaining. And this course is a performance. His wife Laura is his muse. But this approach will not suit a lot of students here. We are not potential customers hearing a pitch. We are here for educational reasons, mostly practical reasons although he is definitely an inspirational force. And IMO, there are limits to teaching when the instructor is incapable of taking a step back and being objective too. Moreover, he and his wife offer the least of any teachers on CreativeLive that I have seen in terms of sharing in-depth skills and knowledge. In fact, some members of this class knew more than they did and it was the class that answered many questions that the instructors did not know. Laura in particular who was using the software shared with us that she "is not a Photoshop professional." That is an understatement. It can be tedious watching their trial and error approach. Moreover, neither one could explain the difference or use between JPEG, PDF and PSD files. Yikes and double yikes! They send them out to clients in what sounded like an arbitrarily arrived decision. The class was surprised to also discover that neither knew the distinction between kerning and tracking. Worse is that questions like this, the most simple, fundamental ones seemed to catch them both off guard so they were not prepared with an answer--which astonished me. Furthermore, any discussion of resolution was incoherent. They knew bigger was better so they let others decide for them later. Right. Well maybe they can take a few classes here to learn all of these simple fundamentals before teaching their next class because this was unfair to those who turned in as well as those who bought the class. Incredibly, they were ill prepared to teach this course. The class was very loosely organized, often somewhat chaotic and disappointing a lot of the time. I read that James has taught for 30 years. It makes little sense to me. And not everyone will appreciate his novel approach which apparently has not been sufficient to give his wife what she needs to use, let alone teach Photoshop. If you are here to learn specifics to augment your skills and knowledge, this is probably not the best choice you can make. You might prefer Erica Gamet and Jason Hoppe for Illustrator and anyone else you can find on CreativeLive for Photoshop If you want to see two folks make numerous errors, rely upon heuristics, demonstrate they do not understand or seem to even have any curiosity about what is behind their technical decisions and yet still manage to pul off a a fine looking finished product in the end, then this is for you. You also might be inspired by their passion, enthusiasm and maverick approach seen here. What they share is their process, warts and all but they are creative dynamic duo. I liked them but accept that this is a different kind of course than you usually se here. It all depends upon what you are looking for.
I love that you as a designer, use the no rules apply to you work. Also, I love the fact that you appreciate the art of screen printing you posters. The heart would work great as a distress overlay.