A Glimpse of the Big Picture
Lisa Cron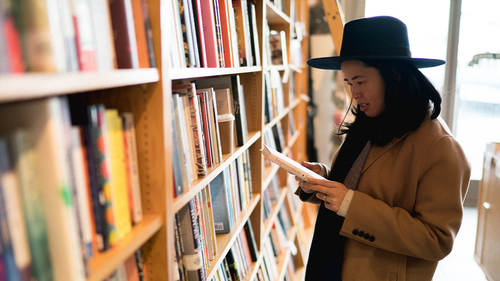 A Glimpse of the Big Picture
Lisa Cron
Lesson Info
6. A Glimpse of the Big Picture
Lesson Info
A Glimpse of the Big Picture
This is a big one because this is one that writers often miss. Except as a reader you'd never miss this. The reader expects a glimpse of the big picture from the very first page. And by big picture, I mean where are we going? What is this going to be about? What is this overarching problem? What we're looking at is, what is the overarching problem? In other words, remember we just said stories about one problem grows, escalates, and complicates? We want some notion of what that is from the very beginning. Think what is that conflict that's going to pull us through. Where is it? We come for conflict, if we're not feeling it right there on the first page, we're not gonna read forward. Think about context. Where are we? What is this context that's gonna give meaning to everything that's gonna happen. Think of it as the yard stick we're gonna have from the beginning. And what's the scope? That's the other the thing we wanna know. What is the scope? Meaning, how long is this gonna be? You d...
on't wanna give us a conflict context. This is about Jane and Jane's goal is to make a million dollars. How long does she have to do it? Forever. There's no scope there. We're not gonna read all the way forward. We need some notion of context, uh, conflict, context, and scope. And writers often hold this back. They think I don't want to. You know, back and forth between these slides. They think I don't wanna give it all away right there in the beginning. I wanna hold it back so that I'll lure the reader in. And so they'll let us know in very general terms that all is not as it seems. That there's some problem somewhere. But they're not gonna give us any specific because that might give it away. And what that looks like to the reader is the writer is going. Because we see you. We see your writers. We see you when you do that. We see the writer and the writer's like saying, "I know something you don't know and if you read forward maybe..." In other words, it is as annoying as my voice just was. I can't even do that all the way through because I annoy myself. It's such a awful sound. We know you're doing it. What writers do is they hold back the very information that would pull us in. Give it all away in the beginning. Let me give you a couple of examples. Um, the first two lines of Celeste Ng's literary best seller, Everything I Never Told You, are Lydia is dead but they don't know this yet. Surprise! It pulled us in. We've got, I'm gonna go back so we can look at that slide again. Oops! Oh sorry, I went in the wrong direction. Um, the overarching problem, yeah somebody is dead. We're gonna find out what happened. Conflict? Well there is a lot of conflict in (laughing the fact that somebody's dead. Um, scope? We have some notion that we're gonna go forward and find out who's Lydia, what happened to her, and why. She gave it all away. And that yanks us in immediately, or the example that I like to give a lot from, uh, is Elizabeth George's What Came Before I Shot Her, and it's Joel Campbell, age 11 at the time, begin his decent toward murder with a bus ride. By gosh, she just gave it away. She told us where we were gonna go throughout the entire novel. That is what pulls us in because we need some notion of where we are going. Let me read you a paragraph here, also you can just see how really clearly this is done. This from, it's a middle grade book. Wonderful book. It's From the Mixed-Up Files of Mrs. Basil E. Frankweiler by E.L. Konigsburg and here's the first paragraph of this novel. "Claudia knew she could never pull off the old fashion kind of running away. That is, running away in the heat of anger with a knapsack on her back. She didn't like discomfort. Even picnics were untidy and inconvenient. All those insects and the sun melting the icing on the cupcakes, therefore, she decided that her leaving home would not be just running from somewhere, but would be running to somewhere. To a large place. A comfortable place. An indoor place. And preferably, a beautiful place. And that's why she decided upon the Metropolitan Museum of Art in New York City." That writer just gave away what was happening and that is what pulls us in. And here's the thing, the last thing I'll say about that 'cause it's really important. Even that Celeste Ng, because it's a literary novel, "Lydia is dead but they don't know this yet." Give it all away. It might feel crude. It might feel clunky. It might feel like I'm hitting them over the head with it. Do it. That's what we want. Watch when you're reading. If you don't have that context that's gonna help you go forward, why would you even want to go forward? I heard it said wonderfully recently. I was at a writing conference speaking, and another speaker was an editor. Really wonderful YA editor and she said that when she was in college, her mentor said to her that the first paragraph is a promise you make to your reader. That is what it needs to be. You need to get that conflict, context, scope right there, so that we are willing to, "Oh I see where this is going." Meaning I see it's going somewhere and not just aimlessly off. And of course, as writers, you can't do that unless you know this. You can't make them a promise unless you know how to fulfill it. You can't, you can't set up the overarching problem unless you know what it is. Which means you really need to know that before you start writing. You never wanna start writing without knowing where you're going. What that ending is gonna be. So, that is what you want to do. Before we move on, I'll tell you the last one because, again, the notion is, is we've already seen this slide, give it all away. As John Irving once so glibly said, he said this very glibly and said he could only do it with one of his novels. He said, "Whenever possible, tell the entire story of the novel in the first sentence." (laughing) Very glibly. But of course you can't do that unless you know what it is. You can't give it all away unless you have it first. So there's a lot you need to know before you start writing.
Ratings and Reviews
Awesome -- Lisa Cron is the best writing teacher I've ever had the pleasure of reading/watching. And I majored in comp lit! :) Thank you Lisa!
Impressed! Lisa's storytelling approach makes so much sense to me and so refreshingly different to the expected 'generic writing structure'. Great delivery, easy to listen to and understand. Thank you.
I appreciated the differentiation between plot and story. Inspiring and usefull throughout. Thanks Lisa.
Student Work