How to Fulfill Reader's Expectations
The Protagonist Will Emerge with New Eyes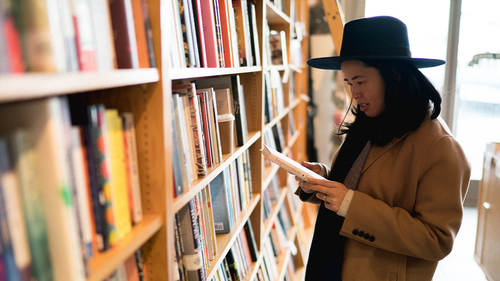 How to Fulfill Reader's Expectations
The Protagonist Will Emerge with New Eyes
Lesson Info
The Protagonist Will Emerge with New Eyes
The last thing that the reader expects is the reader expects that the protagonist will have an ultimate "aha" moment and emerge changed, seeing the story through new eyes. And this is the point, at the very beginning, first thing we said was first thing that the reader expects is the story will make a point. As we hinted all the way through, this is where your story makes its point. This is where we really get that shift, that change, where they finally see their misbelief for what it is, which is something that's been leading them astray instead of something that's actually been helping them, and now they see things differently. Now, it's subtle in every book. Look for it as you read forward, because you'll find it. The reason that I never teach using them is because if I pulled one out of a book, I would read it to you, and you'd go, "I don't understand why that's an "aha" moment." Because it's building all the way to it. You can feel it when it gets to it in a novel. What is that mo...
ment where they ultimately leave, and when you write that moment, watch. It's not just that somebody has realized, I'm left handed so I gotta do it this way, that somebody realizes something that way. It's that we've been inside their head and we've watched the logical progression to that. It's not just that they've realized it, but it's why they've realized it. That's what we come for. That is what we really need to be in their head. Now, to be very clear however, I'm not saying that in every single novel your protagonist is in fact gonna be able to see through their misbelief, its not like, and when they do it's not like it's tied up in a bow either. Cause it can sound that way because this is a short amount of time we have to talk about it. But, sometimes the truth is the character doesn't have an "aha" moment. Sometimes we get to the place where we expect them to and they don't, and then that's why we're there, because we're there to go, wow, why wouldn't someone, what would need to be going on in someones head, what would need to be happening for somebody not to, to suddenly be able to break through when that happened. The biggest we point is we don't come for what a character does, we come for why. An example of that very quickly, would simply be the movie Blue Jasmine. The movie Blue Jasmine, which is a movie that chronicles a woman who is, she's sort of like, she's modeled on Ruth Madoff, Bernie Madoff of the Ponzi scheme thing, and she's modeled after her and through this movie, she's lost all her money and she just can't let go of the privilege. She can't be an ordinary person. She just can't. And you keep thinking, things are happening in her life that would, for the rest of us, would make us go, "Oh wow, I get it." "Oh yeah, oh wow." And it finally gets to place towards the end and it has something to do with her son and something she'd need to admit. This is last thing she's got to lose, and she still can't go in that direction, and it just hits home. Oh my God, she was so deeply damaged that even that wasn't gonna pull her back. So, sometimes the "aha" moment in other words is there not in the protagonist, but in the reader. The reader is realizing, wow that's what that would take, but mostly it's in the protagonist. It is as TS Eliot so brilliantly said, "The end of our exploring will be to arrive at where we started, and to know the place for the first time." Which comes back to, here is that, here is that misbelief and now we realize it's wrong, which brings us back to both where the misbelief came from, but also the way it's been leading us astray since the beginning of the story, and now we see things clearly and now we can go forward. This what the reader comes for. They come for this change, and here's the thing as we've been saying all the way along, protagonist, reader, Vulcan mind meld. As your protagonist changes, so does your reader. As your protagonist has this "aha' moment, so does your reader, who's been relating everything they've been reading to their own lives all the way through. That's the power of story. Like I said in the beginning stories change us every minute of everyday, whether we know it or not, and most of the time we don't, and that is why you as writers, are the most powerful people on the planet. So, the only thing I would say to you and to leave you with is take that power now and use it wisely. Thank you.
Class Description
We're hardwired to come to every story tacitly asking one question: what am I going to learn that will help me make it through the night? We're looking for inside intel on how to best navigate the unpredictable, scary, beautiful world we live in. As a result, there's a set of specific unconscious expectations readers have for every story — expectations that have nothing to do with the surface plot or how beautifully the story is written. By decoding your reader's hardwired expectations – and how to meet them -- you'll be able to create a story that will rivet readers from the very first sentence.
In this session you'll learn:
The truth about the writing myths that are holding you back, and why story trumps beautiful writing every time.
What it is that actually hooks and holds readers, and how to create the underlying foundation from which a riveting story organically springs.
One by one, the specific expectations that readers bring to every story, which together create a set of guidelines that will help you keep your story on track.
Why, as a storyteller, you are one of the most powerful people on the planet.
Reviews
I appreciated the differentiation between plot and story. Inspiring and usefull throughout. Thanks Lisa.
I appreciated the differentiation between plot and story. Inspiring and usefull throughout. Thanks Lisa.
I loved this class. I'm reading Wired For Story at the same time, and this course is a great way to introduce and somehow simplify the concepts before digging deeper and going into more detail in the book!