Class Introduction
Jared Platt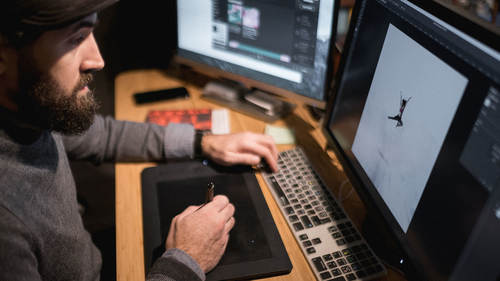 Class Introduction
Jared Platt
Lesson Info
1. Class Introduction
Lesson Info
Class Introduction
We are going to talk about Wacom tablets and how to actually utilize them efficiently, how to even put them together and set up the buttons and how to use your pen and all that kind of stuff. We're gonna stay on a very basic level here today. So if you have thought about getting a tablet and you're just not sure if that's a good investment for you, or if you have one and you don't quite know how to use it, or even if you've been using it but you've only been using like one button, and that's all you do, and you're thinking, well, okay, I use this pen thing, but I don't know how to deal with these buttons or program it and basically it just becomes like an easier mouse, then you've got a lot to learn. And so that's what we're going to teach you today. We won't get into super complex things, so if you're basic or intermediate you're going to feel right at home. If you're advanced, you can listen in and we might teach you something that you're like, oh that's cool. We're gonna dive right ...
in. The first thing that you need to know is what all the controls are. Now, I'm working with the newer, it's called the Intuos Pro. The last one I had was an Intuos5. This is the Intuos Pro, and this is actually a medium so it's a... There's a large as well that's about that big, it's quite a bit bigger. But the important thing to do, that you need to know about choosing a tablet, is the tablet depends on the computer screen that you're looking at. So if you have a big 27 inch, 30 inch monitor, you need a big tablet. Because if you don't have a big tablet a little movement's gonna send your mouse way over here, and it's just gonna, you're gonna be like, you won't... What you're looking for is control. So I want the amount of, when I draw something, I don't want it to go (whoosh) like that on the screen. I want it to draw almost the same, like I'm drawing on paper. Right? When you draw on paper you got one to one movement. If I move an inch, I get an inch of line. If you have too small a tablet, when you start drawing your line one inch equals 10 inches, and so then you get real jittery shapes and that's not good. So, pair your monitor to your tablet. So I have a large tablet at home because I have a 27 inch monitor. I have a small tablet, actually a medium tablet, when I'm out on the road with a laptop. If I had a 13 inch laptop, I would want a small tablet. I wouldn't want a medium tablet. Does that make sense? 'Kay. So you're gonna wanna pair your tablet to your actual screen. So I have two. I have one for my laptop and one for my desktop, so that I get an accurate feel. Now, this medium, the Intuos Pro medium works pretty well for both. I've actually played with it on my system at home and it works pretty well there too. I wish it was a little bit bigger so that's... I use my Intuos5 at home 'cause it's a big one. But this one will actually kinda do well for both. A larger and a medium sized monitor. But, for a small one you can get away, if you have a little laptop, you can get away with a very small tablet.
Ratings and Reviews
Anything Jared Platt teaches is going to be wonderful!! Can't wait to see him teach about the Wacom tablet!! I have a tablet and want to see a fantastic photographer use a Wacom!! I can't get the hang of the tablet yet and I know Jared will inspire me and others!!
Interesting course. Jared is giving a full descripction of all the possibilities of this hardware and the tools to customize it to our own convenience. Good job, Jared, once again, and I love your sense of humor.
Great understanding on how to set up and use the Wacom tablet, I am glad it is like the shuttlePro v2. I was worried that I would have to create a new system to edit photos in LR. Just transfer my setting over to the tablet. He did a great job taking about the tablet in basic terms, while explaining and show examples. Thanks so Much Jared Platt and CreativeLive.
Student Work