How to Use a Wacom® Tablet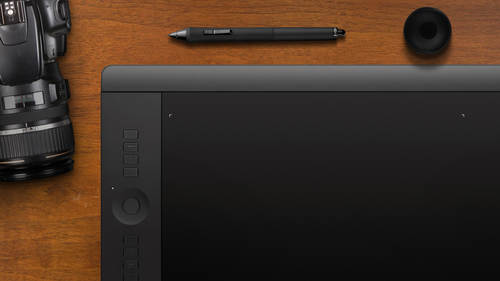 Wacom® tablets can deliver important capabilities when used with Adobe® Photoshop®. But the transition from mouse to Wacom®  can be a rocky one.
Learn all about Wacom and find out if it is right for you in How to Use a Wacom® Tablet with Dave Cross.
Dave has been helping photographers and creative professionals for over 25 years. In How to Use a Wacom® Tablet, Dave will show you how adjustments and retouching changes when you use a pressure sensitive pen and tablet. You'll learn about the variety of Wacom® products on the market, how to know what is right for you, and how you can use Wacom® to be more accurate and to save time. Dave will teach:
Strategies for getting comfortable with the tablet
Pen and ExpressKeys customization
How to take full advantage of its functions and features
If you've been considering switching to a Wacom® or have struggled to adopt the one you own, don't miss this complete introduction to getting started from Dave Cross.
Reviews
I'm very pleased I bought the class and would recommend making a purchase to others so to fast track gaining the full benefits of using your Wacom, apply to Photoshop, speed up your workflow and enjoy your editing. In order to gain the most from this class, I first had to become accustomed with my Wacom in the default settings and how this applied to using Photoshop. Once familiar I returned to the class and really found it very useful in supporting my customising the Wacom to my own preferences. Dave Cross is very experienced and knowledgeable and as stated I benefited a lot from the class. However for my particular style of learning I found his vocal tone monotonous (please no offence intended Dave). Albeit the subject matter itself is challenging to make "high-key", most certainly in comparison to other CreativeLive dynamic subjects such as fashion photography etc. I made the class more interactive by changing my Wacom settings whilst watching along with the class. The benefit of buying the class is you can pause, rewind and skip at any time. In conclusion, classes like these are essential tools in your kitbag to aid becoming comprehensive in your skill set as a professional photographer. A hidden gem!
enjoyable and very informative,which has been the thread running in all creative live classes.dave's style of easy and relaxed tuition makes him quite easy to follow.there was a lot of very useful information in dave's class(es).this was what prompted me to buy this class.my mouse is now sitting in a cupboard,and as I am typing this,my Wacom pen is in my right hand.it is not a natural feeling to be on the PC and using the pen,but I am beginning to see and feel the benefits of using it on all my applications,whether it be facebook,e-mail,and especially photoshop.being able to make much more accurate selections using the pen is worth the cost and effort alone.thanks again creative live.
For a long time I wanted to trade in my mouse for a Wacom. Many extol them as big time-savers and more effective software-editing, must-have tools. I was finally able to purchase one but ended up putting it aside after trying it just a couple of times. I convinced myself that successful Wacom tablet users have the eye/hand coordination I apparently lacked. But after watching this class I realized that what I actually lacked was guidance and patience. I have been using a mouse for 25 years, but I expected to just set it aside and pick up the Wacom pen, the two of us living happily ever after. I was discouraged when it wasn't a smooth transition—I didn't "get" it. I was overwhelmed facing the fact that I had to learn yet another new electronic device, especially one I didn't find intuitive because the Wacom is like nothing I have used before. But it ended well because David's teaching style breaks things down into clear, precise, and logical steps. He is KNOWLEGABLE and thorough (not to mention funny and a dapper dresser). The Wacom gives the user a LOT of preference choices in setting it up. Each tablet ends up customized to its user. It reminds me of a Star Trek chess board—layers of usability; setting options nesting within setting options. For me, David made sense of the senseless.