Class Introduction
Jason Hoppe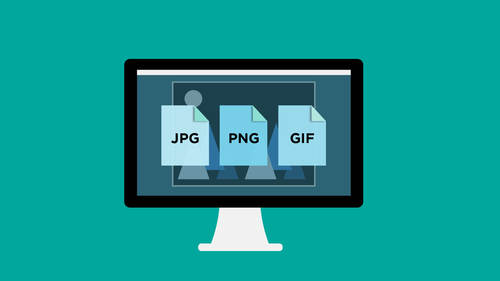 Class Introduction
Jason Hoppe
Lesson Info
1. Class Introduction
Lesson Info
Class Introduction
welcome everyone. I'm Jason Hoppy, and today's class is on image formats and how to understand file formats for images and logos. A lot of people out there don't want Teoh even be bothered by file sizes or image sizes, and people get requests for logos and head shots. And trying to understand the terminology and make it all come together is kind of difficult. And this class is actually based on my mom, who doesn't want to know anything about these kind of file formats. But she's an artist, and she gets request for her head shots and her artwork. And she doesn't know what a J peg is or how to save things. And I thought this would be the perfect class to put this together on a very simple basis so that people could understand exactly what this terminology is. So when somebody requests a photo what a high res photo is, or what a low rez photo. What's the best file format to save a logo in? And what's a J peg? What's a PNG? Why do I use them? So we're gonna try to keep this as simple as po...
ssible for everybody out there that doesn't really want to know about this stuff, but they have to know about this. So that's why it's titled. I don't know about digital formats, but I need to know signed my mom because this is exactly what she wanted to know. But she's like, high. Don't know. I'm an artist. I like to create. I don't have to worry about this stuff. So we're gonna make this is clean and simple. It's possible we're going to go through this slide presentation, then show you actual examples of what the files look like and make us a simple is possible for you to understand the basics of file formats, whether requesting files or people are requesting files from you, understand the terminology and make it all makes sense, but keep it a simple as possible. So here we go. So starting off with the very basics of what we need to know about file structures, we have two types of file structures. We have vector, and we have raster, and you may have heard this kind of thrown around here, and so we're gonna talk about what a vector file is, what a raster file is and show you an example of each starting off with a vector file a vector file. Very simple and very basic. It's all made up of lines and shapes. The great thing about a vector file is that it could be printed it any size without a loss of quality. So when you create a vector file and you use it, the end results. No matter how big or how small you use it, it always looks exactly the same. You can on occasion, convert these vector files to raster files for certain purposes. What is a vector file best for? Well, we create vector files for logos, drawings and illustrations. And that way, whenever somebody uses a logo, they can go ahead and taken size it any size that they need, and it's going to reproduce just fine. And these vector files are most usually created in Adobe Illustrator CorelDraw or Escape. These were just files that are going to be basic files, some type, some drawings, illustrations, and that's the basics of a vector file. So this is a vector file, have created a bumble bee, and it's all just shapes and fills. This was created in Adobe Illustrator and when you zoom in very large on a vector file. It doesn't matter how big or how small you make this. It's always going to be exactly the same. It just is larger, smaller and everything sizes. And one of the most common vector files that people use quite often when they're on the computer is a type face or a font. When you go in and you make the tight bigger, it doesn't look worse when you make it bigger. So for simple correlation when you go in and you make a typeface, very large typeface or any type of font is actually a vector file. It's literally just a shape filled with color. Make it large, make it small, and it's going to reproduce exactly the same. A raster file is going to be a pixel based file, and pixels are squares of color. Photographs are made up of pixels, so when you shoot a photograph with your camera or your phone and you bring it into photo editing software, you zoom in really close. You're gonna find every single square of color in there. It's the same size, its own unique color, and that is what we call pixels. So a raster based file is basically a pixel based file, and people use those terms interchangeably. So if I need a pixel based or a raster based file, it's one in the same. It's going to be made up of squares of color or squares of information. Now there's some interesting things with raster files, because when you are dealing with a picture, a pixel based file, what happens is as you enlarge that image and you basically stretch it over a larger area, the quality of the file is going to decrease because you have a fixed amount of information in there. When you pull it larger or you make it larger, you're going to reduce the quality of the image you are taking. That amount of image and stretching out over a larger area. And some of the most common editing software out there is Adobe Photo Shop. But almost everybody has some type of editing software on their file storage system on their computer. Wherever you store your photos on your computer, there's some basic editing in there, as well as on. Virtually everybody's phone or tablet has some basic editing software in there, so this is what a raster file or a pixel based file looks like. We have our image, and when you enlarge it, you will see that everything is made up of squares of color. Now what's the biggest issue with raster files is the size that you capture your image at. If you have a very small image size and you want to make it very large, you can see what happens when you enlarge it. The quality of it degrades very quickly because as you make it larger, you're going to see Mawr and mawr of the squares that make up the image. And the larger it gets, the more you're going to see the quality of this, the bigger it gets, lower the quality so raster files are going to be size dependent. If you want a very large file, you're going to have to go ahead and capture a very large file in order to make this work. Where is vector images? It doesn't matter what size you use it. No matter what size you scale it, it's always going to reproduce just five. So there's the basic difference between a vector filed and a raster file all photographs are going to be raster, or pixel based, and usually when we create logos, they start off as vector based files.
Ratings and Reviews
Thank you! This class was very easy to understand. I never completely understood resizing. Thanks to this video, now I completely understand.
Student Work