Image Formats for Beginners
Image Resolution
Jason Hoppe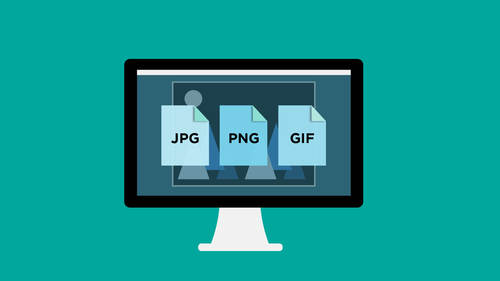 Image Formats for Beginners
Jason Hoppe
Get access to this class +2000 more taught by the world's top experts
24/7 access via desktop, mobile, or TV

New classes added every month

Download lessons for offline viewing

Exclusive content for subscribers
Lesson Info
3. Image Resolution
Lesson Info
Image Resolution
So now we want to talk about image resolution. So we talked about what it's going to be used for, whether Weber print and the basic file formats that we're going to be using. And now I want to talk about image resolution about what size or how much information needs to be in those files in order for to be correctly displayed. So you've heard the term P P I, which is pixels per inch, and this refers to the number of pixels that air in a photograph. And when somebody says Okay, I have a file that's this big or a file that's this big, their general referring to the amount of information, which is the number of pixels per inch in the file. So the more pixels you have, the more information you have in your file and the more pixels that are in the file, obviously, the bigger the file. So if you have a 10 megabyte image or 20 megabyte or megabyte image, what you're talking about is you're talking about the number of pixels in that file. A lot of people refer to this as DP I, which is incorre...
ct. Dp I actually stands for dots per inch, but pretty much everybody uses it universally, incorrectly. So when somebody tells you I have a new image that so many peopIe I or D P I people just assume it means the exact same thing. So what does that actually mean in terms of resolution? Well, here's what you need to know when you are using your artwork, and this is going to be all raster based images. This Onley refers to raster based images. When you are talking about the number of pixels per inch, you actually measure one square inch of your image, and the number of pixels in there are going to refer to how much information you have in the end file. So you may have heard the term high resolution and low resolution, which we shortened just too high rez and low rez. A high resolution file means that one square inch of your image contains 300 pixels of information, which, if you actually saw that on screen one inch, there's a lot of pixels jamming into one inch. So for print, we need what we call a high resolution file. High resolution is 300 pixels or 300 squares of color in one square inch of the image. A low resolution file would be 72 pixels per inch. Now Web only. Display 72 pixels per inch on our monitors. And so when somebody asks for a low rez file or they received the low rez file saying, This is low rez, that means 72 pixels per inch. So if I'm doing something for the Web, 72 pixels per inch is the de facto setting that I need, and people will say I need a Web based image and when they say that they automatically mean 72 pixels per inch, so high rez is 300 pixels per inch, which is what we use for print. Lo Rez is going to be 72 pixels per inch that we use for the Web. So when we're actually talking pixels per inch, that's what we mean. You may have a camera that shoots high resolution or low resolution files or very high resolution files, and that just means the higher the resolution, the more pixels per inch, the more pixels per inch. The more information, the smaller the pixels, the finer the detail now we can't reproduce really high rez images on the Web simply because of the way our monitors display. So even the highest quality display monitors still don't approach the quality of print resolution. So high resolution, low resolution. That's one of those things that you asked for. Is it for print? Then you immediately know that it's gonna be high resolution or low resolution for the Web, and people will say, Oh, I need something 300 peopie I They usually call it 300 dp I, which people universally use. It's incorrect, but they use it the same. Everybody understands. So when you hear that, you know that 300 dp I rpp eyes Hi rez 72 d p I or P p I is low rez and you get an idea, print or web. So here is one of the issues that we have to be concerned with when you have an image and you captured that image. When you take that image and you scale it up and actually enlarge that image, what happens is you're taking that image and you're stretching out over a larger area. And when you stretch all that information over a larger area. The more you stretch it lower, the resolution gets cause you're taking that image, stretching it out over a larger area. Therefore, it's thinning out the image and reducing the resolution. So as you stretch that and make it bigger, or is the image is, you scale the image up in size. The resolution goes down. It's just like taking and stretching a balloon. As you fill a balloon with air, the balloon gets much larger, but it gets much thinner. Well, the same is true when you do it the opposite. As you let the air out of the balloon, the balloon reduces in size. It gets thicker because you are letting the air out. Same amount of information over less area. So if you take an image and you scale the image down in size, you are actually going ahead and increasing the resolution because you're taking more information on your packing it into a smaller area. And that's one of the issues that we have with images. Pixel or raster based images is that if we have a low resolution image to start with and we scale it up, the quality is going to go even lower. If we have a high resolution image to start with and it's a very large one, then we can stretch it further before it starts to reduce. But if we start off with low quality image, there's nothing we can do but use it at that size or smaller. And that's why we always say, Always shoot a larger image that you need. You can always throw information away. You can't get the information back, so keep that in mind. When you are shooting your images, you can always shoot a high resolution image and reduce the resolution down to the necessary size than shooting a road low resolution file and trying to get that information back. It doesn't work, so shoot large files can throw the information away. So just to recap there, any photograph that you take and you make bigger, you're going to make it thinner by stretching that any photograph that you take and you reduce in size is going to go ahead, and it's going to increase the resolution because you're going to be packing that information tighter. That's something to think about now when you scale a vector file, Guess what happens nothing. You can scale it as big as you want. Teoh. When you type in, type on your computer. If you're using a program and you type in type and you make it bigger and bigger and bigger, the type doesn't degrade in quality. Type is vector based, so as you make this bigger and bigger and bigger, you could make the type huge. You never have to worry about it. That's the wonderful thing about Vector. So if somebody tells you they need a high resolution vector file, that's like saying you need a gallon of french fries. It doesn't work. It doesn't make sense. There is no resolution associated with Factor. There are no pixels per inch because it is not made of pixels. So when you're talking about image quality or image resolution, it's always photographs that are pixel based vector resolution. It doesn't exist. It's vector. It's simply scalable to any size. 50 feet, five feet, five inches, whatever. There is no resolution
Class Description
Image formats can be very difficult to understand. In this class Jason demystifies all the different formats and what properties and features they have. No matter what kind of media or project you're creating Jason will give you the confidence to know which format to use and when.
In this Class you'll Learn:
Image File Types
Image Resolution
Color Modes & Image Sizing
File Formats for Different Applications
And a Whole Lot More!
If you are an artist still struggling with how to deliver your files Image Formats for Beginners is the class for you. Jason will take you by the hand and show you all the steps you'll need to export your files the right way every time! 
Reviews
Thank you! This class was very easy to understand. I never completely understood resizing. Thanks to this video, now I completely understand.