Incorporating Actions into your Portraits Workflow
Best Practices with Actions
Kristina Sherk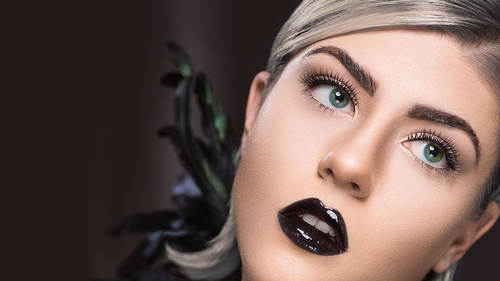 Incorporating Actions into your Portraits Workflow
Kristina Sherk
Lesson Info
3. Best Practices with Actions
Lesson Info
Best Practices with Actions
Whenever I am creating an action there are a couple of things that are really gonna screw you up while you are creating an action at the beginning. Those are the kinds of things that I wanna warn you about using while creating the action. Don't use your tablet and your pend to draw any, pen, pend, where did that come from? Pen to draw anything freehand, because that freehand motion can't be recorded while you're creating the action. For a lot of this class, I'm actually just going to be using the trackpad, because that's all you need when you're creating the action. If you are creating an action and you're doing something in your Layers Palette down here, a lot of people would, let's say we create a regular layer and then let's come up here and create a hue saturation layer, a lot of people, if they were trying to organize layers, they would say, okay, I wanna click and drag this and drop it underneath. Any clicking and dragging movement is gonna be really hard for an action to record ...
and replicate, so a lot of times I tell people, if you're recording an action, I tell people to choose the bracket key. You hold down command plus the bracket key and that's actually gonna rearrange your layers for you and that will be recorded within that action. Clicking and dragging, anything that you'd be doing with a hand, any paint-er-leave movements, those are not gonna work well for you. Always name your layers. Take your time when recording an action. Make sure each of those layers is specifically named to exactly what it is because it will help you in the long run. The nice thing is you only have to do it once because then you're just gonna press one button and then it all gets done for you. Spend the time when you're creating the action. When in doubt, click, click, click, be very specific with your motions. Slow down, give everything its own entity of the step. The step is clicking to select layer one. The step is clicking to select the hue saturation layer. Those kinds of things, because each one of those steps will then be written into the memory of the action, and so Photoshop will remember to do it in the future. A lot of times, if you are in the record mode of creating an action, sometimes the layer items, sometimes menu items will be grayed out. If that ever comes up and you're trying to create an action, and the menu item, for some reason, isn't available, that means that sometimes you need to add that command in a different way. The way you add that command is actually up here in the Actions Palette. You have this little lined icon, and it says in here, Insert Menu Item. That's where you would actually go. It's very counterintuitive. I'll show you an example of this moving forward. I'll show you an example of where it's grayed out, and then what the workaround is. But, Insert Menu Item is where some of those things are going to come in to play instead of actually going to the menu item, which is totally backwards if you ask me. Let's talk about the Actions Panel here. If we look down at the bottom of our Actions Panel, we have the new action icon. We have create a new action group. And, then we have a play, and a record button, and a stop button. Very similar, this new group and new action are very similar icons to the Layers Palette, so you guys should be familiar with them. In order to create an action, let's go ahead and click on this create new action. It's gonna save into my default actions, which is fine. Before we actually create our action, I wanna just talk about this screen just a little bit. This is where you're gonna choose to save the action. Each one of these folders is a different set of actions, which you can organize in the best way. You may have a set of actions which is for portraits. You may have a set of actions for layout stuff, like that. Anything like that, you can divide them or organize them however you want. Remember, I get a lot of this, when people download stuff from my store and they download actions, I'm very specific. I write very specific words in the action here. It says, the portrait in a pinch action is inside this folder. I get a lot of people, they just see this folder and they click, and they're like, it's not playing, why isn't it playing? That's why I have the word inside, because the action is inside the folder. That's not the actual action, so just keep that in mind. So, We've got our action here. One of the nice things about actions is that you can apply a function key, or a hotkey to them. This gives for really easy access to that action for immediate playing on an image. If you wanted to add F1 so that if you wanted to easily be able to, let's call this action Whiten Teeth 'cause that's the first action we're gonna create. Whiten Teeth. If we wanted to have our Whiten Teeth action easily accessible, we would add F1 to the action, and then any time we hit our function key plus F1, that action is going to immediately play for us in Photoshop, which is really, really nice. But, it gets even better than that. The reason why it gets better is that each one of your function keys not only houses one action, it actually has the capacity to house four different actions for each one of those function keys. You could do just the function key on its own. You could do shift plus the function key. You could do command plus the function key. Or, you could do shift plus command plus function key. Say that five times fast. Now, that is probably going to be quite a list of actions, and so, if I were you and you really wanted to become an action guru, I'd probably print out a list of all of the different actions and what their hotkeys are so that you could have it easily like right on the side of your monitor, and you could easily say, oh, okay, that action, my portrait in a pinch action is shift plus F3. So, you could immediately just tap that and all of the steps in the action happen for you. And these actions, because of the power of Photoshop, they happen instantaneously. It doesn't record the time it took you to create an action, it just records all the steps. So, if you take 30 seconds to create an action, if it's only three steps, boom, boom, boom. When you play it, Photoshop is gonna play those three steps and it's gonna immediately be done for you. It really, really speeds up your workflow. If, for some reason, your function keys are not working and not playing your actions, this tripped me up for a long time, you have to go into your system preferences, go into keyboard, and I don't know the PC, so please don't hate me, but I don't know where this is on PCs. But, there is a, keyboard function keys, where is that? Keyboard function keys. Well, I'm not gonna spend too much time figuring this out. I just, oh, you know what, this new touch bar, okay, whatever. Anyway, go in here and check it out. (laughing) Go in here and check out the different settings because there's something in the actual computer system preferences that may help you to figure out what's going on with your function keys if they're not doing their tasks within Photoshop.
Class Description
Have you tried to use actions in your workflow but found that they're just not intelligent enough? The problem might be that you're only scratching the surface of what actions can truly do. In this class, Kristina Sherk will show you how to tailor the actions you create to work perfectly on all of your photos. Once you learn the hidden options and secret tricks to getting the most out of this efficient tool, you'll be on your way to becoming an actions power user!
SOFTWARE USED:
Adobe Photoshop CC 2018
Ratings and Reviews
Student Work
Related Classes