Incorporating Actions into your Portraits Workflow
Brighten Midtones Action
Kristina Sherk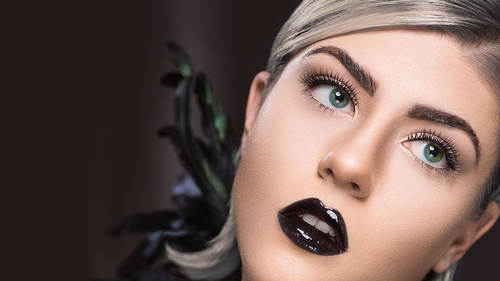 Incorporating Actions into your Portraits Workflow
Kristina Sherk
Lesson Info
6. Brighten Midtones Action
Lesson Info
Brighten Midtones Action
When you have 90 seconds to do a portrait of a bride because everybody is running late and you don't really know what you're doing. This is gonna be something that you could probably learn from. So, I've got this bride here but I'm really unhappy with the lighting on her face because I think it's really uneven. You know one side of her face is super dark, the other side of her face is super light. So I'd like to create an action that darkens the lighter tones but it also brings up the darker tones to see if I can get a more even appearance on the skin tone alright. So we already have our tone down highlights action created. So what if we went ahead and created a brighten midtones action to go along with the tone down highlights action? And then we could lump them together in their own action and create an action that does two actions in once, at once. Alright so here we go. So the, so I'm going to create a very similar action to tone down highlights but instead of toning down the highl...
ights I'm gonna brighten the midtones. So again, we're just, I'm going to start by creating an action and we'll call this Brighten Midtones. Go ahead and record that. I'm gonna use my hue saturation and I'm going to call this midtones brighten and then I'm going to change this not to multiply, 'cause that would darken everything I wanna change this to screen. So you can see how everything has been lightened here. Okay, so the same thing that we did before where we wanna tell Photoshop where to show and hide this effect. We're gonna do again. We're gonna go up to Layer. Where was that? Layer Style, is that what it was? Blending Options and now I am going to play around with my underlying layer arrows again so I know that this arrow I want to have start at 72. I'm gonna hold down option or alt. Click and divide this arrow so that the other side of this arrow is at and then I wanna bring this down. I don't want this, I don't want any lightening to be applied to the highlights right? So I wanna actually pull this down and you see how all of a sudden this effect is being hidden from those highlight tones. So, then I want this to be completely invisible at and then hold down option to split this arrow to add a feather as well and I wanna bring this one to 151, that's fine. So all of a sudden it's now isolating these midtones. In the image and it's only brightening those midtones. Let's go ahead and press okay. And then my last step is to come to the opacity. Whoa what? Come to my opacity and change the visibility of this effect to 20% instead of 100%. So that looks nice and natural right? Just a really soft brightening of the midtones of the face. Alright, let's stop this. Okay, again. See how just those midtones are being brightened? Alright, so let's just test this action and make sure it works the way it's supposed to. Brighten midtones, press play, great. Okay, so now we're gonna get kinda tricky right. So now we're gonna compound an action. Again with this one, with this brighten midtones you're going to have different blend if values for an action for creating it for darker skin. Alright, so again, you're gonna just basically modify those values, the value, the blend if values that I had 72, 94, 151 to and subtract 30, on or about 30 from each one of those values and that's gonna give you a nice, a nice range for a darker skin tone for brightening those midtones.
Class Description
Have you tried to use actions in your workflow but found that they're just not intelligent enough? The problem might be that you're only scratching the surface of what actions can truly do. In this class, Kristina Sherk will show you how to tailor the actions you create to work perfectly on all of your photos. Once you learn the hidden options and secret tricks to getting the most out of this efficient tool, you'll be on your way to becoming an actions power user!
SOFTWARE USED:
Adobe Photoshop CC 2018
Ratings and Reviews
Student Work
Related Classes