Incorporating Actions into your Portraits Workflow
Teeth Whitening Action
Kristina Sherk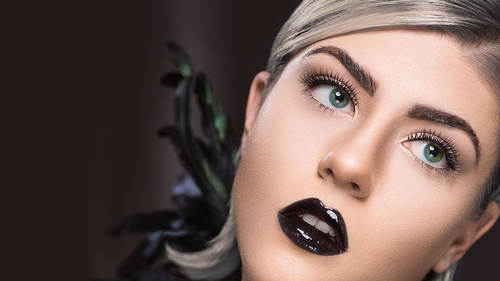 Incorporating Actions into your Portraits Workflow
Kristina Sherk
Lesson Info
4. Teeth Whitening Action
Lesson Info
Teeth Whitening Action
So we are going to create an action called Whiten Teeth. You're gonna save it in our default actions and let's go ahead and just apply F1 to it and let's give a color of yellow because teeth are sometimes yellow. Alright so we're gonna hit record. As soon as we hit record you can see that the F1 shows up right at the other side of this action here and then also your record button has illuminated red. So this means at this point everything that you do from here on moving out is going to be recorded by this action and so whenever - and here's where I get screwed up because whenever I try to talk and teach and explain creating actions, at the same time as I'm actually creating an action, it never ends well. Okay I always screw up some step in there and then it just gives me the (beep) you know like command make is not accessible or something like that and I totally screw it up. So if I go dark and I just kind of like zone into the computer for a minute or two. Hopefully you guys will just...
bear with me. I will try to focus as much as I can. So in this Whiten Teeth action, what I wanna do is I want to create a hue. Such and I've already seen like a mistake that I've done, okay stop. I'm gonna come over and I'm going to select this hue saturation that I like, get rid of that and I'll get rid of that because I wasn't paying attention. I like to start with everything like just clean, right? When you're creating that action. So because I turned on, because I click the stop button, those two steps were not recorded okay. So let's go back and hit record again and now we can start, okay. So first mistake there we go. Instructors make mistakes too. So the first thing I wanna do is create a color balance layer and I'm gonna come down here and I'm going to name this layer, color, no, Whiten Teeth 1. I'm going to come up here to mid-tones. I'm going to choose highlights and then I'm going to change the highlights. A little bit away from yellow and a little bit closer to blue, okay. So that's the first thing I wanna do. The second thing that I want to do is create a second adjustment layer and that second adjustment layer is a selective color adjustment layer. So we'll click there and did you see how make adjustment layer was just delineated in that action section? So that was a step that was now recorded in that action. The next thing I wanna do is switch over from reds to yellows, which a lot of teeth are usually yellow and I want to increase cyan and I want to take out almost all of the yellow from those teeth, okay. When I create actions I like to be heavy-handed because I know that once I run the action I can always pull down the opacity on that action to where the sweet spot is for that specific image. If I didn't go heavy-handed on the action and I played the action and then I look at the result and I say, "You know that really didn't go far enough." I'd have to go through the whole action again. So instead of doing that and creating more work for myself I'd rather just do it heavy-handed at the beginning and then pull down that opacity to find the sweet spot for the specific image. All right so we've decreased almost all the yellow and then because teeth can fall sometimes in the yellow zone but also sometimes in the white zone, I'm gonna actually come and modify my whites too and I'm just going to take some of the yellow out of my whites as well. All right so let's zoom out here and then I want to take this selective color layer and rename this Whiten Teeth 2. All right, so now I've got two color adjustment layers that are visible over the entire image. So we're definitely not finished just yet. We need to create, we need to do a couple more steps. We need to create a group. We need to move those two adjustment layers into that group. Then we need to hide all of this color adjustmentness behind a black mask. So let's go ahead and do those steps and then will stop recording our action. So we'll go ahead and create a group and we're gonna name that group Whiten Teeth and you can see here that I have specific different names. I have Whiten Teeth, I've Whiten Teeth and I've Whiten Teeth 2. You never wanna name two different things the exact same name 'cause otherwise Photoshop will go select Whiten Teeth, select Whiten Teeth. Oh crap there's two Whiten Teeths, like what do I select you know. So Photoshop can get confused right. So let's go ahead and move these into the group. So the way that you do that is not clicking and dragging but instead you're going to click and select and then you're going to use your commander control plus bracket keys to move these two layers into the group. Did you see how when I did that, did you see how these two layers actually indented themselves into the group? That's how you can kinda tell that those two things are now housed within that group. So then the last step is to click on the actual group layer hold down your option or Alt key and click on the Add Layer Mask button and that's gonna immediately add a black mask to your to your layer group. So as you can see now everything, all of the changes all of the adjustments have now been hidden from the entire image. So there's one last step that I just want to quickly uh, quickly explain and that is let's pretend like you were in the middle of your retouch. So you had a bunch of layers, you had a layer for blemishes. You had a layer for flyaway hairs. You had contrast layer, you got all these layers going on and then you want to add this whitening teeth action in as well. So in order for this whitening teeth action to show up at the top of your layers' palette for every image, what you're going to want to do is tell that tell the action to include a command which brings this folder to front. Okay and that can be found in layer, arrange, bring to front. So let's go, let's see if it works. Layer, oh oh. Arrange is grayed out okay. So that means hmm, okay so it's not possible that way. So what if I go to this little, trusty little menu, Actions menu and then I choose Insert Menu Item. You're gonna have a screen that pops up that says, which menu item would you like to include, right? So then there's a step that says, now we go to - what was it layer? Layer, ah look what's available. Layer, Arrange, Bring to Front, okay. Bring to Front, now you press OK. That is going to be our last step in our action and now we can press stop. Okay, everybody needs to make, say a little prayer for me right now. Fingers and toes crossed please because what I would like to do is so look at all the different steps, right. That we just did, okay. So what I'd like to do is - no I haven't talked about Button Mode yet okay. So let's click and delete this and let's test out this action and see if it actually worked. Alright I've got my Whiten Teeth action here. I'm gonna go ahead and press play. Ta Da!! Alright phew, okay, it worked. Alright so I've got my Whitened Teeth action here. I have my two adjustments underneath. So even though it took us close to five minutes to create that action you saw as soon as I played it it was pretty much instantaneous that Photoshop could just go through all those, like Photoshop is super powerful. So it was able to go through all of those all of those steps in the blink of an eye. Faster than I could ever do it, okay. So let's use our brush tool. I'm gonna use B for brush. I'm going to make sure I'm painting with white and I'm painting in this effect. Yowsa! Look like Chiclets, right? Chiclet teeth. He is perfect for the dentist advertising campaign that you are just finishing, right. Okay, so what did I say? I like to be heavy-handed at the beginning because then what I do is I just take that and pull it down until I find something that looks nice and natural. Usually 50%, that looks good. So before, after. Okay, great. So we did that and it worked and it saved us time on this one image. The true beauty of of these actions is when your next client comes in. When your next client comes in, see where is the next client, when your next client comes in who also needs teeth whitening, okay. You could say, "Oh guess what I have an action for that." Right, but this time I'm actually gonna use my quick key that I have applied to this action. So what I'm going to do is hold down function and I'm gonna hit F1 and did you see what immediately got created for me down here in the bottom. So that was like literally half a second, instead of all of that time that it took to actually create the image and repeating that on every single image that you do from now on. Okay, so then all you're responsible for doing is using your brush tool, painting in the effect on this specified area and then decreasing the opacity to something that you think looks nice. Okay, so Button Mode is my favorite when it comes to actions because of how dyslexic I am. So if you hit this little Flyout menu here you have the option for Button Mode. Ah, color. I love color. I hate words, okay. So for me this is really, really nice because I can immediately be like, "Well I know that action is purple." So I'm gonna go find the portrait and pinch purple action 'cause I know that it's easy. The other thing that's nice about Button Mode is that all you have to do is click, it and it's done. You don't have to select the action and then go down to press play and find all that kind of stuff, but the drawbacks to button mode is that you cannot edit and you cannot create actions within Button Mode. So once you've created all of your actions, you can switch over to Button Mode and really start using them to really become fast in your portrait retouching but for the majority of our class today, I wanna make sure that we are actually creating our actions. Okay so, oh you also cannot delete actions in Button Mode. So, yeah. So let's create another action. So I don't have any questions, huh, about creating actions? Okay so these and actions are so much more involved than any that I think and I'm curious when you go to recreate a new action and you're giving it a name and creating function keys and all that kind of stuff, there is that option for color, is that only showing up in the Button Mode? Yeah. Okay, all right. Yeah, so that's what's nice about the Button Mode because if you look at your regular actions right here. Yeah the colors don't show up which kind of sucks. I wish they did show up here. Yeah that would be cool.
Class Description
Have you tried to use actions in your workflow but found that they're just not intelligent enough? The problem might be that you're only scratching the surface of what actions can truly do. In this class, Kristina Sherk will show you how to tailor the actions you create to work perfectly on all of your photos. Once you learn the hidden options and secret tricks to getting the most out of this efficient tool, you'll be on your way to becoming an actions power user!
SOFTWARE USED:
Adobe Photoshop CC 2018
Ratings and Reviews
Student Work
Related Classes