Adobe® InDesign® Creative Cloud® for Beginners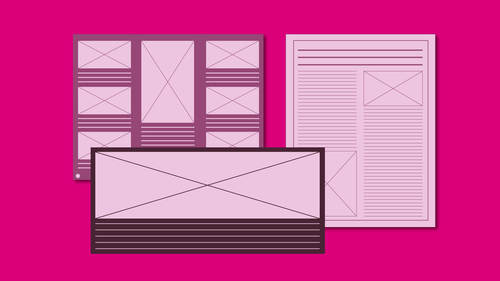 Lesson Info
Page Elements: Guides & Frames



Adobe® InDesign®

 is the industry's go-to tool making for layouts that combine images and text. Learn the most efficient way to work with this indispensable software in 

Adobe® InDesign® 

Creative Cloud®

 for Beginners

with Erica Gamet.

In this beginner-friendly class you'll learn how to:
Navigate the 

Adobe® InDesign®

 

Creative Cloud®

 workspace 

Work with text, images, and color

Export and Print
Erica will show you how to execute layouts that include text, graphic elements, and images. You'll learn basic design skills you can use to create professional-looking magazine layouts, newsletters, flyers and more.
If you want to take charge of your graphic design,
Adobe® InDesign®
Creative Cloud®
 for Beginners with Erica Gamet
 will get you started.
Level: Beginner, No prior 
Adobe® InDesign®
 experience required. 
Don't have Adobe® Creative Cloud yet? Get it now and save 20% so you can follow along with the course!

Software Used: Adobe InDesign CC 2015.1

Reviews
I've been looking for a beginners class on Adobe InDesign CC for a few weeks. I came across Creativelive's website and was impressed by what I saw. Available classes listed and the cost were an amazing combination. I have thoroughly enjoyed this beginners class tutorial. Every concept taught builds upon another. Erica Gamet is an amazing teacher. I even have my workplace looking into classes for employees. I would highly recommend this class and Creativelive's website as a whole. You will not be disappointed! 😀
I needed to quickly create a professional newsletter that would either be printed or distributed online and while I had some of the basics down, I knew I needed some more help. I bought this course and I was really impressed with the over quality of the materials, but most importantly, Erica's knowledge shines through and it is very clear she knows what she is doing. I found her teaching style to be very clear and I really learned more than I expected. Highly recommended, and very happy.
This is a very useful course full of great information. Erica Gamet is a fine instructor who clearly understands the product and can articulate the details well. I learned quite a lot about InDesign from this course, and I don't feel quite so much like a beginner anymore. I highly recommend this class if you want to learn the basic (and sometimes not entirely basic) uses of InDesign, how to utilize the tools to get the results you want, and how to design stand-out products for a variety of uses.