GPS, ATTI, and Sports Modes
Dirk Dallas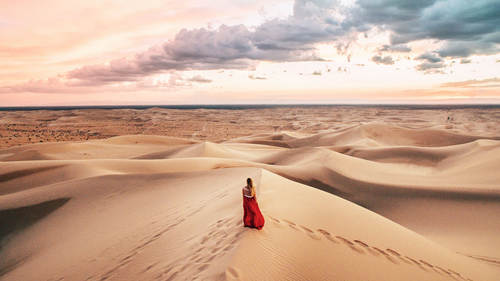 GPS, ATTI, and Sports Modes
Dirk Dallas
Lesson Info
5. GPS, ATTI, and Sports Modes
Lesson Info
GPS, ATTI, and Sports Modes
I just want to walk you through the three settings. You have positioning, which the GPS hold. You have the sport mode, which means it kicks into gear really quickly. And then you have the atti mode. You guys are used to the positioning mode, because the drone holds in place. So when I move it it tries to go right back to where it was. So that's a really cool feature. The one thing, though, that you're aware of is when you're doing a move and you let off the sticks, it just suddenly stops. So I was going forward, I let off the sticks, it suddenly stopped. Now, if you're really good about keeping track of doing your move longer than you need to, maybe this isn't a big deal. But if you find yourself, oftentimes, messing up the ending of your shot because it's so jerky, then you might want to try putting it in atti mode. I actually know a lot of drone cinematographers that will shoot in this mode. I will say, though, that you need to practice in a big, open field, because you don't get to ...
take advantage of the GPS. That means when you let go of the sticks, the drone will still keep moving. Let me show you guys that. I'm gonna switch it to atti mode. I'll go forward. Let go. And the drone is still moving. Now, I need to constantly look at the drone or I need to kick it back into positioning mode so it holds in place. Now, why is that helpful? Well, you see that when I let go of the stick, the drone is still kind of easing. It's let off the gas, so to speak, but it still has this move, and you can slowly ease into the ending of the shot. So this can be something really helpful for you to play with but again, I caution you: make sure you're practicing this in a big, open field. Because if you're not used to not flying with the GPS on, you may hit something. So definitely practice this. Now, my drone is all the way over there, and depending on how far it is - it's not maybe a big deal in this situation - but if I was way over that treeline, and I wanted to bring the drone back, it could take a few moments, right? So when I'm getting into position for a shot, I like to kick it over to sport mode. And what sport mode does, is that kicks me into gear really quick. So, I'll fly over to a spot really fast. Get ready. Put it into position mode. So taking that next step to getting really good as a drone pilot, you do want to practice in this atti mode. This is something that may be nerve-wracking at first because you don't get to take advantage of the GPS holding the drone in place. So that's why I encourage you, practice in a big open field, free of obstacles. Get used to it, and then remember: if you're in a pinch, flip it back over into positioning mode. But I personally am bouncing back and forth. I know it's gonna help you out if you play with these settings, but definitely practice them in an area where there's no obstacles.
Ratings and Reviews
There was some good and helpful information here! However he stated that when shooting video he sets the camera focus on a stationary subject and then put it in manual mode so as to avoid the camera re-focusing on a different plane, but I would have liked to have heard his tips for camera focusing on his shots where the subject was moving toward or away from the camera.
Student Work