Corel Painter X3
Day 3 Wrap-Up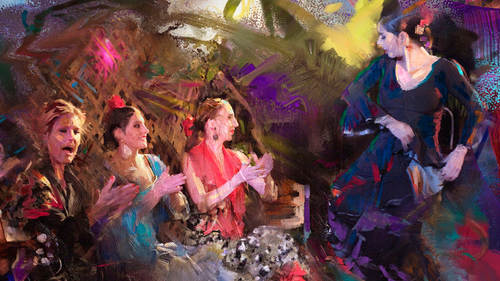 Corel Painter X3
Day 3 Wrap-Up
Lesson Info
Day 3 Wrap-Up
The time of the day where we normally do like one final thank you to everybody the crew, the students, everyone online you sort of just did it that's great what I'm saying is you really proven throughout these through day three days to be a jack of all trades if you'd really do it all thank you for being here it's really been our pleasure in our honor you yeah and my great pleasure e and be with you all out there on the internet and you're here in the room you've been a wonderful in studio audience onda really pleasure I'm so honored that you're here and thank you for supporting me on making this you know so much easier jeremy I'd like to share some appreciation from online as well since you right speak to you directly but they have even a channel it through carol I just love the fact that jeremy is teaching is not just about the technical aspects of the software but about the essential principles of creating art it's been like a crash course in our in our history when I won jeremy has...
provided me with inspiration, knowledge and encouragement to explore freely g clock thanks jeremy for showing us the music of art uh nice one hey jim rector brilliant I'm a photographer and have never painted but jeremy is so encouraging that I'm going to buy the course and branch out on a new path thank you, sir, for the inspiration. Wait up. We keep talking about inspiration and freedom and energy and that's exactly what this is. And jeremy put it best just a moment ago when he just said that we really need to be ourselves and put out that energy, whatever it is. And he's really showed us how to do this. This program that might have been had intimidating program just a few days ago, I think he's really giving us the tools to go about it, not just in a way that we can just get through it, but that we can get through it with joy and enjoyment and fun and he's really shown us a lot of fun. I mean, let's, think about it. We've had an accordion. We've had music, we've had lindy hop. We even got some break dancing today. Aloha turning that's incredible program scripted. The point is, is that we really learned how to take this program that once was very intimidating and scary, and learn to use it to the best of our ability. And that is really quite a gift that he's given us. This has been our pleasure. Thank you for joining us, and we'll see you next time that's a wrap.
Class Description
Ready to explore the software program that's changing the way photo art is created? Join creativeLIVE instructor Jeremy Sutton for an exploration of Corel Painter X3, a sophisticated tool for transforming photographs into fine art paintings. Drawing on his experience as a professional Painter artist, Jeremy will guide you step-by-step through the CorelPainter X3 interface and share his approach to painting from photo reference. Along the way, you'll learn practical tips and shortcuts for using this powerful creative tool to its full potential in an efficient and empowering way. You'll learn tips for choosing which of your images are best suited for photo painting and why. Jeremy will cover prepping images for painting, organizational systems that free you up to be creative, abstracting from the source, and resolving and refining your paintings. You'll work with Painter's brushes, paper textures, the new clone source and reference image panels, and more. By the end of this course, you'll be able to enjoy painting with Corel Painter X3 and transforming your photographs into painterly artworks. All artwork samples shown are copyright 2013 Jeremy Sutton.
Reviews
Excellent class, really loved watching and learning from Jeremy, only down side is the bonus material of a membership to Jeremy's Paint Box site and Creative Live ignoring my emails about my disappointment, so when you order this class, do not get your hope to high for the bonus material, other than that, Jeremy is a great teacher and his style of teaching is brilliant, lovely and pleasant to watch, highly recommended!